INTERVIEW: MOLLY BARNES
JUL. 13, 2018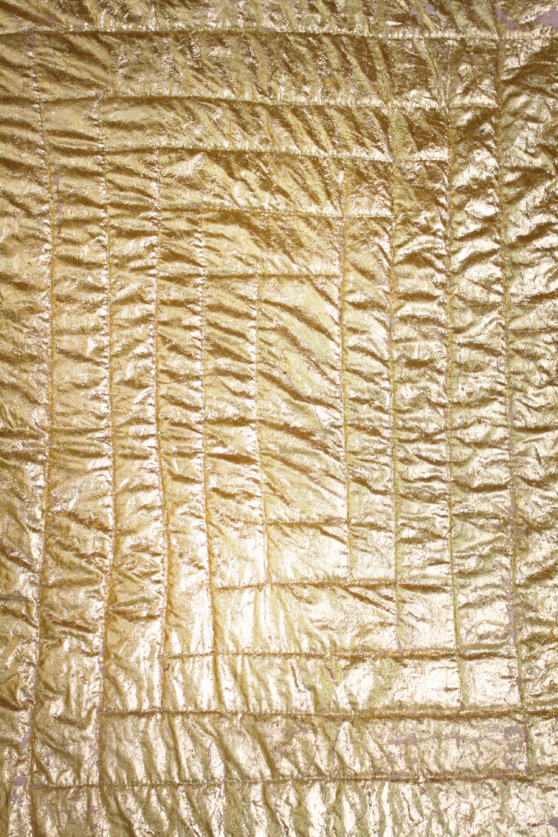 INTERVIEW: MOLLY BARNES
JUL. 13, 2018
Carrie Hull: So, you mentioned that you grew up in Tennessee, in the Nashville area, and you studied in Mississippi and then Chicago. Has returning to Tennessee affected your work in a significant way?
Molly Barnes: Oh, drastically. So, I was in Mississippi, I met my husband there, and I had really just gotten my feet wet in trying to figure out what I wanted to do. I made these big white pieces that were Agnes Martin inspired, and was really just figuring out what contemporary art was all about, and then I somehow got into grad school right away. I don't know how! I was semi-prepared for what I got into.
But when I went to Chicago, I was in a painting program, surrounded by lots of people who were putting paint on canvas and I was doing nothing like that. I was trying to straddle between the fibers program and the painting program and think about quilting and geometric abstraction, which is where these grid-like pieces come from. So, still kind of breathing that Agnes Martin inspiration, but also being inspired by traditional American piecework quilting and how quilters were always looking at their surroundings and simplifying them into a quilt or a grid somehow, using geometric abstraction in a way that was much more interesting to me than that of a painter. I remember one day, the first nice day in Chicago, I went outside and I made quilts based on the buildings that were there and did little drawings of quilt patterns. I think the grid kind of stayed with me just because I was there surrounded by buildings all the time. It got a little claustrophobic because, every time I looked out the window, it was just like another building. I lived really close to Wrigley Field and I would go out to the lake just to see open space. I saw more people every day than I had seen ever in Mississippi. I really loved the city, but I was also ready to leave.
I was excited to be home for a little bit; we bought this house that's set on 6 acres of woods, and I got really obsessive. I had never had any outdoor space before so I decided I wanted to learn how to garden and did. I kind of failed at it, but I still try. I've got so many types of different flowers; I think I calculated all the seeds and all the bulbs I bought for this spring and it's in the thousands. And, doing that has definitely influenced the work. The imagery of the gold leafed quilts has gone much more from directly referencing traditional American quilts to referencing my surroundings and the things I'm interested in narratively. I try to think about things that I've grown or things that are native to here like Black-Eyed Susans and honeysuckle and the bees and hummingbirds; things that I've seen directly. When I have my [studio] garage door open and I'm working out here all I see is green and the flowers.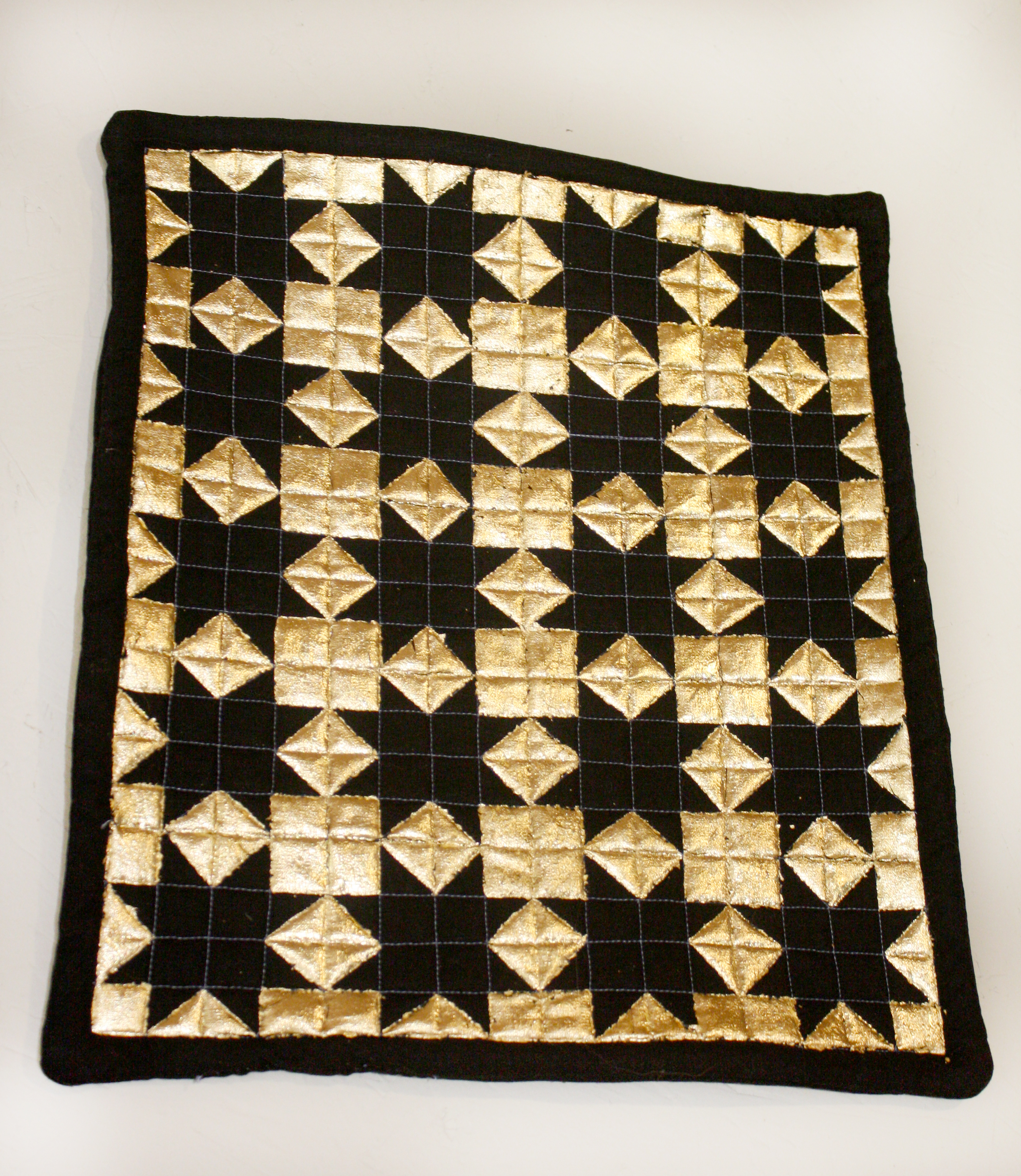 CH: So, coming here is really what brought flowers into your imagery?

MB: That's right.
CH: You mentioned earlier in our visit that you're moving to Arkansas fairly soon. Do you think the images will change?
MB: I hope not! I think where I live is such a big part of my experience. My past artist statements have been really domestically focused and the domestic space is where I find generative creativity and where I take inspiration from. And I was really stressed out about finding a place that I would like [in Arkansas], everything we found was really just like boxes, you know, nothing like open this. Then we found a place to house-sit, a 100-year-old farmhouse for a couple that's going on sabbatical for a year, so I think I'll be ok. As long as I can have like a couple pots!
CH: Since you're drawing so much inspiration from your direct environment, would you consider the pieces that you're making autobiographical?
MB: I always think about them as being inspired by my experience and also by my grandmother and my mother. These [large quilts] were originally called "Queens" when I first displayed them because I was thinking about the nature of those lineages. They both had gardens, so I think I'm connecting to that side a lot more right now. That one [small quilt with iris] is called "My Grandma Patty's Heirloom Irises". She had a whole patch of heirloom irises when she died and we've all dug them up and brought them to our houses. I feel like she's my muse. She died after high school, just before college, and thinking about her garden has always flowed through my work. She also sewed too, so that's where all of the quilting started.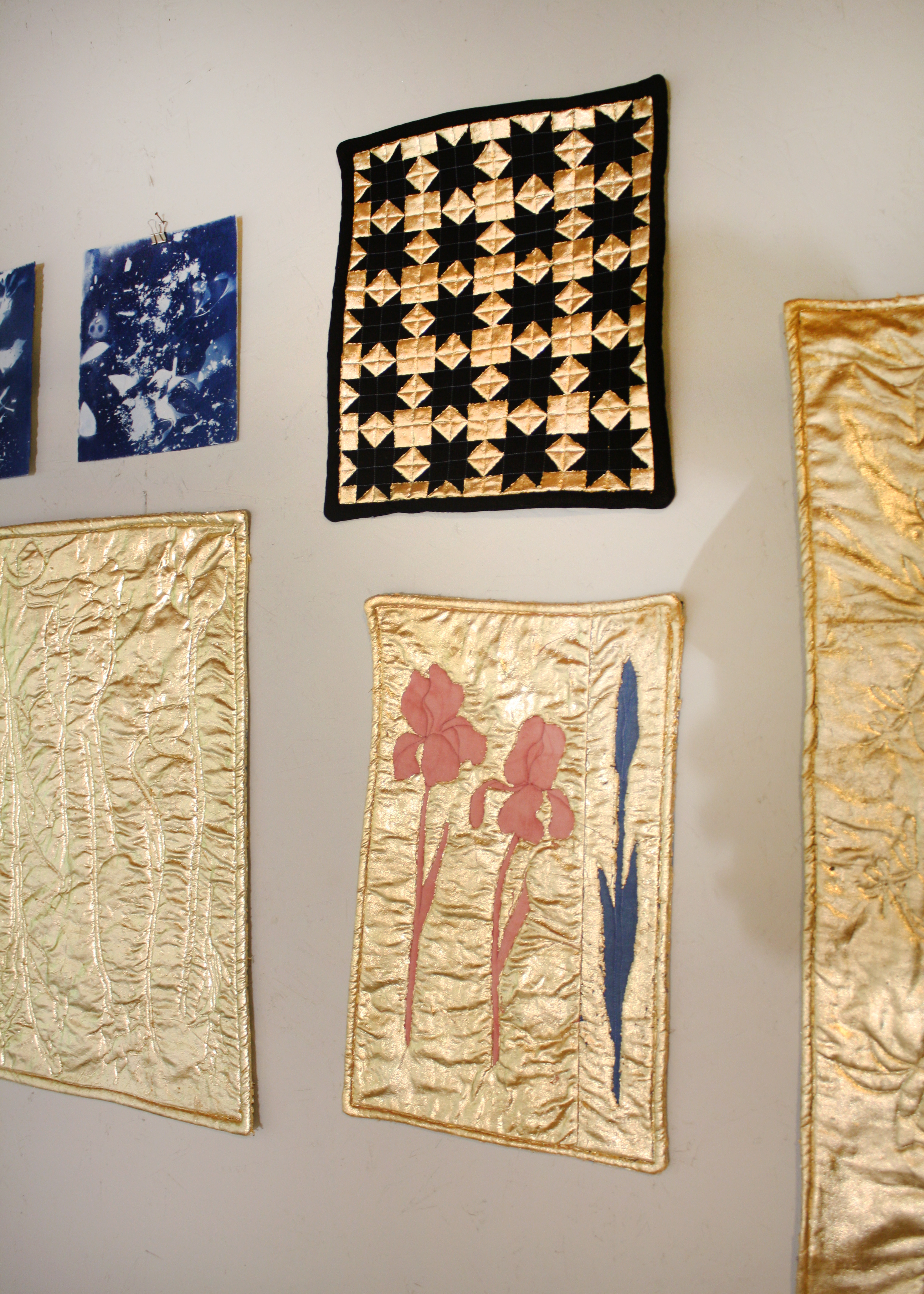 CH: So, you had roots in the practices you were using?
MB: Yeah, I've been making quilts since I was a little kid actually, I like entered quilting competitions and all that. It's really authentic; the quilting is something I come to from a really contemplative place.
CH: How did your use of gold come into play?
MB: I was really stuck in grad school. I started off making these glow in the dark quilts, and they were getting really good feedback, but they were really difficult to show. There were no dark spaces in Chicago, like everywhere has to have a window for escaping, so even my studios didn't have full walls and you couldn't close the curtain, turn off the lights and have it be dark enough. I was really struggling with that because I would have studio visits and no one could see the work I was showing. I wanted to make something that had the same 'ooh' and 'ahh' factor that those quilts did. Quilting is something that I think is really difficult to do because it's such a familiar thing; everyone knows what a quilt feels like and everybody has a blanket, but creating something unexpected out of a quilt was always my goal. So, pushing together materials that really didn't go together, like glow in the dark and quilting worked.
But, I was really stuck and made a ton of terrible work trying to figure out what to do next. And my husband actually used gold leaf in a lot of his earlier work and I was just smashing together leftover materials from other projects and I just ended up with them together. I just thought "yes, that'll work and I'll do that for a long time."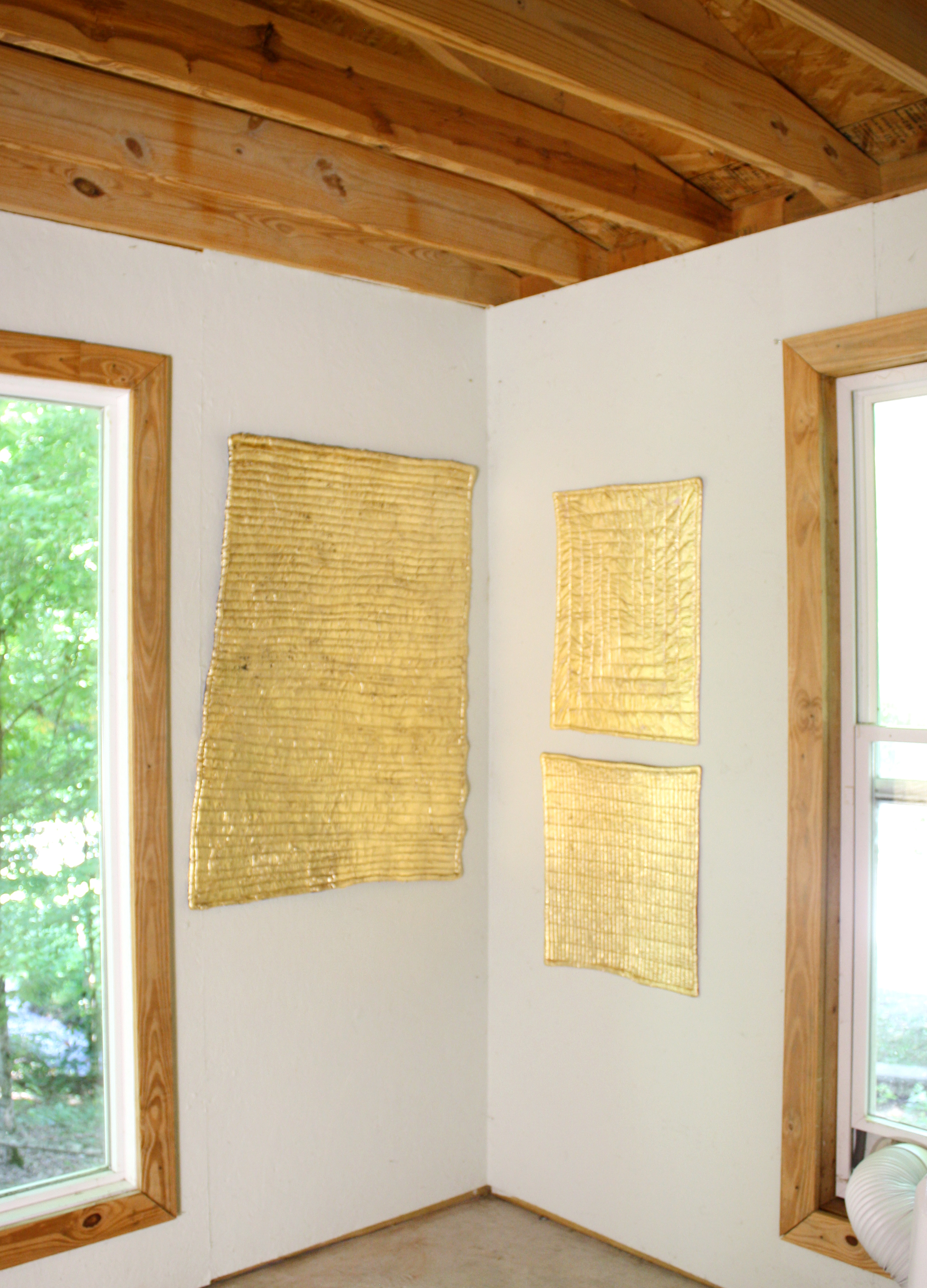 Ashley Layendecker: So now, do you feel like you're drawing a connection to metallics in any way possible?
MB: Yeah, the metallic still feels like really powerful. There's something about gold that seems so universal, like a specialness or value. So, I still want to play with that hierarchy of quilt and metallic or quilt and gold or domestic space and gold or women's work and gold; I'm just still figuring that out. But gold is still my favorite! I have silver leaf and like rose gold leaf and I thought about trying to use them for one of the pieces, but I'm not ready justyet.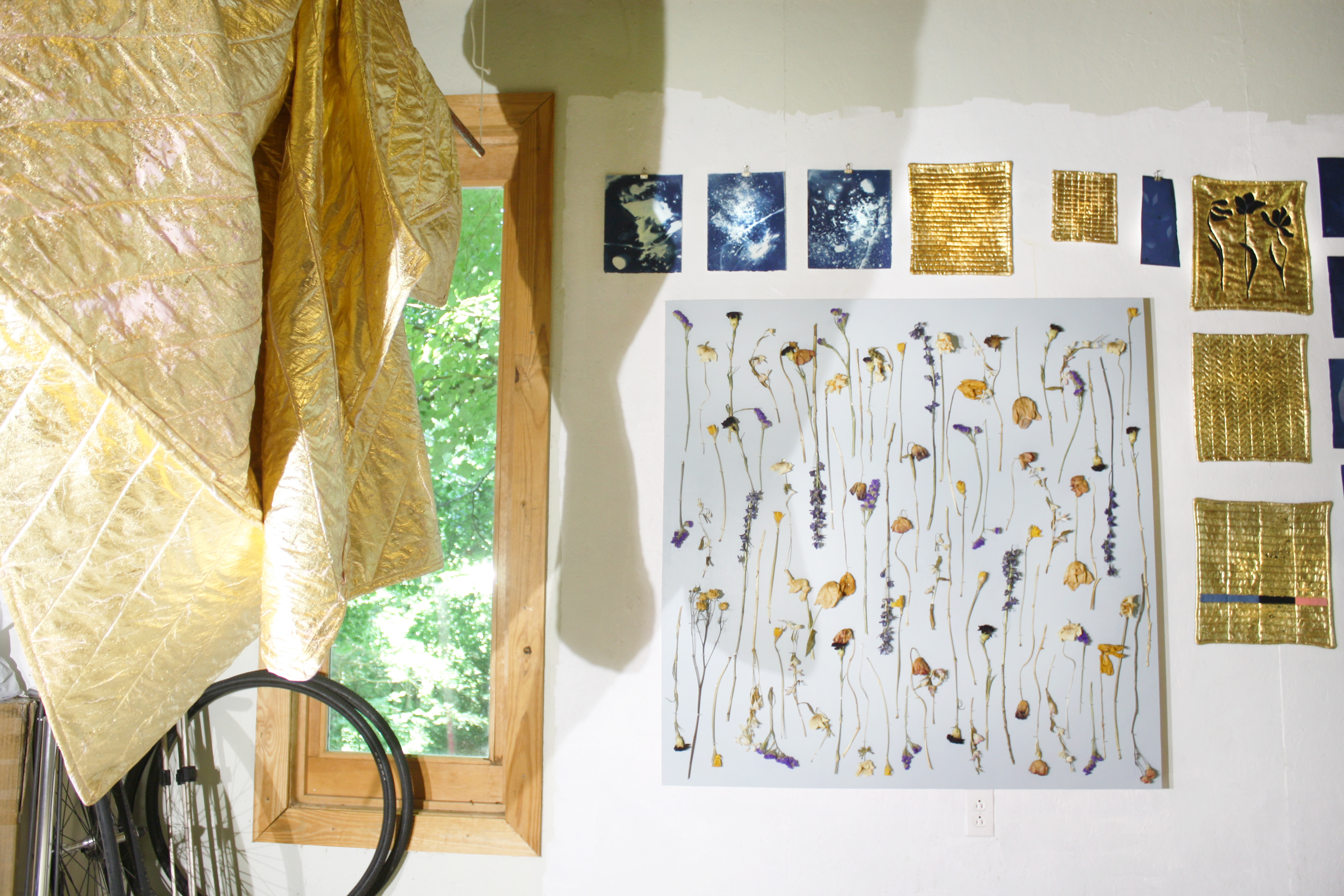 CH: On your website, part of what you describe as your "domestic practice" involves making, evaluating and planning. How much of your work is responsive to the process, or do you pre-plan a lot of it?
MB: That's a good question. Yeah, some of it is pre-planned. I like to go as deep into the materials as possible, so I'll buy the fabric and use this indigo dye that I made, so I like to be in control of the colors or at least be able to put into motion the process, even if I'm not sure what the outcome will be. With natural dying, you never really know exactly what you're going to get; you can mess with the mechanics of it, but with that and also cyanotyping, I just put things into motion and I'm not exactly sure where it's going to end up. And I like not having total control of the outcome. I don't do a lot of pre-planning in a sketchbook because I think I draw better with my sewing machine.
With these large quilts, I walked around the property and gathered leaves that were interesting shapes, and then laid them out on the quilt and then drew them and sewed them. So, it's kind of like I know that it's going to be about leaves. And that it's going to be blue. But other than that, I don't know.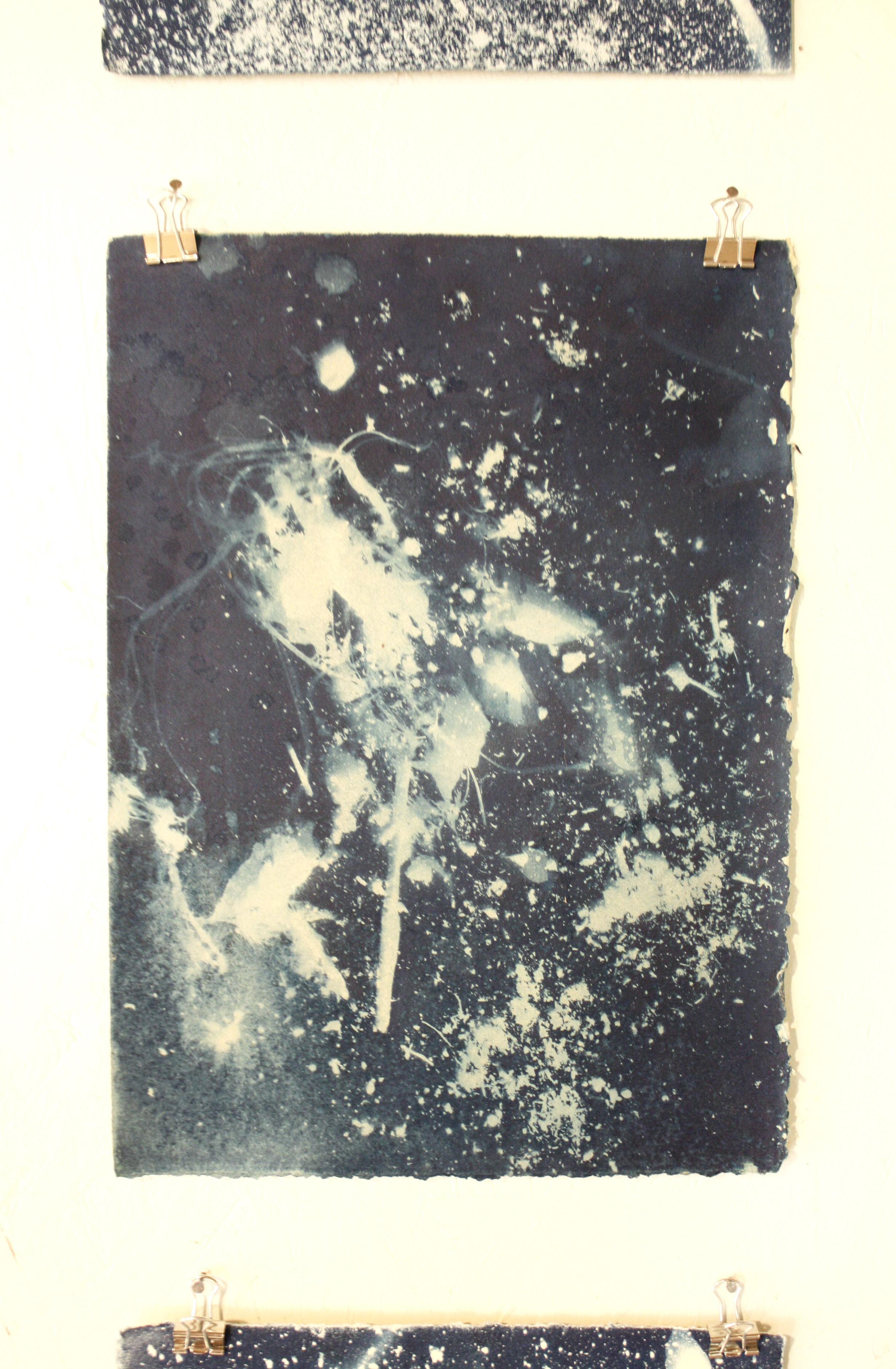 CH: Is there a piece that's really surprised you?
MB: I think the first one that I did with flowers. I cyanotyped that fabric, so underneath it's patterned, and it's the first time I've tried doing something that wasn't like a grid or a quilt pattern. I was really surprise by how much the stitch showed through. I wasn't really expecting it to work, and that's what really started this new body of work.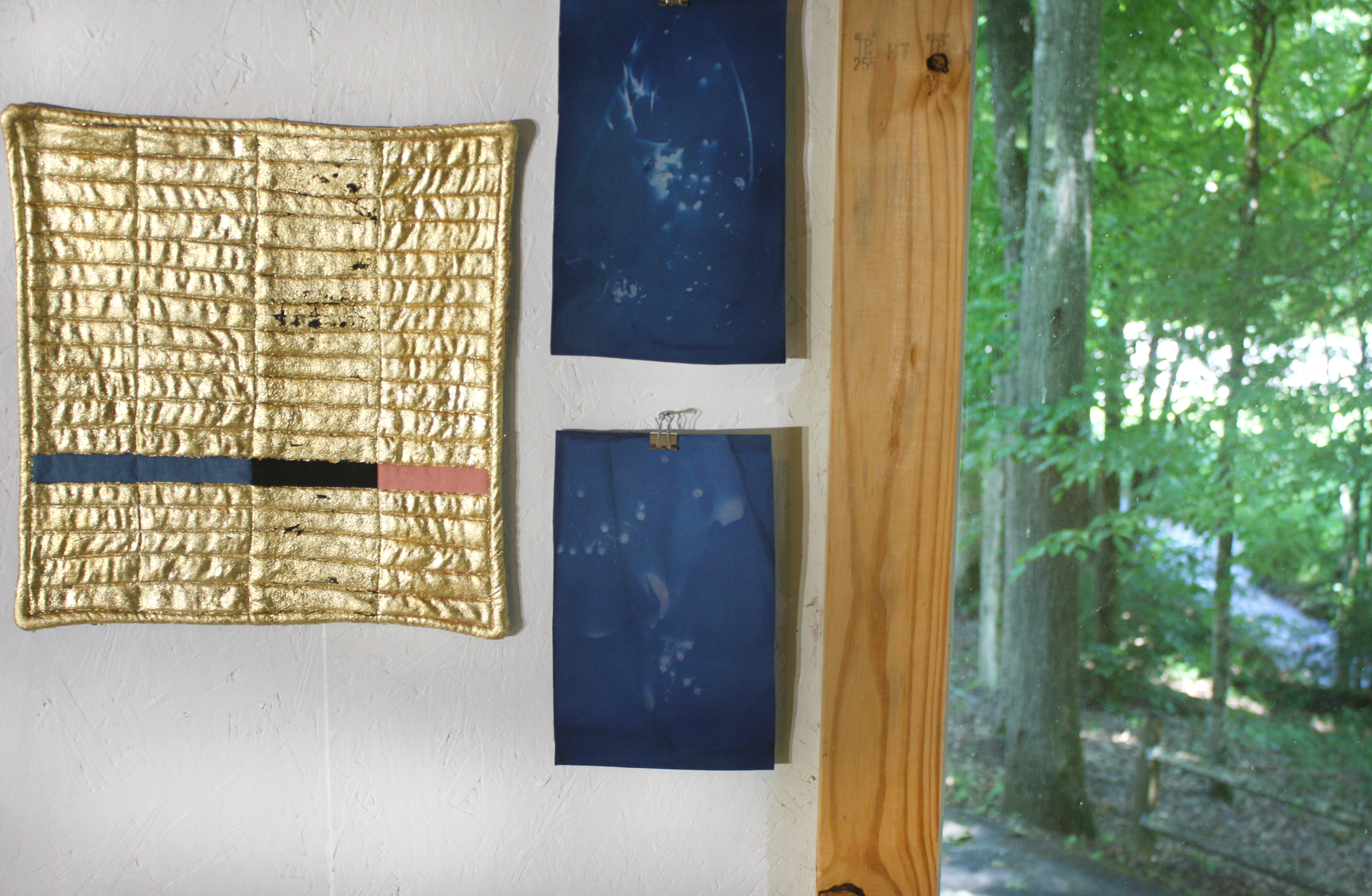 CH: I love that. So, on your website, you have a statement that is kind of like your stream of consciousness, about your daily routine and talking to your dogs, and I just love how peaceful that seems. Can you talk a little bit about why you included that?
MB: Yeah, I was actually thinking about a new statement, you know, I had my old one that just talks about domestic practices and that one I had written as I was closing up in grad school. But I felt like I was dictating too much, and I just wanted to create something that felt more like my thought process as I'm making this new work. It's literally a stream of consciousness and sort of a to-do list. I remember just writing it up in a text message and sending it to my husband and he was like "that works".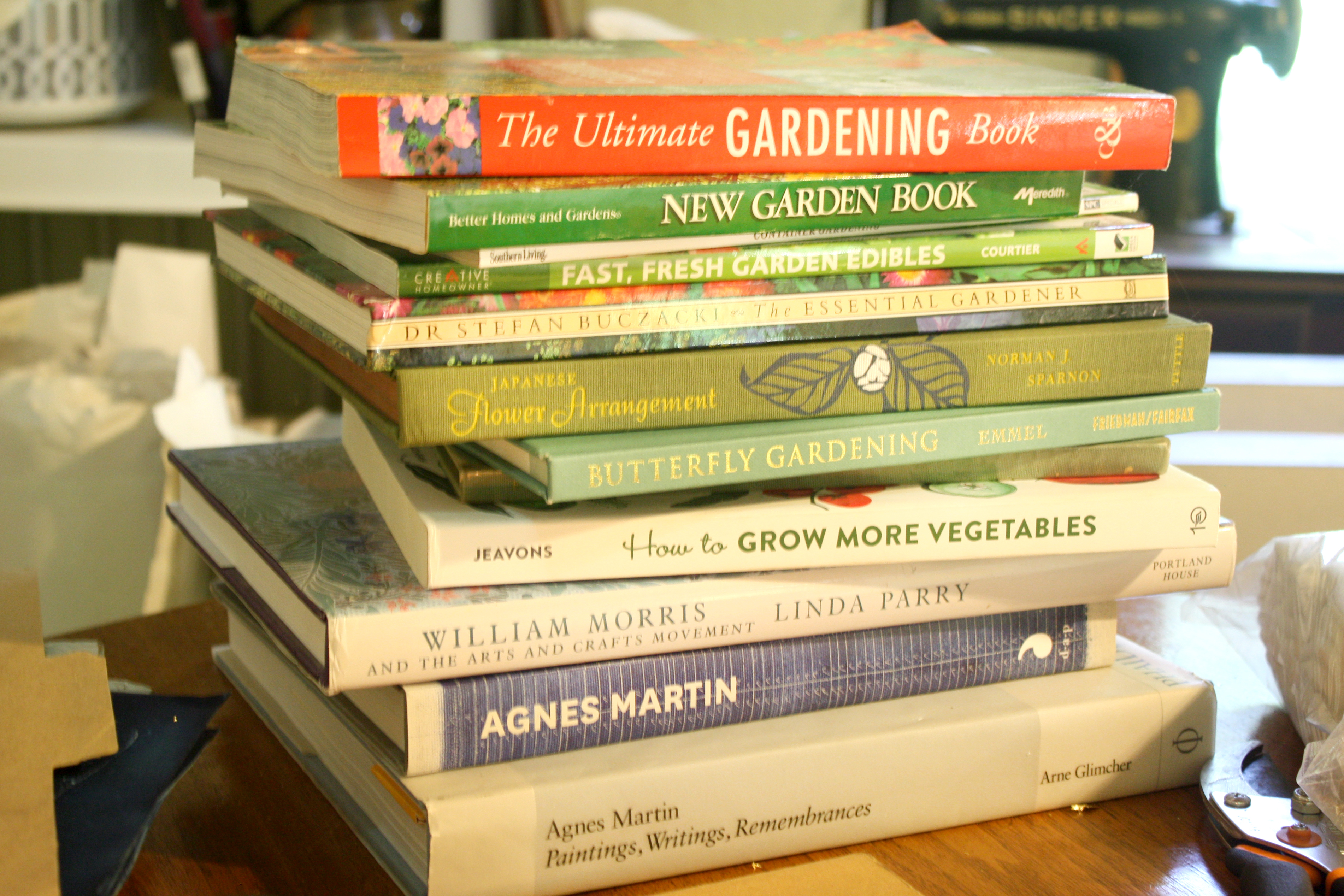 CH: Tell me about what you're working on next - you mentioned these big quilts that you're doing?
MB: Yeah, I've got at least three in my mind right, and then we're moving and I'll see what happens. I wasn't really sure that I wanted to continue the gold leaf quilts, but I feel like there's still a lot more to dig up with them. And, I really like the way that mixing imagery with the quilts and mixing more dye with the quilts. I'd also like to think more sculpturally too, not just quilts but what other sort of materials. I gold leafed an iron one time, thinking maybe I can just gold leaf domestic objects, but I don't really think it worked that well. I felt like a one trick pony. So, I want to keep working with the flowers in a way that's more archival, maybe sculptural. I've tried several things with flowers like dipping them in plaster, something to preserve them better, but I don't know. Maybe I'll end up doing some plant installation.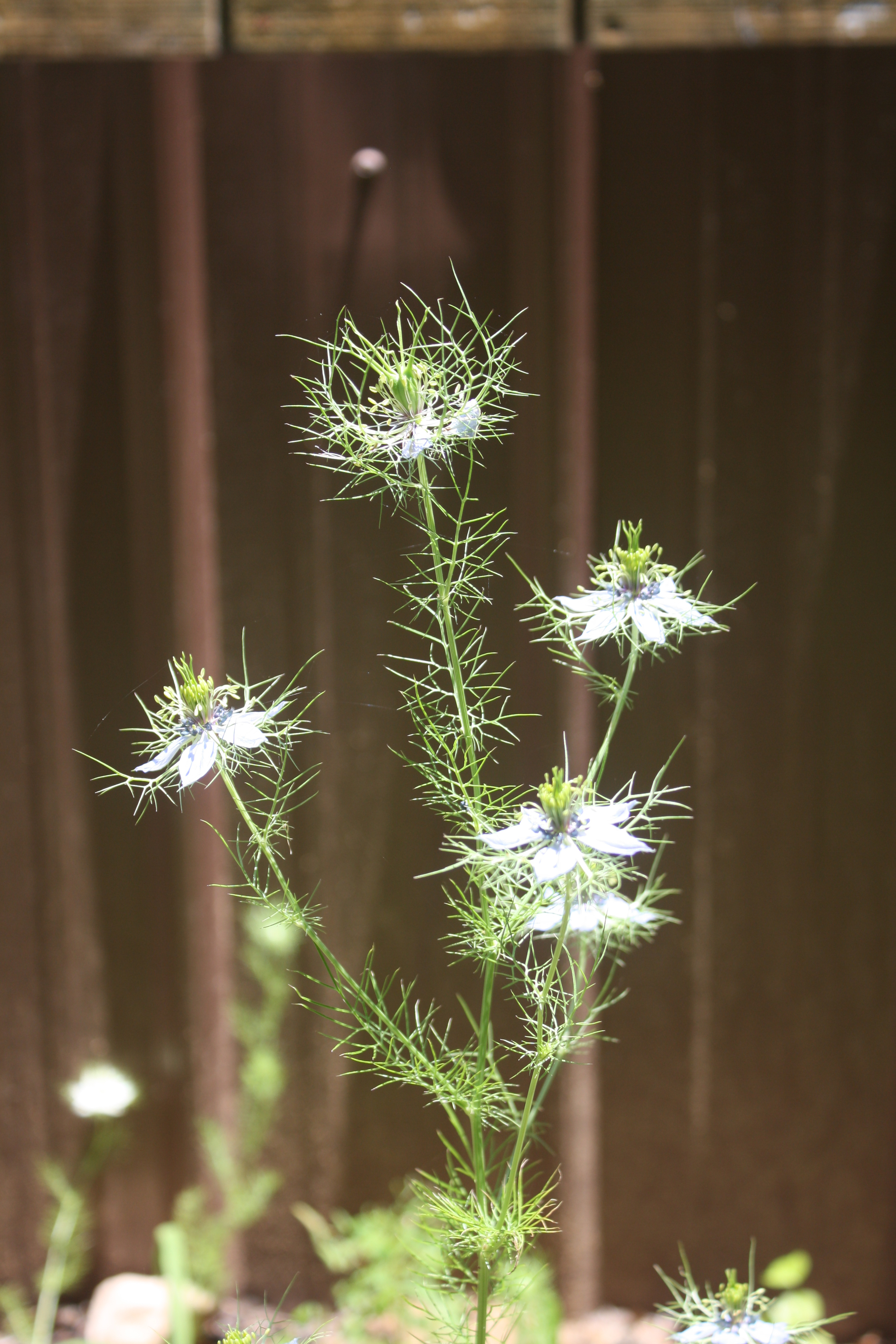 AL: With quilting in reference to time, it's been very dominated by women, and then you were talking about finding inspiration in this domestic space. Where do you draw that history into your practice now being a contemporary woman, or are you referring to that kind of craftsmanship that has been all throughout history? Is that something you think about?
MB: Definitely. I'm always thinking about how I can, through a modern feminist lens, look back at these incredible objects that were made by mostly women, and the practices that I draw inspiration from are these domestic practices that again, are dominated historically by women. How can I treat that in a way that is respectful to the history of it, but also try and turn it on its head and trying to reevaluate the hierarchies that are historical placed within that; so participating in domestic life, but not doing it because it's a woman's job - just trying to re-value it and look at it as a way of participating in creativity? I feel like that's what my grandmother always did. She would go to like a cabinet making class and learn how to make kitchen cabinets and all kinds of stuff like that. She was always so crafty and tried to be in control of the space as much as possible and bring as much value to it as she possibly could. So, I feel like I'm definitely looking at it through a feminist perspective and trying to look back at those histories and place values on them.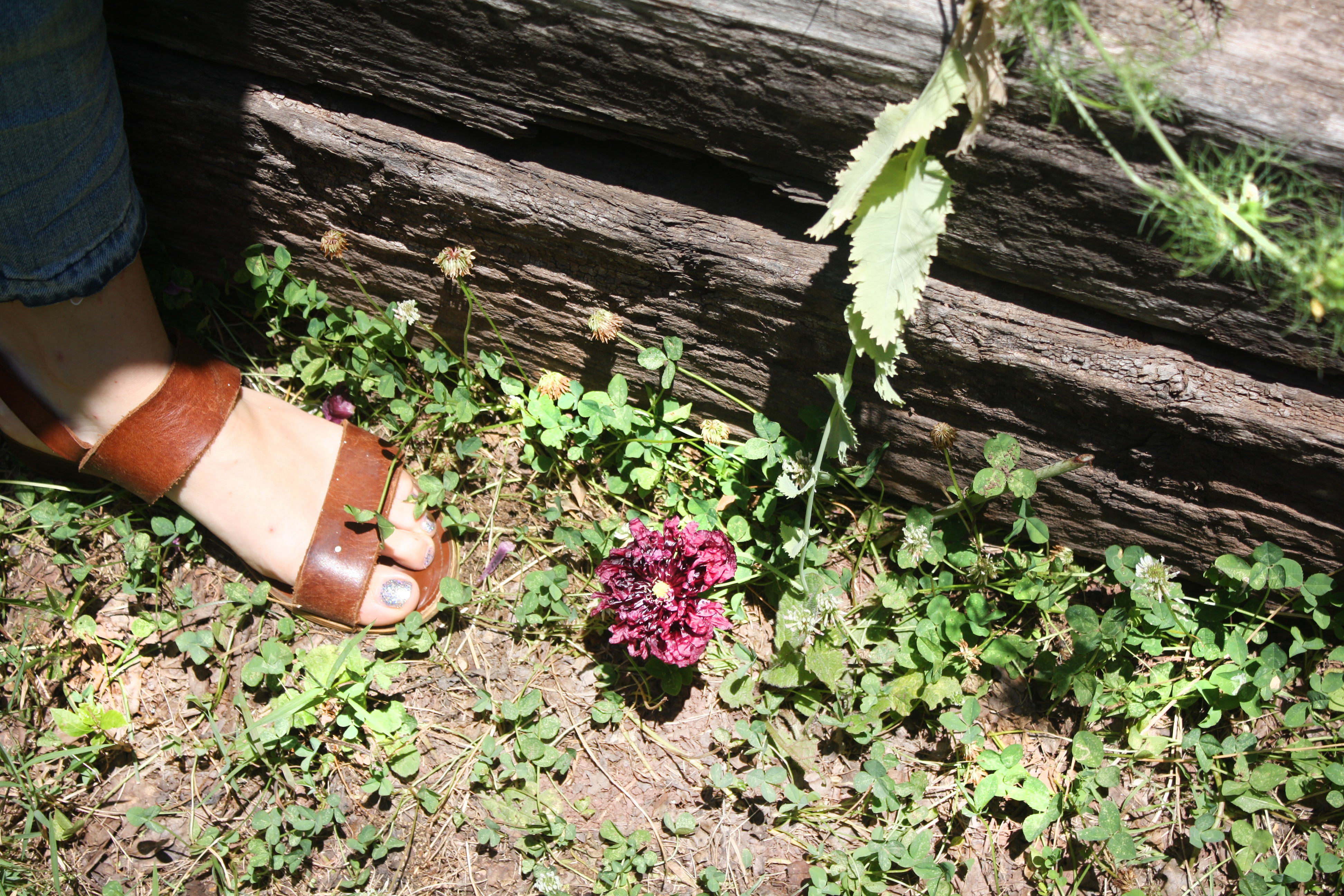 AL: And a doing lot of quilting back in the 1800s was some form of being an artist, but they thought about it as you being a craftsperson rather than as a career artist. But being a woman way back then and you can have this experience with the quilts and that sort of preciousness that you're talking about I feel like ties into your work as well. Especially as a grid painter, because I'm a grid painter as well and I curated a show at Fluorescent Gallery last February that was called Girl's Favorite which is apparently a quilt pattern, and so it was all women using pattern and repetition in their artwork but referring back to that idea of like how the contemporary quilter, if they could make a contemporary quilt, it would translate pretty easily into an abstract grid painting. So, I'm interested in also your ideas about grids, for my personal reference, what does a grid symbolize for you?
MB: I think I come to the grid from the quilt. So, the 9-patch pattern, which is the first pattern you would learn as a kid, it's just 9 squares sewn together and then you repeat that. And it's been a while since I've talked about the grid a bunch, but the way that I've always thought about it is that it's this exponentially expandable thing. I think it was Lucy Lippard? She was talking about small squares of time and maybe the reason grids hold such a big place in women's work in the past, like with quilting and stuff, is that we have small amounts of time. Whereas with oil painting, the paint's going to dry and you have to dedicate large chunks of time to that. With the quilt you can just piece together a couple pieces, and then piece together a few more, and it builds up to this huge thing that you maybe just created from a few scraps. There's something about that grid being able to expand into something that can cover the body that's really interesting to me. I think also a pattern that I'm really drawn to is the flying geese, and how we look to our environments and what we see around us and figure out how to create a grid around it. It seems very practical.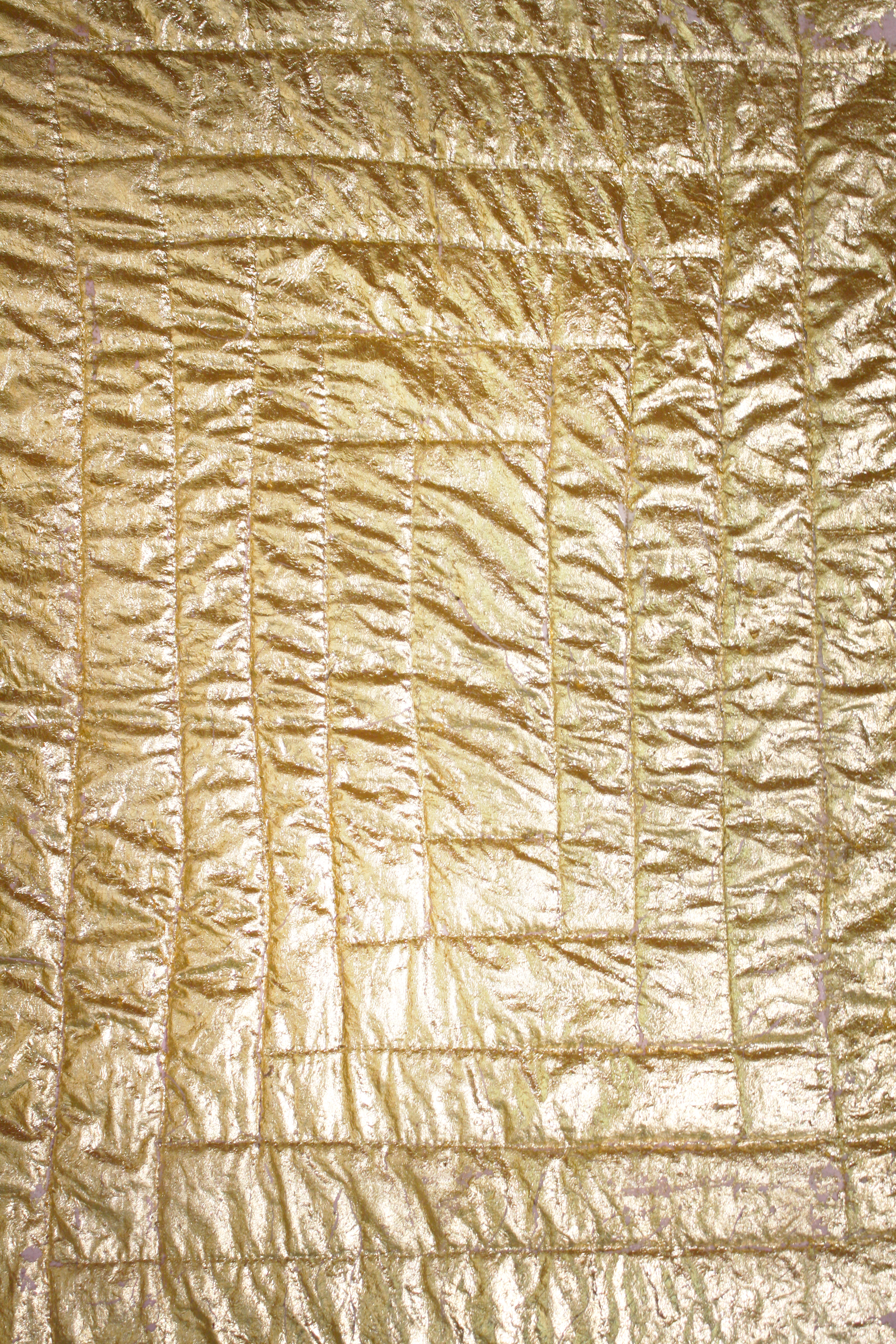 AL: I know for my practice, the grid seems like a way to compartmentalize or organize ideas, and that's interesting to talk about that with migration patterns and then also a lot of grid painters are thinking about organization. I like the idea of it being expansive with time. And then the integration of flowers is really interesting too, but you're using it in a way that it refers back to a grid mindset.
MB: I feel like the grid can't ever really disappear from my work, especially if it's a rectangular plane, it's within a grid. All of these pieces playing with pattern and repetition play into that and I think these cyanotypes are the least grid thing I do.
AL: Those are really organic in contrast to these quilts. Is that a time for you to take a break from that and experiment a little bit?
MB: They're so quick. I'm literally just picking weeds and dropping them on a piece of paper. And that's the work. You can't change it because the sun has already taken its hit with it so it is what it is. But you really can't control it.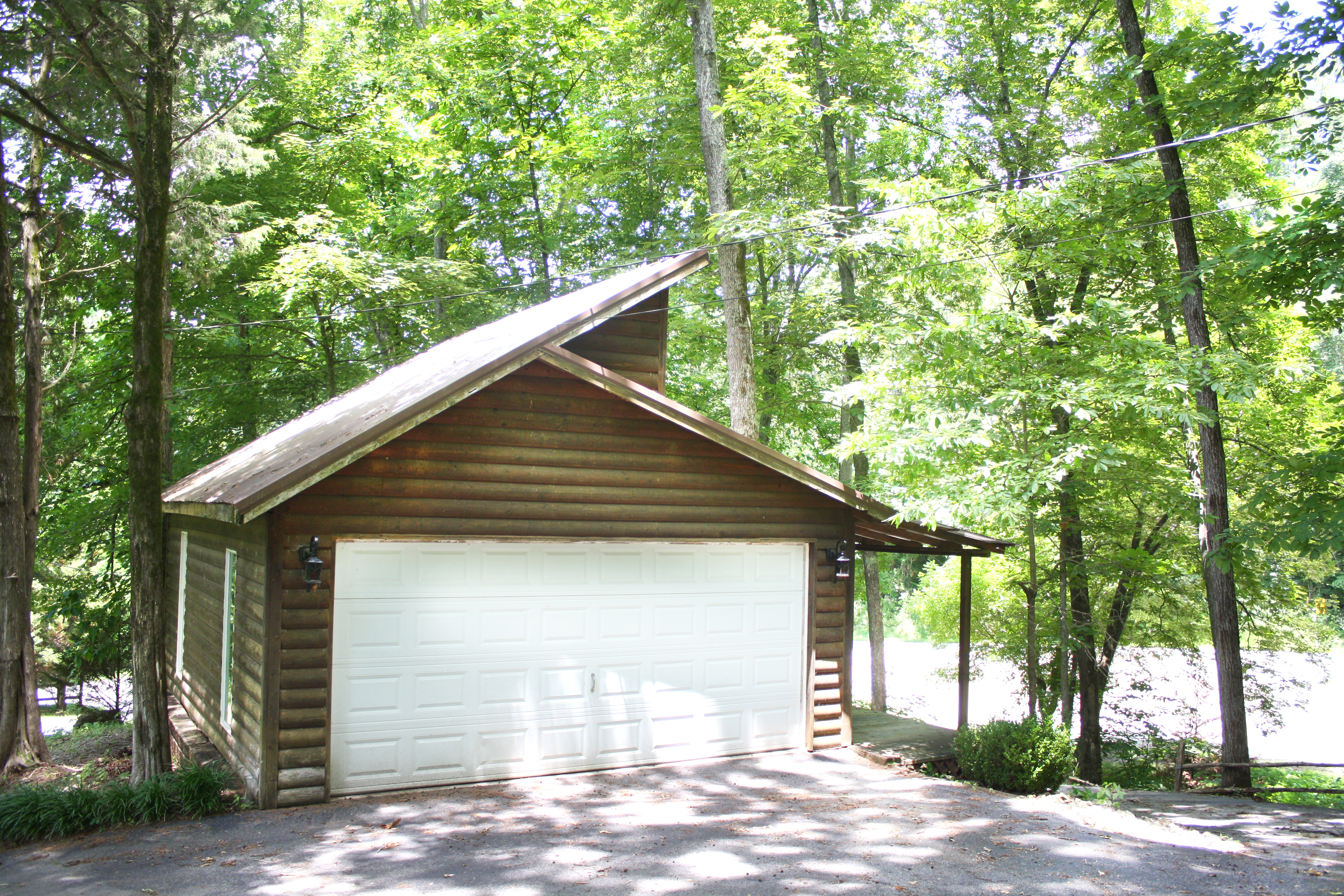 AL: How do you feel about being a contemporary fiber artist?
MB: I think I identify more as a fiber artist than a painter, but I try not to categorize myself or my pieces as quilts or as paintings. I feel like those categorizations are losing steam these days. There's just so many interdisciplinary artists or schools who don't abide by those rules and are dismantling the way we've kept to our discipline. I think I identify more with those inter-disciplinary artists, but I definitely connect with the history of fibers mores than any other discipline.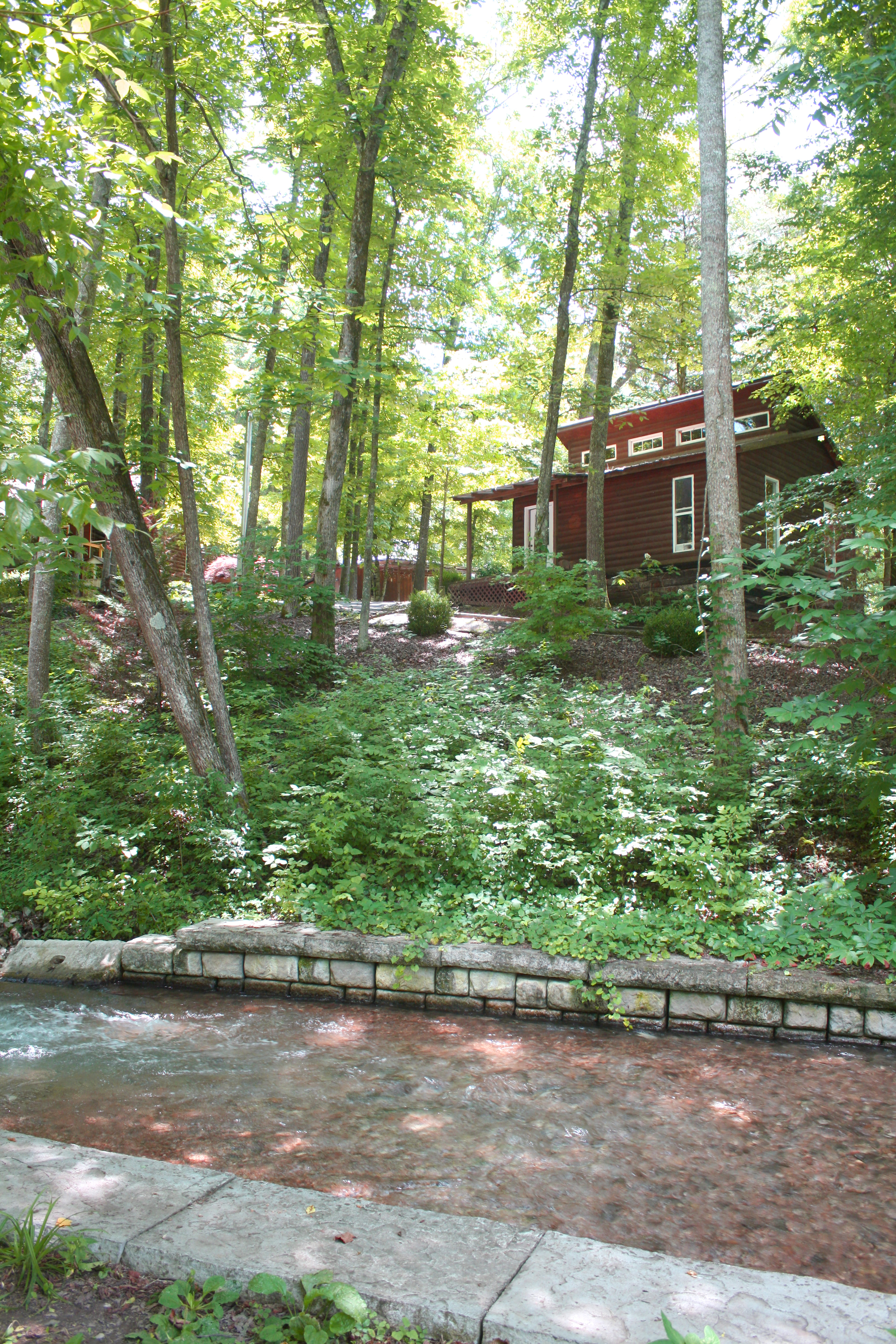 Molly's upcoming solo exhibition, The Smell of Honeysuckle, opens this Saturday, July 14 at The Red Arrow Gallery in Nashville. She will participate in a public discussion with Locate Arts Co-Director Brian R. Jobe at 5:00pm on Saturday at the gallery prior to the opening reception, which runs from 6:00-9:00pm.
---
Molly Barnes, born and raised in Tennessee, received her BFA from Mississippi State University. She then went on to receive an MFA from The School of the Art Institute of Chicago in 2017. After moving back to Tennessee, she has maintained a studio practice and has started teaching.
Ashley Layendecker is a painter, writer, and independent curator based in Nashville, Tennessee. She received her BFA in Studio Art, 2D concentration, in 2016 and her MS in Teacher Education in 2017, both from the University of Tennessee. She is currently an intern at The Red Arrow Gallery in East Nashville and writes for Locate Arts as a contributor to The Focus.
Carrie Hull is a practicing artist, senior art major at Lipscomb University, and incoming Co-Director of Open Gallery in Nashville, TN. She is also an intern for Locate Arts and a new contributor to The Focus.

* photos courtesy of Ashley Layendecker