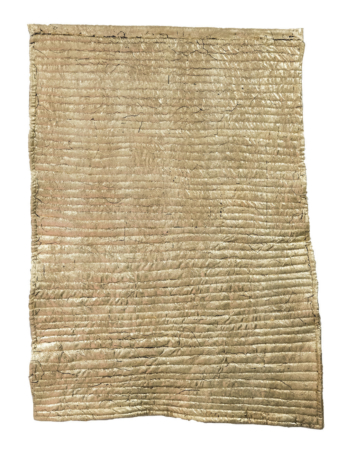 Exhibitions
MOLLY BARNES: THE SMELL OF HONEYSUCKLE
Molly Barnes
The Red Arrow Gallery announces The Smell of Honeysuckle, a solo exhibition with multi-media artist, Molly Barnes, opening on July 14th, 2018 from 6-9PM.
Please join us before the opening for con-fab\\ ed. 4, a Red Arrow Gallery artist talk series, featuring an engaging discussion with Molly Barnes and Locate Arts Co-Director Brian R. Jobe.

Molly Barnes is an artist born and raised in Tennessee. Barnes spends most of her time tending the garden or teaching observational painting. Incorporating these techniques into her art practice, Branes creates quilts through cyanotypes and gold leaf. Her studio is situated in the middle of woods next to a small running stream where she sits amongst the flowers and trees. Barnes collects the irises and anemones from her garden where she sews around the cyanotypes from handmaid dyes that she churns daily. After making these prints she sews around the shapes, creating quilts. Around these quilts she paints gold-leaf, which produce strikingly beautiful works of art. Barnes works resembles the works of Renaissance artist Simone Martini as well as the golf-leafed works from Gustav Klimt.

"Bumble bees and hummingbirds. Humble bees and bumming birds. 6 acres is a lot with a push mower. Dip the linen in the indigo vat, hang it on the clothesline, do it again. Sewing machines always break. It's ladies' day at the local antique store. Make a cyanotype between the clouds. I could live off the smell of rain and honeysuckle" - Molly Barnes, 2018
---
Molly Barnes earned her BFA from Mississippi State University in 2015 and her MFA from The School of Art Institute of Chicago in 2017. Barnes was born and raised in Tennessee where she currently resides on 6 acres in the woods near Winchester. This is her first solo show with The Red Arrow Gallery.