INTERVIEW: JESSIE VAN DER LAAN
JUL. 29, 2022
INTERVIEW: JESSIE VAN DER LAAN
JUL. 29, 2022
Rachel Bubis: You incorporate imagery of physical landscapes such as rock formations and fields of flowers as a way to portray the different layers and roles of your life. Do you spend a lot of time outdoors? If so, do you ever consciously go out into nature for inspiration for your work? Do you do any sketches? Are there any particular spots in TN you derive inspiration from?
Jessie Van der Laan: The imagery I use from nature I usually photograph while amid other activities. I walk and hike as often as I can with my kids and try to spend a fair amount of time outdoors. Some of our favorite places are Ijams, the UT gardens, and even just walks around the neighborhood. I would say this is a very conscious way that I look for inspiration, though research for my work is typically not the primary goal of the expedition. My garden and landscape imagery is mnemonic in this way – it records both the activity, the object, and the space. Additionally, my mom is a prolific gardener, so garden imagery also transports me back to childhood in some ways and is part of my lineage.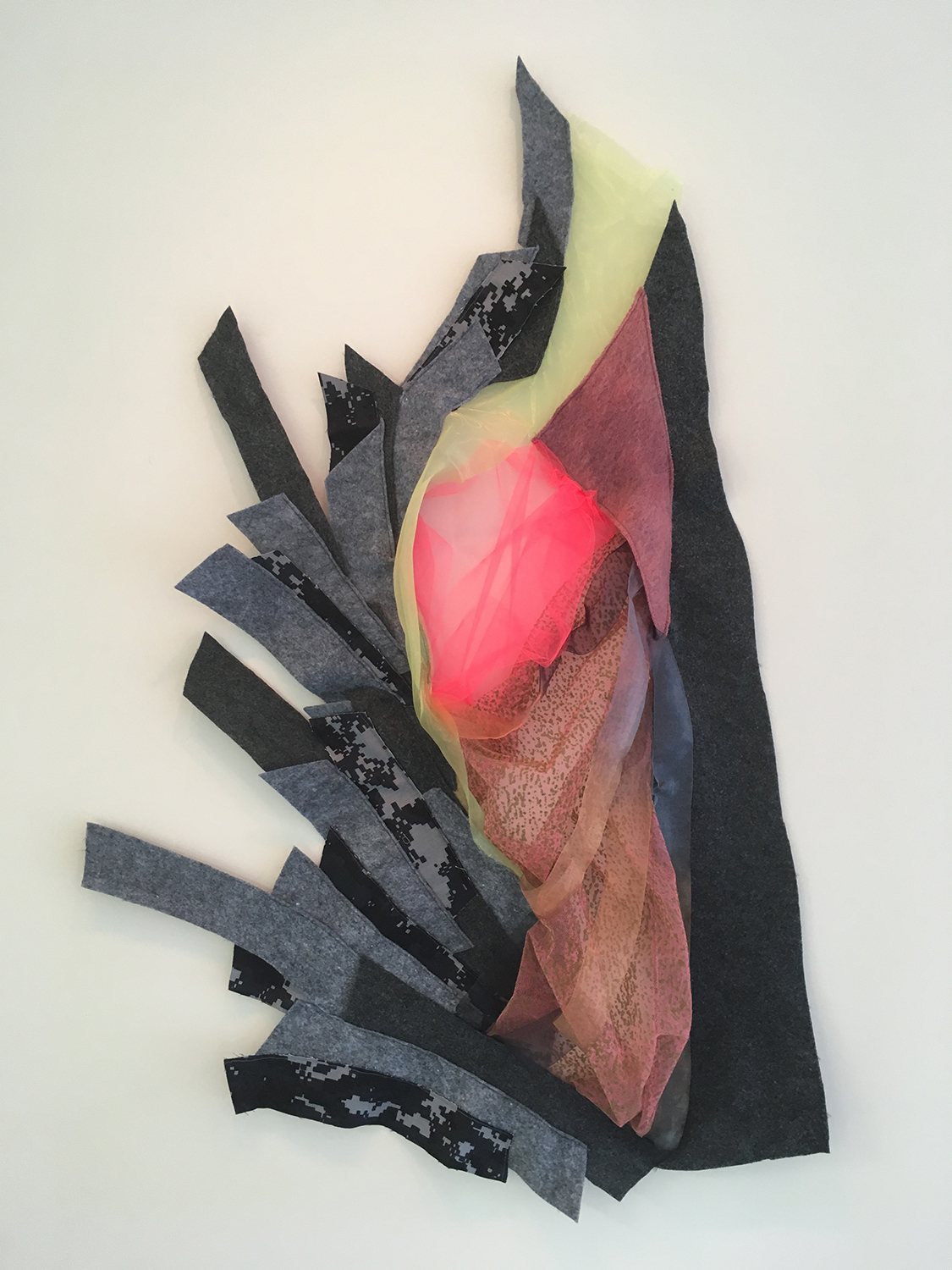 RB: In Cumuli Cumuli (2013) you present macro and micro landscapes (imagery resembling both tiny bacteria and the vastness of space) through layers of stitching and printing in order to "imitate the cycle of disruptions, snarls, storms, and rebuilding in which the remains become both the shadow of loss and the seeds to rebuild." I find this beautiful and oddly comforting. Does making this work help you process/feel better about the often baffling and chaotic world?

JVDL: Yes, absolutely. I recently told a friend that I can identify artwork that I love if it makes my stomach hurt a bit. I think this queasy feeling is what I strive for in my work – the stomach flip you get when you're either really excited or really anxious. It's the feeling of seeing someone you love deeply, or anticipating an exciting moment, or being anxious, or grieving. Your body makes the same space and response because they're linked – you can't grieve something (someone) you didn't love, and if you love something (someone), you're bound to be anxious about your shared future. That can be with a person or the planet. So when I make work that attempts to visually represent that feeling, I make space for both. It's not optimistic, but it can be comforting.
RB: Have you ever been surprised by someone's response to your work?
JVDL: Not entirely. I have pretty wide boundaries as to how people interpret my work – once I made an installation that I made prints and sculptures that were both vaguely like parachutes and vaguely like jellyfish, and I had someone ask if it was about paratroopers. This is mostly what I encounter – because I make work about ambiguity and things that are many things at once, some people want a more definitive "this is what it is", and they land (no pun intended) in a different zone than I had considered while making the work. But generally, if anyone finds a way to connect to my work, I'm happy. I often have students learning about art and want the "answer" to what it's about, but what's more interesting to me is how art can prompt us to explore aspects of ourselves or our world, so if I'm surprised by response to my work, it might make me chuckle, but I'm generally satisfied if they've made any type of connection or been inspired to reflect in a new way.
I used to worry that my art was "too pretty". In part, as I said above – the more beautiful, the more complicated, and potentially dark something is – but my work can present as just pretty. In general, as I've developed as an artist (code for getting older), I just make the work I want to make and don't worry as much about how it's perceived. This is also in part due to having a full-time teaching job that I love, and that is supportive of my work and my level of showing/recognition, and so I'm no longer doing the hustle of trying to prove my worth. I still try to challenge myself and get to the next level but it's more for myself than for others.

RB: You work interchangeably between drawing, printmaking, fiber sculpture, and installation. How do you decide which medium you want to use – do you work on different bodies of work at the same time? Or does inspiration dictate randomly?

JVDL: I just tend to cycle. I'm a very tactile person – so I often am drawn by a material or I have an idea of how something will present. I also combine mediums together – so my installations may have prints and fiber work or drawings and sculpture. I do less printmaking than I used to partly because of pragmatic reasons. When I had kids, every moment to make art was precious, so the clean-up time that has to be factored into printing a lithograph was outweighed by the ease of swishing a watercolor brush in a cup of water and setting down a pencil. Fiber art is also something that can be done in small increments. Even so, I don't often work at home. I know many artist/mothers/parents that work with drawing and fiber arts so they can work at home or amid their children's activities. I've done that some, but I prefer a dedicated studio to myself (and my studio mates). But when I'm there I try to maximize that time.
Artists are silly about mediums. I know very few artists that could fit in a traditional category of medium, but they're pervasive. My training as a printmaker makes me think about layers, transparency, and repetition in every piece I make, even if it's not "a print". Printmaking is my heritage and vocabulary, but it's not necessarily the medium I make work in. I use a lot of stencils with watercolor – is that painting or printmaking? I think it's like picking a baseball team – we're all playing the same sport, but you can end up holding fiercely to your team, even if you move to another city. Art mediums can be the same way – no matter what we make, we view our practice through the lens of our "home team".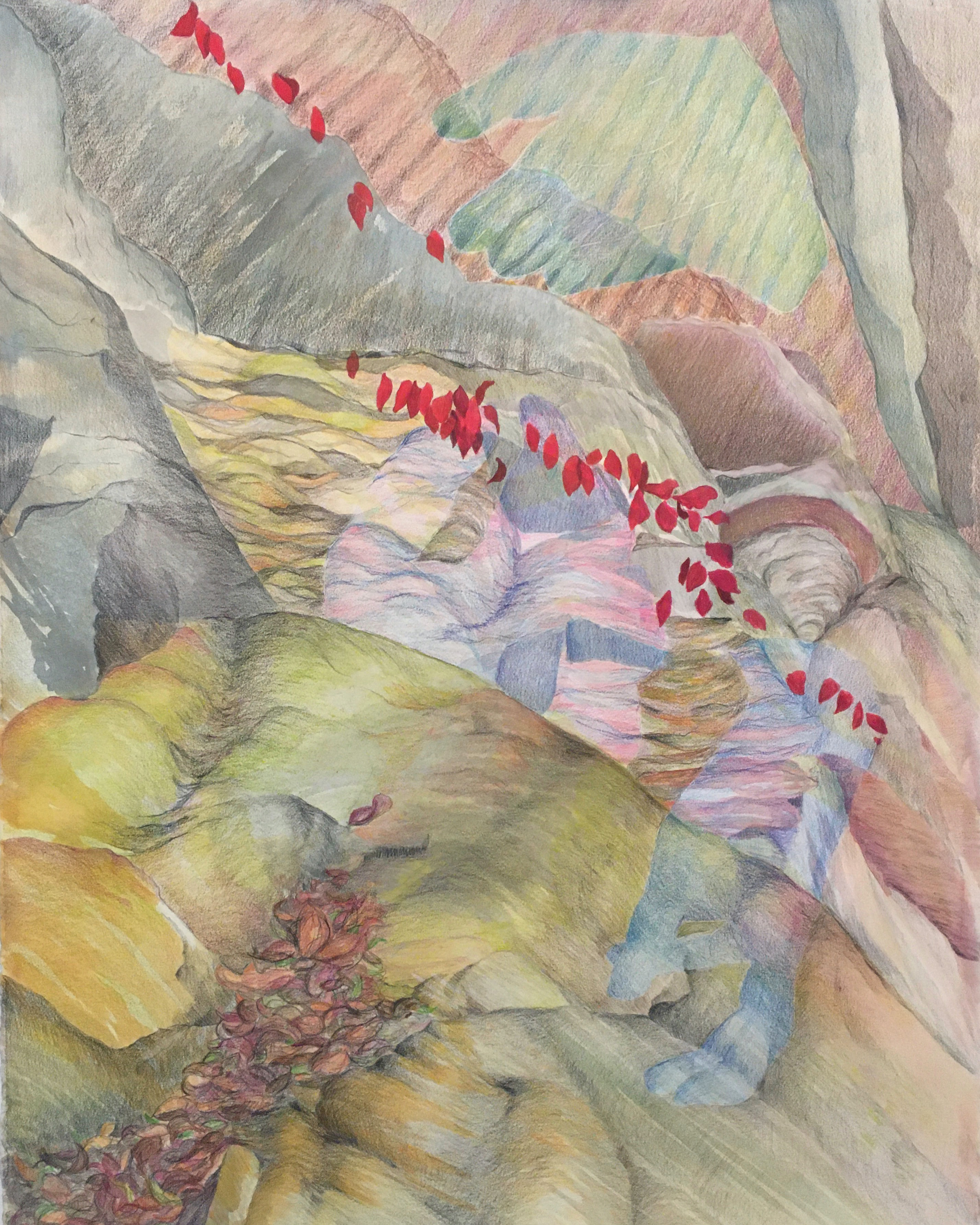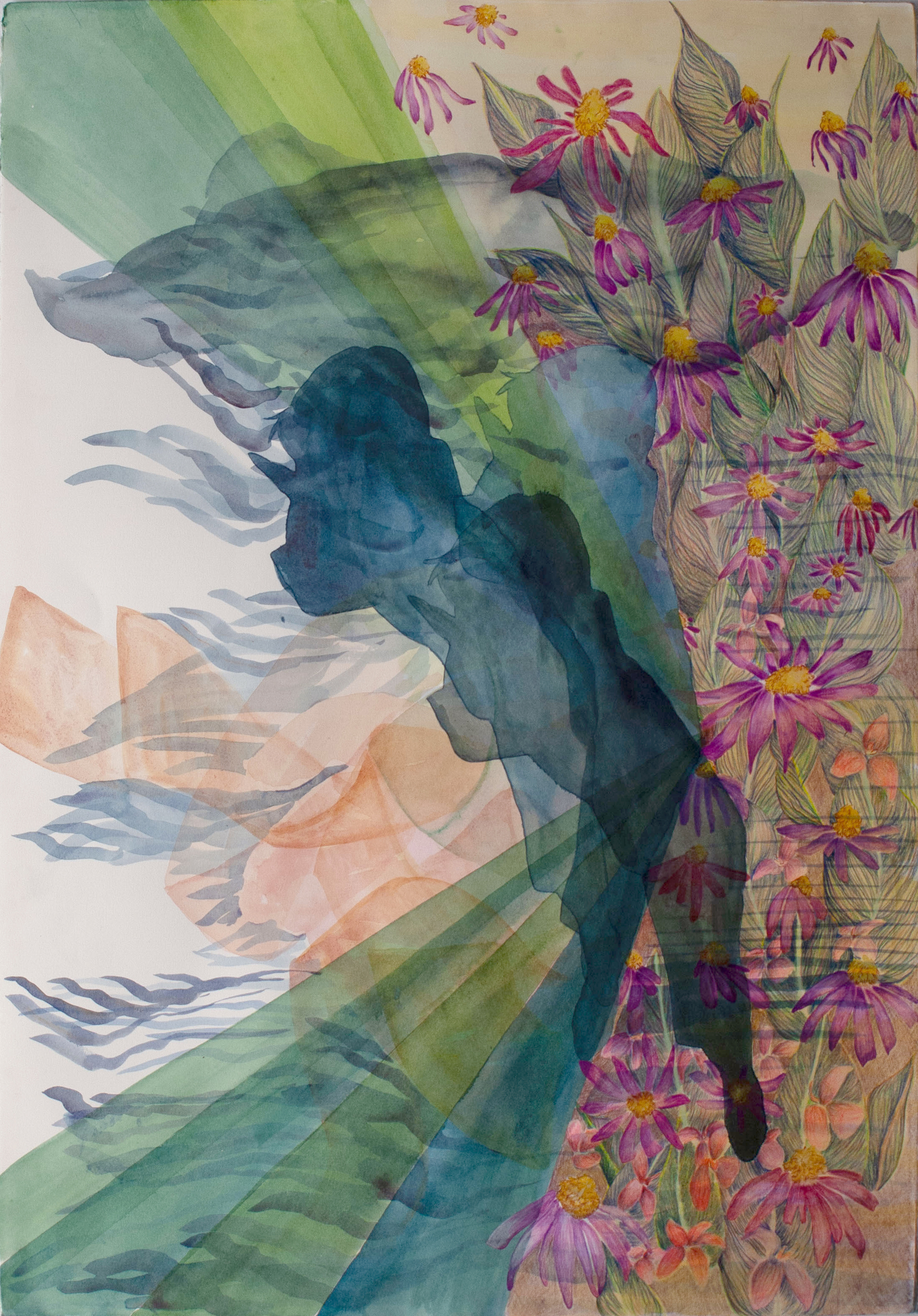 RB: Delays and Interruptions (2016) is a series of collaborative drawings that you created with Brian Hitselberger. Can you tell me more about the logistics of this collaboration? Did anything surprise you from the process? What was your biggest takeaway? Did it shift your practice in any way?

JVDL: Brian and I met in grad school – our respective programs had created a collaborative printmaking weekend and we connected immediately and spent several years talking about a collaboration. When we made the work I had a young toddler, was pregnant with my daughter, and had recently had a good friend pass away unexpectedly. My practice was in a time of disruption and stagnation, and working with Brian was invigorating and fun, and a reason to head to the studio without pressure but with accountability.
We each made a set of drawings, mailed them to each other and then each made a series of responses, and then matched them as diptychs over email.
From our collective statement:
The title, Delays and Interruptions, certainly refers to this series of communication and the span of time between the artists' meeting and completion of this project, in which each artist took on new professional and personal challenges, including new jobs, solo shows, and parenthood. Shortened spans of studio time, which were often delayed, or interrupted, led way to adapting to new processes of making. These pieces embrace exploration and experimentation, using a variety of materials and subjects that are intermixed, obscured, layered, and reflected. Each pair creates an intersecting reverie grown from one another's daydream.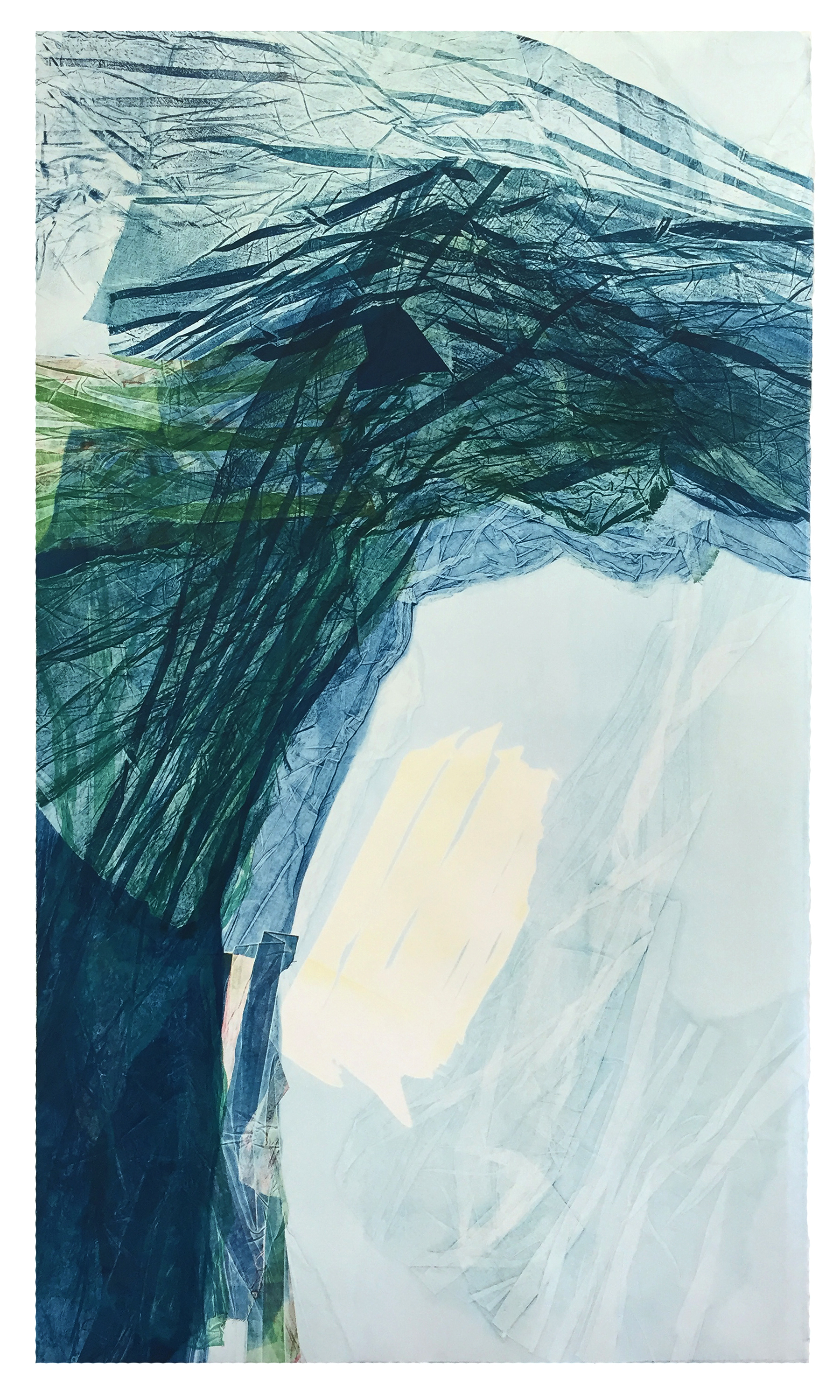 RB: Are you still with Vacuum Shop Studios?

JVDL: The Vacuum Shop Studios ended in November of 2020 when our landlord decided to renovate the space for other purposes. We had a wonderful expanse of years in the space and are so grateful for the time there. I was one of the 4 original members of the collective, and our network grew and changed over the years. We now are a network of artists that love and support each other, but don't operate as a collective. I now have a studio with another VSS member, Kelly Hider, and with another friend and local artist, Lynne Ghenov, that is a more private work space.
RB: What are you working on now and what's next?
JVDL: My last show in the fall of 2020, "absorption" was a series of drawings about motherhood using figurative and landscape imagery. Currently I've been working on series of weavings and a series of collages. I've been working on these side by side – yet to determine if they'll turn into one body of work or two sibling bodies of work. I have a show in April 2023 on the North Wall of the Emporium Building with the Arts and Culture Alliance in Knoxville, so you can find out then what I figured out.
---
Jessie Van der Laan is an interdisciplinary artist, living in Knoxville, TN. She received her B.F.A in Printmaking and Drawing from Washington University in St. Louis (2002) and her M.F.A in Studio Art from the University of Tennessee, Knoxville (2009). Her work is informed by her training as a printmaker, and a childhood spent knitting, sewing, drawing, and daydreaming. Van der Laan was raised in Denver, CO, whose landscape continues to lend form and color to her work. She is an Instructor of Art at Walters State Community College in Morristown, TN. She has shown her work in numerous national and regional exhibitions.
Rachel Bubis is a Nashville-based independent arts writer, regular contributor to The Focus blog, and LocateArts.org Web + Print Manager for Tri-Star Arts.