INTERVIEW: DUNCAN MCDANIEL
APR. 22, 2021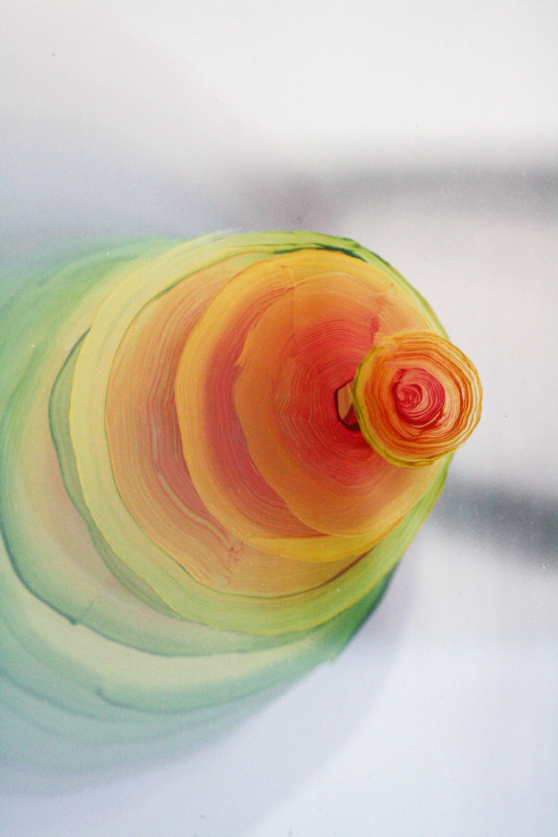 INTERVIEW: DUNCAN MCDANIEL
APR. 22, 2021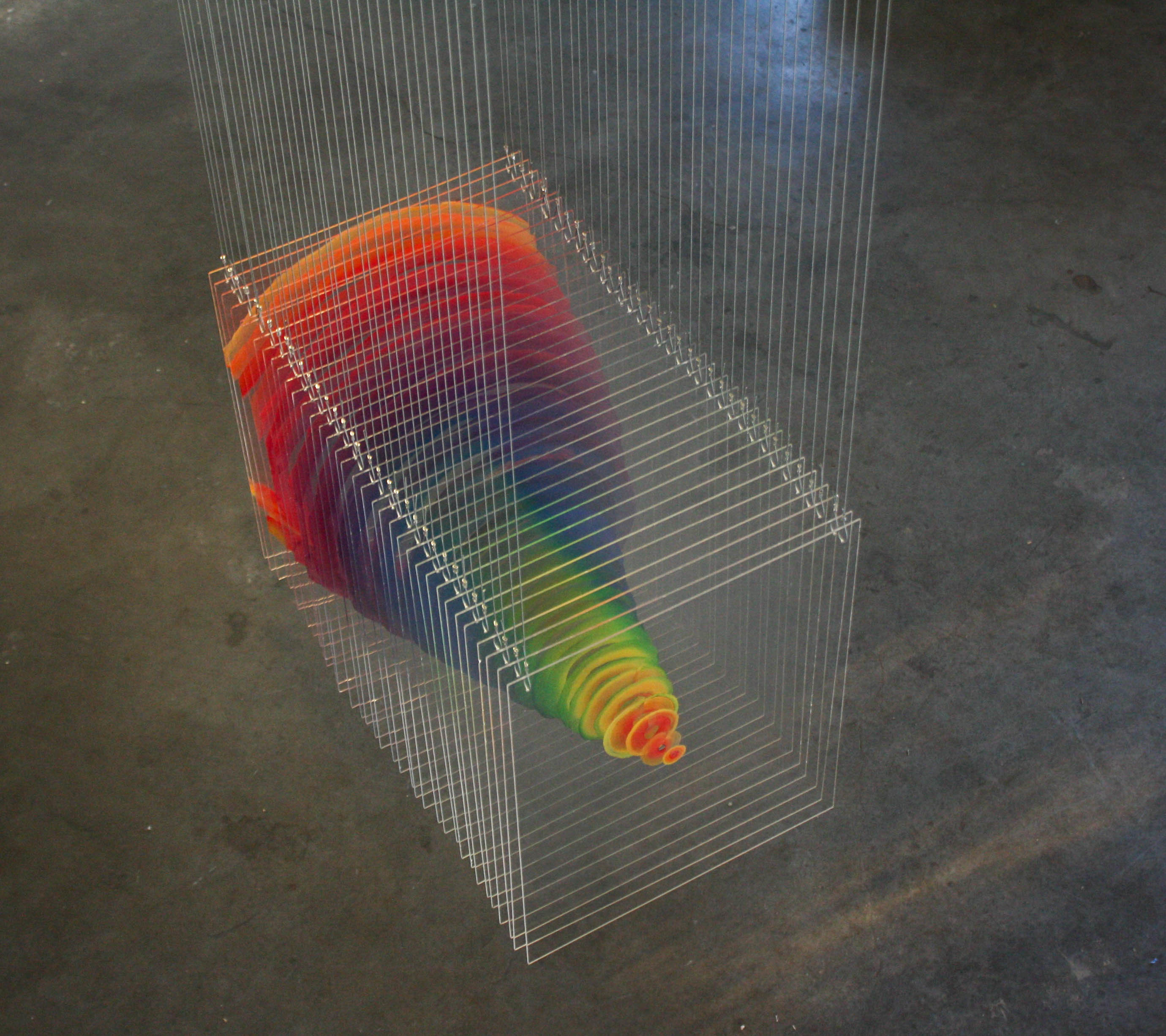 Hanna Seggerman: Color appears to be a very important element of your practice. How do you select your palette?

Duncan McDaniel: You're right! Color is extraordinarily important in my work. I start off with a loose color palette to work from, but then I instinctively lay down different colors of paint as each color choice informs the next. As the piece develops, the color choices can drastically change. Certain colors take on lovely nuances in context with other colors and I feel it is my responsibility to arrange them in a way that achieves harmony. It's similar to a musician playing a chord or scale progression. If one element is off, the whole thing becomes unpalatable.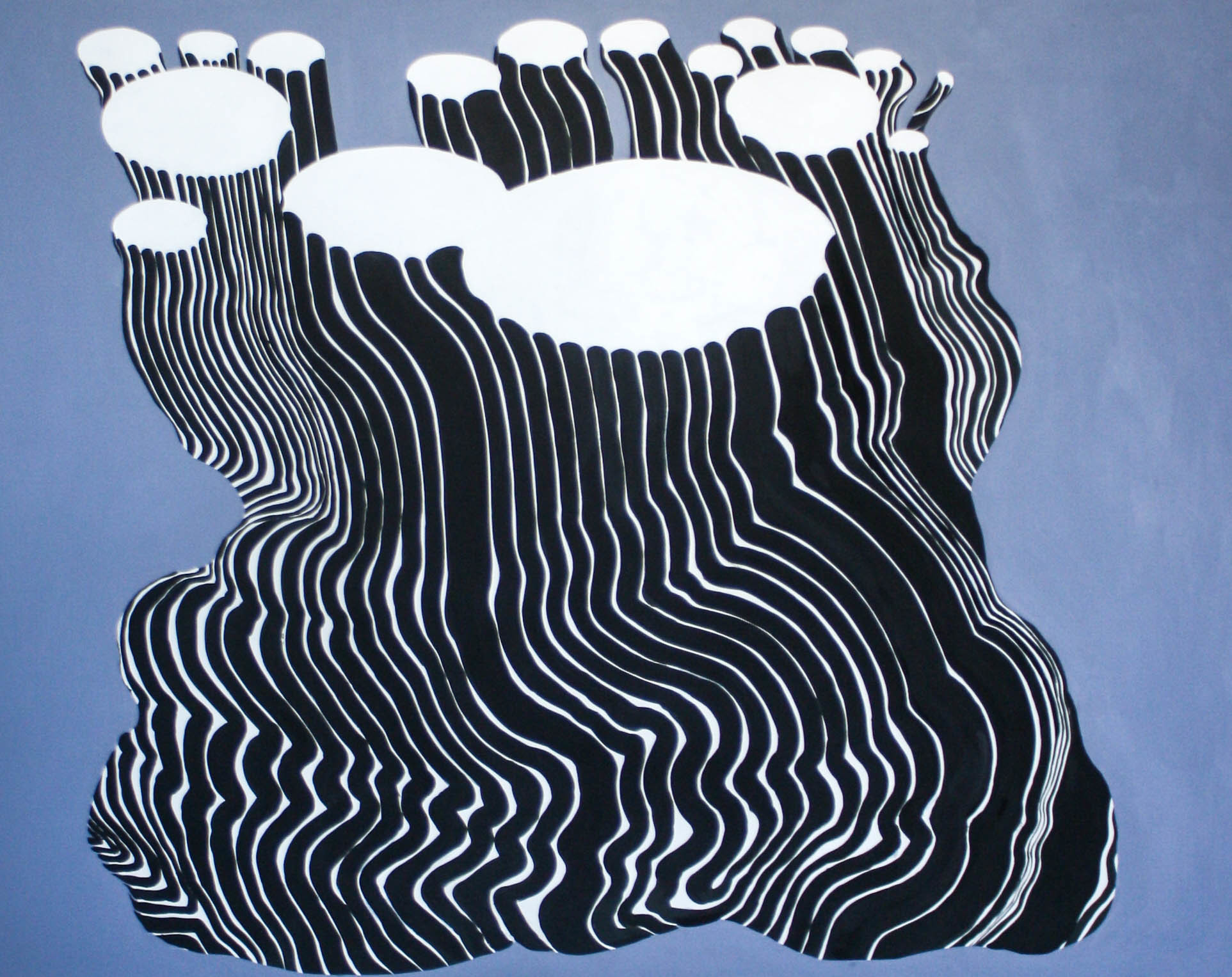 HS: Many of your titles are very intriguing. What is the process you go through when selecting a title for each of your works?

DM: The titles are almost always selected after I finish the work. My best pieces come from a subconscious place and my conscious mind is not always aware of what's going on beneath the surface. For example, the piece titled The Death of Ursula. In my conscious mind, I was making this cool minimal psychedelic piece with a hint of aquatic vibes. But beneath the surface, there was much more going on. Around that time we were snowed in for a week watching a lot of Disney movies with our daughter. One, in particular, was about a mermaid who wanted to walk on the surface and be where the people are. I had this realization that I always had a thing for Ursula as a child. Dangerous, voluptuous, and powerful. She could make your dreams come true! But at what cost? I won't ruin the film by telling you what happens to Ursula, but this piece turned out to be a reconciliation of the loss of my own childhood fantasies that happened inevitably when I became a father. All good though, I think I've worked through it now.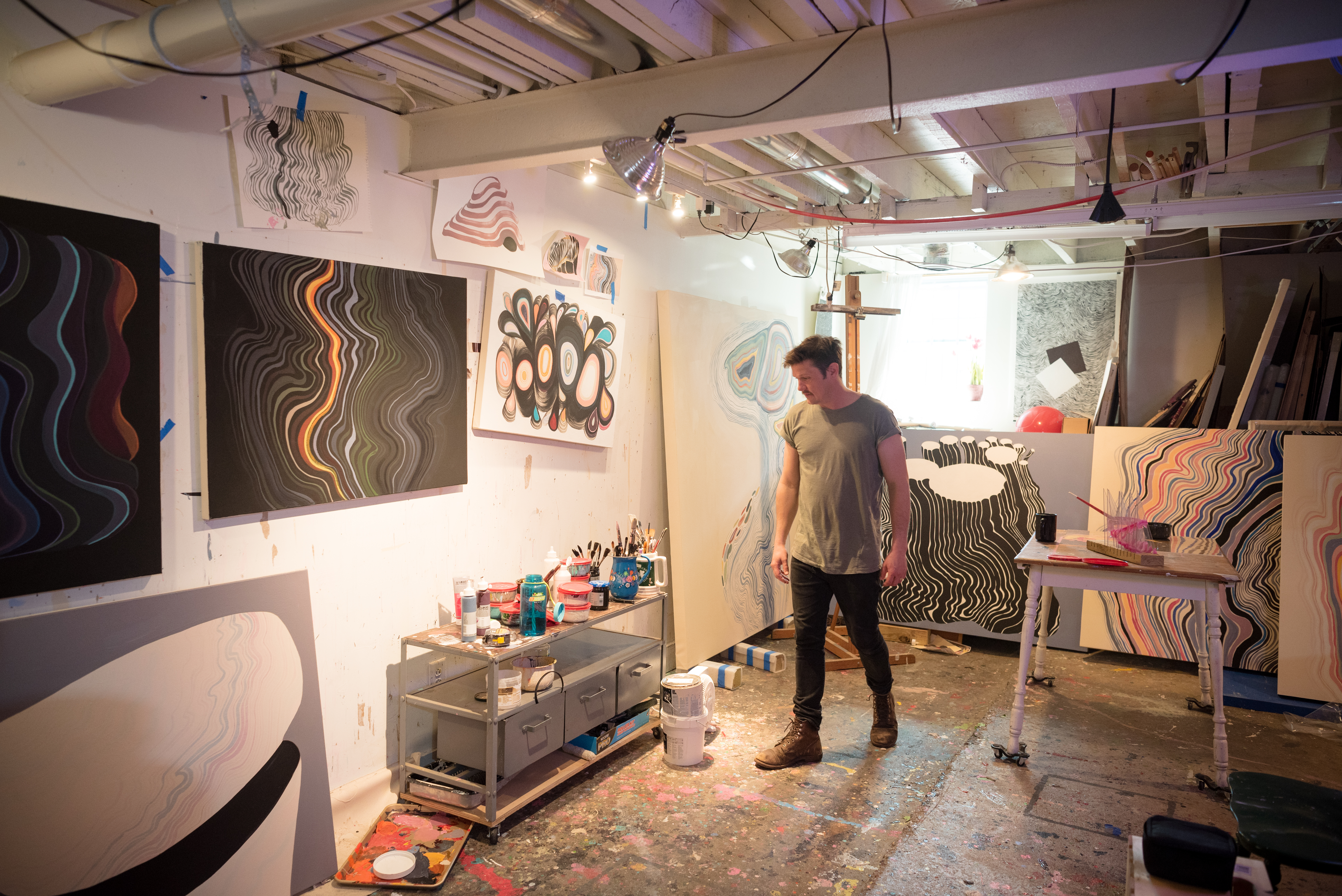 HS: Explain your use of shapes that create negative space within the composition void of both line and color.

DM: I've discovered that when the lines fill the entire picture plane without any negative space, they become just white noise and there is kind of nothingness to the composition. When the shapes enter the picture they act as an entry point and a necessary visual resting place for the viewer. But, perhaps most importantly, the negative shapes give the lines context and vise versa. The fluid lines act as energy or activated space and the spatial voids are unactivated passive space. The point where these two elements meet is interesting. The negative space unlocks the fluid motion of the lines and, in contrast, the rigidness of the shapes is rendered more compelling by the soft energy around them. It's sort of like flying a kite in a gentle breeze.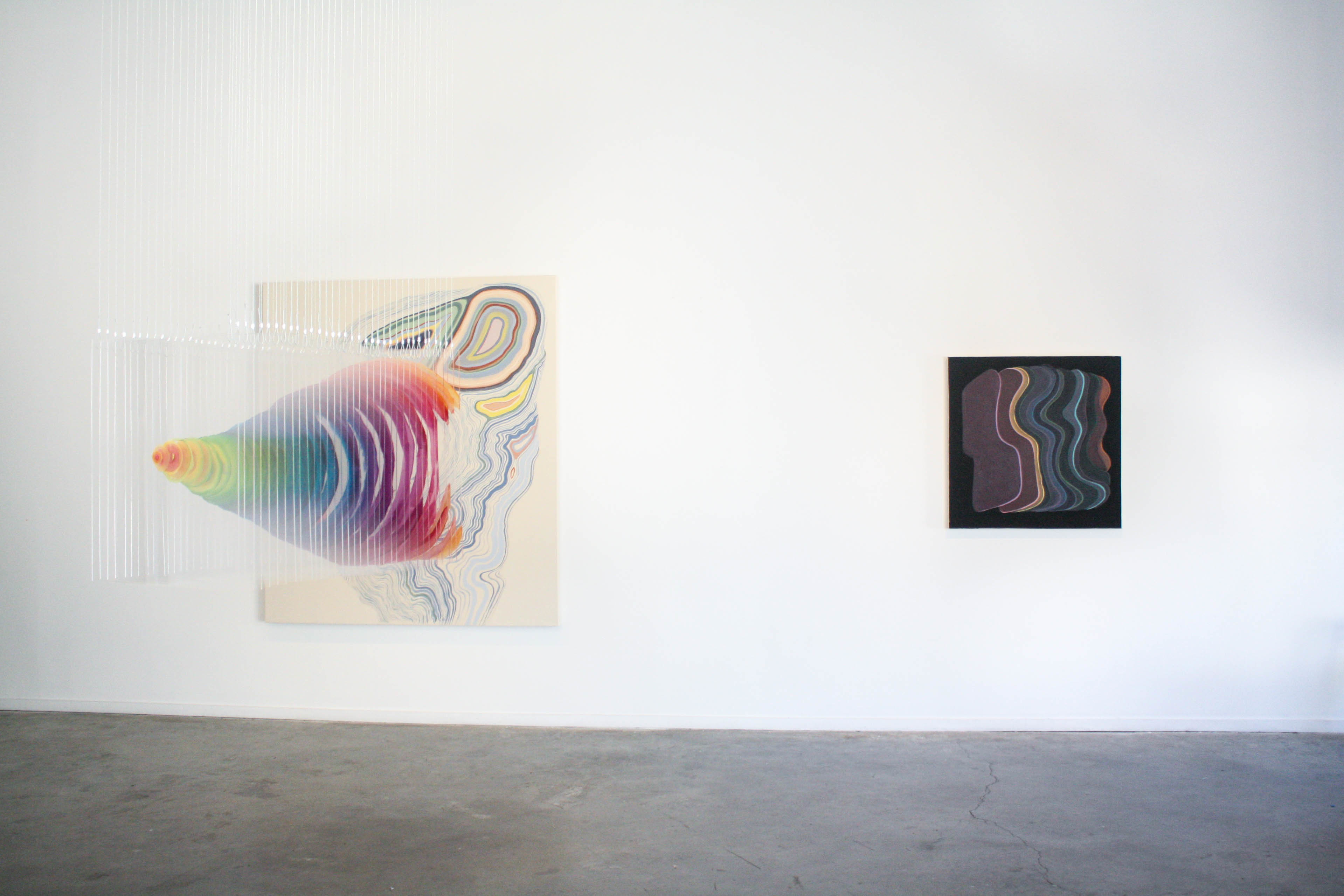 HS: You define your works on paper as "experimenting with line and color on 18"x 24" sheets of paper". Do you ever find these experiments informing future work? If so how?

DM: Works on paper allow for crucial experimentation with just that: line and color. My painting practice is more about the process than planning and, the more experience I have within the safe realm of paper, the more deliberate and confident I can be on a refined level. I go through hundreds of these 18" x 24" sheets of paper. Probably 10% are good and the other 90% go to the fire pit in our backyard where I ritualistically burn the work. It's actually a quite cathartic and freeing practice.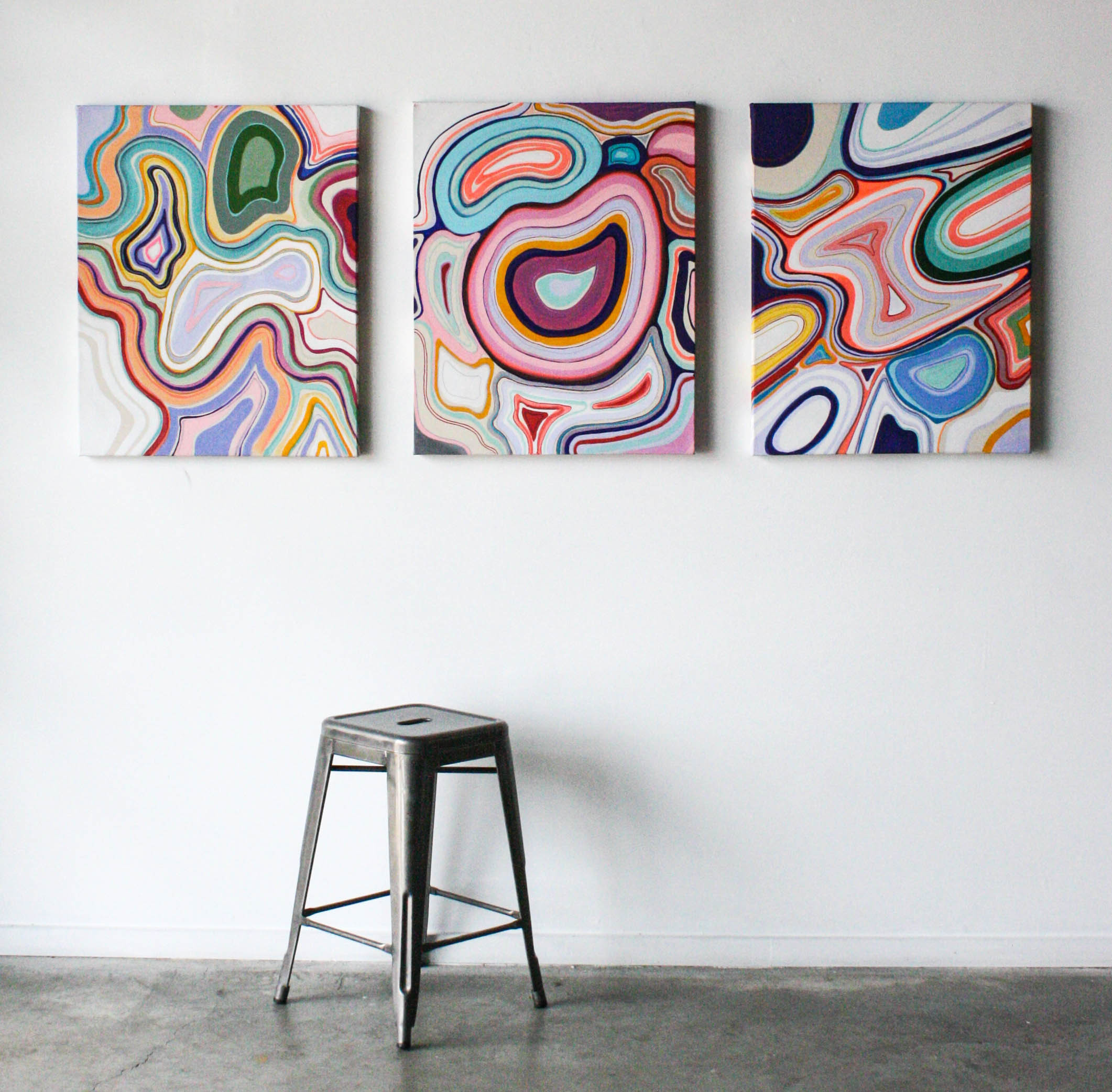 HS: Your series Line Field references "time, freedom and consequence". Can you elaborate?

DM: The process of my painting, the linework, is a direct illustration of time freedom and consequence. Every painting starts with a single line. The next line is painted adjacent to mimic the shifts and variations of its predecessor. After the process is repeated again and again, the subtle changes and mistakes build in surprising ways over the canvas. To me, it is a very simple and pure form of expression. It mirrors the idea that with each new day we are slightly different versions of ourselves from the previous ones. This pattern can be seen pretty much everywhere especially in nature. And I'd like to mention the process is an absolute joy for me to make.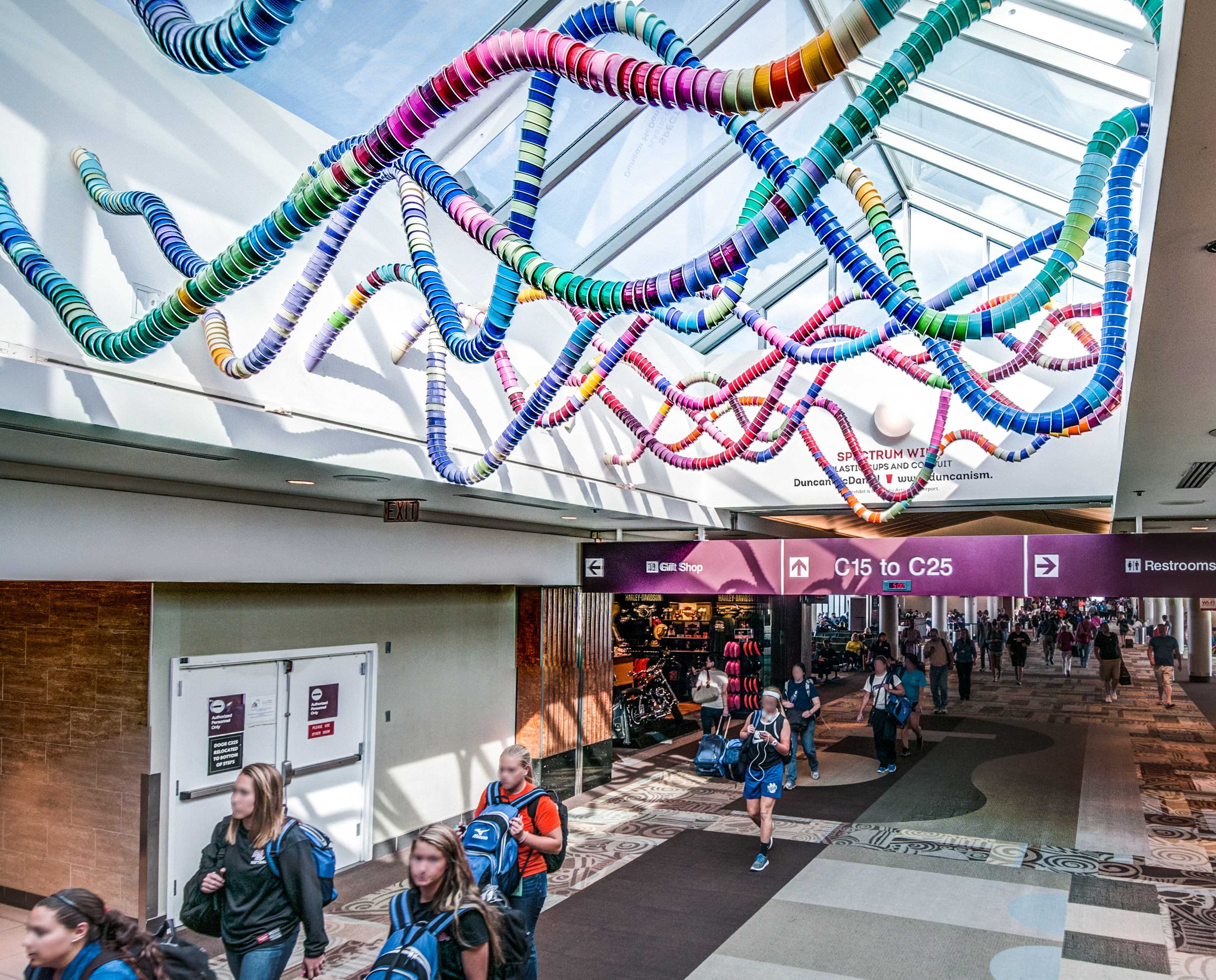 HS: On this "open-ended journey" has there been a specific piece that was surprisingly transformative for your practice?

DM: Yes! I can confidently say Spectrum Wind, a temporary installation commissioned by the airport to promote Bonnaroo 2014. It was on display in one of the skylights. Hundreds of different colored plastic cups running through an overhead skylight in an undulating motion greeting festival-goers as they proceed to the party. The repetition of line and color was surprising and playful. And ultimately my paintings followed suit. It's funny the backstory of the concept came from a time when I was visiting my girlfriend in England. (We are now married BTW.) I was at a pub chatting with the locals and they asked me if Americans actually drink from the red plastic cups at parties. Full of national enthusiasm I got to explain all about freshman keg parties, beer pong, etc. Little did I know that this moment was the conception of the next 7 years of my artmaking.
HS: What are you working on now and what is next?

DM: Right now my work is on view until the end of the month at The Red Arrow Gallery and I am part of a group show at the 21c Museum Hotel titled Long Distance. I am finishing a commissioned public art piece in the DC area. As all that's wrapping up, I'm enjoying the lovely April weather by helping my wife refurbish a vintage camper in our backyard. When that's done, I'll be going back to experimenting with works on paper in preparation for a solo show at the Parthenon opening in October 2022.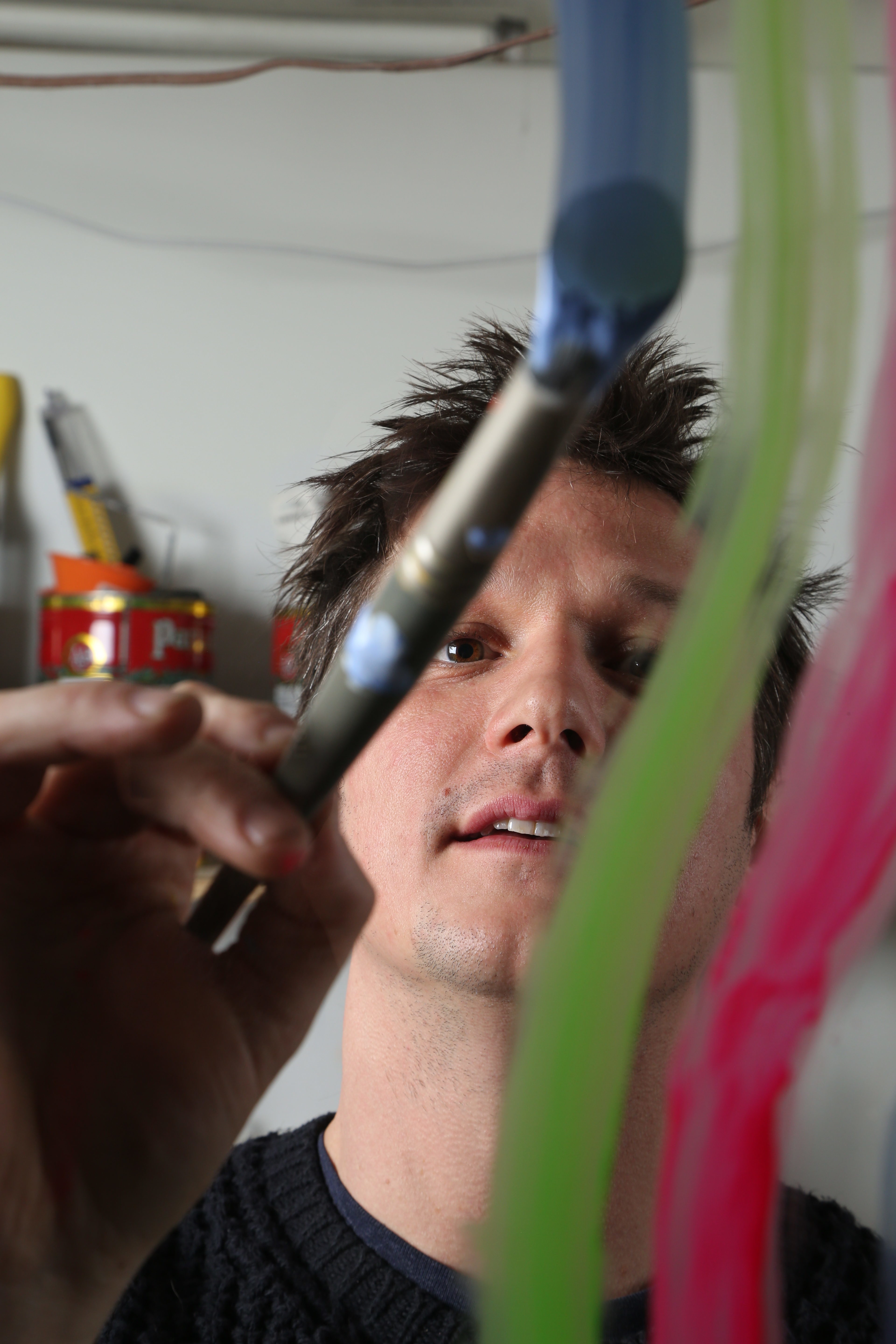 ---
A solo exhibition by Duncan McDaniel, Rooted, remains on view at The Red Arrow Gallery (Nashville, TN) through this Sunday, April 25, 2021.
---
Duncan McDaniel is an interdisciplinary artist whose practice combines light, color, found objects, and traditional art-making techniques to facilitate fine art in the commercial gallery setting as well as art in the public realm. Through these multiple techniques and venues, Duncan incorporates art and design into an intrinsic experience of finding harmony and joy within each piece. Highlighting the connection between man and nature, the artist uses bright colors that reflect shapes and patterns that are nestled harmoniously in between the natural, manmade, and unseeable worlds. There is an overarching directness and simplicity of the work that speaks to viewers from all walks of life. After receiving an MFA from the Savannah College of Art and Design in 2006, Duncan has embarked on a creative exploration of interpreting the world around him into visual art. Duncan has exhibited work in public places and galleries nationally. Duncan's public art can be seen throughout the southeastern region including a children's hospital in Knoxville, a sculptural park in the Burlington area, and sculptural bike racks in the Nashville area.
Hanna Seggerman is a current MFA Candidate at the University of Tennessee - Knoxville. She completed a BFA in Sculpture and a BA in K-12 Art Education at the University of Northern Iowa in 2019. Hanna is the Spring 2021 Lead Intern for Tri-Star Arts.
* images courtesy of the artist