INTERVIEW: KELLY HIDER
OCT. 25, 2018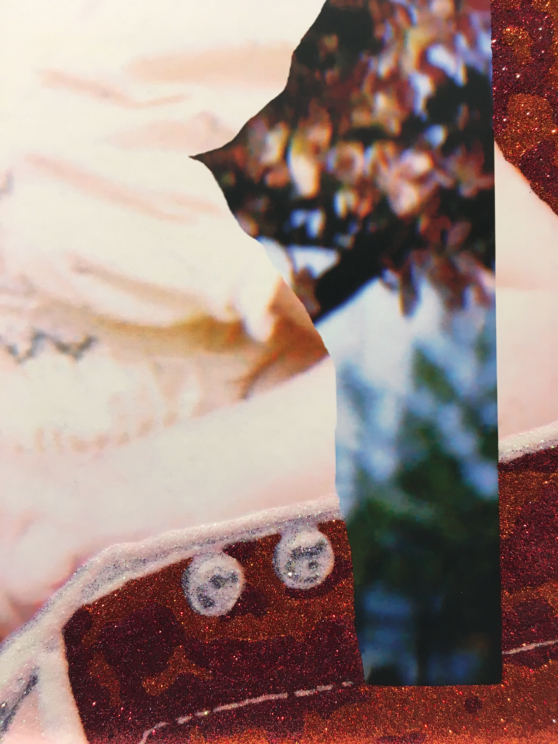 INTERVIEW: KELLY HIDER
OCT. 25, 2018
Rachel Bubis: Your photographic-based work explores the "subjective nature of domestic photographs". How did you get interested in this subject?
Kelly Hider: Even though my background is in painting and drawing, I have always had powerful photography influences. I am from Rochester, NY, home of the Brownie camera, George Eastman Kodak, and the George Eastman House, which is an incredible museum, movie theatre, film and photo restoration center and archive. I took photography classes during undergrad at the Visual Studies Workshop in Rochester - a very unique photo/ video/ installation graduate school. I got to know the graduate students studying there at the time, and attended their thesis exhibits. During my first year of graduate school at UTK, I took Tim Hiles' History of Photography class which forever instilled in me the revelation that photographs can be more untrue and nuanced than the truth that viewers entrust them with.
In the studio that first year of graduate school, I started painting and collaging on top of black & white Xerox copies of snapshots from my baby photo album - I was trying to understand the world I was brought into before I was able to form my own memories, realizing that a handful of select images cannot piece together a truthful story. Instead the viewer must always fill in the gaps with their own experience or projections, creating a subjective narrative.
Moving forward, that has been the foundation of all my work - the idea that domestic photographs are cherished artifacts, ones that people use to supplement their memories, but as isolated images they function more like fictional remnants. My work always takes liberty to infuse new narratives into the images through internal (Photoshop) and surface manipulations. However supernatural or fantastical the manipulations, the domestic nature of the original photographs draws viewers in - it's easy to insert yourself, your memories, your experience into that kind of an image.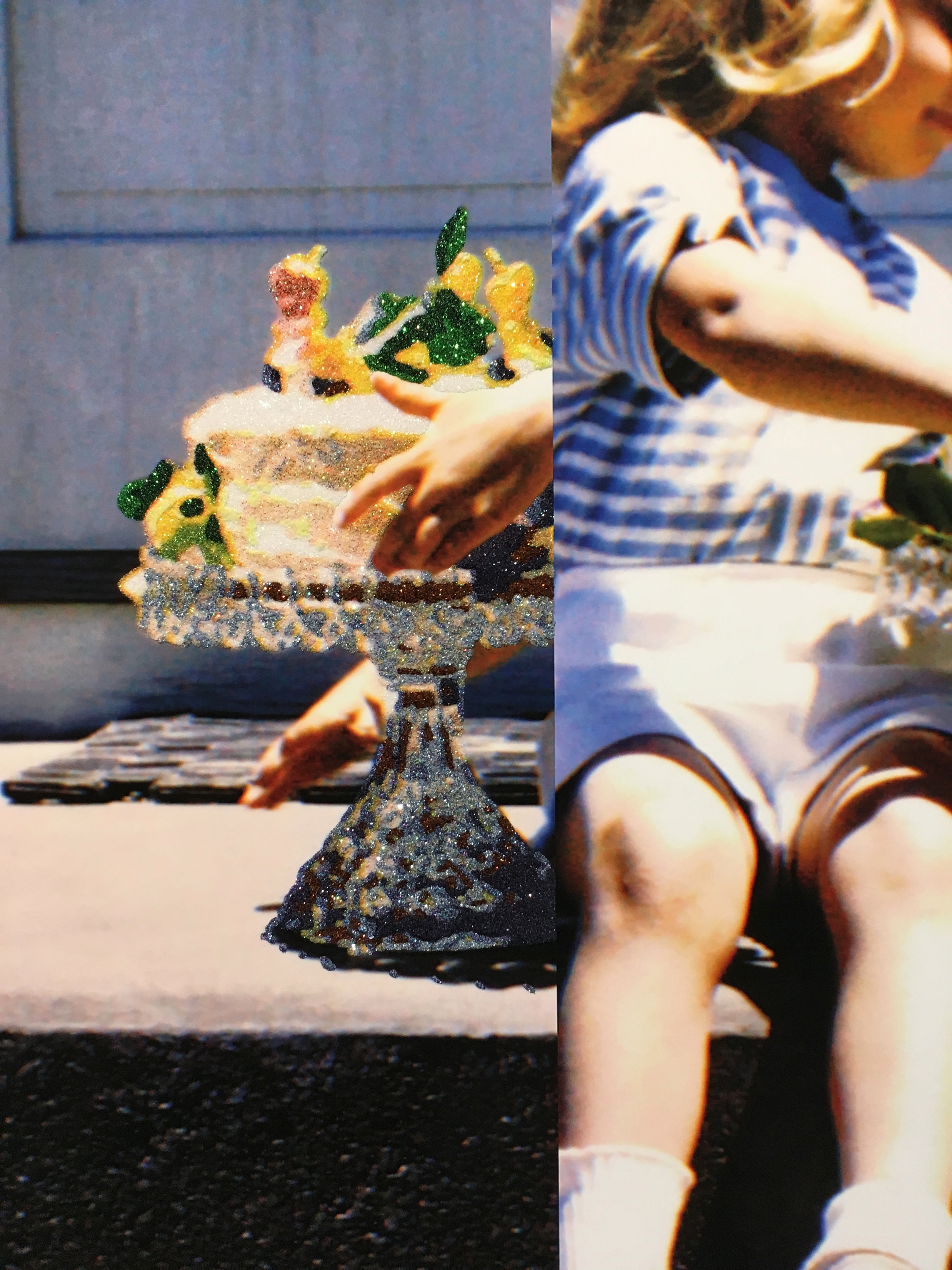 RB: Your Interruptions work is influenced in part by proto-renaissance paintings. What inspires you about this movement and how does it fit into your work?

KH: My background is in painting & drawing, and I minored in art history. I also grew up without religious influence from my parents, so learning about biblical stories from painting history (Byzantium through the Renaissance periods) was like my first crash course in religion, and it fascinated me. Although I still don't subscribe to any religion or deliberate spiritual practice, but art making, art history, and spirituality are all sort of bound together in the way that one figures out who they are in their twenties.
I travelled to Rome, Florence, and Siena in 2013, and of the innumerous inspiring things I saw at the Vatican Museums, I was impacted by the use of gold-leaf and ornate frames in the late 1200s - early 1300s Italian paintings. The way those materials were used - in overabundance, with delicate patterns, and incredible craftsmanship, to create heavenly space around the figures. I feel as though the glitter embellishments in my work attempt to create the same effect. I love the instances where those stories are portrayed very literally, with people levitating, angels in the sky, the hand of god appearing at the top of Byzantium mosaics as and actual hand poking its way through the clouds - to see these fantastic moments visually depicted both accentuates the absurdity of the scenes and creates even greater sense of the supernatural and other-worldliness.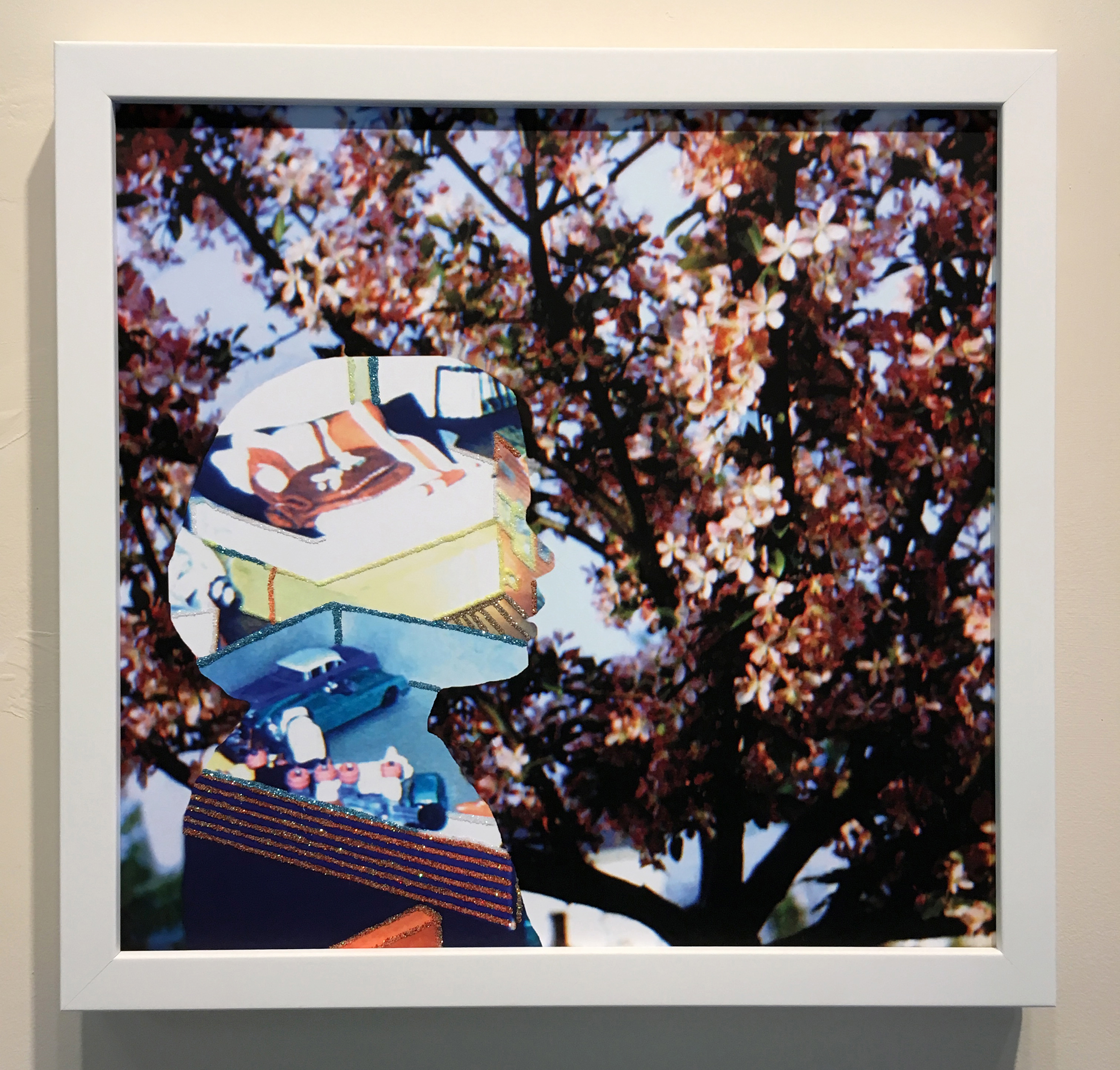 RB: You mention an interest in re-contextualizing the physical properties of these paintings. For example, you use glitter instead of gold leaf, digital editing software instead of oil paint, in order to "connect the past and present to create a moment of "mystical fiction."

Can you talk more about this "moment" and why it interests you?
KH: My work exists in this awkward space between painting and photography, and my artistic influences range from renaissance painting, to assemblage painters like Rauschenberg, to contemporary photographers, so in that statement I am trying to help the viewer through that divide. I can see very clearly how working in Photoshop and mixing glitter colors is so much like painting, but I'm not always sure that viewers make the connection.
This also relates to photography and the "fleeting moment," one of the underlying currents of photography. Surreal moments are created in my work, derived from the original image.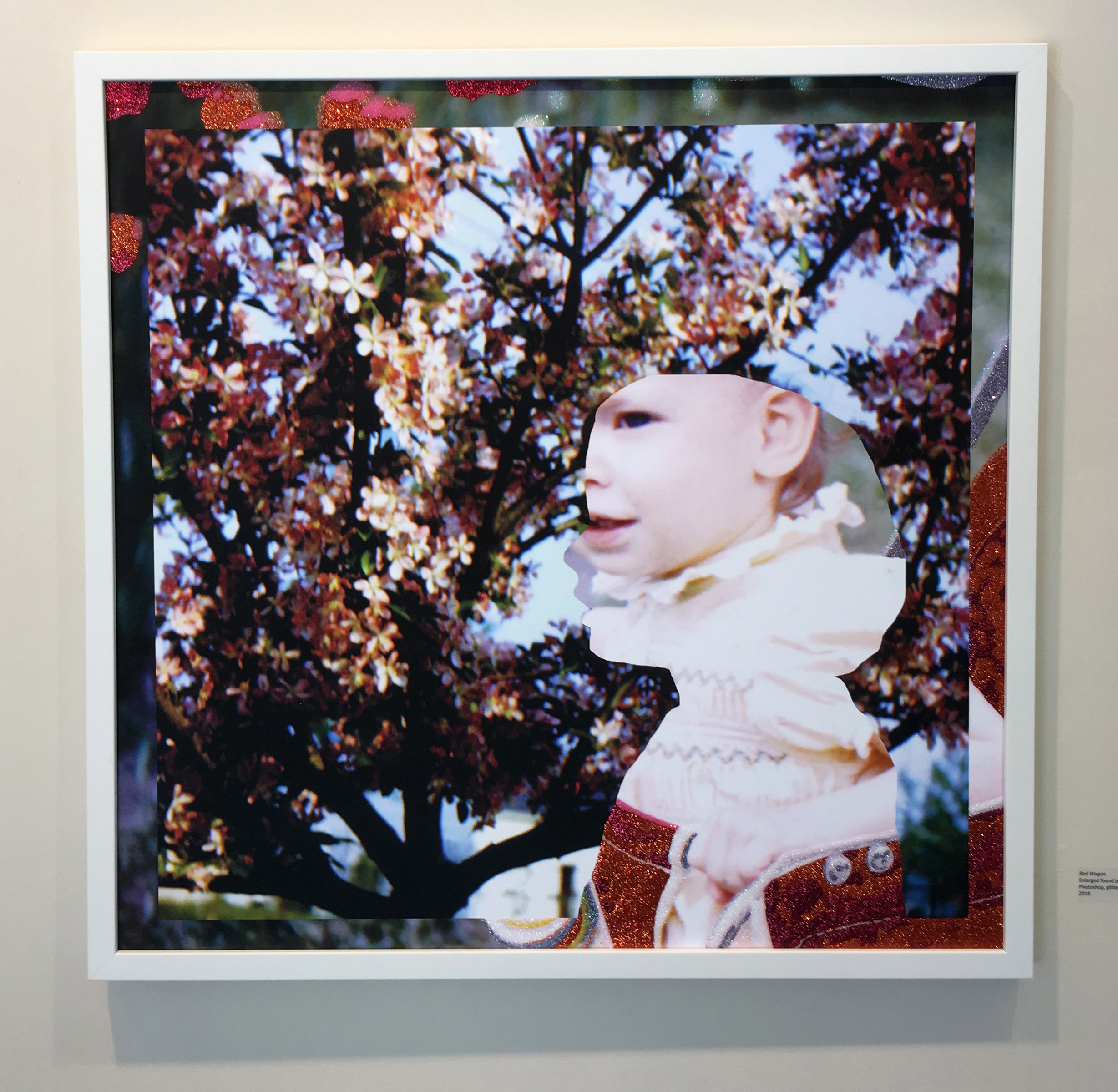 RB: Life, death and resurrection and the supernatural are themes that pervade your work. Do you make art as a means to explore your own spirituality/mortality?

KH: Maybe in a small way, but at this point I'm more interested in their emotional impact on the viewer. Domestic photographs relate to life, the past, our limited time on earth. People are remembered and legitimized through the existence of the photos of them, or in the past - paintings of them. I also like to think that I resurrect these images through the manipulations and imbue them with an elevated significance. Renaissance paintings tell the story of blessed individuals. The subjects in my work are everyday people, though their presence is treated as equally powerful. Caravaggio is another painter I draw influence from.
The images utilized in this series physically go through a unique transformation - they were found as Kodachrome slides from the 1950s, were scanned and digitized, manipulated in Photoshop, resized, and printed large-scale and re-presented in the gallery. I love thinking about that journey. (And then they're photographed with a smart-phone and posted on Instagram - ha!)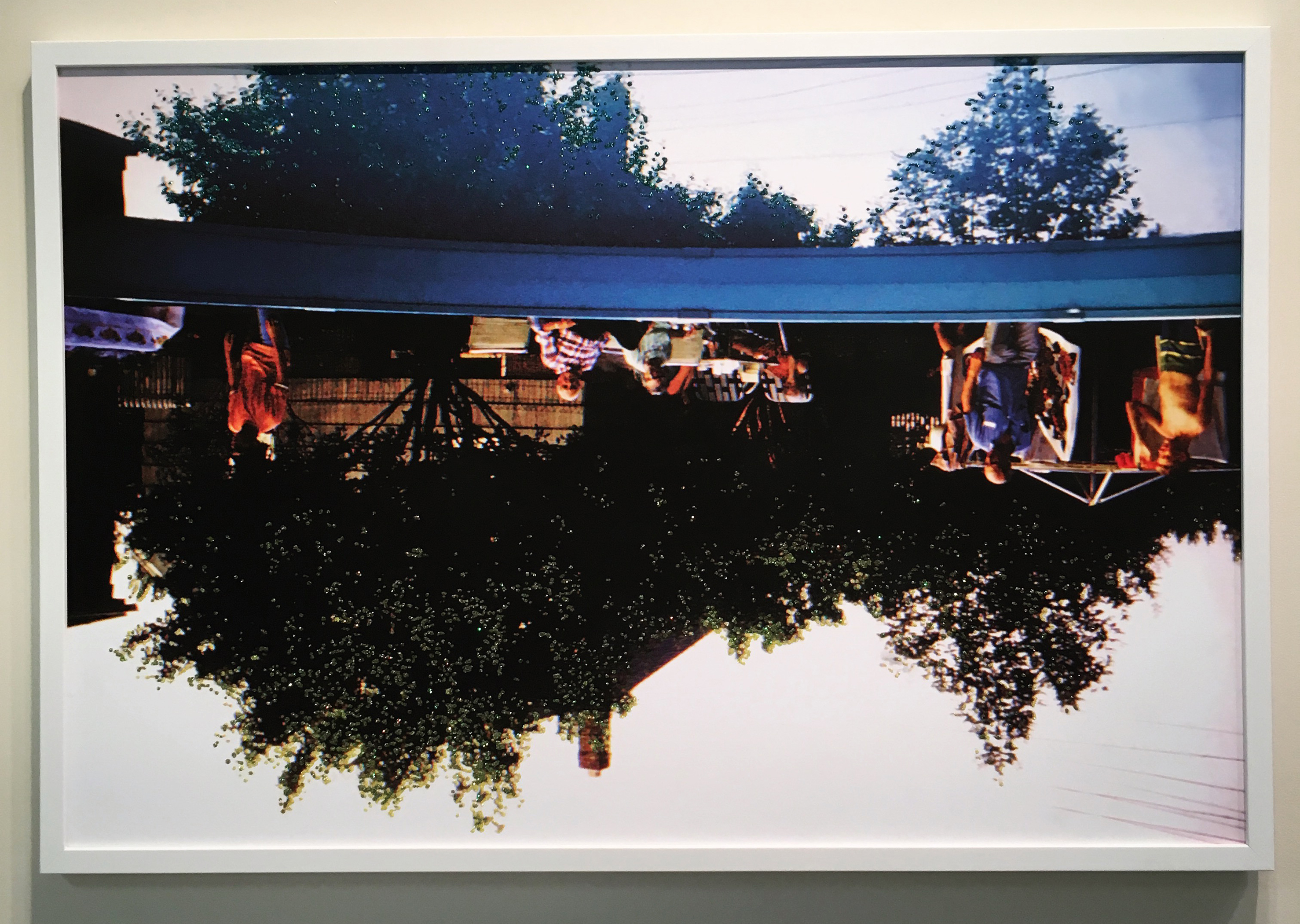 RB: Can you tell me more about the work in your most recent solo exhibition Dear Andrea, on exhibit at LMU through November 2?

I've shown this series of work in a handful of iterations - once in a two-artist exhibit in St. Louis with another Knoxville artist, Nick DeFord, then in a solo exhibit at the Central Collective in Knoxville titled Interruption, as well as various group exhibits. When I was approached about the exhibit at LMU, I knew I wanted to create a significant number of new pieces and create a spin-off theme. The original images are taken from my grandparents' collection of slides, and one of the reoccurring figures in them is my Aunt Andy (Andrea), their first child of four. I decided to base the new work around images of her, to create a small thread to tie the show together. "Dear" is a term of endearment, and also an intimate salutation in letter-writing; I think the new work reflects that tone.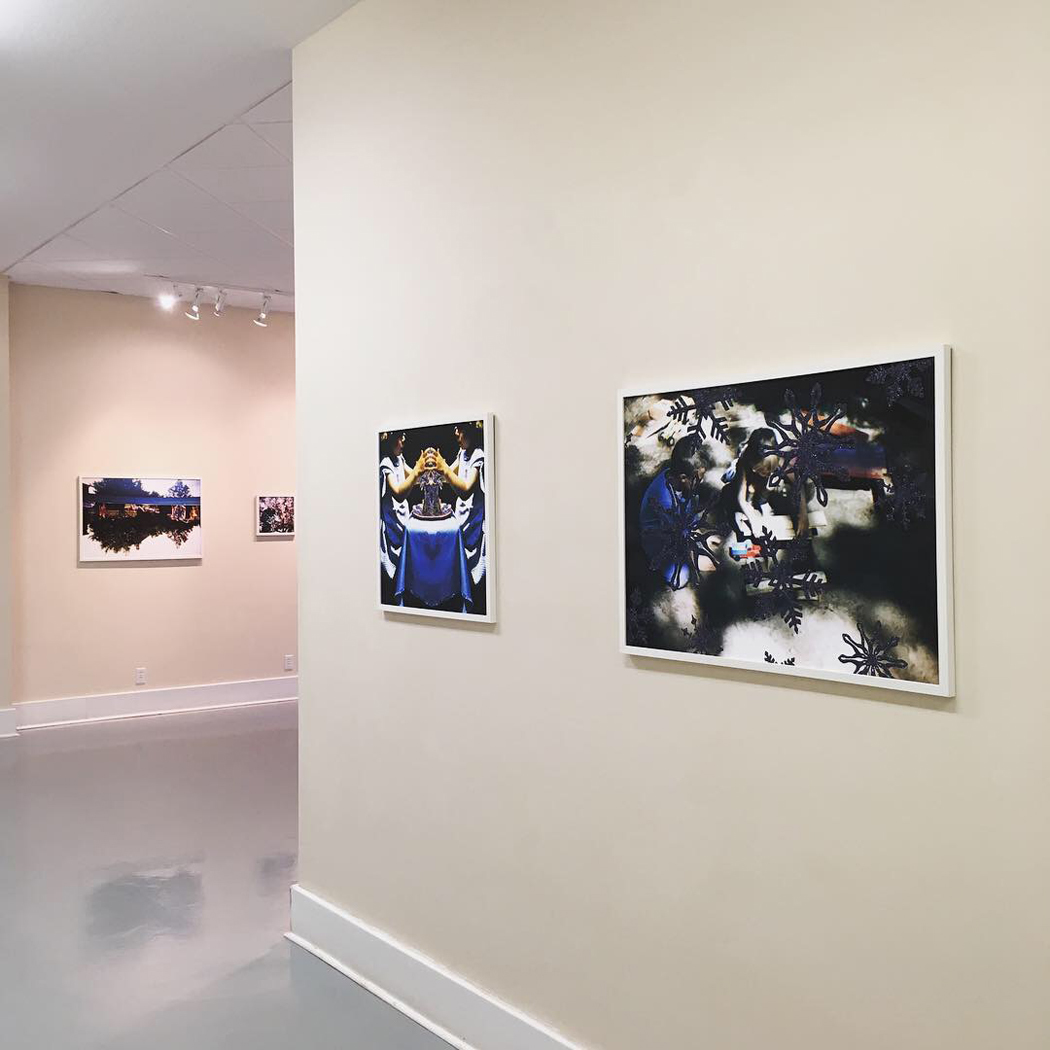 RB: You're a founding member of Vacuum Shop Studios, a collaborative work space for artists in Knoxville, in the former location of a vacuum repair shop.

To what extent are the artists at Vacuum Shop collaborative? What's coming up next for Vacuum Shop?
KH: We founded the Vacuum Shop Studios in January, 2013. There are eight artists and their studios in the space, four of whom have been there since the beginning, so turnover is small. Good question about the "collaborative" part of the title. Some of it is legal, and some of it is the image we want to present to the community. In order to keep our renter's insurance affordable, we had to file for tax status as a collective, non-profit corporation. We occasionally show together in VSS group exhibits, and open our doors 3-4 times a year for open studio nights. We also take care of the management of the space collectively. We decided early on when we were looking around town for a place to establish the studios, that we didn't want any one person to be the "manager" or in charge - that we would make decisions by vote or a discussion. We rarely collaborate on art pieces, its more that we all have a stake in the place and keep it going collectively.
We just had a successful open house this past First Friday, October 5th. One of the Vacuum Shop Studio artists, Eleanor Aldrich, has an unrelated side project making miniature figurines (approx. 1/2" tall), in addition to her studio practice. They are incredible and can be found on Instagram @thehouseoftiny. She has recently created a very tiny gallery called, The Aldrich Museum of Very Small Contemporary Art. We at the VSS have dedicated a wall/shelf inside the studio to the museum and have been featuring miniature exhibits in the space during our open houses. This past October open house, artist RobMat Butler created a miniature installation in the museum that related to a similar, life-size installation made by himself and Barron Hall that was featured at Mighty Mud Studios the same night.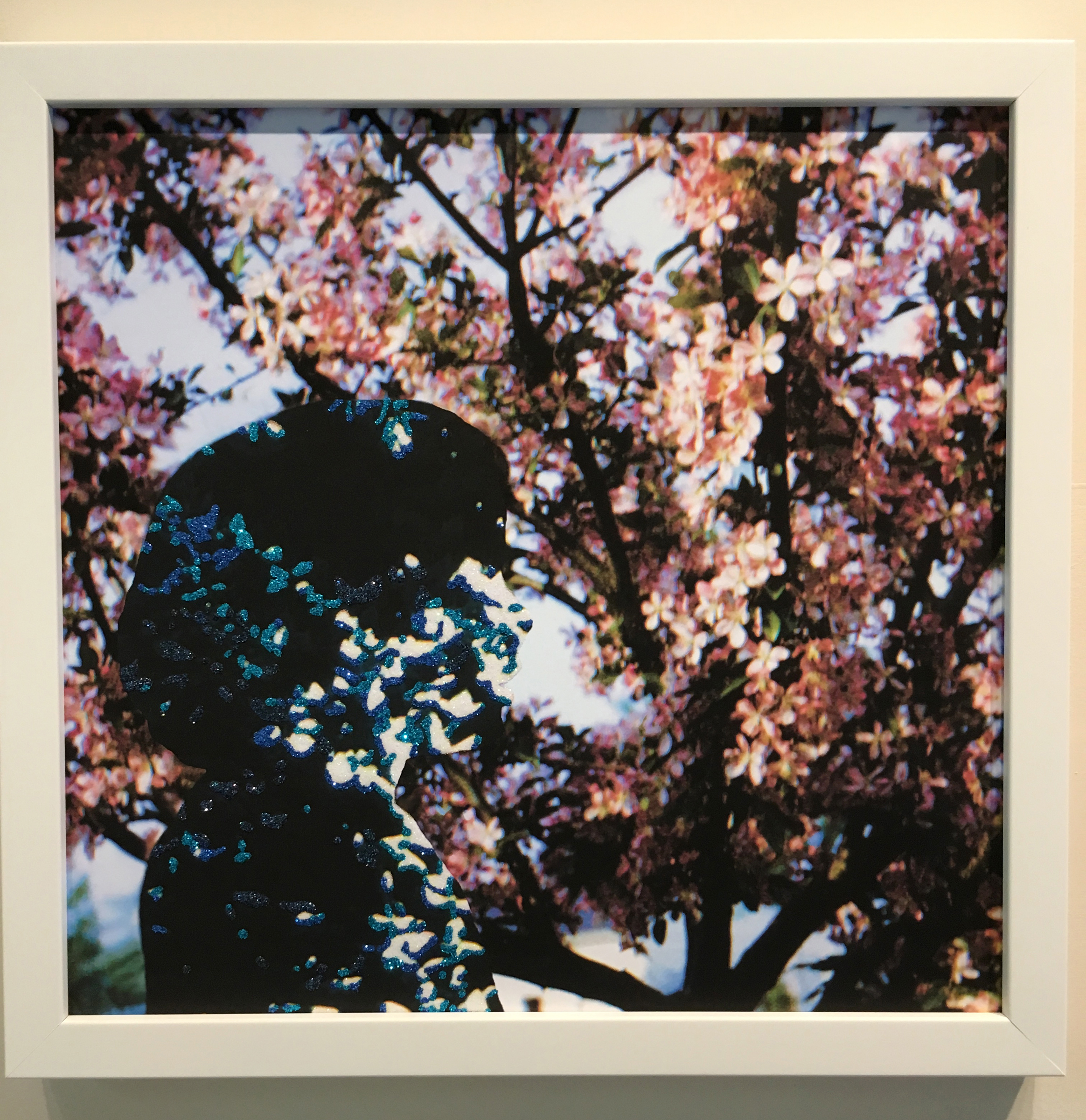 RB: In Knoxville, you all have the art crawl on First Fridays much like the First Saturday Nashville art crawl. What are your thoughts on it? Have you ever attended the art crawl in Nashville? If so, how do the scenes compare? Do galleries sell much work as a result of it?

KH: Sadly, I have only been to one First Saturday Nashville Art Crawl, and it was years ago - maybe 2012. Denise Stewart-Sanabria, a Knoxville artist who shows with The Arts Company in Nashville just posted on Instagram this weekend about headphones playing Donna Summer being handed out for a Silent Disco Party on 5th Avenue in Nashville during Saturday art crawl, which is rad. Things like that rarely happen during Knoxville's First Friday, but I will say that the majority of downtown gets involved with our First Friday - it feels like a community event. In addition to galleries, many restaurants, bars, coffee shops, and hair salons hang artwork and host receptions that night. I'm not sure how sales compare. Knoxville doesn't have as many commercial galleries as Nashville does, but has numerous galleries showing incredible, contemporary work from both regionally and nationally reputable artists, including Fluorescent Gallery, C is for Courtside, Striped Light, Central Collective, and UT's Downtown Gallery.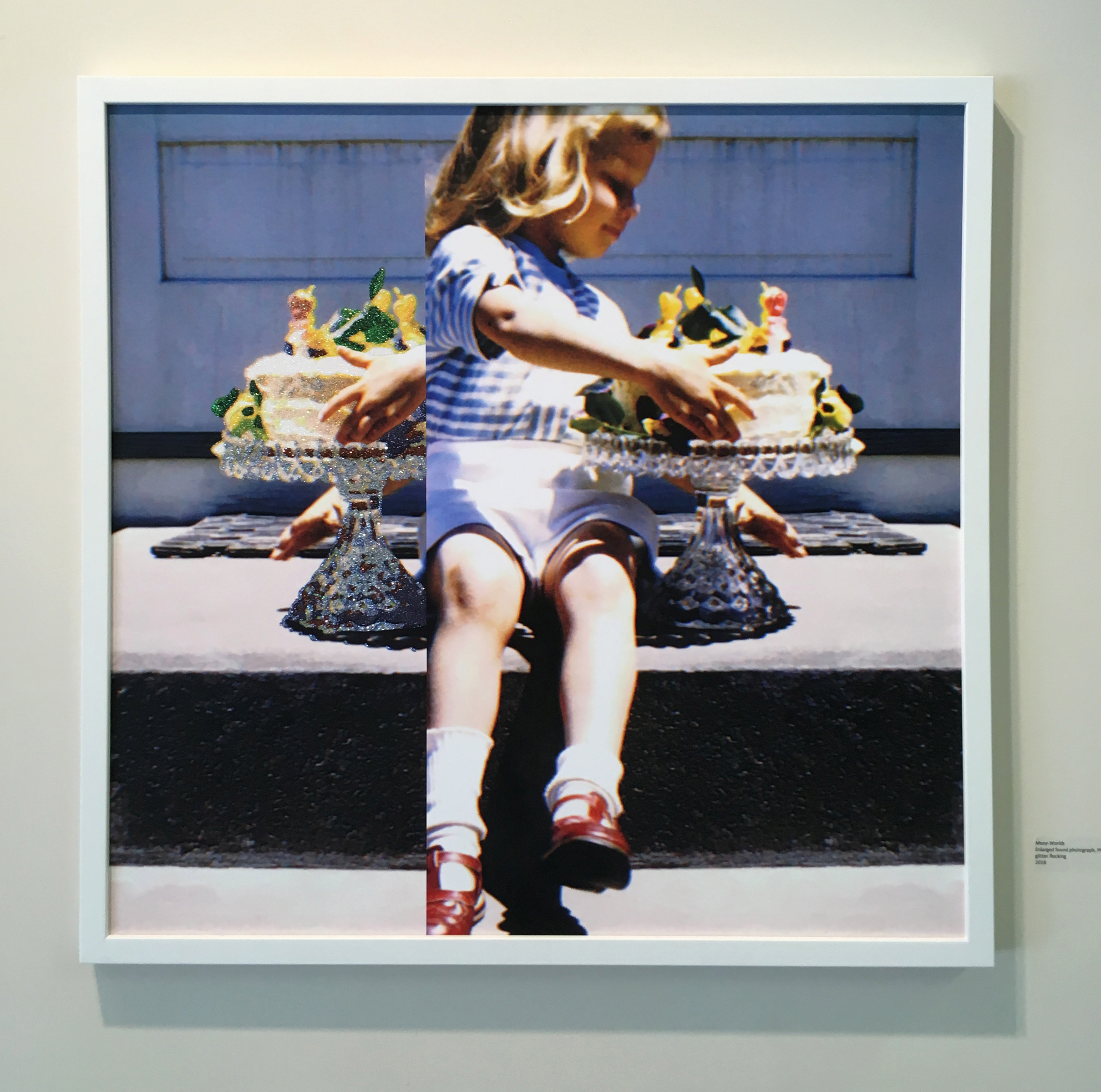 RB: You were the co-chair of the Dogwood Regional Fine Arts Exhibit for a few years. I love the origin story of Dogwood Arts from the website:

"In 1947, New York newspaper reporter John Gunther, came into town, checked out the area, then returned to New York and wrote "Knoxville is the ugliest city I ever saw in America, with the possible exception of some mill towns in New England. Its main street is called Gay Street; this seemed to me to be a misnomer." Thus, in 1955, members of the Knoxville Garden Club, led by Betsey Creekmore, Martha Ashe and Betsy Goodson, along with a group of concerned citizens with a vision began a civic beautification project… the Dogwood Trails."
How do you feel about this quote? How do you think Knoxville has changed over the years? What would you like to see more of? Less of?
KH: Ha! I wouldn't say Knoxville is an ugly city. When I first moved here in 2008, Knoxville was a little rough around the edges and had much less going on than it does now - its nickname is/was "Scruffy City." But so much has changed in ten years. Countless empty, run-down buildings are now condos, breweries, and restaurants. Having preserved the historic buildings on Gay Street and throughout downtown, Knoxville has always had character, and now that downtown is thriving, more people get to enjoy it. Knoxville has incredible, spacious, parks like Ijams, an "Urban Wilderness" in South Knoxville with an extensive network of mountain biking and running trails, quarries to swim in, wooded greenways, all of which a very close to downtown. These natural areas that weave in and out of Knoxville are rugged and beautiful. Having known the Knoxville of ten years ago, the downtown feels more polished and hipper now, and there are fewer areas resembling the scruffy city I fell in love with. But, let's be clear: "scruffy" is not "ugly."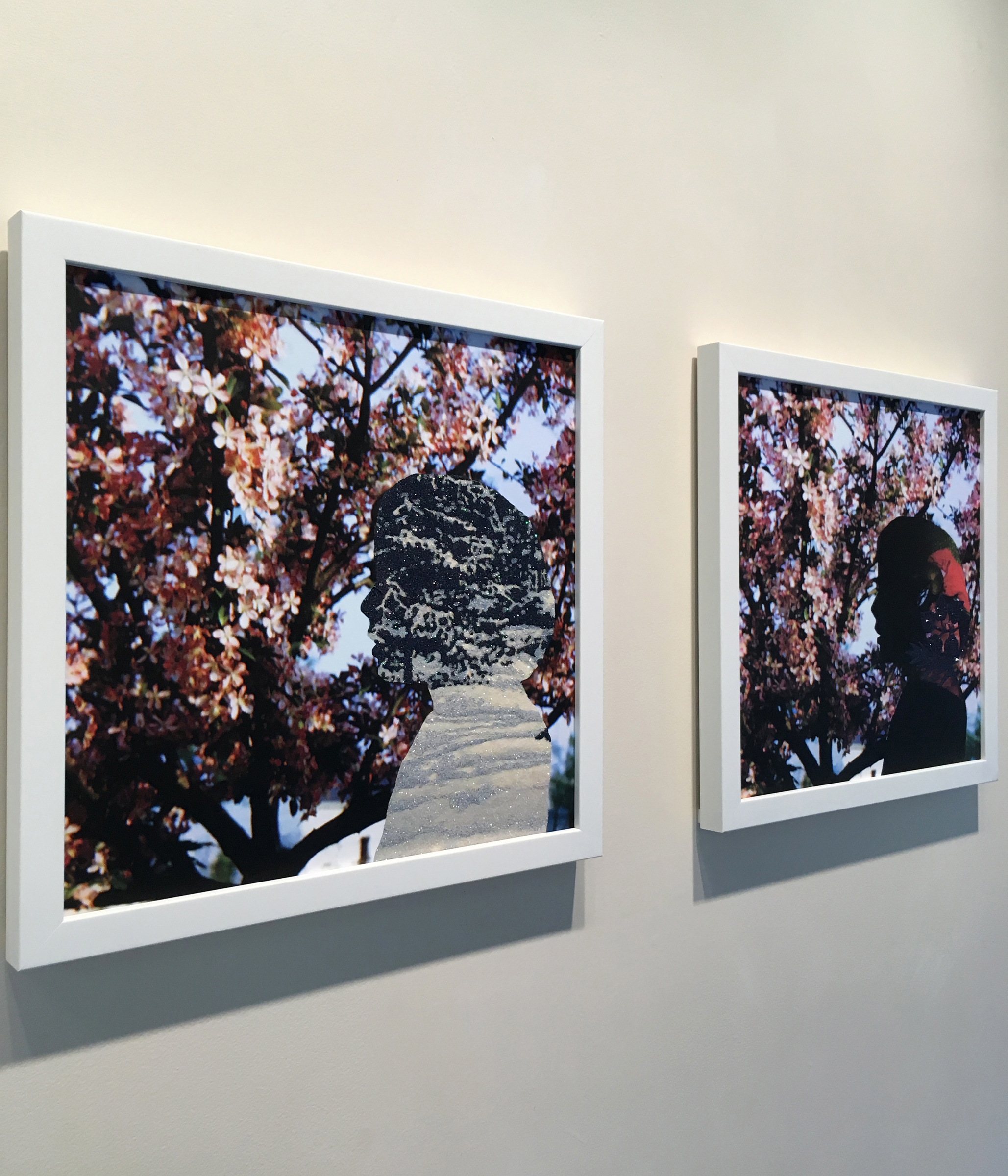 ---
Kelly Hider was raised in Rochester, NY. She received her BFA from SUNY Brockport in 2007, and an MFA from the University of Tennessee in 2011. She has had solo exhibitions at the University of Rochester, NY, The Ewing Gallery and the Central Collective in Knoxville, TN, and the Blackberry Farm Gallery at the Clayton Arts Center in Maryville, TN. Her work was recently featured on the cover of the art publication Number, Inc. After working for nearly three years as the Gallery Manager at Arrowmont School of Arts and Crafts, Hider now holds the position of Development Associate at the Historic Tennessee Theatre Foundation, in Knoxville, TN. She is a founding member of the Vacuum Shop Studios, where her studio is located.

Rachel Bubis is an independent arts writer as well as the Exhibitions Manager of Seed Space in Nashville, TN.
* all images courtesy of the artist