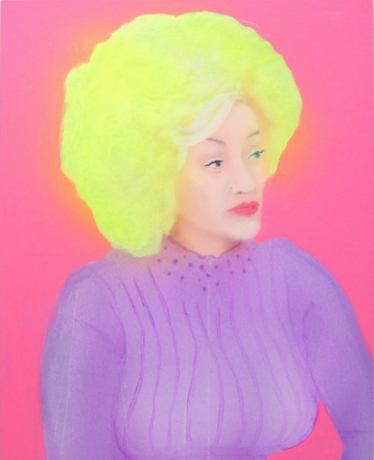 Exhibitions
DOLLY: P/N 35 NATIONAL JURIED ART EXHIBITION
Stacy Beam, Jane Broderick, Kymberly Day, Jen Delos Reyes, Chelsea Dobert-Kehn, Trevor Doell, Amy Evans, Amber Farley, Kevin Ford, Kevin Gardner, Mira Gerard, Justin Seng, Edwel Granadozo, Ashley Gregg, Jodi Hays, Dawn Hunter, Jake Ingram, Ellen Knudson, Alanna Lacey, Marta Lee, Randall Lilly, Laura Little, Katie Maish, William Major, Gina Mamone, John May, Mary Nees, Shawn Quilliams, Claire Rau, Alice Salyer, Katie Sheffield, Todd Simmons, Mary Ruth Smith, Page Turner, Megan Paige Ward, Anna Wehrwein
The Department of Art & Design and Slocumb Galleries in partnership with the Center for Appalachian Studies and Department of Music proudly invite the public to view Dolly: P/N 35 National Juried Art Exhibition from February 18th-March 13th, 2020. This year's juror, editor of Burnaway Magazine Logan Lockner will present a public lecture on February 26, Wednesday at 6:30 p.m., at the Ball Hall Auditorium, immediately after the reception starting at 5 p.m with a live musical presentation by students from the Department of Music at the Slocumb Galleries.
There will also be a Panel on Dolly Parton's Impact on Appalachian and Pop Culture on March 3, Tuesday from 11 a.m. to 1 p.m., facilitated by artist Ashley Gregg in partnership with the Center for Appalachian Studies through Dr. Rebecca Fletcher. Some of the speakers are Dr. Ted Olson who will discuss Parton's music, Dr. Jane Broderick from the perspective of literacy and early childhood education through the Imagination Library, William Majors as a native queer Appalachian and Gina Mamone with Chelsea Dobert-Kern, both LGBTQ activists and also participants in the exhibition; with possible participation from the Dollywood Foundation representative to talk about the iconic figures other philanthropic work.
---
This year's juror, Logan Lockner, is an Atlanta-based writer and the editor of Burnaway, an online magazine of contemporary art and criticism from the American South. His writing has also appeared in national and international publications including Art Papers, Pelican, Bomb, Photograph, and The Rib, and he recently edited the anthology Stranger, Harder, Brighter: The 2019 Burnaway Reader. In 2018, he was a finalist for the Rabkin Prize for Arts Journalism. He has given talks and led workshops on art writing at venues including the University of Georgia's Lamar Dodd School of Art and Georgia State University's Ernest G. Welch School of Art. An East Tennessee native, he holds a BA in English literature from Emory University in Atlanta.
Juror Logan Lockner created the theme for this exhibition, and desired to see works submitted in a range of media that emerge from "the ideas or associations she represents: homespun charm and Appalachian heritage but also camp and celebrity and sexuality; an embrace of Christian traditions alongside vocal and longstanding support of the LGBTQ community; the self-made singer-songwriter in Nashville, country music; gender and identity performance". Like many of us, he sees Dolly Parton as a "unifying cultural figure… the only celebrity or artist who is equally valued and celebrated by my native community of East Tennessee (in a very homogenous, white, conservative, evangelical setting) and by my current community in Atlanta (in a very heterogeneous, multiracial, progressive, queer setting)." He also points to WNYC's podcast Dolly Parton's America which "explores her legacy, influence, and her special ability to occupy middle ground in America's culture wars."
---
The Slocumb Galleries are located on ETSU campus in Ball Hall, 232 Sherrod Drive, with hours on weekdays from 9 a.m. to 5 p.m., with extended hours until 6 p.m. on Thursdays and during lectures and receptions or group tours as requested. All events are free and open to the public. For information, email Slocumb Galleries' Director Karlota Contreras-Koterbay at contrera@etsu.edu