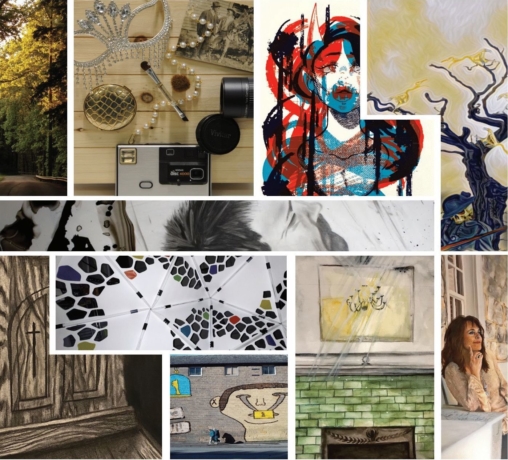 Exhibitions
BA CAPSTONE SENIOR EXHIBITION 2021
Chelsey Carter
Sarah Harkleroad
Mackenzie Hooven
Madeline Howe
Madeleine Jackson
Reagan Lancaster
Melissa Lipscomb-Wright
Alicia Roe
Ian Taylor
Tara Thompson
Sydney Tipton
Alec Vogel
Chelsey Carter, a graduate of John Battle high school and teacher at Tri-Cities Christian, will be displaying her paintings. Her piece The Lioness is an image of her mother and represents her powerful, lion-like qualities.
Sarah Harkleroad is from Bristol, Tennessee. She explores printmaking, watercolor, and ceramics as her media of choice. Her work expresses themes of nature and nostalgia.
Mackenzie Hooven is a graphic designer from Kingsport, Tennessee. She will be showing her photography, assemblage, and graphic design work. Across all her media, her work addresses the theme of emphasizing the ordinary.
Madeline Howe is a graphic designer from Kingsport, Tennessee. Her work discusses the experience of artist block and how it effects an artist's view of work they create.
Madeleine Jackson is a local artist who will be displaying her photography. Her work is about celebrating the intricacies of her surroundings, offering viewers a perspective into the place she was raised and the locations she grew to love.
Reagan Lancaster is a fiber and ceramic artist from Bristol, Tennessee. She believes that there are many dark things in the world, and her goal as an artist is to bring some of that light back. Her art is her way of showing gratitude for the inspiration the world gives her.
Melissa Lipscomb-Wright is an interior designer and artist living in Bristol, TN. Her artwork investigates the idea of control as it relates to being human and trying to control our lives, the lives of those around us, time, love and fate. This theme is expressed through graphite and India ink drawings created in a manner that removes much of the artist's control.
Alicia Roe is a printmaker from Johnson City, Tennessee. Her art incorporates personal struggles with mental health, and the exploration that brings, as well as character design and folklore.
Ian Taylor is an artist from Memphis, Tennessee. His art explores the use of 2D and 3D images. Some are created as traditional drawings and others are created with computer programs for drawing and modeling. His work includes digitally produced drawings that are added to photographs of buildings.
Tara Thompson is a multidisciplinary artist from Oneida, Tennessee. Her piece, Church Pew, focuses on the existence of Southern Gothic influences found within life in Appalachia.
Sydney Tipton is a multimedia artist from Erwin, TN. Her work experiments with the combination of organic form and geometric shapes. Each of her pieces in the show use a limited color palette and repeated hole pattern as part of this exploration.
Alec Vogel is an artist from Elizabethton, Tennessee. His work involves 3D modeling, graphic design, photo editing, and 2D photoshop designs. His work for this show displays the loss of animal life during WW1 from gas warfare.