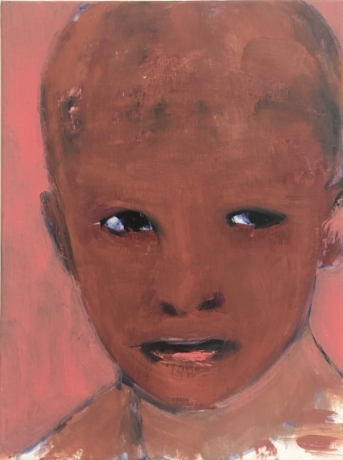 Exhibitions
REGAN WHEAT: CONTINGENCY
Regan Wheat
COOP Gallery is pleased to present Contingency, a cycle of paintings by Regan Wheat (1973 Lakin, Kansas, USA | lives and works in Italy).
In this series of paintings, Wheat makes portraits of children in conflict zones, caught in a perpetual in-between state, neither here nor there, neither participants nor perpetrators. The images are taken from the daily news of the wounded, the displaced, and the dead – appearing isolated with no history and no future, the perpetual present/presence of the missing.

Working within the imagined space of language, the forgotten histories contained within collective memory, and with the collapse of cultural, socio-political, and historical structures that seem to hold meaning in place, Regan Wheat archives the missing within language, history, and place - she marks the gap or the shift between meaning and understanding.
---
More about the artist:

Regan Wheat earned a Bachelor of Fine Arts Degree from University of Kansas in 1995 and a Master of Fine Arts Degree in Sculpture from Cranbrook Academy of Art in 2003. Since 1997 she has participated in workshops and residencies in Italy and South Africa, led by the artists & educators Rosenclaire. Recent exhibitions include: Ritrattare curated by Gino Gianuizzi, L'Entropôt Danie Boeri Galerie d'art contemporain, Monte Carlo MONACO 2017; la fine del nuovo curated by Paolo Toffolutti, Villa Otellio- Savorgnan |Ariis Di Rivignano-Teor (UD) | Villa di Toppo Florio, Buttrio (UD), ITALY; Quarantanniealtro curated by Lorenzo Bruni, Galleria Susanna Orlanda, Pietrasanta (LU), ITALY 2016; Misura del Mondo, curated by Paolo Pairis, Casabianca, Zola Predosa (BO) ITALY 2013; MADEINFILANDIA, Pieve a Presciano (AR) ITALY 2012; Regan Wheat Works on Paper, (solo exhibition) SRISA Gallery, Firenze ITALY 2012; Fabbrica Europa, Festival Internazionale della Scena Contemporanea, Firenze ITALY 2012; Mente Caritas, Notte Bianca, Firenze ITALY 2011; Let's Talk About Love Baby, (traveling exhibition) Printed Matter, NY, NY, USA | Museo d'arte contemporanea, Detroit, Michigan, USA | Craft Alliance Gallery, St. Louis, Missouri, USA | Oakland University Art Gallery, Rochester, Michigan, USA | The Joan Flasch Artists' Book Collection, Chicago, Illinois, USA | National Gallery, Harare, Zimbabwe | Asni Village, Addis Abeba, Ethopia, 2010-2013; (re)membered land(e)scapes Here, There, Everywhere, Hampden Gallery University of Massachusetts, Amherst, Massachusettes, USA 2009; Personally Political- Contemporary Sensation, Art House Tacheles, Berlin 2009; in formation landscape series, without the weight of stones (solo exhibition), MICRO microspazio disponibile, Firenze 2008; in formation landscape series, the color of the table, (solo exhibition) SRISA Gallery, Firenze ITALY 2008.
---
More about COOP:

COOP is a curatorial collective made up of artists, curators, thinkers, and professors who are committed to expanding Nashville's dialogue with contemporary art by presenting challenging new or under- represented artists/artworks to our community. COOP is committed to exhibiting art of diverse media and content, with a goal to provide an alternative venue for artists free from the constraints of the retail market. COOP seeks to initiate a discourse between Nashville and art scenes across the country by inviting artists to show, develop projects, and interact with the Nashville community. Website: http://www.coopgallery.org

For questions, please contact: Jana Harper janakharper@gmail.com
---
image: untitled, 2017, 18 x 24 cm, oil on board