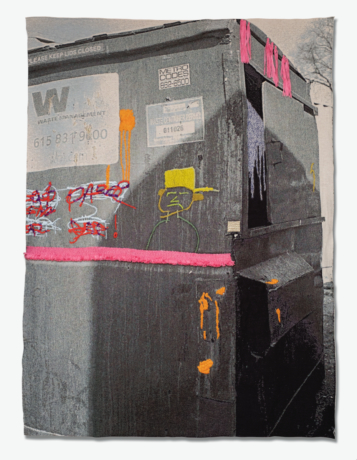 Exhibitions
KAORI NAKAMURA AND DARIN MICKEY: LOOSE CHANGE
Kaori Nakamura, Darin Mickey
Loose Change is a collaboration between Bronx, NY-based artists Kaori Nakamura and Darin Mickey — in dialogue with discarded things and spaces in Nashville, TN. Nakamura employs yarn, thread, glitter, paint, and string to subtly amplify Mickey's photographs of alleys, traffic, and other forms of local visual static. Together they present playfully altered images of overlooked objects — the seemingly insignificant elements of modern life that are continually changing loosely all around us.

Kaori Nakamura has exhibited work throughout the United States and Japan. She is the lead vocalist for the art-rock band Soft Gang. Nakamura is a recent recipient of a Lisette Model Foundation Grant.

Darin Mickey is a photographer and musician. He is the author of Death Takes a Holiday (J&L Books) and Stuff I Gotta Remember Not To Forget (J&L Books). He is included in the collections of the Brooklyn Museum of Art, Metropolitan Museum of Art Watson Library Collection, Museum of Modern Art Library Collection, the Museum of The City of New York, Museo d'Arte Contemporenea di Roma, and others. Mickey is currently Chair of the Creative Practices Program at the International Center of Photography.