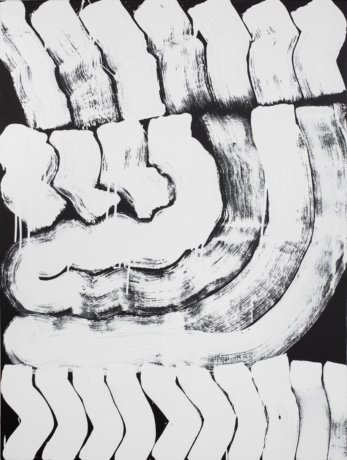 Exhibitions
JOSH ELROD: MIXED EPISODES
Josh Elrod
Artist Statement:
Painting for me is disembodying, I aspire to become a conduit for some kind of hidden expression. I hope to transmit something of the spiritual experience I have of making the painting: a record of the act, its transitory existence. I'm drawn to the mystery of the cosmos, my inner life, the idea that there might be parallel and possibly overlapping realities and the comical vessels we inhabit. If I understood it at all, I probably wouldn't make art, I'd just go fishing.
About the Artist:
Josh Elrod is a Nashville-based artist. His process is anchored by experimentation and daily practice, which has resulted in a diverse body of work ranging from large-scale paintings to intimate drawings. Through repetition and the physicality of painting and drawing his work becomes a meditative practice, unleashing and reiterating imagery and themes from his subconscious. Several of Josh's paintings take on a performative quality: a single contemplative gestural line executed with the artist's non-dominant hand. His recent body of work has varied from these single-stroke large-scale paintings to densely layered surfaces grappling with themes of chaos, sexuality, cartoon vernacular, cash machines, UFO sightings, orifices, creatures and masks: "a grotesque carnival of people, energy, machines and colors." Josh, who studied at the Art Institute of Chicago, has exhibited work in New York, Los Angeles and Nashville.

Josh relocated to Nashville from New York City after living there for nearly 20 years. The move prompted a resurgence in his creative output and the ability to work in a larger scale than ever before. Josh is an accomplished musician and performed in numerous dub, noise and pop groups; he also spent 10 years performing as a Blue Man in the critically acclaimed Blue Man Group. Josh and his wife Ivy are the founders and creative directors of Nashville's conceptual design showroom, Wilder.