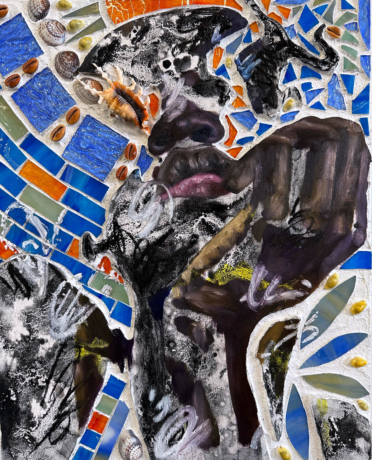 Exhibitions
​DONTÉ K. HAYES + KHARI TURNER: RESONANCE
Donté K. Hayes, Khari Turner
And I see that my own hands can make/ The world that's in my mind." -Langston Hughes "I look at the world poem" (line 13-14)
Resonance is a two-person exhibition by artists Khari Turner and Donteì K. Hayes that explores personal, historical, and cultural narratives interconnected to the African Diaspora. Each artist constructs and deconstructs materials from the past and present to manifest various speculative futures. Images, objects, and concepts flow and vibe off each other to evoke or suggest memories remembered or imagined. Making objects that lend their ears to the past to generate new futures of unknown and found antiquity.
Through referencing the element of water to symbolize the cycle of life, its power, and fragility, Turner looks to the history water holds. Reaching to find the connection between water and the water within everything living. Searching his own past with religion, the body as moving water, and the idea of a soul's journey. The music heard in the pulpit and church pews to the sound of hip hop music on the streets connects each artist.
---
Image: Khari Turner, The first, 2023, 16x24 in, acrylic, oil, charcoal, stained glass, seashells, sand, water from ocean, lakes, and river with historical and personal connection to Black History, on panel.