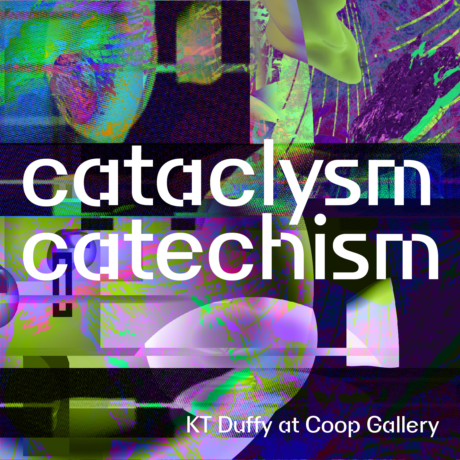 Exhibitions
KT DUFFY: CATACLYSM/CATECHISM
KT Duffy
COOP Gallery is pleased to present work by Chicago-based new media artist and educator KT Duffy in cataclysm/catechism, a real-life-in-person exhibition opening Saturday March 6, 2021 in conjunction with the WeHo Art Crawl and closing Friday, March 26.
Duffy was the winner of COOP's 2020 Open Call. Their work spans a wide range of formats, including installations, animations, sculptural pieces, prints, interactive web works, and AR/VR "to propose a future modality where no entity is bound to a singular reality, expression, or substance."
From the artist's statement:
My goal is to first inspire awe and displacement in the viewer by employing scale shifts, squiggly motion, and a hyper color palette. Through the uncanniness of forms, viewers turn their gaze inwards and begin to orient their bodies to the work and towards the other bodies present in the space. Here, I offer a flash of insight into how human biology could have played out very differently on the evolutionary plane. I graft transcendent experiences onto bodies actively adapting to a shifting modality of human experience, which is not the stuff of fiction, but one that activates the human animal's inherent fluidity and malleability.