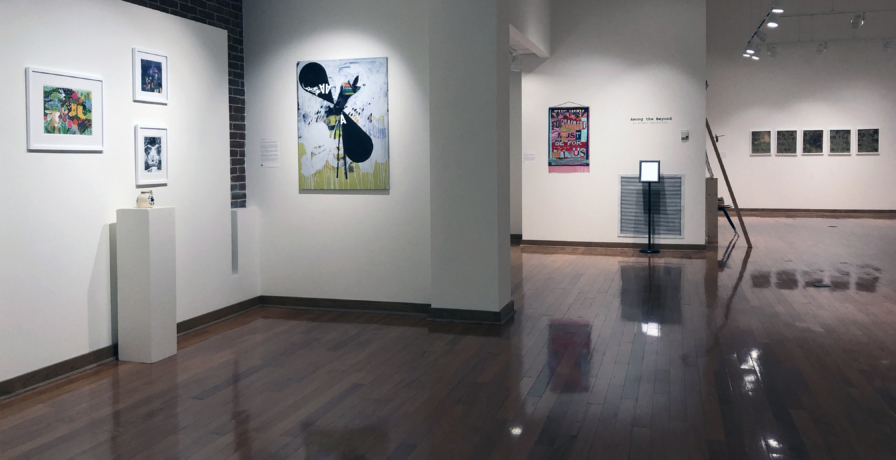 Exhibitions
AMONG THE BEYOND: AN ALUMNI EXHIBITION
Sam Angel ('12)
Lisa Bachman Jones ('06; '21)
Sarah Bogdal ('18)
Natalie Briscoe ('20)
Matt Christy ('07)
Alex Crawford ('10)
Michael Cribbs ('14)
Holden Head ('16)
Mildred Jarrett ('01)
Henry Jeck ('19)
JC Johnson ('03)
Sarah Klearman ('12)
Ashley Manno ('16)
Micah Mathewson ('17)
Jenna Maurice ('06)
Claudia O'Steen ('12)
Katy Parsons ('11)
Shelby Rodeffer ('12)
Shaun Slifer ('03)
Katherine Vanhüssen Hansen ('20)
Alicia Waters Binkley ('08)
Among the Beyond is an alumni exhibition featuring a curated selection of art and design created by program graduates. This year's faculty-nominated, alumni co-curators are Jennifer Knowles and Anna McKeown. A variety of media are explored in this show to connect and engage with the viewer in unique ways. From traditional modes of artistic expression like photography and sculpture, to those influenced by advances in digital technologies, this show evokes the vast world of art and design.
---
About the Co-Curators
Jennifer Knowles graduated from the Watkins College of Art, Design & Film in 2008 with BFA in Photography. For over 20 years, she has been active in the Nashville community as an exhibiting artist, arts educator, and community organizer. She has helped develop and host citywide festivals and events through Tennessee Craft, The Nashville Print Crawl, and Handmade and Bound. She has facilitated workshops and classes covering graphic design, photography, printmaking, paper-making, bookbinding, and digital art through universities, professional organizations, and community nonprofits throughout the south. Jennifer currently serves on the Board of Directors of Tennessee Craft, Midstate Chapter. She works with artists to develop or deepen their artistic expression as a coach through Triquetra Creative Wellness and is a practicing mental health counselor.
Anna McKeown graduated from College of Visual and Performing Arts at Belmont University in 2013 with a BFA in Studio Art. She is now a fiber artist and curator living in Nashville, TN. Anna is the Gallery Director for the educational Marnie Sheridan Gallery at Harpeth Hall School. Here, Anna brings a strong focus to artwork created by contemporary women and non-binary artists, and artists exploring fiber art mediums. Anna is represented by Roaring Artist Gallery and has shown her work with Woman Made Gallery in Chicago, Southside Gallery in Oxford, MS, and Art Mums United. She has been featured in Candy Floss Magazine and completed a residency with Stay Home Gallery Residency in Paris, TN during the Summer of 2021.