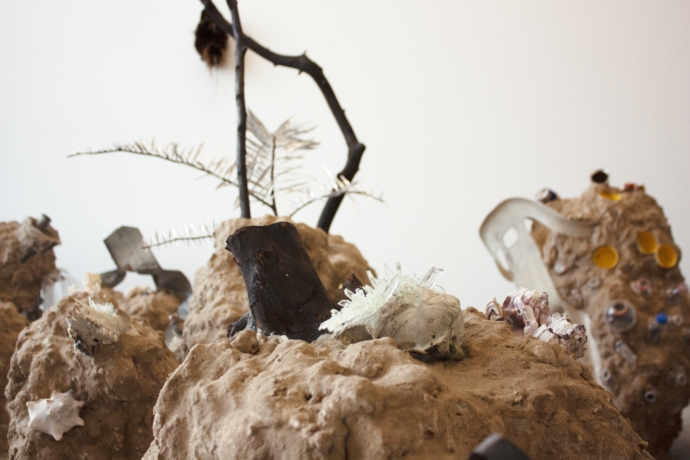 Exhibitions
SARAH ELIZABETH CORNEJO: THE EPOCH OF LOSS
Sarah Elizabeth Cornejo
Settled within the United States' current trajectory where climate degradation and violent suppression of marginalized peoples are irrevocably intertwined and seemingly ceaseless, The Epoch of Loss reckons with the breaking point to which we are headed by offering a glimpse into a possible future on earth. This hypothetical landscape exists after the climax of our current increasing pressure points and takes inspiration from landscapes created by giant earthworms in South America. Mounds of single-use plastics, clothing, bottles, plastic chairs, and other detritus have fossilized the last epoch of toxic living in the Anthropocene. Broken car glass swept up from the street has tenderly and virulently reiterated itself on found animal skulls, tin cans, and bolts; beer cans have reimagined themselves into fauna; an object on the wall of human hair from two sisters and rattlesnake tails signals warning. This futuristic landscape quietly determines its own space in the present and allows for limited movement within it. In the aftermath of the human epoch, one that has seen the greatest consumption and violent destruction of life on earth, this landscape has begun a defensive and healing re-fertilization; slowly building upon itself until human time has become part of its strata, rot, and remembered past."

---
Sarah Elizabeth Cornejo is an interdisciplinary artist based in Memphis, TN. She is currently a co-founder and co-curator of BASEMENT, a provisional artist-run space in Chapel Hill, NC. Her work has been shown throughout the eastern United States and internationally including the Mint Museum, Ackland Art Museum, and Duke University among others. She received her MFA in Interdisciplinary Studio from UNC-Chapel Hill, and her BA in Studio Art and English Literature from Davidson College. She was most recently a ten month resident at Crosstown Arts, a 2021 New Public Sculpture Fellow with the Urban Arts Commission in Memphis, and a 2021 recipient of Tri-Star Arts' inaugural Current Art Fund project grant, which has generously funded this project.
---
NOTE: Due to COVID-19 social distancing guidelines, viewings are available to the public by appointment only. Please contact Scott Carter, Gallery Coordinator, at scarte20@cbu.edu to make an appointment.