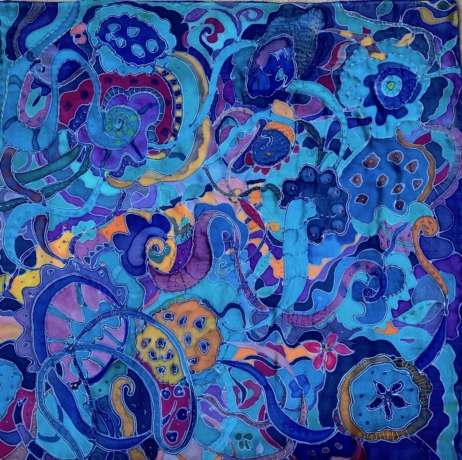 Exhibitions
STITCHED: CELEBRATING THE ART OF QUILTING
Two exhibitions — BLUE: A Quilt Challenge and Masterworks: Abstract & Geometric — are opening in conjunction with Stitched: Celebrating the Art of Quilting, a quilt festival at Crosstown Arts that includes workshops, an art quilt presentation, and Memphis Quilts (a quilt show-and-tell day in the Central Atrium). Stitched opens on May 10 and runs through July 28.
About BLUE:
The BLUE challenge features over 230 quilts in blue made by quilters and artists from the Mid-South. Artists were asked to design traditional, modern or art-focused quilts. These range from appliquéd, pieced, collaged, fused, engineered, hand- or machine-stitched, 3-D, painted, sculpted, and any variation in between. The only thing they have in common: 3 layers and stitching.
About Masterworks: Abstract & Geometric:
These works of art represent a range of styles across the abstract art spectrum. From 1965 through today, the art quilt movement has grown to become one of the most exciting art forms of the 21st century. The Masterworks: Abstract & Geometric show brings artwork from 29 internationally known artists working in the quilt medium to Memphis.