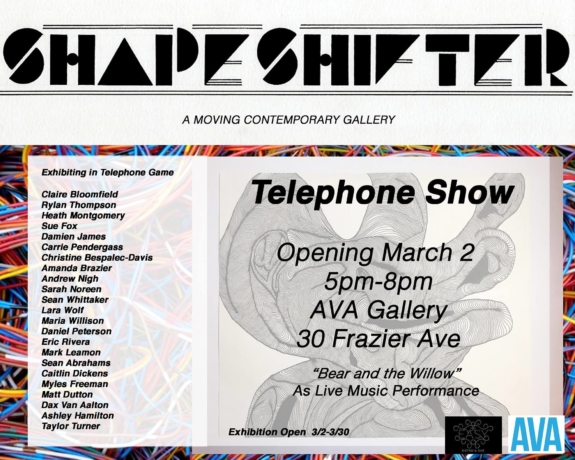 Exhibitions
THE TELEPHONE GAME
Claire Bloomfield, Rylan Thompson, Heath Montgomery, Sue Fox, Damien James, Carrie Pendergass, Christine Bespalec-Davis, Amanda Brazier, Andrew Nigh, Sarah Noreen, Sean Whittaker, Lara Wolf, Maria Willison, Daniel Peterson, Eric Rivera, Mark Leamon, Sean Abrahams, Caitlin Dickens, Myles Freeman, Matthew Dutton, Dax Van Alten, Ashley Hamilton, Taylor Turner
Curated by: ShapeShifter

The Telephone Game is an art project/exhibition based on the childhood game, "Telephone." The game starts where one child whispers a sentence, into the ear of another child, and that child then whispers what they heard to another child, and so on. As the sentence is passed along it changes. By the time the sentence gets to the last child, it has become a completely different sentence.

The Telephone Game features artists from over 50 states, and one from Vancouver, Canada. The project started with a mixed media photo piece by Claire Bloomfield. Another artist took Claire's piece and made his own work. From there, twenty-one more artists joined in. The artists had three weeks to create a piece as close or as loose to the original as they wanted, as long as the product was new and directly inspired by the one before it.
Join us at the opening reception and see how the game unfolds!

Sponsored by: Easy Bistro & Bar

Live music by: Bear and the Willow