INTERVIEW: CAITLIN BLOMSTROM
JUL. 17, 2023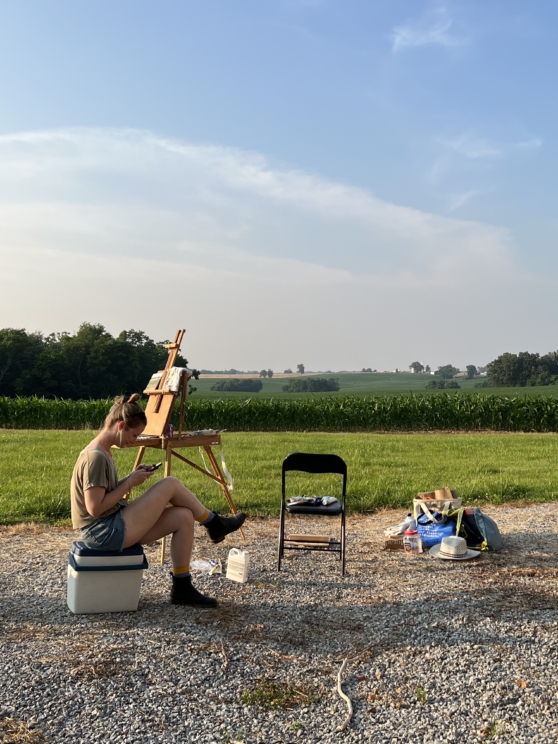 INTERVIEW: CAITLIN BLOMSTROM
JUL. 17, 2023
Rachel Bubis: You describe your inspiration coming from "mundane, everyday objects and humorous, uncanny scenes that you might encounter at home or on a walk." Could you tell me a little more about your process – what happens from the time you encounter an interesting object or scene to a finished painting?
Caitlin Blomstrom: Like a lot of people, I use my phone as a tool to document the things around me. While walking, I take quick pictures of things that I want to remember. These things could be a crack in the road, a strange shadow, painted street markings, or an ironic street sign. I am undeniably drawn to the juxtaposition of nature's influence on the urban landscape. Walking allows me to slow down and notice things more so than in a car or on a bike. Sometimes I'll walk by an interesting scene a bunch of times before I finally take a picture or make a painting. Several places have slipped by me because I am too slow to document tham (falling buildings, overgrown construction sites, temporary graffiti, etc.).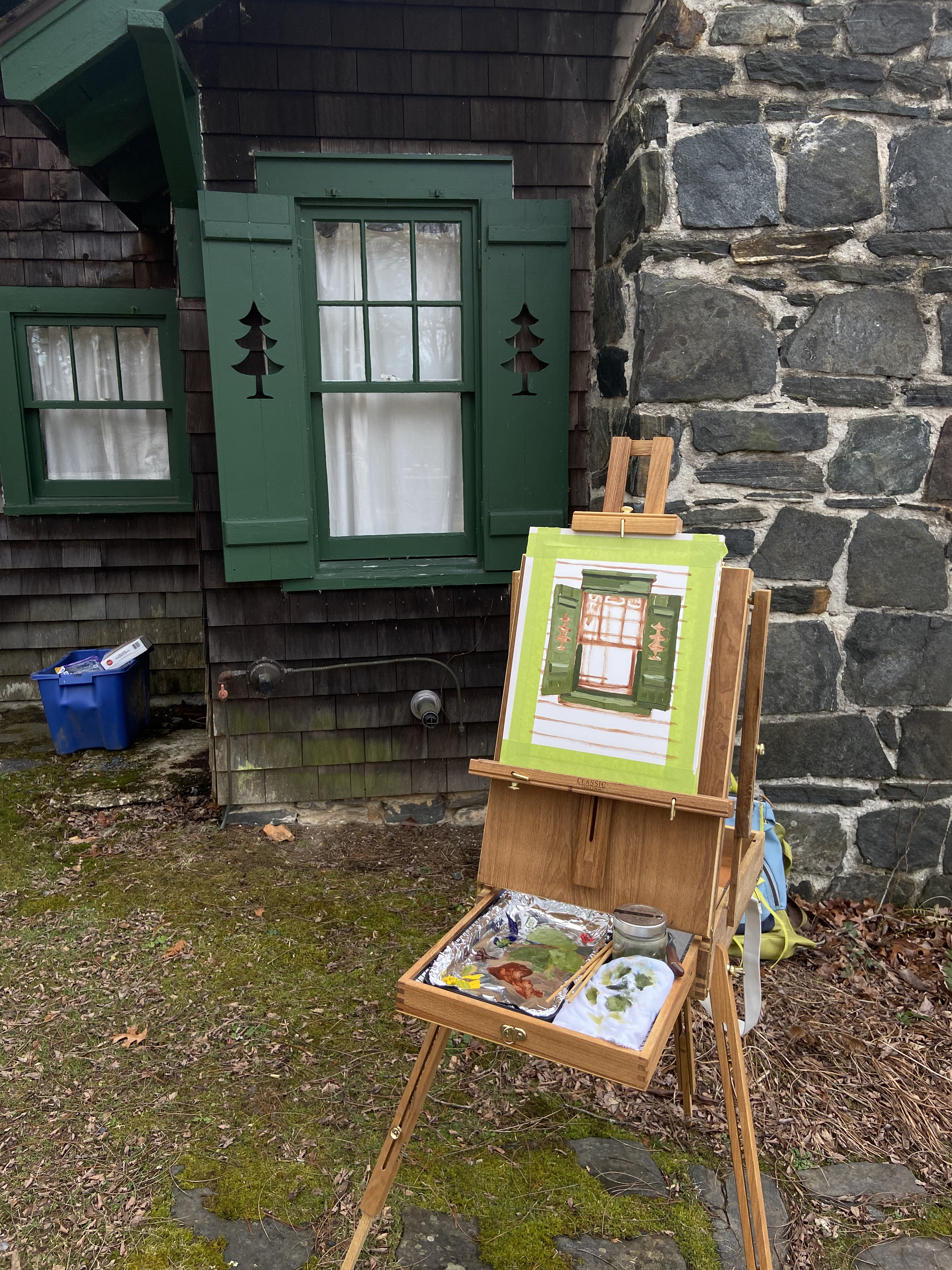 RB: What draws you to painting en plein air?

CB: I spent the beginning of the pandemic in Norfolk, VA and I just wanted to get outside. At that time, I had never seriously painted from life outdoors. Working outdoors was a way to be a part of the neighborhood and to see people from a distance.
RB: Have you ever encountered any surprising obstacles (mosquito attacks, people coming up to you and asking you weird questions, etc.)?
CB: I typically work in urban places or neighborhoods that are familiar to me. Parks are great for this because I am an introvert, but I am also energized by being around others. I love when people ask what/why I am painting something. I think people typically expect plein air paintings to look like traditional landscapes and they're surprised when I'm painting a curb, a hole or a pile of rubble. One of the most generous and meaningful comments I've had is from another artist who said that they love to see the world through my eyes.
RB: Has painting this way always been part of your practice?
CB: I have never painted outdoors with this much focus and intent for the work.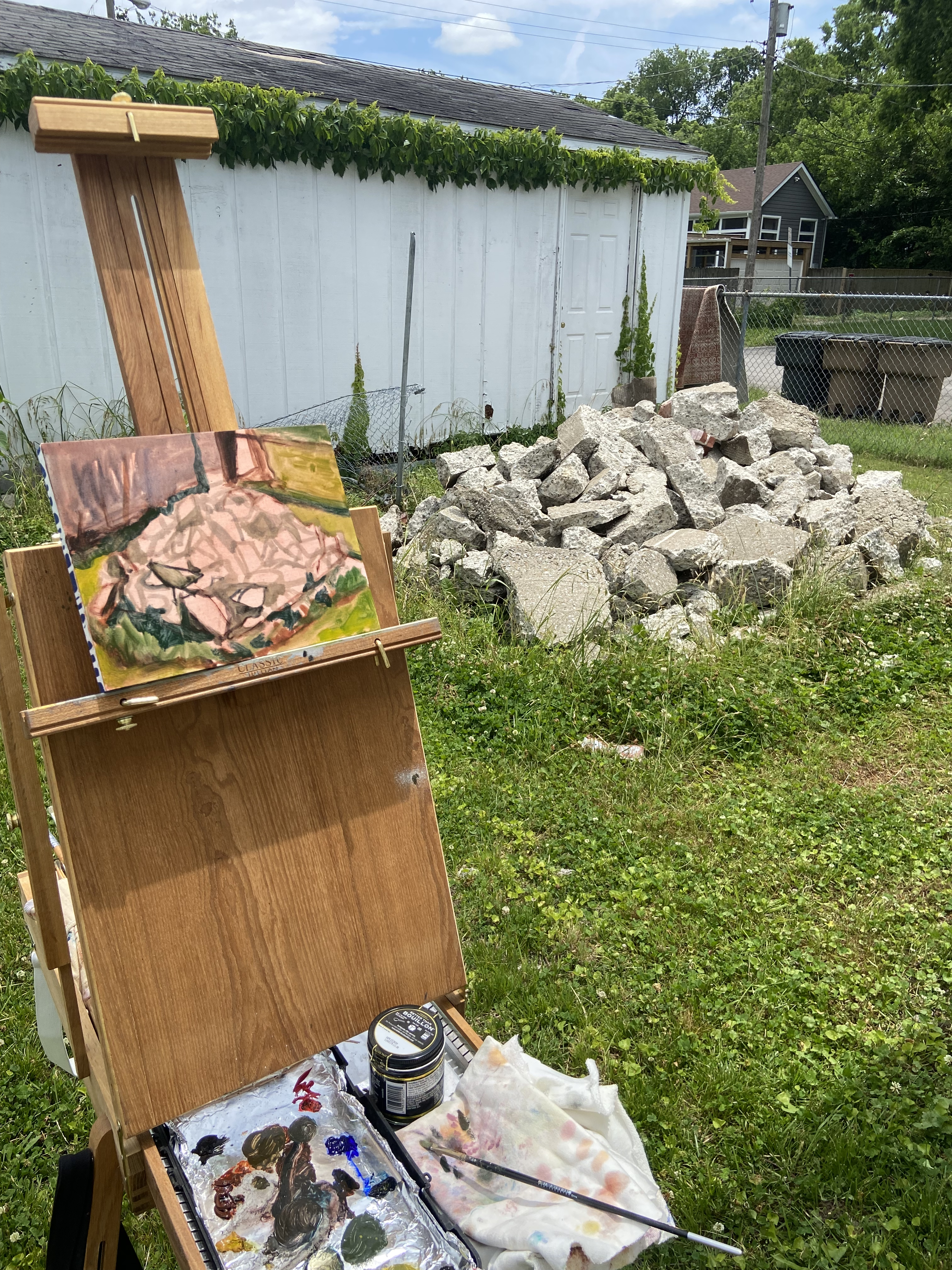 RB: Do you work from photographs too? If so, do you ever consider the photographs works in and of themselves?

CB: I do save the images as reference photos for future ideas and sketches, but I don't consider the photos to be artworks. For me, the work is the act of painting, it's the time spent observing and recording. With larger paintings, I will finish details and touch ups in the studio using, but it's nothing like really being there. There is nothing wrong with using images as reference which I use heavily in the other part of my practice. But for the plein air works, it's more important for me to capture the scene in person.
RB: Sometimes your paintings are on canvas and others on found wood – where do you find this wood? How do you decide which media for a painting?
CB: I often find the wood in trash bins, leftovers from studiomates, or left from my past projects. I prefer to use these unprecious surfaces because it helps me get started and removes unnecessary pressure. I am also interested in the history an object brings before it becomes my painting surface.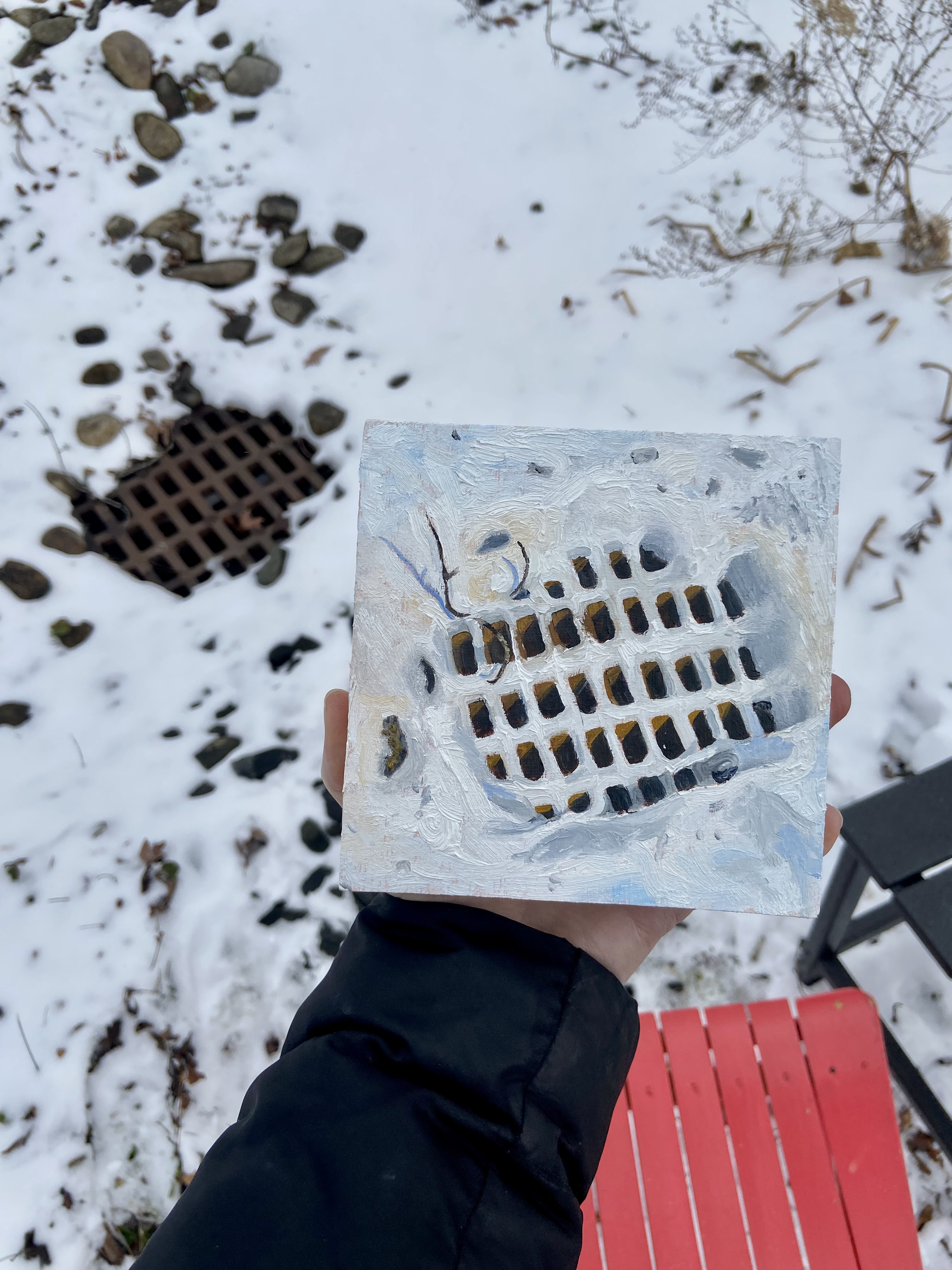 RB: One repeating image in your work is discarded flowers. I read that you originally would find these outside of work after a wedding or special event, but continued to see them everywhere. Are you still seeing "trash flowers" around? Has their meaning evolved? Where was the last place you saw some?

CB: This work actually has changed for me. Recently, I haven't found myself in as many spaces with these trash flowers. I decided to put this series on pause for now to reflect on what they mean to me now and if they are still relevant to my work.
RB: What are you working on now and what's next?
CB: Currently, I am crafting a body of work for a solo show and I am continuously connecting Nashville's artist community. When I first moved here, I contacted a bunch of artists for studio visits which was really cool. I just became an Artist Member at Coop Gallery and I am also a part of an East Nashville arts group called Fast Fluid Field (FFF) that has been hosting artist studio tours. FFF is putting on an amazing program - check them out!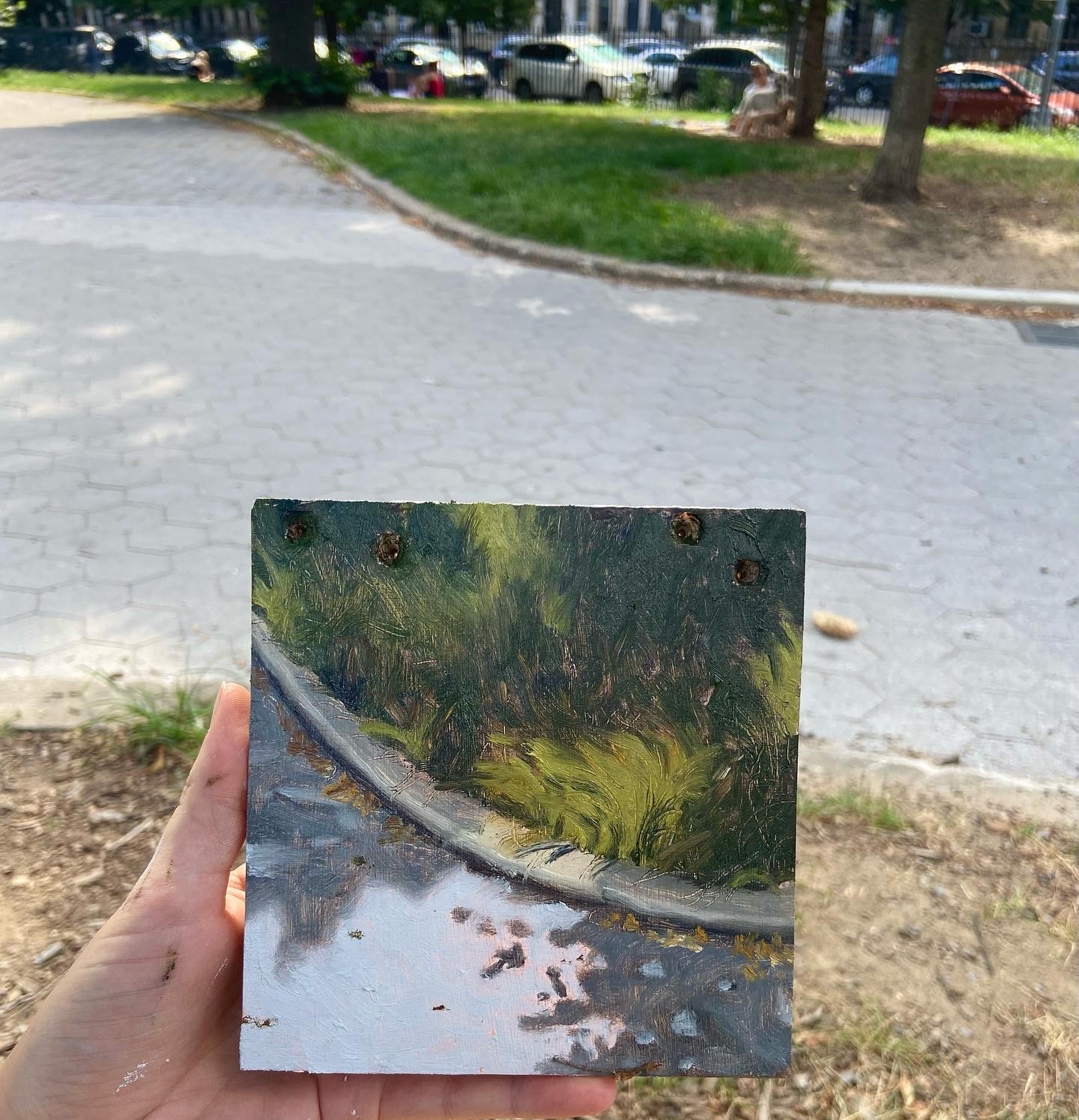 ---
Caitlin Blomstrom (she/her) is an artist and arts professional with a BFA in Painting + Printmaking from Virginia Commonwealth University in Richmond, Virginia. She was an artist-in-residence at Penland School of Craft in 2023 and at Kunstraum in Brooklyn, NY in 2022. She was featured in New American Paintings in 2018. Caitlin is also a curator and loves to collaborate with artists and friends. She currently lives and works in Nashville, TN.

Rachel Bubis is a Nashville-based independent arts writer, regular contributor to The Focus blog, and LocateArts.org Web + Print Manager for Tri-Star Arts.