INTERVIEW: KIRBY MILES
JUN. 17, 2022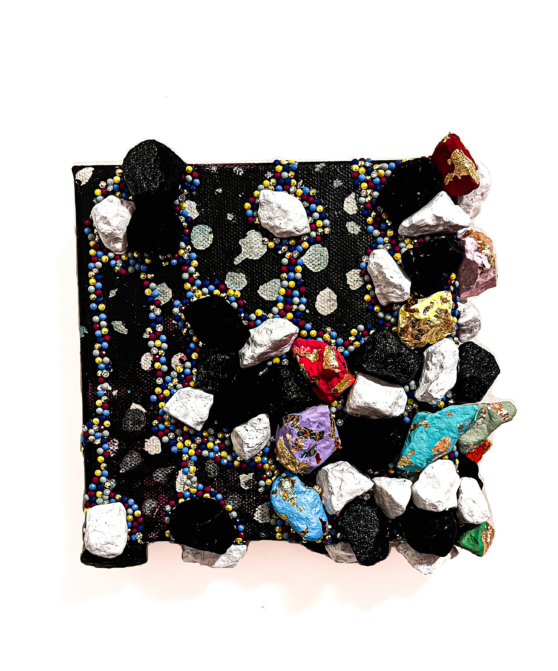 INTERVIEW: KIRBY MILES
JUN. 17, 2022
Rachel Bubis: You describe yourself as a queer artist and your work as exclusively feminine.
"I equate the femininity in my work to be two fold. The first is a force—what would an entirely unbridled experience of our world be if it was ONLY feminine? It's terrifying and wonderful."
What's your process in thinking about such scenarios or worlds, and coming to create the final work? I know you're a writer as well and some of your pieces have text. Does writing always play a big role? I've noticed that your more recent work doesn't contain as much text. Is there a reason for this?
Kirby Miles: My process in terms of thinking is to push out the possibility of masculine influence within a space. How could I even do that? Is it possible? It definitely feels unbalanced. The final work is something I push against these questions with. Sometimes I fail and sometimes I think I succeed. I want to get the work to feel from a different place while feeling like a natural thing (for that other environment).
Writing always plays a big role. There are months where I will want to write all of the time and I am making work alongside the writing; there are also months where I won't write and focus on prior writing, some things take longer to digest.
A lot of my prior work contained the text because I was unsure of how to get the text into the work in any other way. What I found is that what is good about the work isn't what is good about the writing and vice versa. Now I would say my work is almost like a tea, steeped in the writing but not containing the actual stuff.
RB: Do you do sketches?
KM: I do not sketch! I never have, even though I want to. It just doesn't make sense to me, but I suppose the writing is the preliminary for me - like sketching.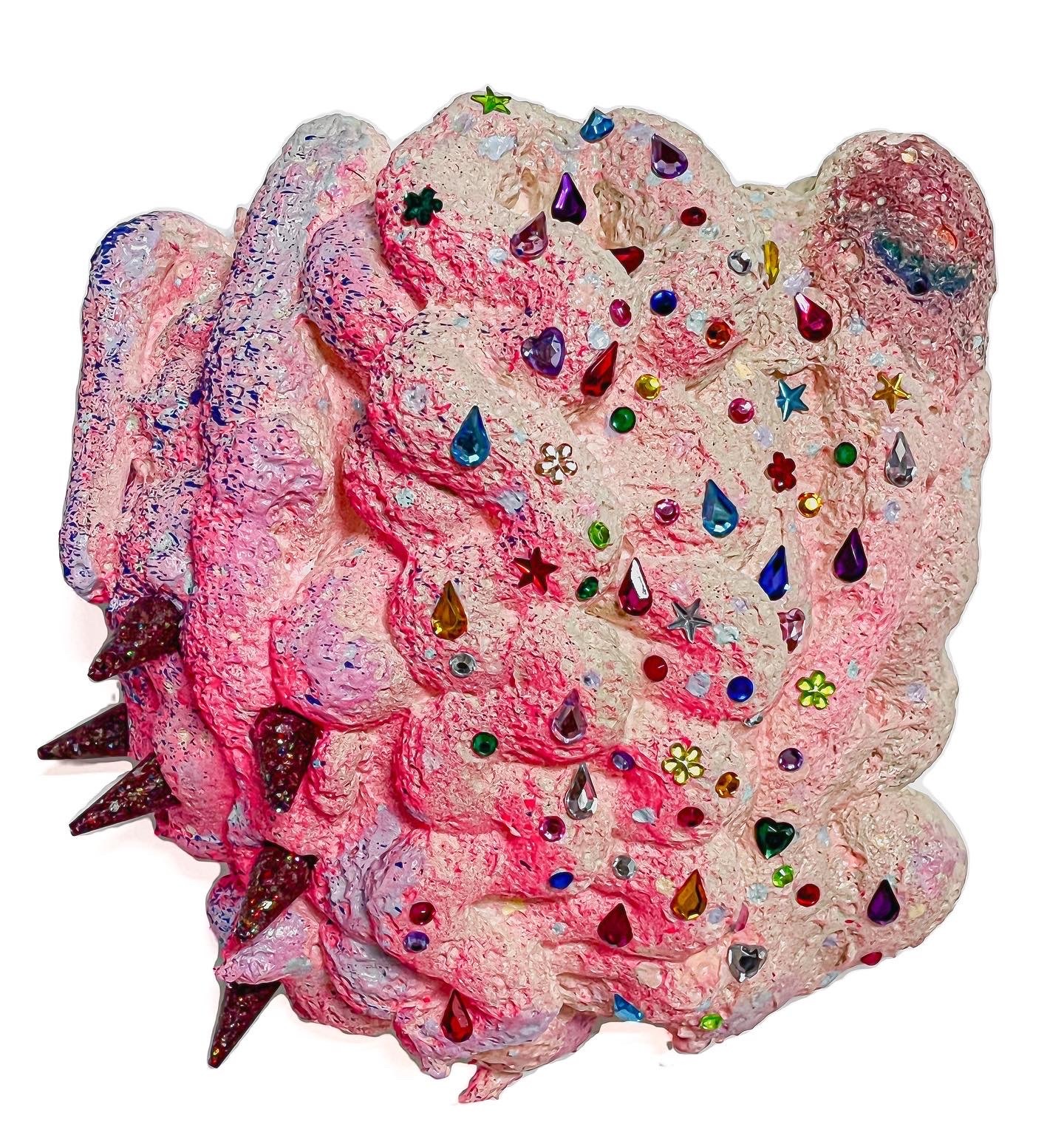 RB: You use glitter in your work to represent the feminine in such a fascinating way. You describe it as "weaponized candy, a dangerous pleasure that allows no room for the masculine." And even aposematic (the ability for animals to display to predators that it's dangerous).

"I want there to be an urge to take a bite of one of the pieces knowing that it might kill you if you do." *https://www.mineralhousemedia.com/media/kirbymiles
RB: I am wondering if you've ever been surprised by someone's response to your work? Has anyone been offended?
KM: I absolutely adore watching people look at my work. It's one of my favorite things as an artist. I have been surprised by some emotional moments from feminine presenting people to my work - empowerment in what society deems 'girly things'.
There are interesting reactions in masculine presenting people to my work and this is what surprises me most. When there is this interest + acceptance to a feminine place within them, I have seen it several times but it always excites me (and confuses them!) I have had so many great chats with masculine people regarding the feeling within my work and how it resonates with them.
There was one show, post-pandemic where someone disregarded my work as celebratory and out of touch with current time. This was during a panel discussion and I was taken aback. My work isn't celebratory just because there is glitter and bright colors-but at times (and usually from masculine individuals) it is categorized as such. I find it interesting when my work is categorized just based on materials without any depth.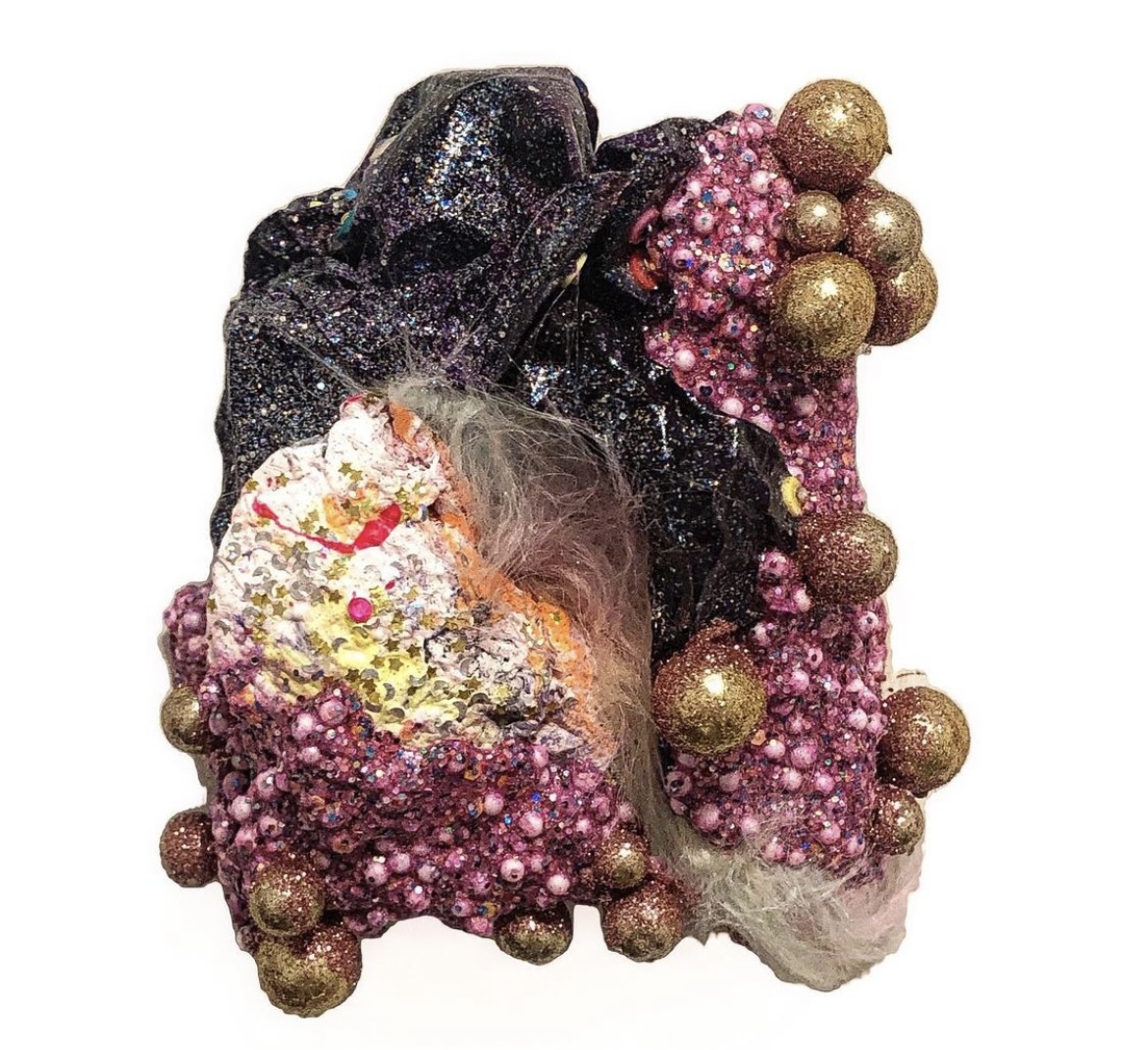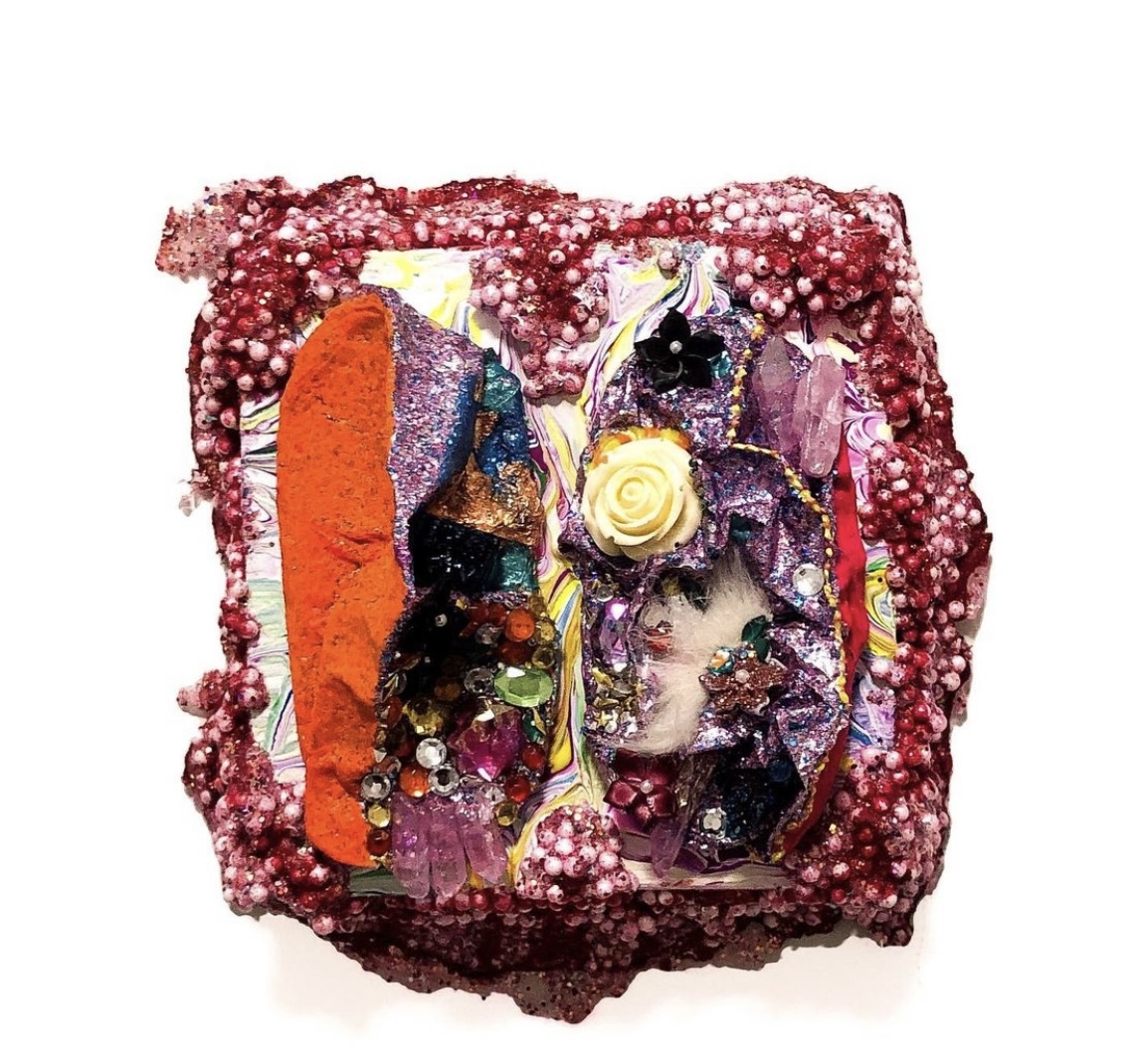 RB: Are you constantly covered in glitter/ find it in unexpected places?

KM: Oh yeah, absolutely. I am covered in glitter, but my partner and my cats are as well. We just embrace it now. Funny enough I have had so many great conversations because of it!
I have incorporated glitter into my make-up routine and so often I get comments of 'I could never pull that off..' and I always let people know to wear it if they love it. Life is too short to not have fun and be your most authentic self.
I also receive glitter as gifts now which is incredible! The most unexpected place I find it now, I think, is in my personality. Those closest to me associate me with glitter which is wonderful.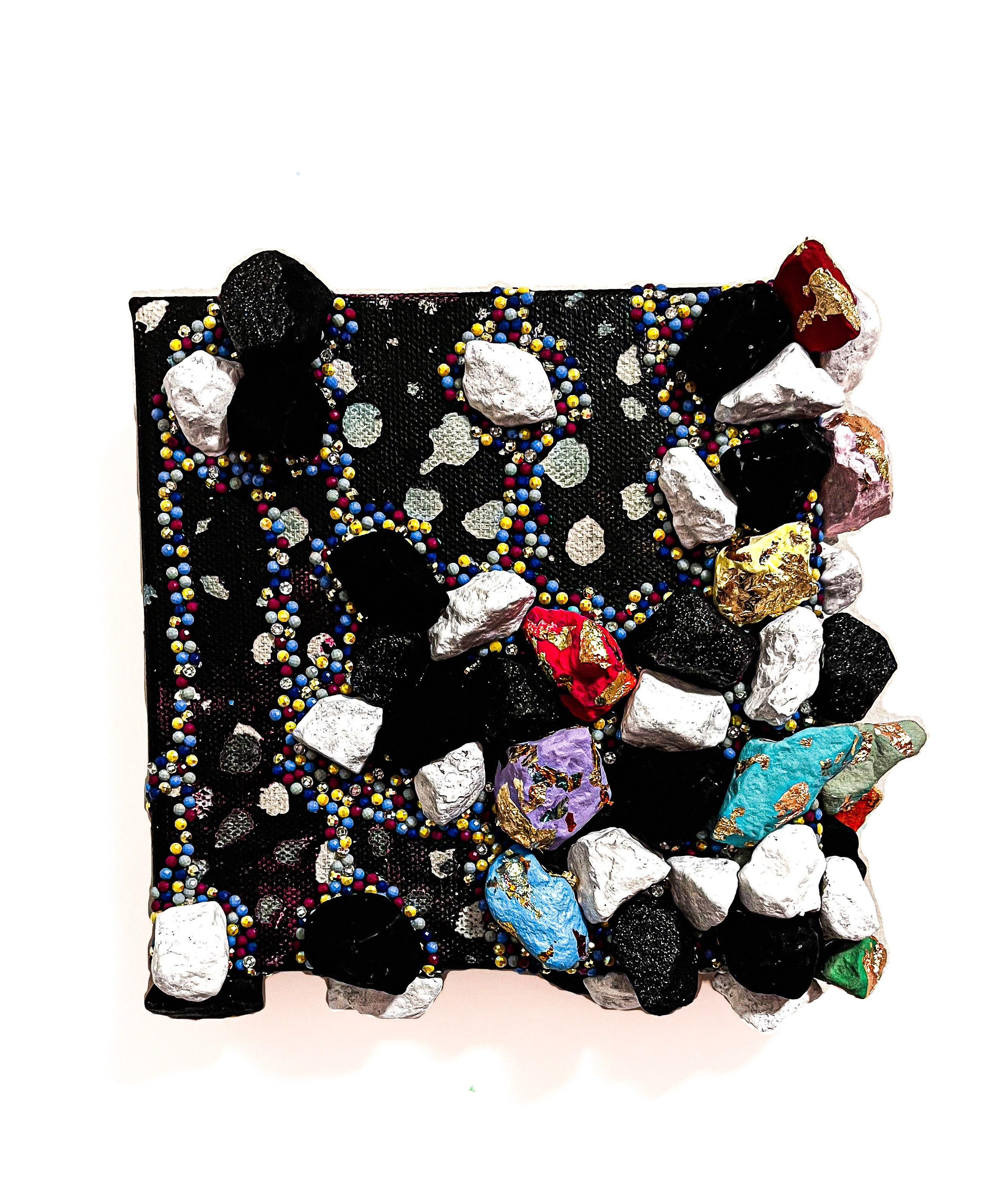 Kirby Miles, Waiting-Anticipation-Failure-Rage, acrylic, plastic gems, rocks, gold leaf on canvas, 2022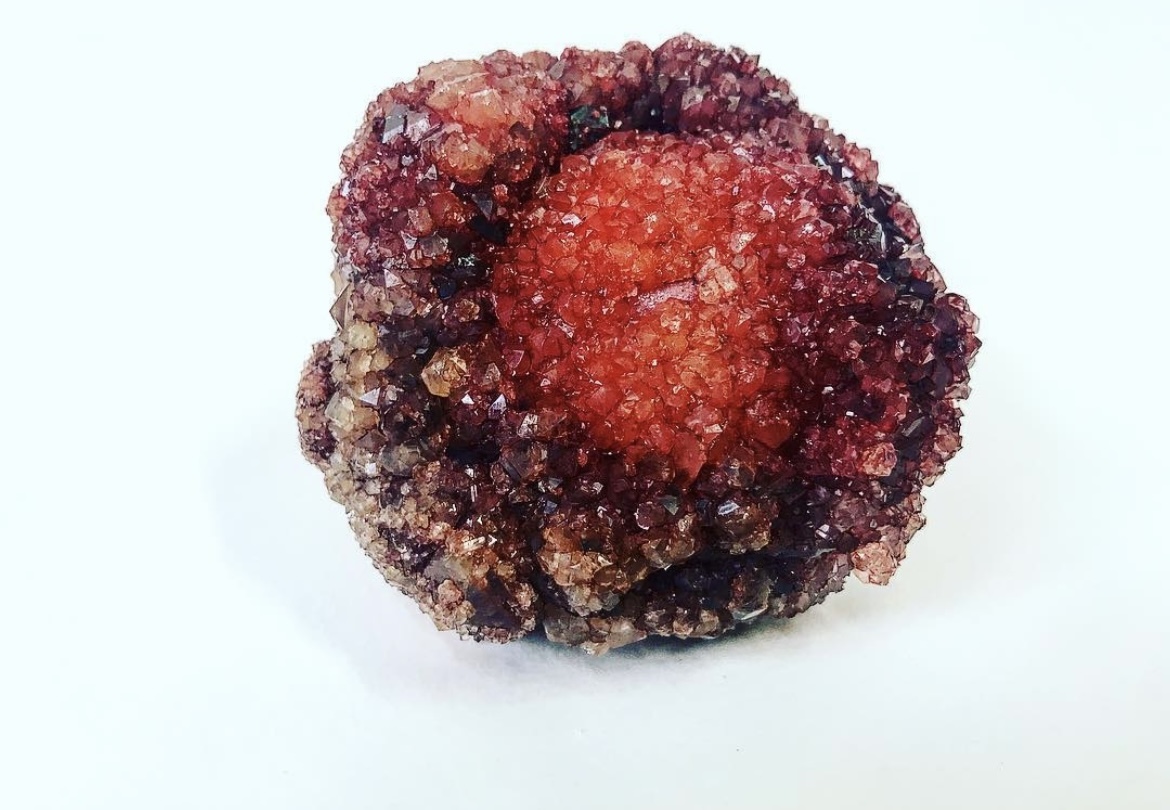 RB: You were a curator at VERSA Gallery. How do your curatorial and art making interests intersect?

KM: My fellow friends and curators of VERSA and I closed the gallery in 2021. The pandemic hit us hard and as a completely self-funded artist run space we had to take the exit. I loved my time with VERSA and it was such a fun and experimental space.
In late 2021, I joined the artist collective Wavelength Space. I now curate at Wavelength alongside (Director) Raquel Mullins, Summer Tomes, and Leah Dalton. We have made some incredible magic this year in a curatorial aspect.
My curatorial practice is vastly different than my art making practice. With art making, I am thinking about every detail in depth. I overthink things all of the time and have to bring it back from the brink. It's all fluid.
Curation, for me, is more immediate. I know what fits within the parameters of the show and what doesn't. It's fast. I may linger on a piece or two here and there, but things are always clear cut in terms of the show.
There are a couple of cross-overs between art making and curatorial practices. The biggest one being that sometimes there are moves that I did not expect - that I just go with. Like picking up a thread - not knowing how point A is connected to point B, but following it and just allowing that to happen; containing the chaos so to speak. Every time that happens it yields favorable results. There are some things in art and in curation that language can't quite explain. When you operate outside of the confines of language, that's when things get interesting.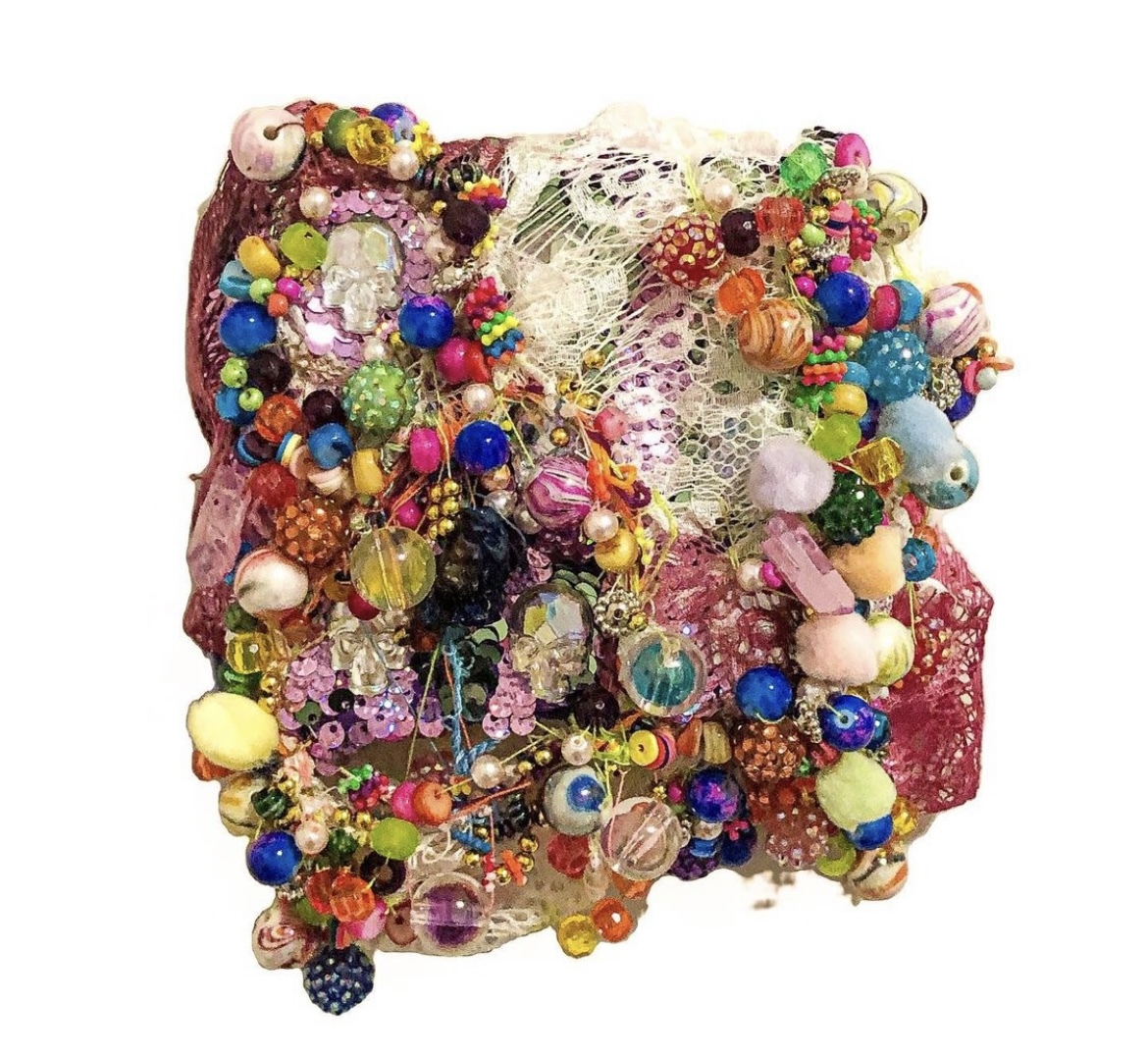 RB: What are you working on now and what's next?

KM: In my painting practice I am currently working on a rather large photography project that will be shown in August of this year. This project will continue my idea of the concocted world, but will make it more real. Attempting to photograph a place you have made up in your mind also has some surprising challenges!
Curatorially speaking I currently have an open call out for a show, No Longer. The show is about miscarriage and is probably the most challenging show I have faced thus far (due to personal experience with the subject matter). Curating this show is important to me personally, however more broadly speaking, miscarriage + women's health is largely something swept under the rug and not talked about enough.
The open call is posted on Wavelength's Instagram and ends on 7/16. The show is on 8/27.
I also recently moved and am currently renovating a detached home studio. I have always rented a space, so having a space that is mine feels nice and allows for a lot more experimentation!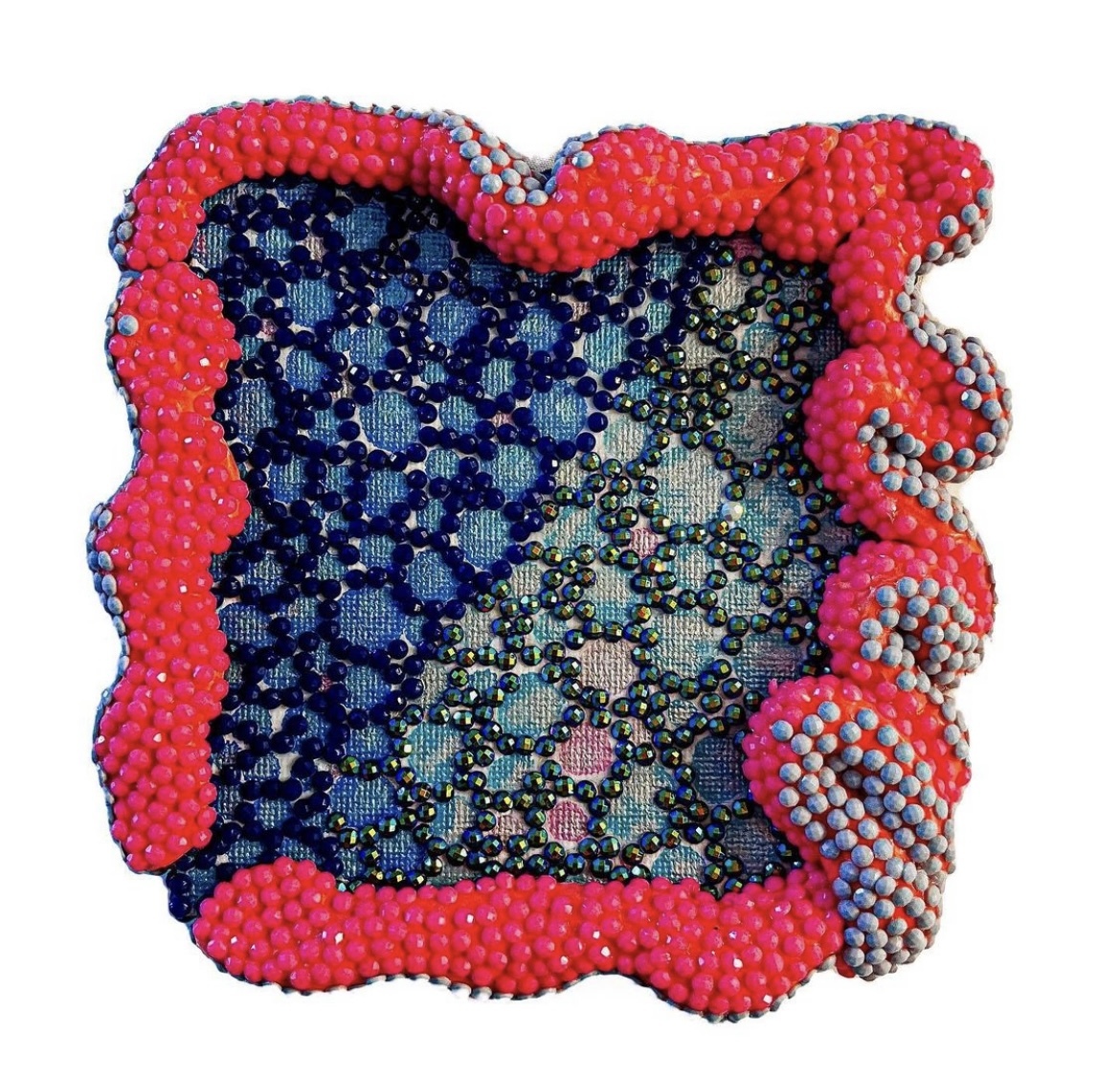 ---
Kirby Miles is a queer painter living and working in Chattanooga, TN. She received her BFA from the University of Tennessee at Chattanooga and her MFA from Cranbrook Academy of Art in 2019. She has also attended Chautauqua School of Art. She curates select exhibitions at Wavelength Space in Chattanooga, TN.

Rachel Bubis is a Nashville-based independent arts writer, regular contributor to The Focus blog, and LocateArts.org Web + Print Manager for Tri-Star Arts.