INTERVIEW: JEFFREY MORTON
MAR. 24, 2022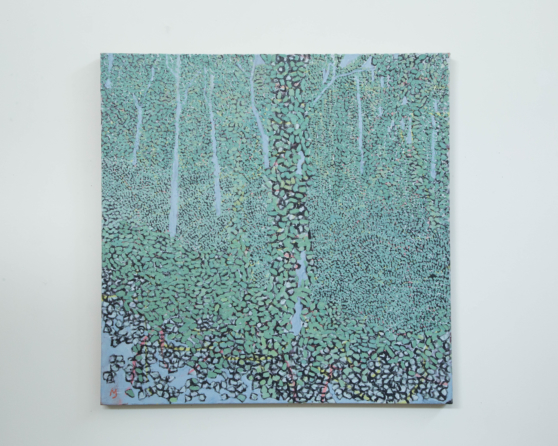 INTERVIEW: JEFFREY MORTON
MAR. 24, 2022
Rachel Bubis: You describe your work as having "a strong connection to the bold color fields found in 17th century Japanese folding screens," and "the fluid brushwork of the 19th century ink painter Uragami Gyokudō." What draws you to Japanese art and culture?
Jeffrey Morton: I lived and worked in Sendai, Japan (about 250 miles northeast of Tokyo) during my 20s; it was in the mid-1980's and I taught English as a Second Language (ESL) to college students and businesspeople. Even with a language barrier, I traveled extensively and I loved visiting temples, gardens, and historical and natural sites that are important to the identity of the Japanese people. Through their art and life, I was introduced to the Sumi brush. My study of the Japanese language and in particular my study of written kana, Japanese syllabary, further captivated my interest in their art and culture. The subdued, purposeful aesthetic of art and life seemed to fit my own artistic visions and yet I felt more dissonance than assimilation. For example, I didn't know what to make of ink painted on gold screens I found in the homes of Japanese families. Who would do that? Even so, my students and friends saw in my art an affinity with their culture.

My own curiosity with Japanese art led to a more formal study when I returned to the United States to continue my education in graduate school. Here, my art history professor introduced me to the art of Uragami Gyokudō. After looking at my sketchbooks from Japan, she thought my approach and vision to the landscape were similar to his artistic attitude. Rather than detached, cool visions in ink (think Hasegawa Tōhaku), Gyokudo's work seemed connected to an encounter with the natural world. When looking at his paintings, you could feel the cold temperature in the air, walk through a thick fog, and experience the burst of wind.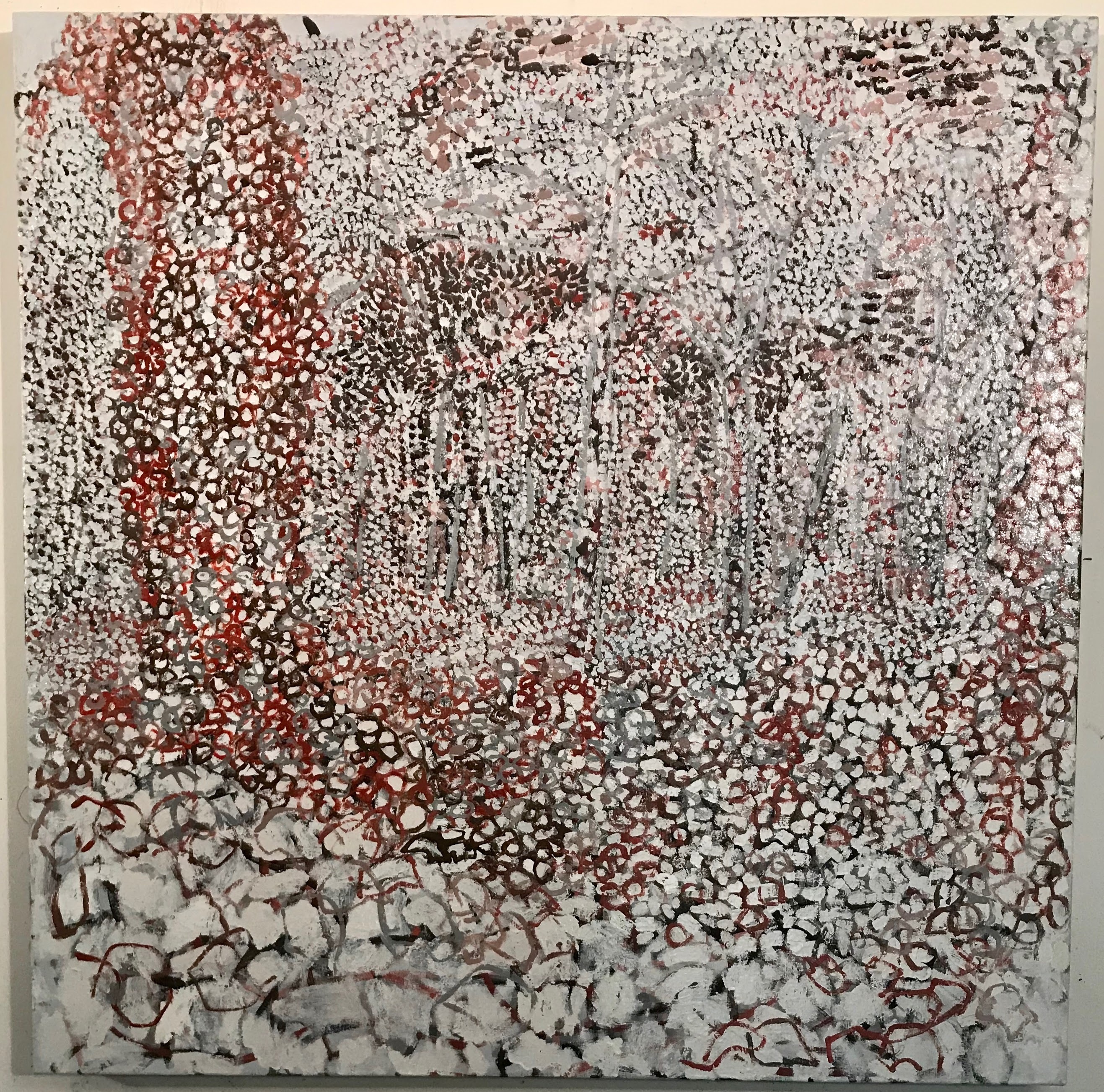 RB: Did you experience any unexpected differences or similarities in the culture/nature of Japan during your residence (i.e. "hiking through the landscape of the mountains of east Japan vs. the thick kudzu spaces of Chattanooga, TN")?

JM: Living in Japan made me small, which is not a bad thing since my travels and experiences really shaped me personally and how I make art. When I first got there and explored the landscape in the Tōhoku region, I framed a view that reminded me of a van Gogh painting (as did my Japanese audience). Maybe the scene was not that of the Dutch painter, but I know my paintings acted in a way how I thought he would see a landscape of rice fields and pine trees.
Years later I read a fascinating essay about van Gogh's landscapes by Griselda Pollock who suggests when traveling our vision is pre-packaged, or as she states, "we see what we expect to see." Pollock makes a compelling case that van Gogh's paintings from the South of France were not really of the French countryside but rather paintings made through the lens of his knowledge of 17th century Dutch landscape painting, what she calls a "landscape of consolation." In other words, van Gogh couldn't help but bring in the landscape that was deep inside his body, the landscape of his youth. I understand this now, but not at first when I brought my own filter to Japan. I was looking for the familiar rather than the strange. Years later I brought Japan with me when I came home and made paintings of Long Island Sound from Connecticut and islands in blue waters from the top of Cadillac Mountain, Maine. Ten years after that, I found another connection between my home and the landscape of Japan.
So, when I moved to Chattanooga 21 years ago, I connected to Japan once again because of kudzu. In the late 19th century, American gardeners at the Philadelphia Centennial Exposition, were introduced to the leafy plant from Japan. Nations from around the globe were invited to build exhibits in 1876 to celebrate the Unites States' 100th birthday. Kudzu was admired for its large green foliage and its pretty purple flower. At their site, the Japanese contingent constructed a garden filled with indigenous plants and a pavilion covered with the vigorous vine. Today, in West Fairmount Park, Shofuso, a Japanese Tea House resides in the location of the former pavilion. The plant kudzu is still used in a variety of ways, such as traditional medicine and paper-making, but in the late nineteenth century it was used as an ornamental accent in gardens of the south. By the turn of the century, kudzu was used to feed livestock and then in the 1930s the US government used it to eliminate soil erosion. This is where the invasive species has literally left its mark on the American landscape. Interestingly, I never saw a hint of kudzu while traveling on the main island of Honshu.
RB: Your work examines invasive species such as kudzu and you often work "in situ", making drawings in person and bringing notations back to the studio. You describe the experience as not always pleasant: "My body takes a hit. Ticks, mites, and mosquitos feast on my arms and legs. I trip over vines, and thorns snag my feet, but kudzu also assaults in different ways."

I'm intrigued by the image of this. Can you tell me more about this process: How do you find locations? What's your set-up like when you're working in these conditions (do you bring a chair, table, palette)?
JM: Painting in the landscape is akin to participating in a sport, which for me, is physical, mental, and competitive. Finding a location is less about painting scenery or an illusionistic space. It's more about using painting to find something new about that location, its place. In other words, I prefer to find a place that seems strange and that invites curiosity. As a physical exercise, I carry a backpack with painting essentials, including a water bottle, and a chair. For me, it is important that I journey to the place. Sometimes this means climbing a mountain in the snow, walking through a cornfield in 90-degree temperatures, and in the case of the kudzu, slogging through knee-deep vines. The physical part is easy for me, because I tell myself that I'm getting exercise, but there is additional preparation required. I basically submit my skin to layers of Deet, a non-carcinogenetic insect repellent. I spray my entire body with Deep Woods Off because I don't want to get bit by mosquitos and the nasty chiggers that dig their way under my skin. I worry if the spray has covered all the necessary areas to keep me from harm, and I tell myself the spray has an additional power to ward off snakes. Really.
Presently, I am doing few paintings on site but I make a lot of drawings that take more than one visit. With a pencil on paper roughly 15x18 inches, I make marks and inscriptions that mark off the time I spend in the kudzu field. These drawings are of a durational sort with titles such as Kudzu Drawing 9: six hours and thirty-six minutes. To date, I have logged well over 250 hours making drawings in the kudzu field. Thus, my artistic practice is not only an endurance test of drawing and mark-making, it literally is a practice of how much time I can endure in this beautiful yet annoying landscape. Believe me, this is a hostile place since I have to crawl over thorny plants that seem to have tentacles catching my pants and hindering my movement. Here is where my competitive genes sprout. "I'm not going to let it (the landscape) win," I tell myself, but I have to admit that most often it does. My drawings are my reward.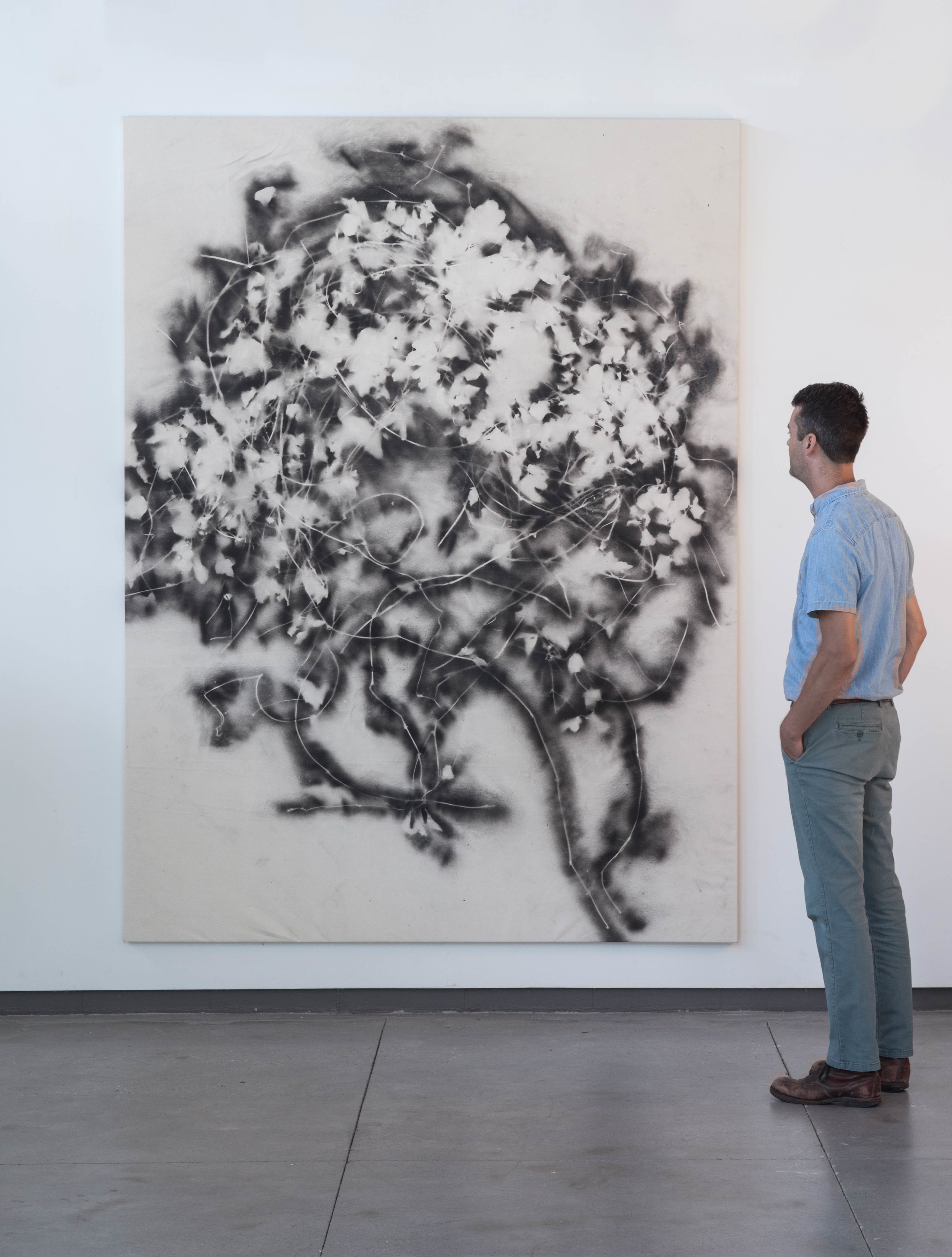 RB: Why is it important for you to be there in person to gather materials? How do you think the physical experience of being in the kudzu affects your work?

JM: The landscape is not an abstraction; it is physical and material. I gather organic materials to bring back to the studio to remind me of my travels. My art is less what the landscape looks like, but rather my art is about sharing my experience with my viewer. I want them to leave my works trying to figure out how many layers are painted, but ultimately, I want my viewer to wonder if they too got bitten by a bug. Being in the kudzu is a strange experience in the world of the other; I think my art translates this experience back to the viewer. And in particular, I want to suggest my art are physical arguments that an encounter with painting can be an embodied experience.
RB: You explain that you've been using art to figure out the meaning of displacement through examining invasive species. Have you had any new insights about displacement recently? if so, would you mind sharing?
JM: Displacement is a theme that I have latched onto describing my art and my life. Where do I belong? This question is central to my artistic practice. The mid-20th century French philosopher and political activist Simone Weil is well known for her thoughts about displacement. "To be rooted is perhaps the most important and least recognized need of the human soul. It is one of the hardest to define," she states. This language makes sense to me since I have definitely replanted my roots when I moved from one part of the country to the other. Furthermore, I read widely on the subject of belonging, from writer bell hooks to theologian Beldin Lane, and professor Irit Rogoff to name a few. A different version of my former question is echoed by these writers which is one that sinks into my psychology. 'What," I wonder, "does it mean to be in and belong to one place and not another."
Geography matters to me and my identity as a Philadelphian is hard to shake, even now having lived in Chattanooga now for over 21 years. I live south of the Mason-Dixon line; while I don't belong here, I say, I am indeed thriving and should be thankful. Nonetheless, I still do not feel at home and maybe this is what it means to be a sojourner. My art and study of kudzu addresses this topic head-on. Here in the Southeastern United States, kudzu has become prolific, and for some, an unwanted guest. Not only is kudzu an unwanted guest, so was this guy at a 2019 public reception featuring four large screens placed neatly on the floor. This dude lumbers through the crowd and makes a bee-line to the food. Too bad he forgot about the art as walked across it leaving his footprint behind. The gallerist who witnessed this event with me was aghast. She was speechless. Even so, his footprint reminded me of another one in my archive; it was a photograph of one of the first steps taken on the Moon. Neil Armstrong and Buzz Aldrin walked on the Moon on July 20, 1969 and the image shouted beyond the atmosphere "we're here; we made it." The Apollo 11 mission launched on July 16 in a Saturn V space vehicle developed by NASA's Marshall Space Flight Center in Huntsville, Alabama. That footprint this guy left on my painting was an indexical reminder of my own footprints provoking another lingering question: Where have I walked in unwelcome spaces or left behind unpleasant memories? Like most of us, I'm looking for a place to land. Simply put, displacement suggests a sense of longing. Feelings of displacement reveal that I just want to belong.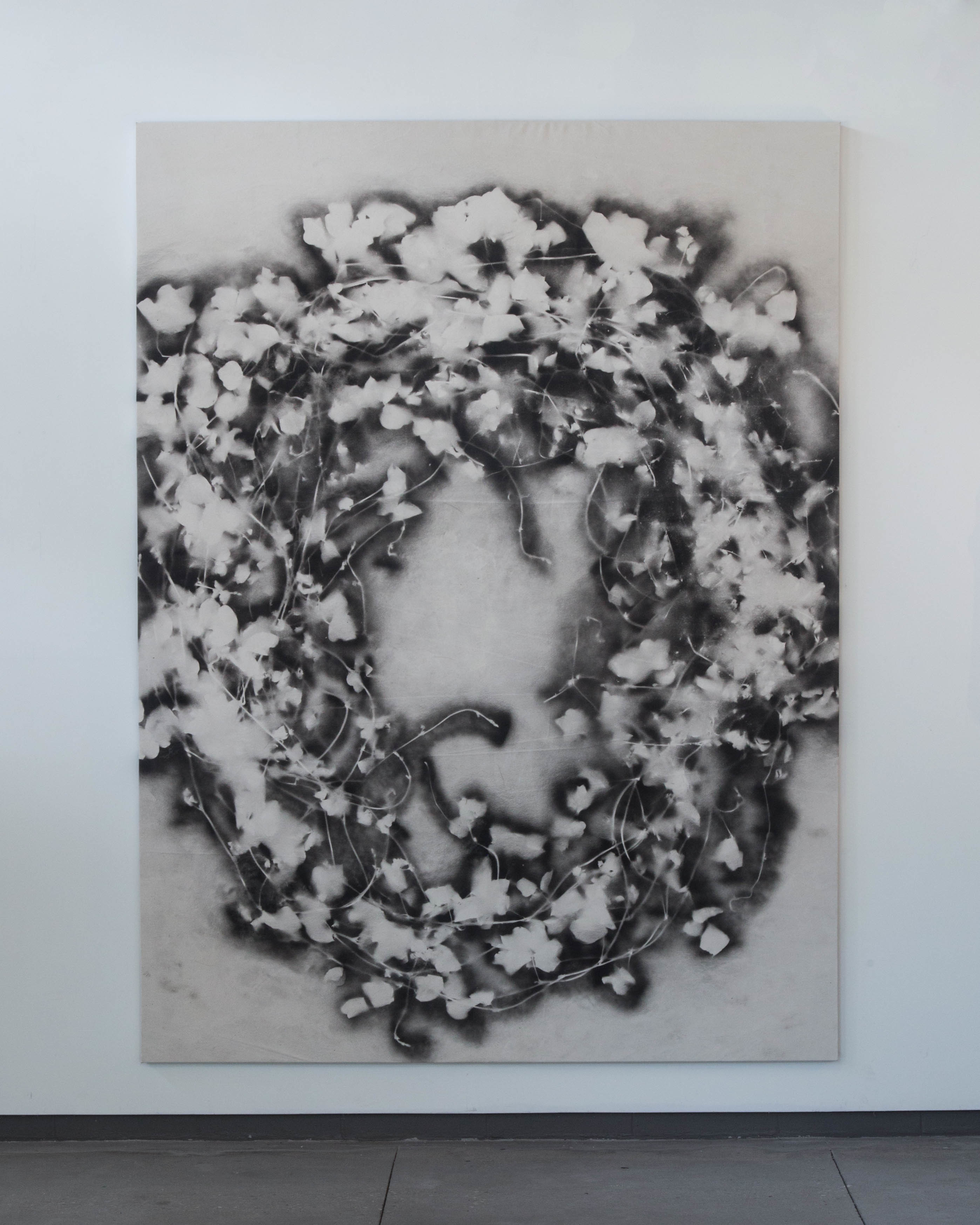 RB: What's your process making the enamel spray paint on canvas pieces such as Rhizome Circle (2016) and Stem (2016)? What are you thinking about when using this medium vs. oil on linen? The images remind me of x-rays…

JM: In order to make Rhizome Circle, an enamel spray drawing, I cut six twenty-foot vines found in the landscape and return them to the studio. Once untangled, the vines were arranged in circular, web-like, and encased forms onto a large piece of cotton. Like a photogram or cyanotype, the image is made indirectly by producing a negative rather than a positive form through a controlled spray of enamel paint. Here, unlike most of my other work, there is a one-to-one ratio between the source and image. The scale has a direct reference to my physical body, where I could place my whole figure inside the circle and beyond. The medium of spray paint on canvas is significantly different from oil on linen. While significantly more expensive, linen has a longer shelf life than cotton; yet, the material properties of cotton in these works seem to be more present and tangible than linen even while the feeling is that the image is fleeting, it might just wash away.
The title for this spray work is based on ideas described by Deleuze and Guattari in their book A Thousand Plateaus: Capitalism and Schizophrenia. A rhizome is a botanical term that describes a continuously growing horizontal stem that puts out lateral shoots and adventitious roots at intervals. As a botanical species, kudzu is not a bulb plant or has a root system of a tree. The roots of an oak, for example, go down and branches reach up, they do so in a linear, hierarchical, and progressive fashion. Think of family tree diagrams: they have a starting point and branch out the further they are from the top. A rhizome, however, is different. It is a stem of a plant, a creepy rootstalk, that sends out tentacles and shoots as it spreads. It is also strange. Think of a ginger root with wonky knobs that move in any which way. Think also of crabgrass or bamboo, and kudzu too.
In my mind, I see kudzu as a map. For every foot above the ground, there are at least three feet of the vine below. Whether through a macro or micro lens, kudzu can be seen as a network of information and a way of passage from one point to the next. There literally is no beginning or end. It is this image of a map or a web that might help when considering my practice, which is different from a product.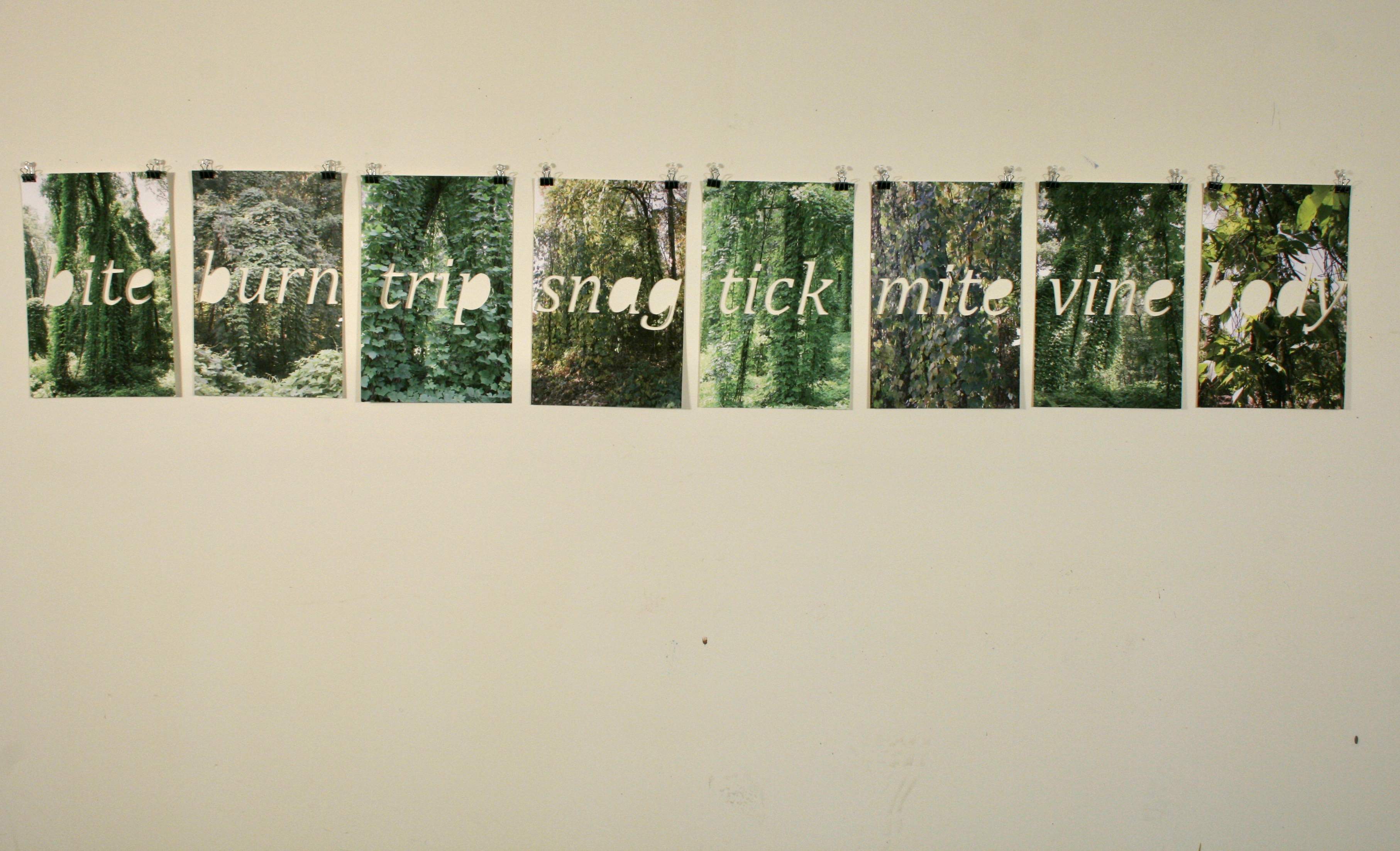 RB: What are you working on now and what's next?

JM: I'm making black paintings now. In time, I expect they'll become white paintings.
I'm framing an idea for a future exhibit this fall at Messiah University in Pennsylvania under the title Hand Writing. The exhibit will highlight my drawings with paintings; they are codependent after all. As per the title, I have always been self-conscious about my handwriting that is often read as illegible scribblings. Here I've been researching the use of the ancient palimpsest as a form of drawing.
A palimpsest is a manuscript written on parchment where two or more texts have been made in sequence with a new one created after the preceding one has been deleted. By scratching and through erasure, the former writing is canceled out, but not completely eradicated. Unlike the paper we have today or even Egyptian papyrus from the First Dynasty (c.3100 BC-c.2900 BC), parchment was formed out of animal skin and was more durable although expensive and sparse, therefore recycling the material was used well into the 12th century. It is the speed of this writing process that acts like my artistic practice which requires perseverance and patience. I found another connection between my art and the palimpsest however.
"Literature acts like the landscape; the landscape acts like literature," suggests Harvard design professor Gareth Doherty. Similar to the experience of walking, literature "slows us down," he says. As I see it, the process used on the palimpsest not only reads like the landscape - it acts like the landscape. Much like employing milk and oat bran to wash the writing away on the parchment, the invasive vine kudzu from Japan ostensibly attempts to exterminate the landscape hinting at a faint memory of what was once there. The dialogue between landscape and literature is kind of like talking over your partner where their voice is drowned out by your own. A once vital oak is silenced as the vine climbs the tree, covering it from sunshine and the nutrients it provides, ultimately depriving it of life. The oak is the former text, leaving trails from the past while the new text kudzu asserts itself in the present.
My black paintings were a direct reference to transcribing the source of my drawing. I expect they will soon become white because the layered process is so important to what I want to communicate, but as I think of it even further, the paintings will act like the kudzu and create their own form of erasure.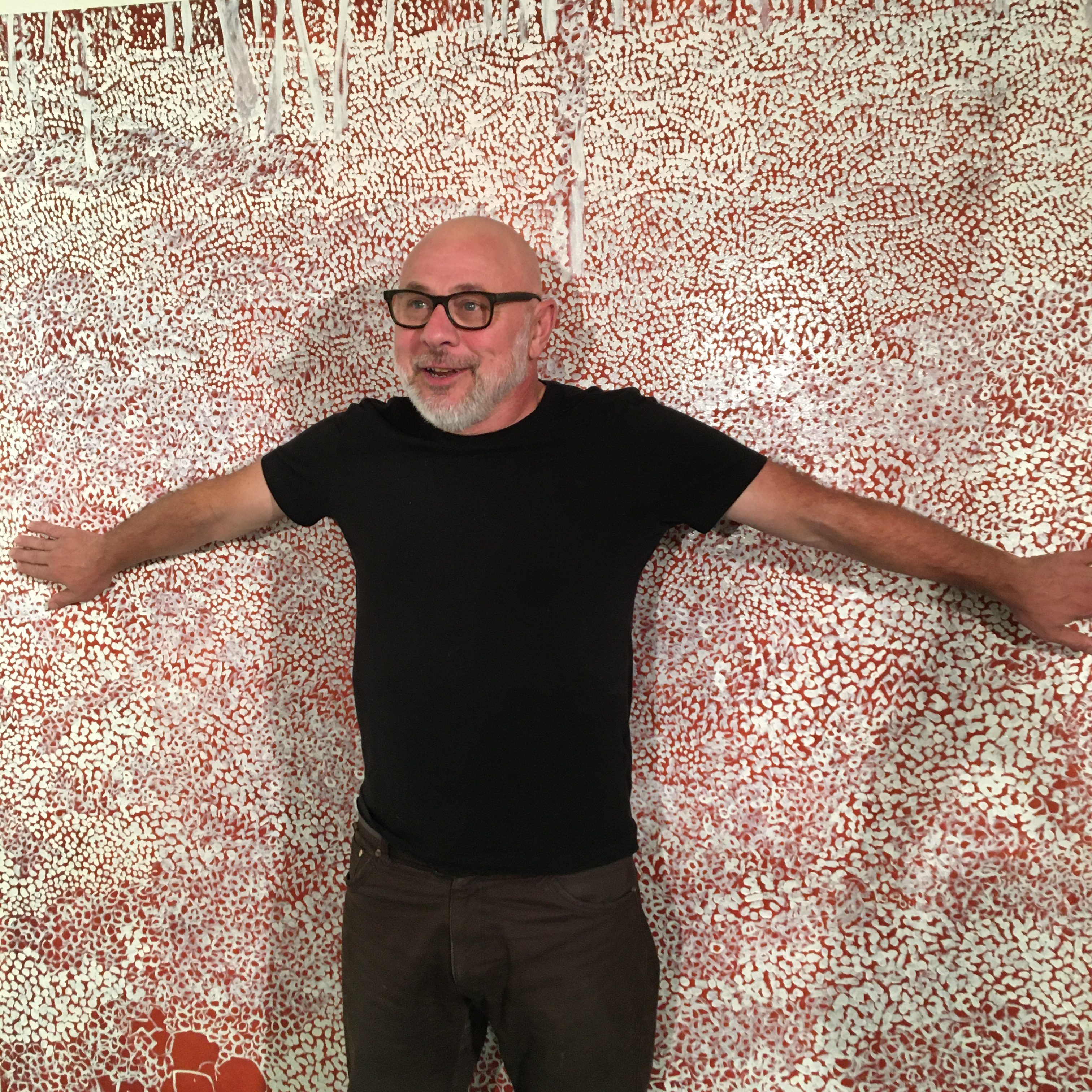 ---
Jeffrey Morton is an accomplished painter specializing in various interpretations of the landscape. During a two-year residence in Japan, earlier in his career, Morton was drawn to Japanese art and culture. His work of the last twenty-five years has a strong connection to the bold color fields found in 17th century Japanese folding screens, and the fluid brushwork of the 19th century ink painter Uragami Gyokudō. Morton has exhibited his work regionally and nationally, including the University of Tennessee Downtown Gallery; the Harrison Center for the Arts, Indianapolis; and the Delaware Center for Contemporary Arts, Wilmington. Educated at Yale University and Temple University, Tyler School of Art in Philadelphia, Morton has served as Professor of Art at Covenant College since 2000. In Chattanooga he curated the show Accessing the Artist's Brain: Drawing as Metaphor at the Association for Visual Arts. Most recently he exhibited works at Hunter Museum of American Art, Hunter Invitational III, also in Chattanooga. Morton is a recipient of a 2016 Individual Artist Fellowship from the Tennessee Arts Commission. Jeffrey, his wife Betsy, and their four children are residents of Signal Mountain, Tennessee.
Rachel Bubis is a Nashville-based independent arts writer, regular contributor to The Focus blog, and LocateArts.org Web + Print Manager for Tri-Star Arts.