INTERVIEW: SCOTT CARTER
JAN. 30, 2021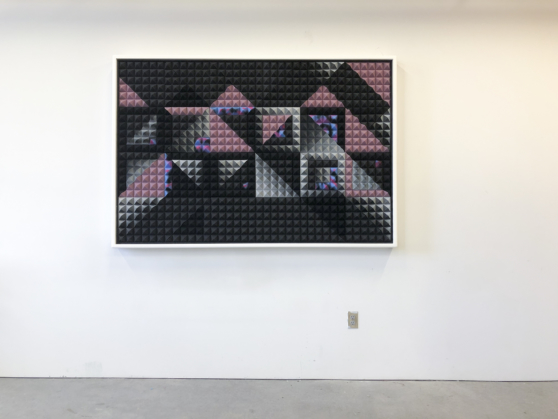 INTERVIEW: SCOTT CARTER
JAN. 30, 2021
Rachel Bubis: You're interested in the experience of living amongst mass produced materials, spaces and objects in contemporary architecture and design. There's obvious arguments as to why this experience might be detrimental to us and culture, but have you noticed any unexpected effects?
Scott Carter: Over the years, I've become very sensitive to my surroundings. I think most artists are naturally this way but I've definitely noticed a shift in how I respond to both the natural and built environment. This could be due to my general anxiety or the experiences I've gained over the years working with materials. For example, I've been renovating my house over the past year and after completely gutting and rebuilding the kitchen because of water damage, I notice every detail when I go to someone else's house. Like most makers, I've filed that experience away and now can never unsee the things I used to overlook. I guess that's how experience works though. In the end, I take what I can from these moments and apply it to my work. It allows me to have a deeper understanding of materials and space. The interesting part for me is finding ways to use my understanding of materials and process in unexpected ways. I think the best part about being an artist is the ability to push against what's expected whether that be something as simple as a material or spatial expectation or a larger societal and cultural issue.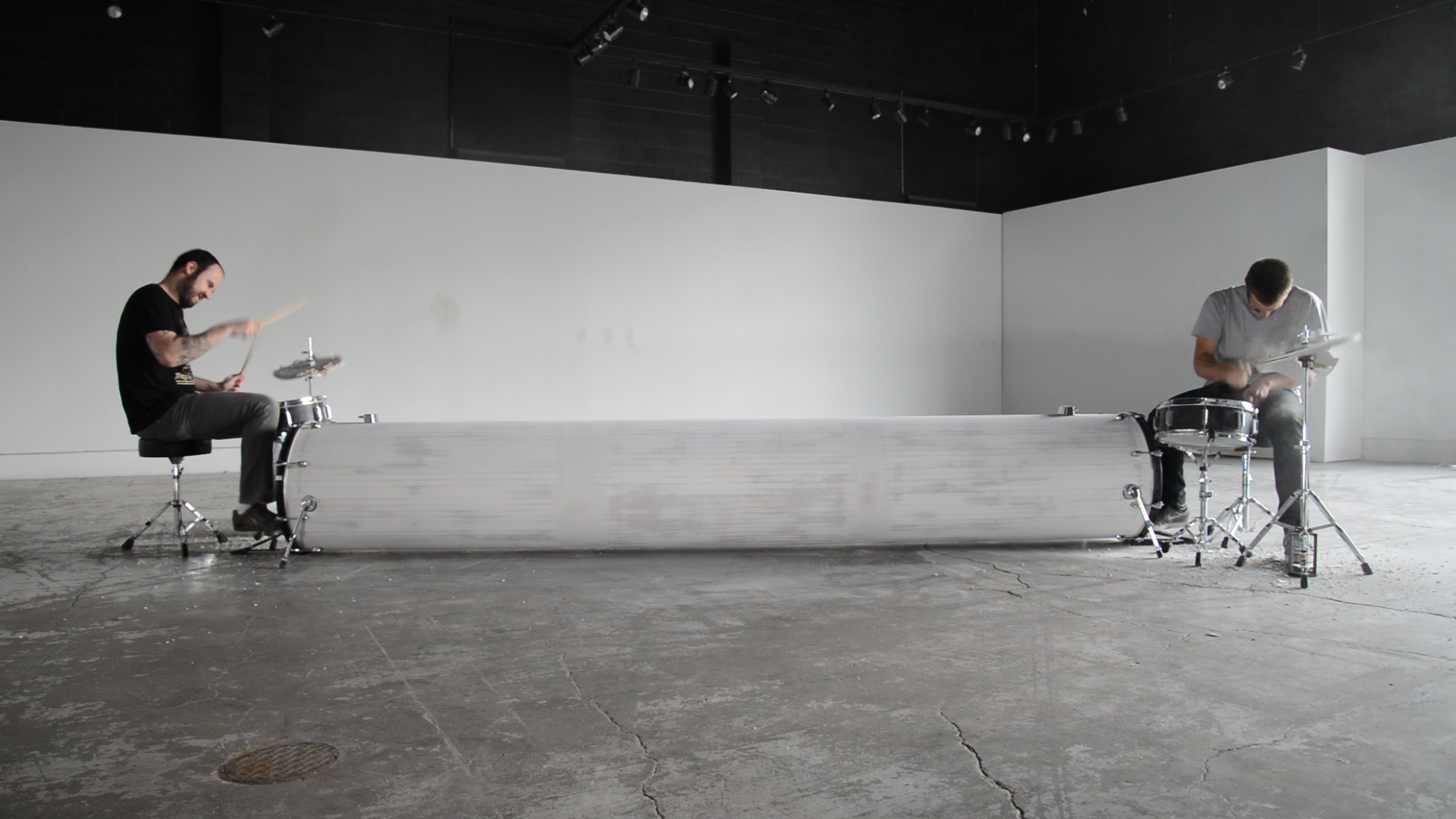 RB: What's your process like? You use repurposed materials ranging from drywall, carpet and fluorescent lights to used guitars, drum sets and electric components. How do you choose materials? Do you choose materials first then develop their form? Is there research involved in examining the history and function of your materials?

SC: I don't necessarily have a method for how I approach each piece when it comes to materials and form. I know where my interests lie and continue to research those interests but try to allow some level or spontaneity in my work. Often, I arrive at the form and material simultaneously. I suppose it's my subconscious working for me as I tend to circle the same ideas for years and when a material and idea align, I know.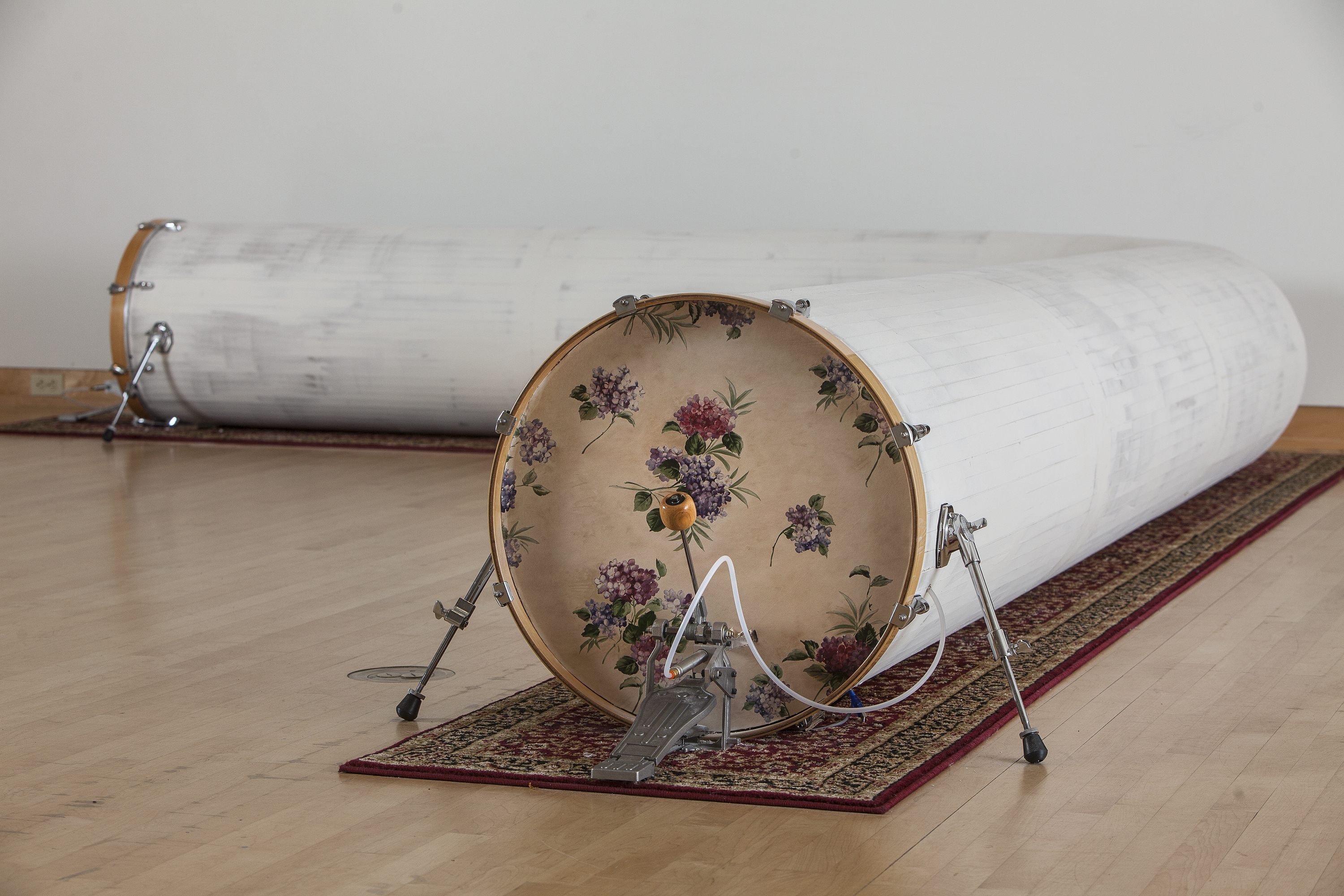 SC: I've realized over the years that my work is very much grounded in materiality. Whether it's examining the history and function of a material or simply trying to exhaust the ways in which I can manipulate a certain material to create meaning. I tend to think that my relationship with materials is partly based on a tactile need and compulsion to understand how things work, how they are made and what they can do. I've always been fascinated by common materials that most of us see on a daily basis. Many of these items are meant to blend into the backdrop and serve a specific role or function. I'm interested in what happens when these utilitarian objects and materials are manipulated and given meaning through re-contextualization.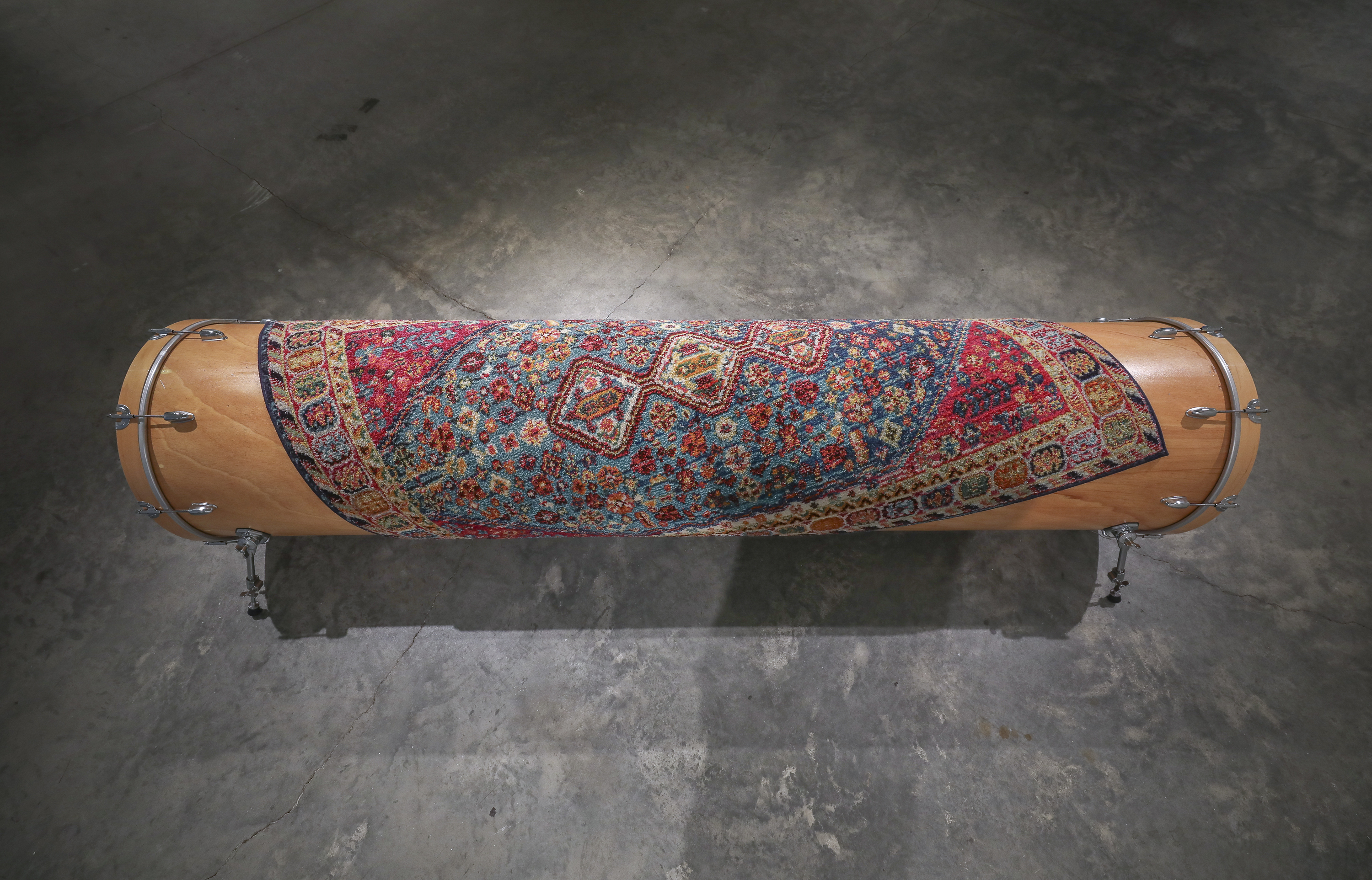 RB: You use acoustic foam in the Absorbing Bodies (2019) series, and also carpet in sculptures such as Slouch (2019). From what I understand, carpet is used by musicians to help with acoustics as well? What are you thinking about in re-contextualizing these sound absorbing materials?
SC: For me, both the carpet and acoustic foam are aesthetically pleasing materials to begin with so they are objects that I enjoy viewing in recording and practice spaces. Obviously carpets are designed to be beautiful objects but are typically meant to go beneath your feet and ground the space. For acoustic spaces, carpet can also serve a secondary function for sound absorption as well as to keep a drum kit in place. In using the carpet, I am referencing those times I've been visually intrigued by a practice or recording space but am also trying to re-contextualize the carpets function as an art object. With the acoustic foam, it's a similar endeavor. Like carpet, it serves a specific function in a recording space but is considered a backdrop and utilitarian. I'm interested in what happens when these materials and objects are brought into focus as "art objects." Ultimately, I've realized that, for me, the experience of making music is also very visual. The instruments, lighting, furniture and objects all create a space that feels very sacred and visual. As most people know, setting the "mood" is important in the creative process. I'm interested in bringing some of that feeling into my artwork.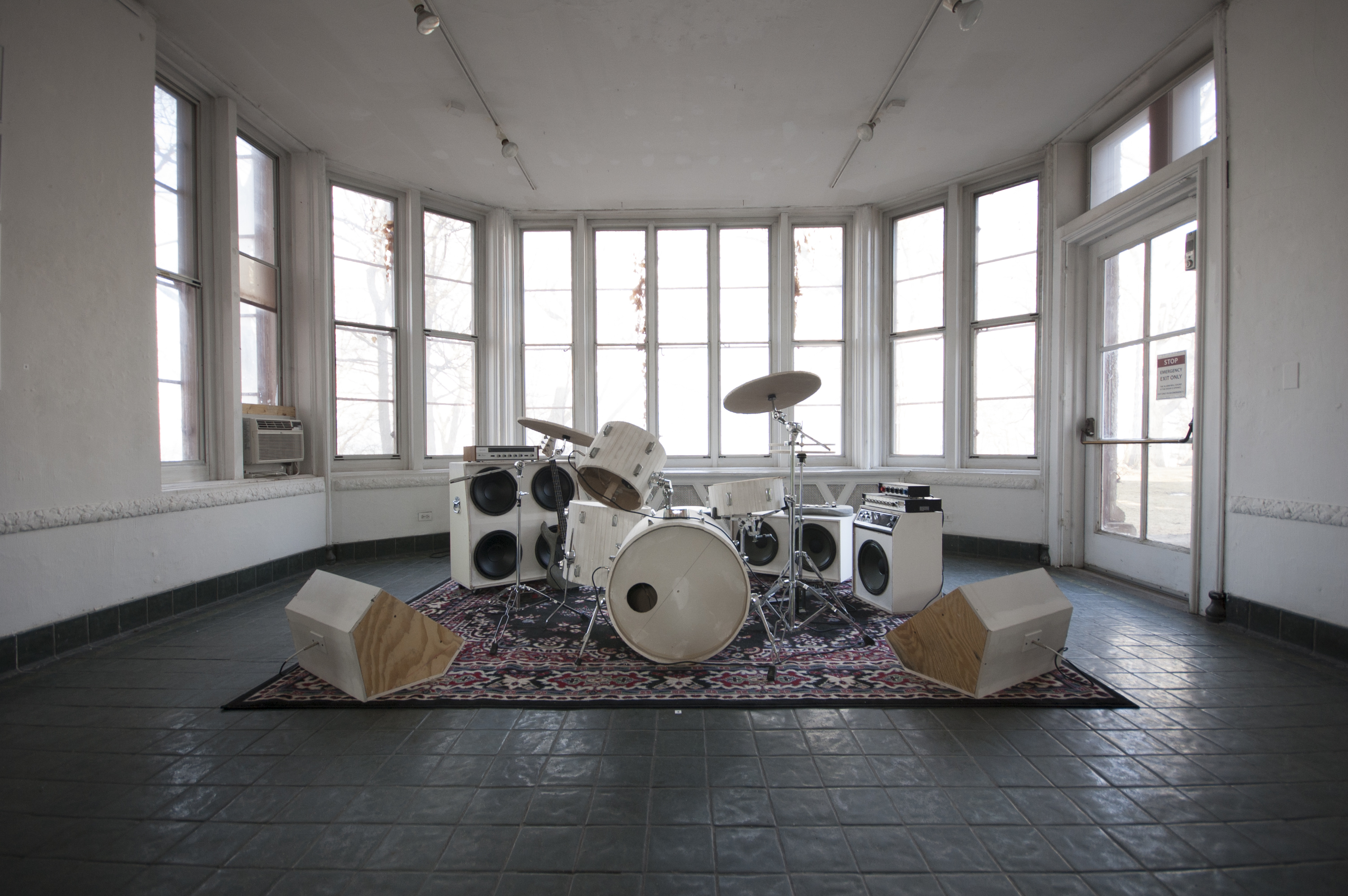 RB: You're both a musician and a visual artist, and in some of your work these media intersect. This is especially evident in your performance pieces such as Disonar (2013), where you play a drum set created out of drywall and destroy it in the process. I read in a past interview where you explain that forcing this physical relationship between the practices "becomes chaotic," and "results in moments of failure and sometimes unexpected success." Can you give any examples?
SC: I think one of the most obvious moments of a simultaneous failure and success for me came when I built my first drywall drum kit and tried to play it in the studio. Within moments of playing the kick pedal became lodged in the bass drum, rendering it useless. While I was recording this process, the humor of it all became evident and ended up being something that I embraced. In Disonar, it was the first time I played a full set with a group and we destroyed everything. Although, I knew everything would fail and fall apart, the resulting mess was so much more beautiful to me than the performance and the objects before they were destroyed.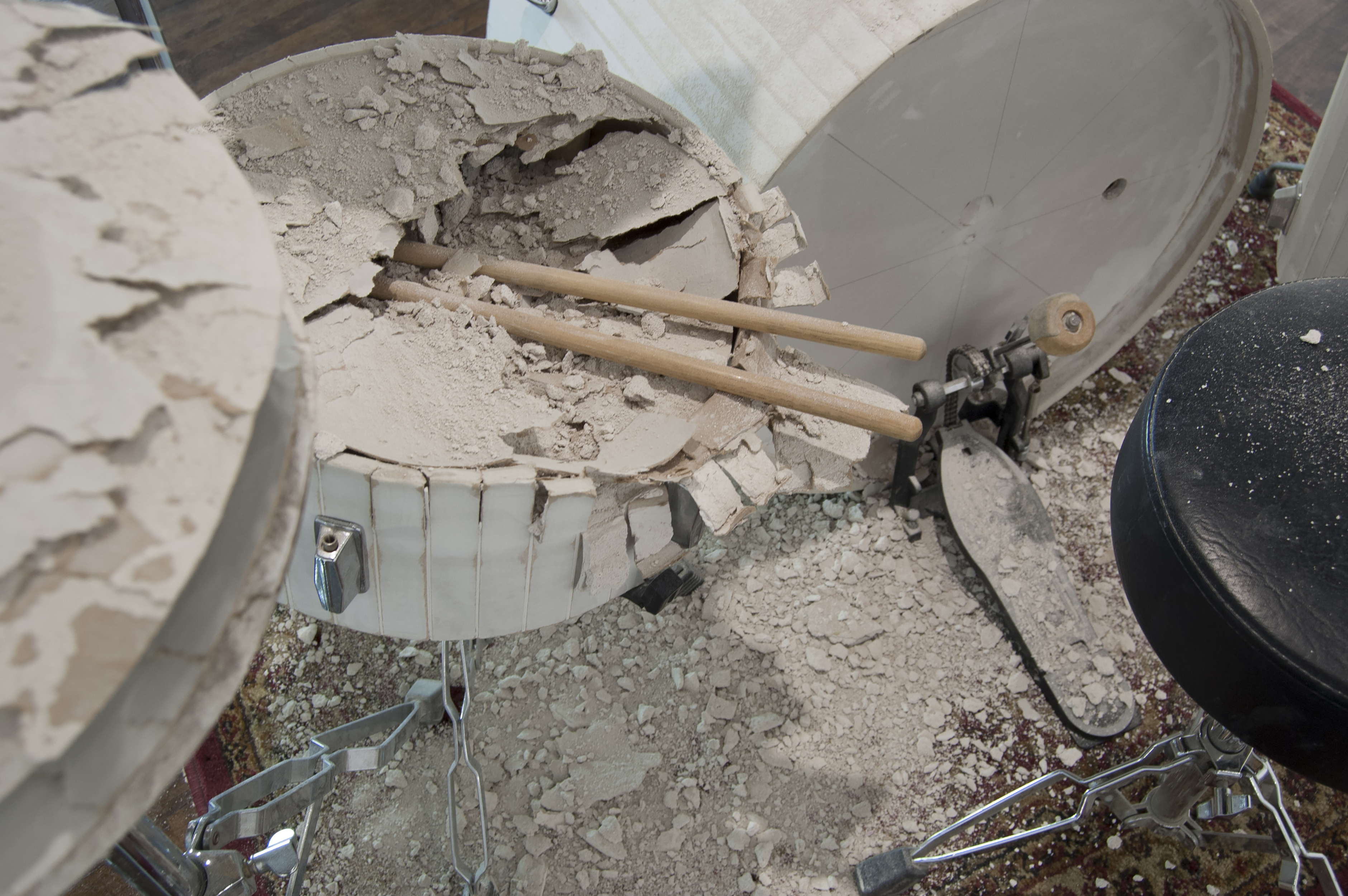 RB: What does it feel like to destroy your work in these performances? Is it fun? Sad?

SC: Initially, I was hesitant to destroy everything after putting so much work into the fabrication but in the end it felt great! It was very cathartic and the resulting destruction was something I found to be very pleasing both visually and conceptually. These pieces in one way or another, reference my frustration with not being able to follow my pipe dream of being a full time musician. That frustration became reflected in the process of performing this work as well as the resulting destruction. Although I love being an artist, the pull in both directions can be frustrating and as you get older you start to look at the "what if's" a bit more.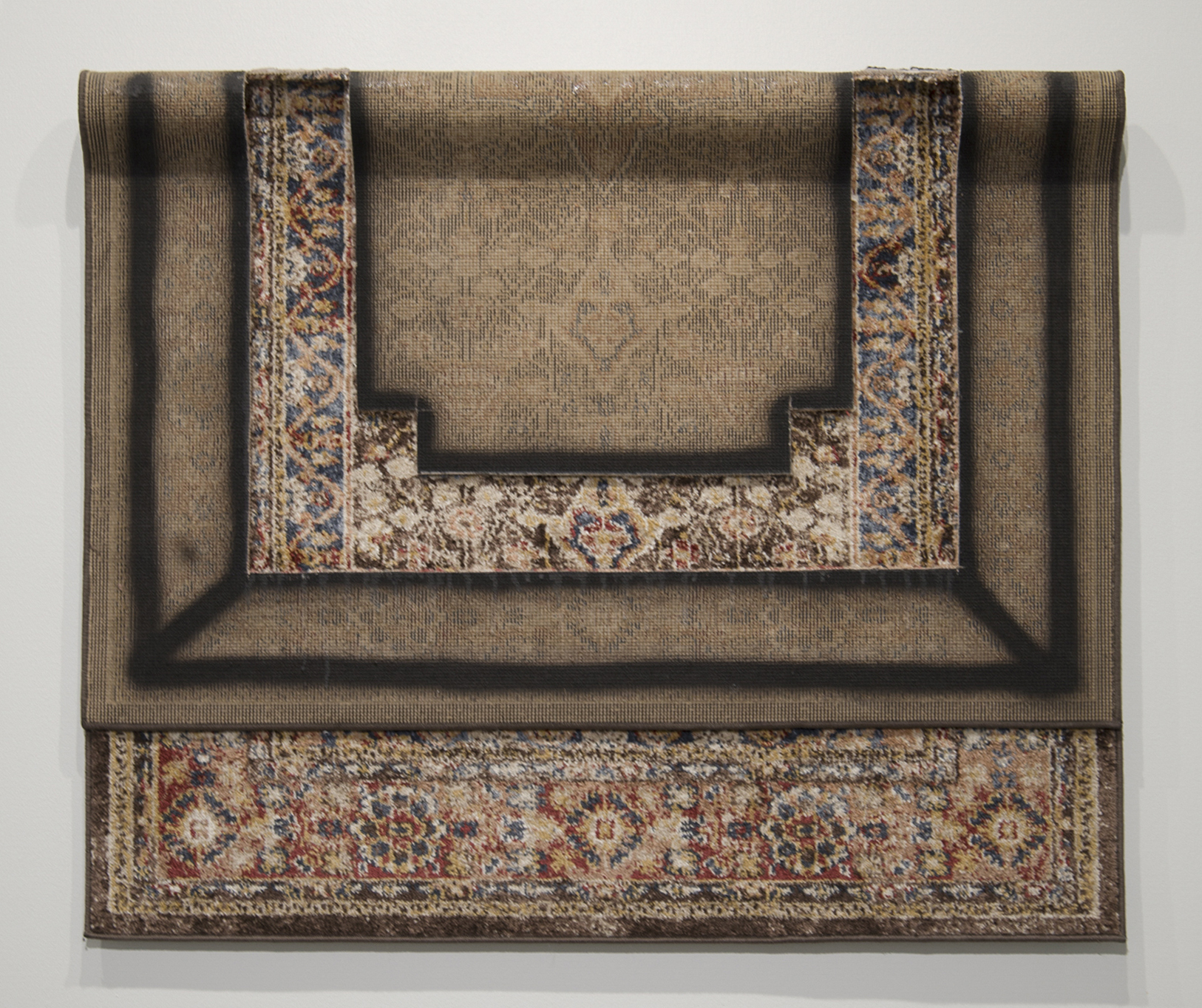 RB: What are you working on now and what's next?

SC: Like most people, 2020, really altered my plans. I moved into a new studio in February of 2020 and intended to be set up and working shortly after. Once the pandemic hit I pretty much quarantined as much as possible for 6 months and my studio ambitions went on the back burner. I spent most of the year renovating my house and fostering kittens!
Although the kittens have brought much joy, I am happy to say that I have finally finished building out my studio and am starting to make new work. I have a few performances that I have in mind and am ultimately trying to continue expanding on the series of acoustic foam pieces that I made while I was in residency at the Bemis Center for Contemporary Arts last year. My time there was very informative and upon leaving I felt super invested in this new body of work. Ultimately, I hope to rebuild that momentum and pick up where I left off.
Additionally, my partner, Johana Moscoso, and I will be collaborating on an exhibition that will take place at 2021 Projects (2021projects.com/calendar) in Memphis from April 30 - May 28.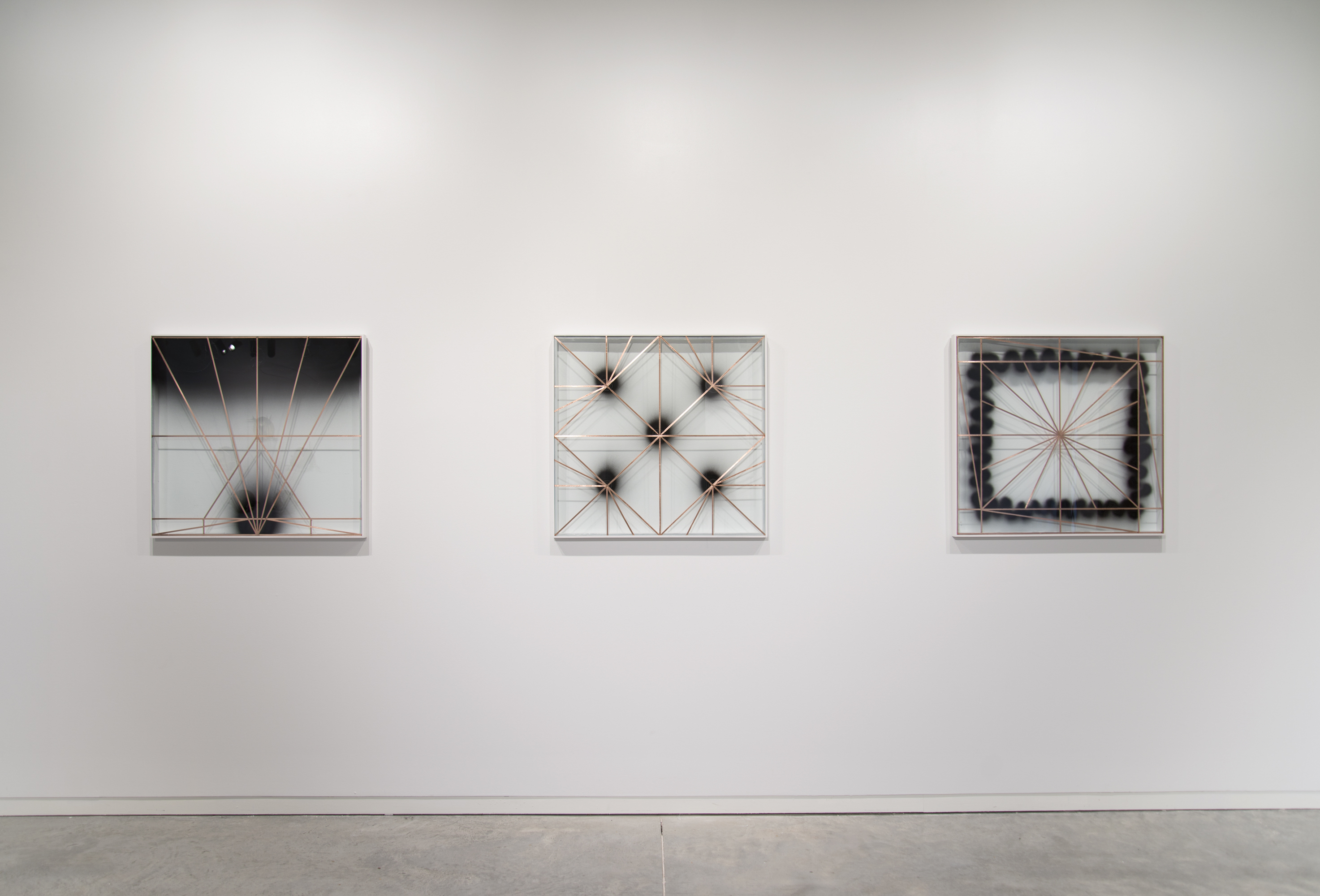 ---
Scott Carter (b. 1984, United States) is a Memphis based artist, whose work is influenced by the experience of living amongst mass produced materials, spaces and objects that are inherent in contemporary architecture and design. His work manifests as immersive installations and interactive objects that facilitate subtle shifts in value and attempt to redefine utility in relation to everyday experiences. His practice parallels contemporary discourse in art, design, architecture, and sound.
Scott received his MFA in Sculpture from the School of the Art Institute of Chicago in 2011 where he was the first recipient of the Eldon Danhausen Fellowship for Sculpture. He has participated in residencies at the Bemis Center for Contemporary Arts (Omaha, NE), Crosstown Arts (Memphis, TN), Kohler Arts/Industry Program in Pottery (Kohler, WI), Vermont Studio Center (Johnson, VT) and the Ox Bow School of Art (Saugatuck, MI). In addition, he is a recipient of the Efroymson Contemporary Arts Fellowship (2013) and the first place recipient of the Beers Contemporary Emerging Artist Award in Sculpture (2013).
Select solo shows include Counterpoint - Crosstown Arts, Memphis, TN (2019); Velocity - Linda Warren Projects, Chicago, IL (2017); The Nature of Being - Pinnacle Gallery, Savannah, GA (2015); The Shape of Things - Beers Contemporary, London (2014); Disonar - Evanston Art Center, Evanston, IL (2013) and Force Majeure - Linda Warren Projects, Chicago, IL (2012).
Rachel Bubis is a Nashville-based independent arts writer, regular contributor to The Focus blog, and LocateArts.org Web + Print Manager for Tri-Star Arts.
* all images courtesy of the artist