VIRTUAL STUDIO VISIT: DAVID UNDERWOOD
JUN. 26, 2020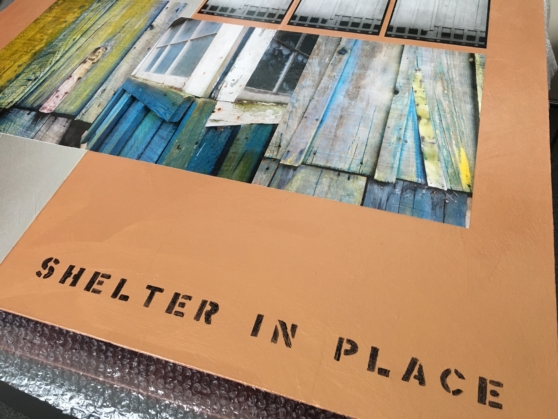 VIRTUAL STUDIO VISIT: DAVID UNDERWOOD
JUN. 26, 2020
David Underwood is a Professor of Art and the Director of Exhibitions at Carson-Newman University, in Jefferson City, Tennessee, where he has been teaching since 1990. As a former Chairperson of the university's Art Department, he led his academic department through two successful reaccreditations with the National Association of Schools of Art and Design. Underwood is pictured here (below) in one of the campus galleries that he manages, with his 2019 mixed-media piece, "Finding a New Honesty."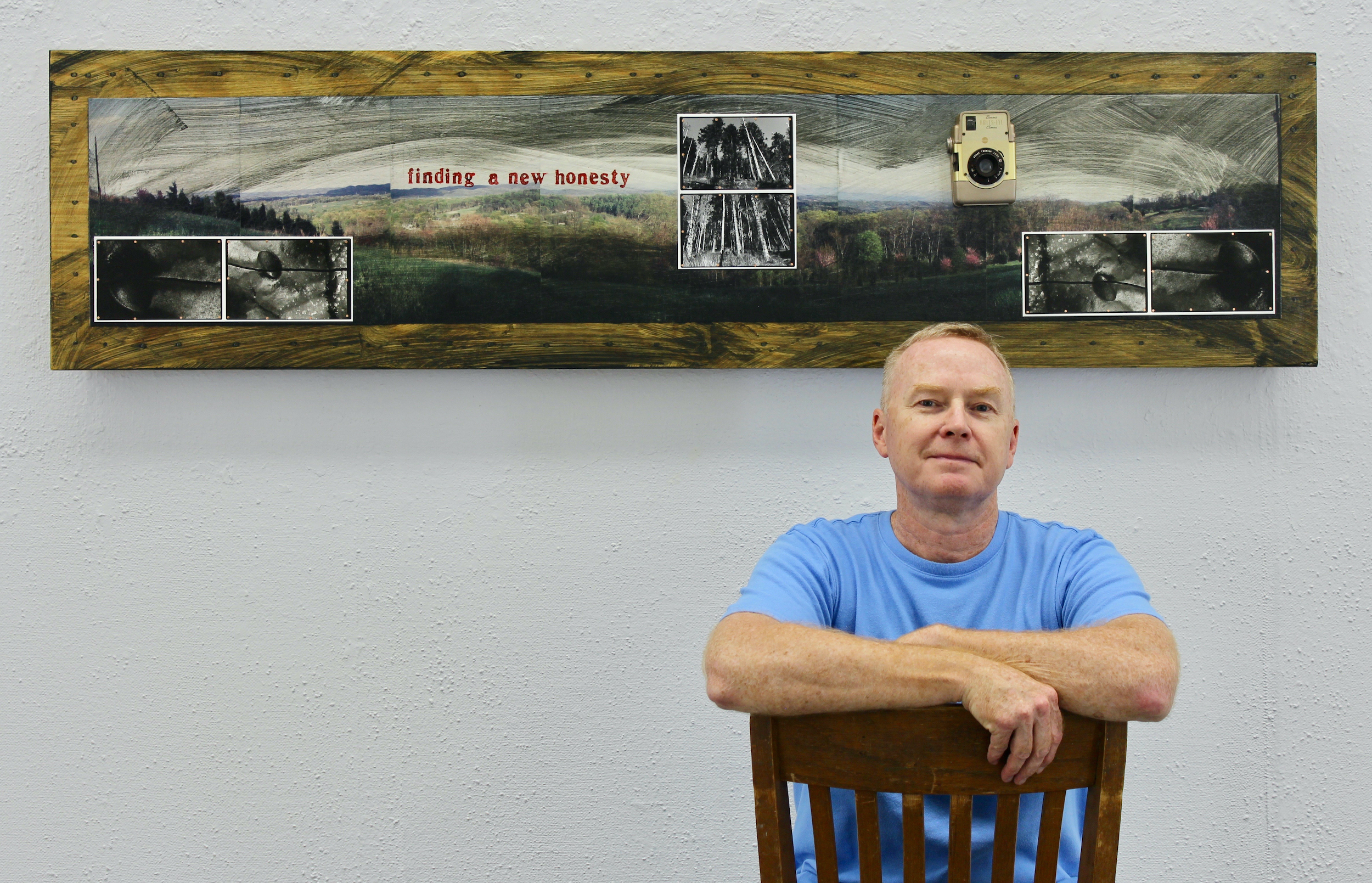 Underwood's main artmaking studio is in his campus office at Carson-Newman University. Over his career, he has taught 20 different college Art and Photography courses, but his main academic areas are analog photography and alternative processes of photography. On this shelf above his office desk (below) he displays just a small sampling of his antique camera collection. "A few of these old cameras might actually still work!" he says.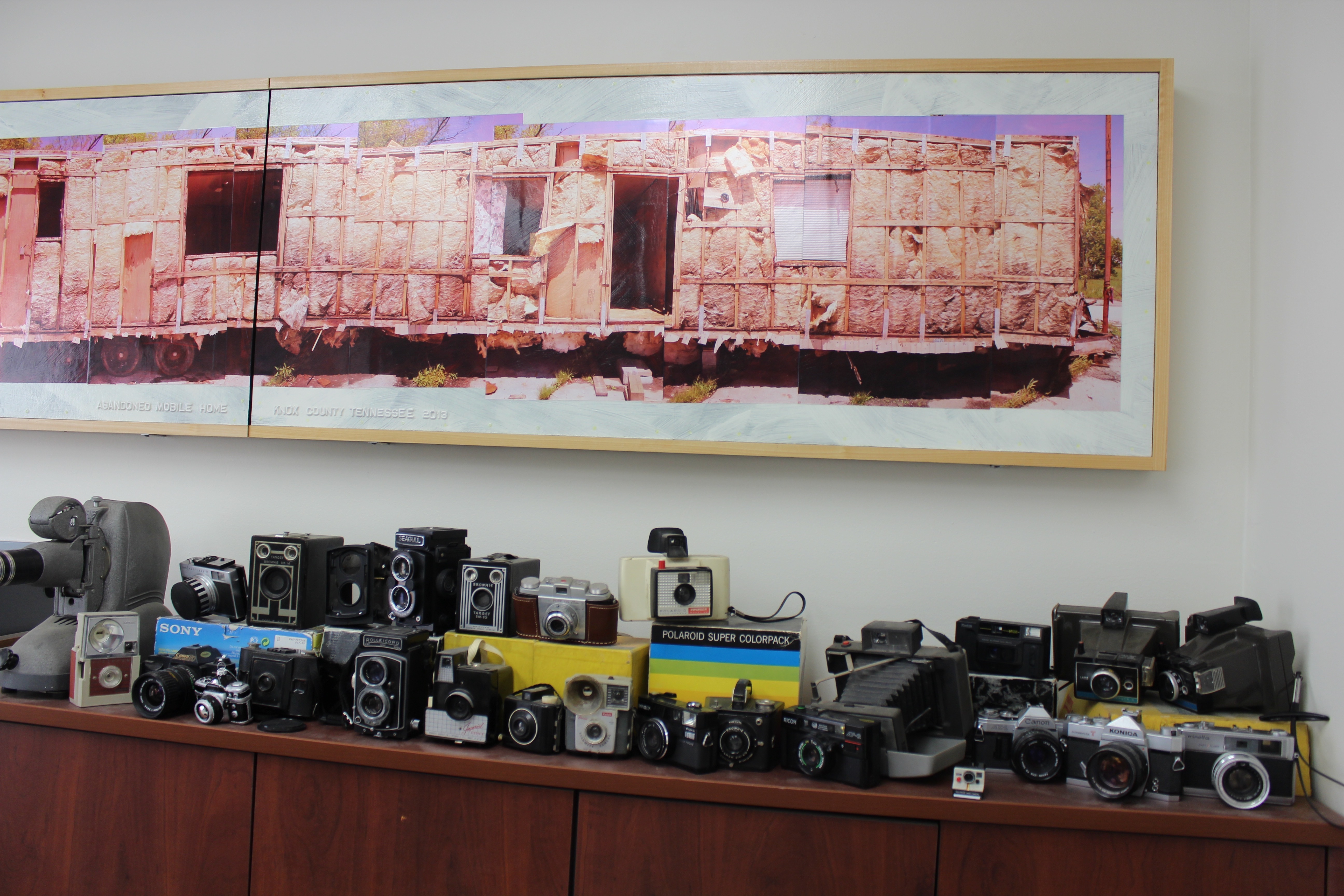 Sixteen art museums around the USA have some of David Underwood's artwork in their permanent collections. This 1998 composite silver gelatin photograph mounted on museum board, "Spruce Tree House, Mesa Verde National Park," is one of the two works by the artist in the permanent collection of the Smithsonian American Art Museum, in Washington, D.C. (below).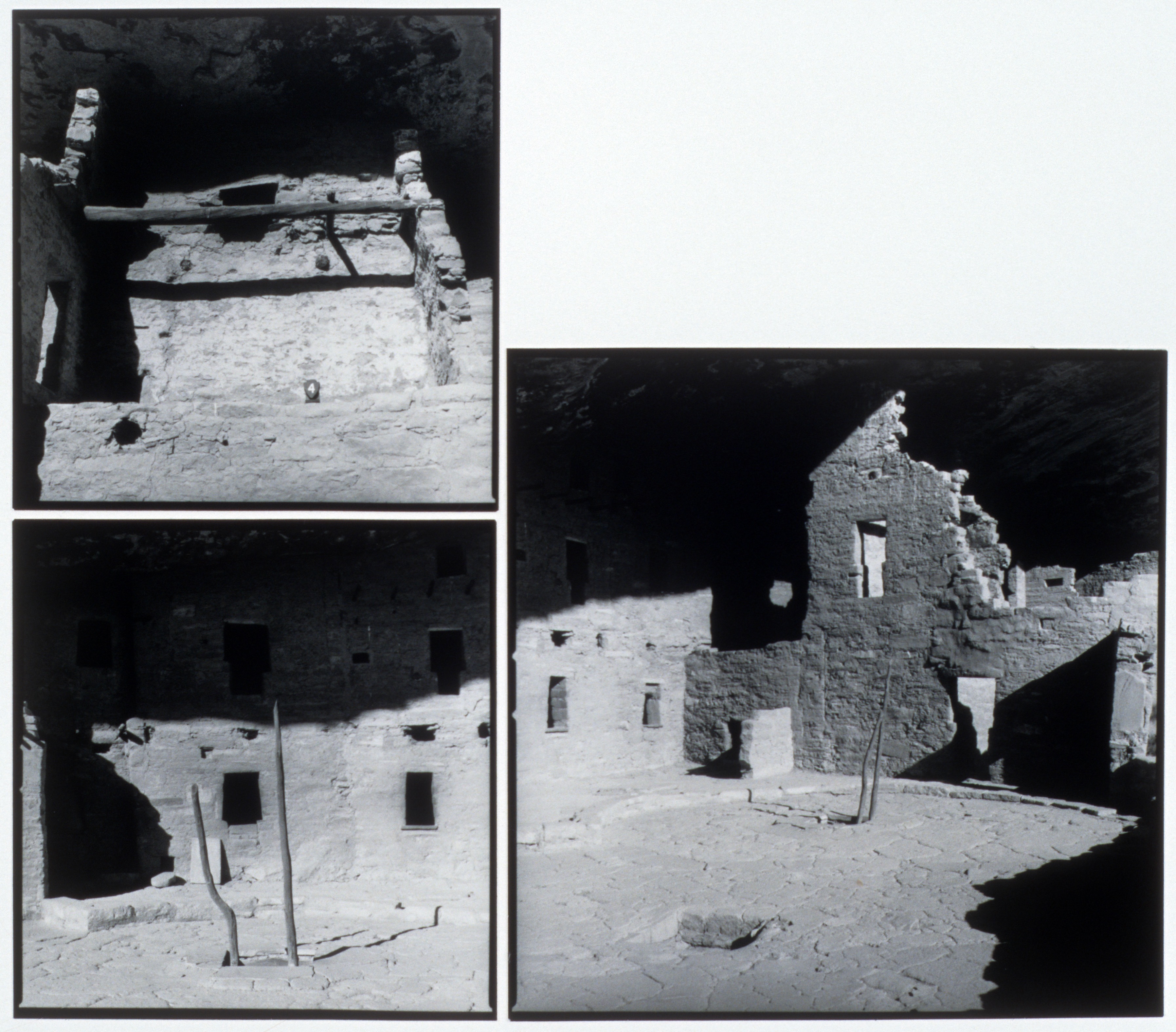 Underwood is shown (below) reworking one of his older drawings on his drafting table in his office/studio. "I feel very fortunate to have inherited my father's drafting table after he passed away in 2005. My dad was a registered architect, and he drew lines by hand on drawings for hospitals and schools and concert halls and houses on this very drafting table, working right up until he died. My handwriting closely resembles my dad's architectural lettering, and I think I learned a lot about proportions, scale, and materialness as I watched him design and spec buildings.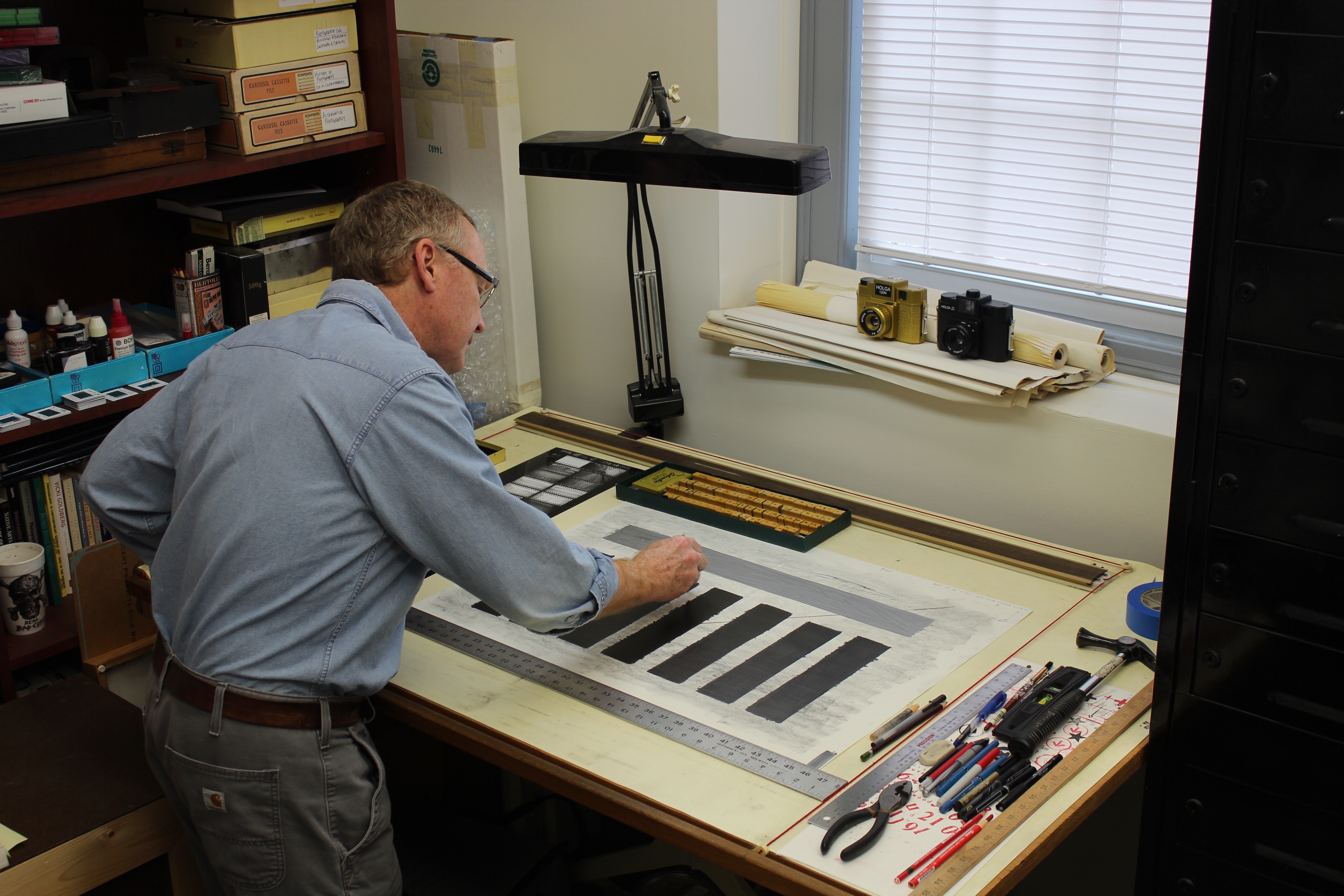 These three postcards of Coltrane, Davis, and Hendrix are framed together and hang in Underwood's studio (below). "I'm influenced by lots of different art forms, including music, motion pictures, painting, photography, and sculpture. John Coltrane, Miles Davis, and Jimi Hendrix are three of my art heroes, because each of these artists had such uniquely personal, unrelenting, and ever evolving style. My mother is a professional musician, and although my musical tastes are very different than my mom's tastes, I understand the importance of music in a person's life because of her. I usually play music in my darkroom and in my studio while I work. On my regular playlist in early 2020 are such artists as Miles Davis, Dave Brubeck, Greta Van Fleet, Twenty-One Pilots, Joni Mitchell, and Gary Clark Jr."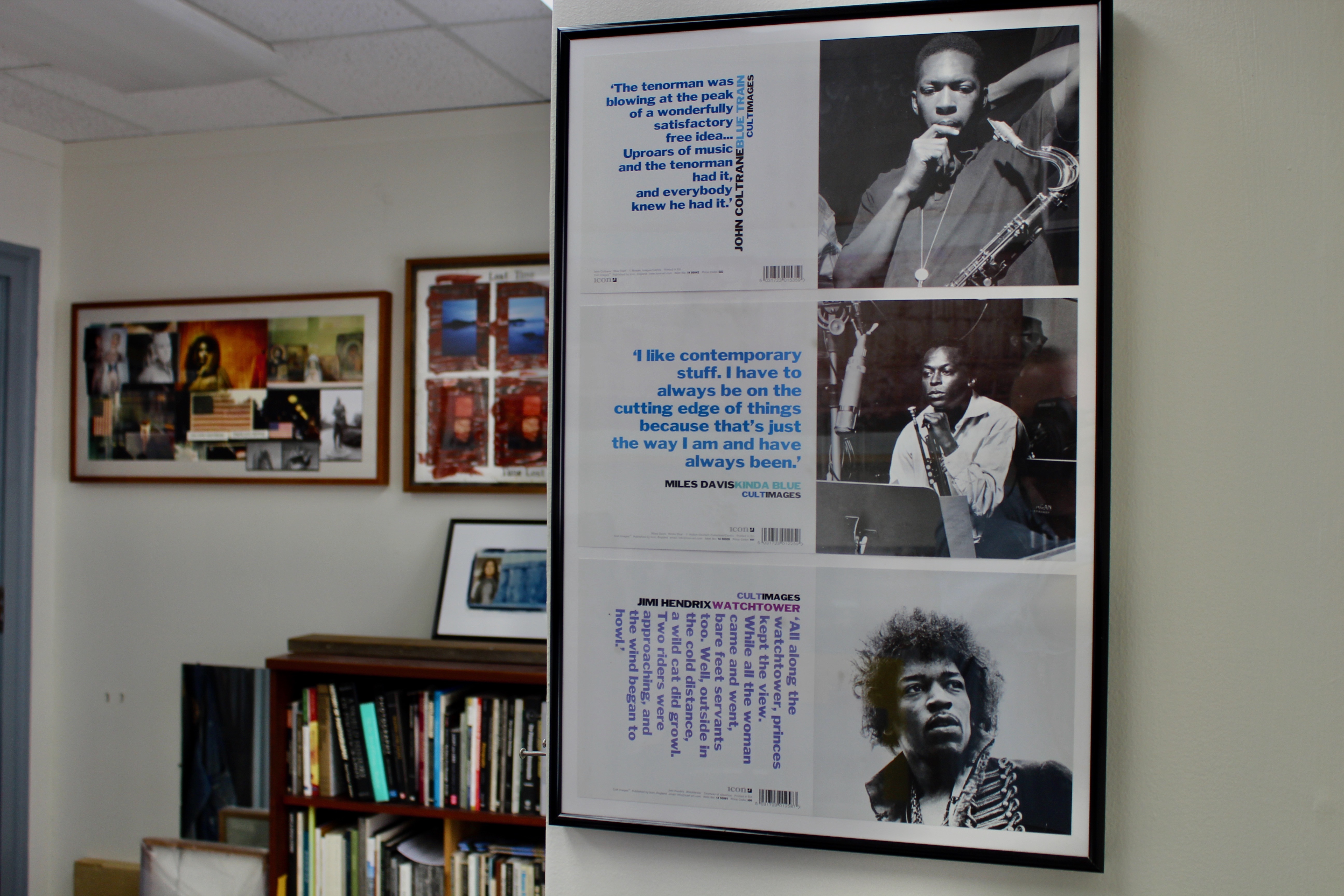 This is a storage loft that Underwood built in his studio, with a row of framed 30" x 30" composite color and B&W photographs (below). He guesstimates that he has over 300 completed artworks from the last 30+ years of artmaking stored in various places.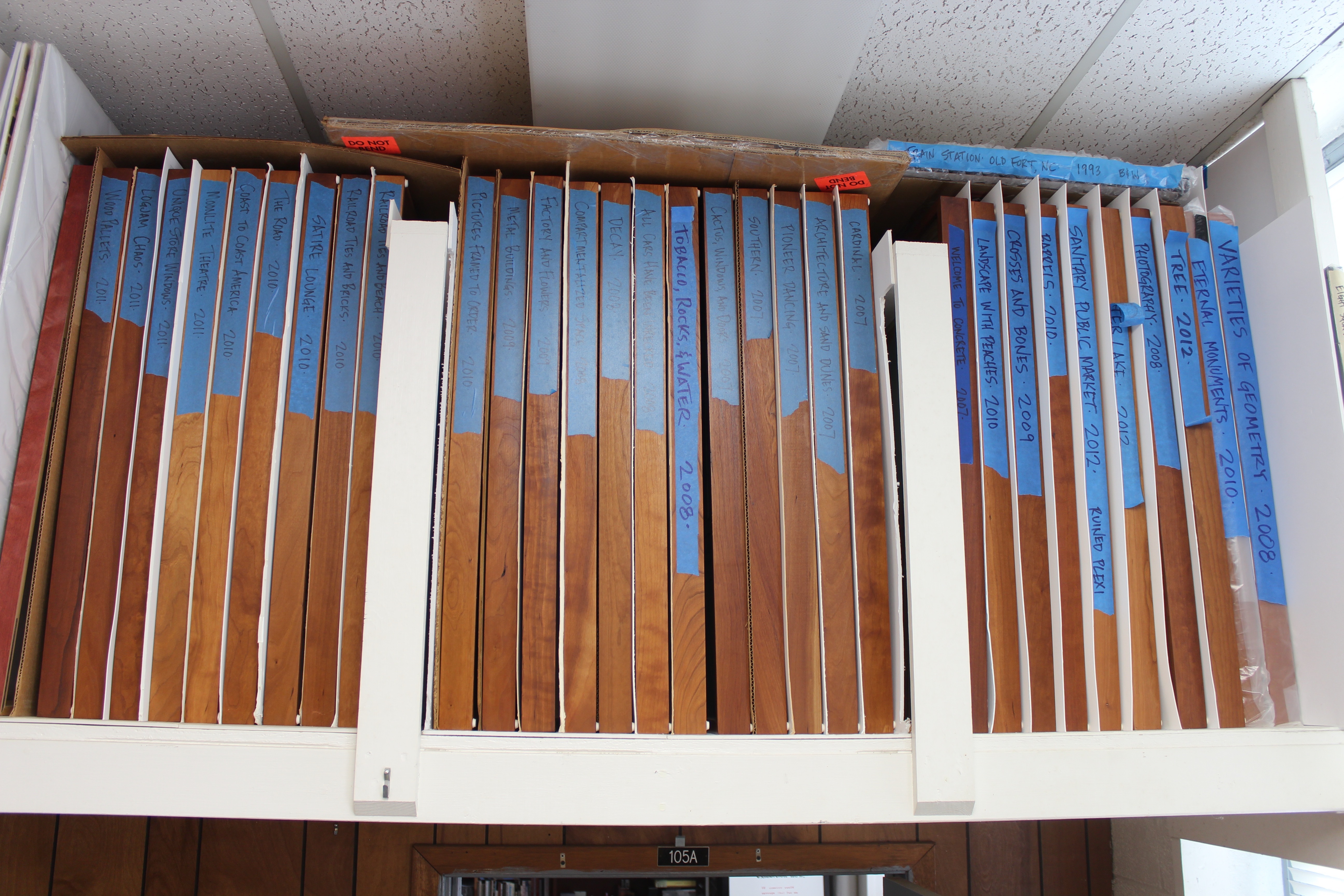 Underwood explains how this mixed-media piece (below) is a pivotal artwork in his career: "In 2012 I began making "image/text" work that includes a text-title within each artwork, with this first work, "Shift In Thinking." In addition to including somewhat intentionally ambiguous readable text, each work in this series typically involves color photography, analog B&W photography, painting, woodworking, and assemblage. I was finally incorporating all my various skills and artmaking interests in each work. Although now all of my work is not necessarily "image/text," I am still adding more new work to this series, with well over 100 pieces, and counting."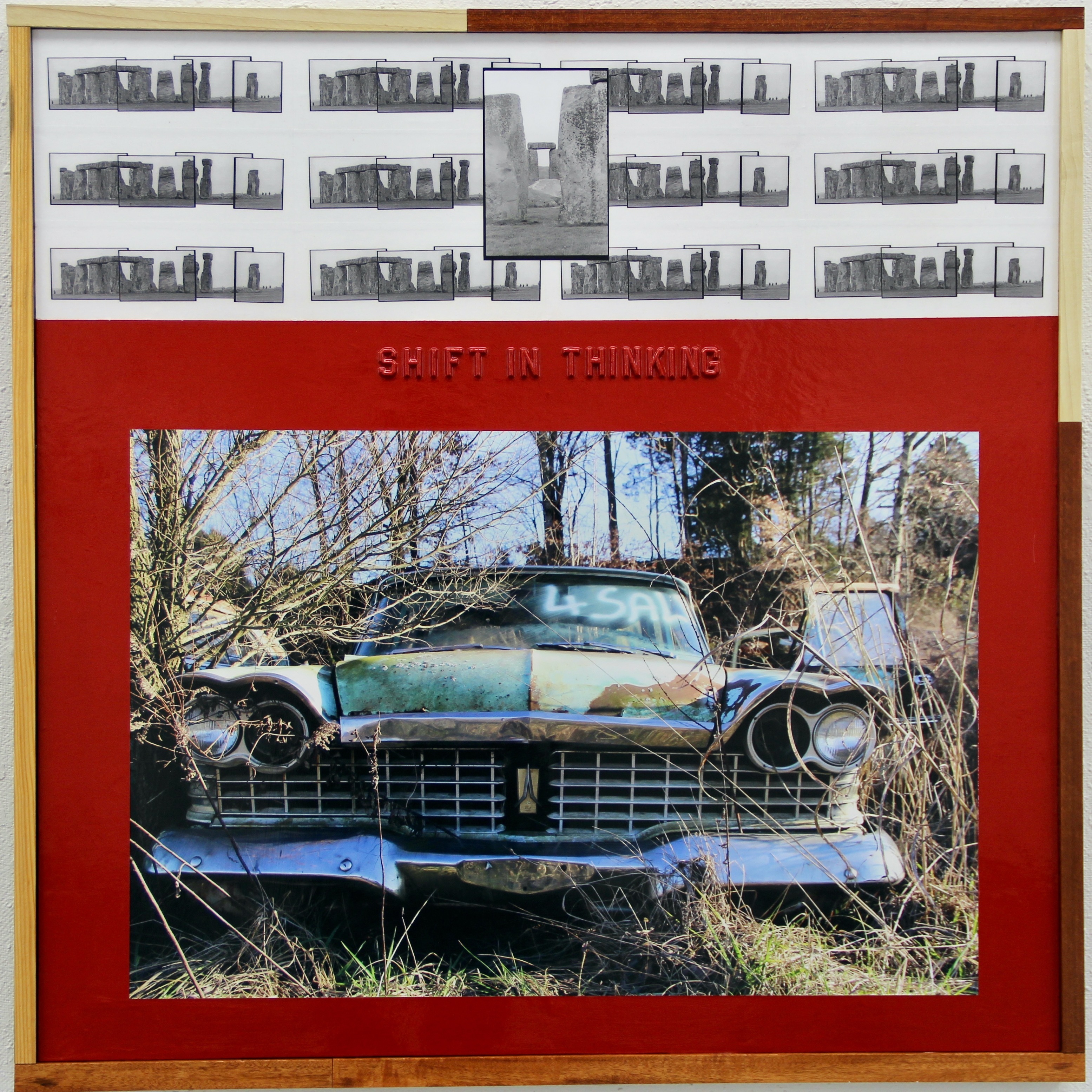 With recent works on wood stored on his studio walls, and a stack of completed works on paper next to him, Underwood is shown here (below) painting on a new mixed-media "image/text" artwork in early 2020.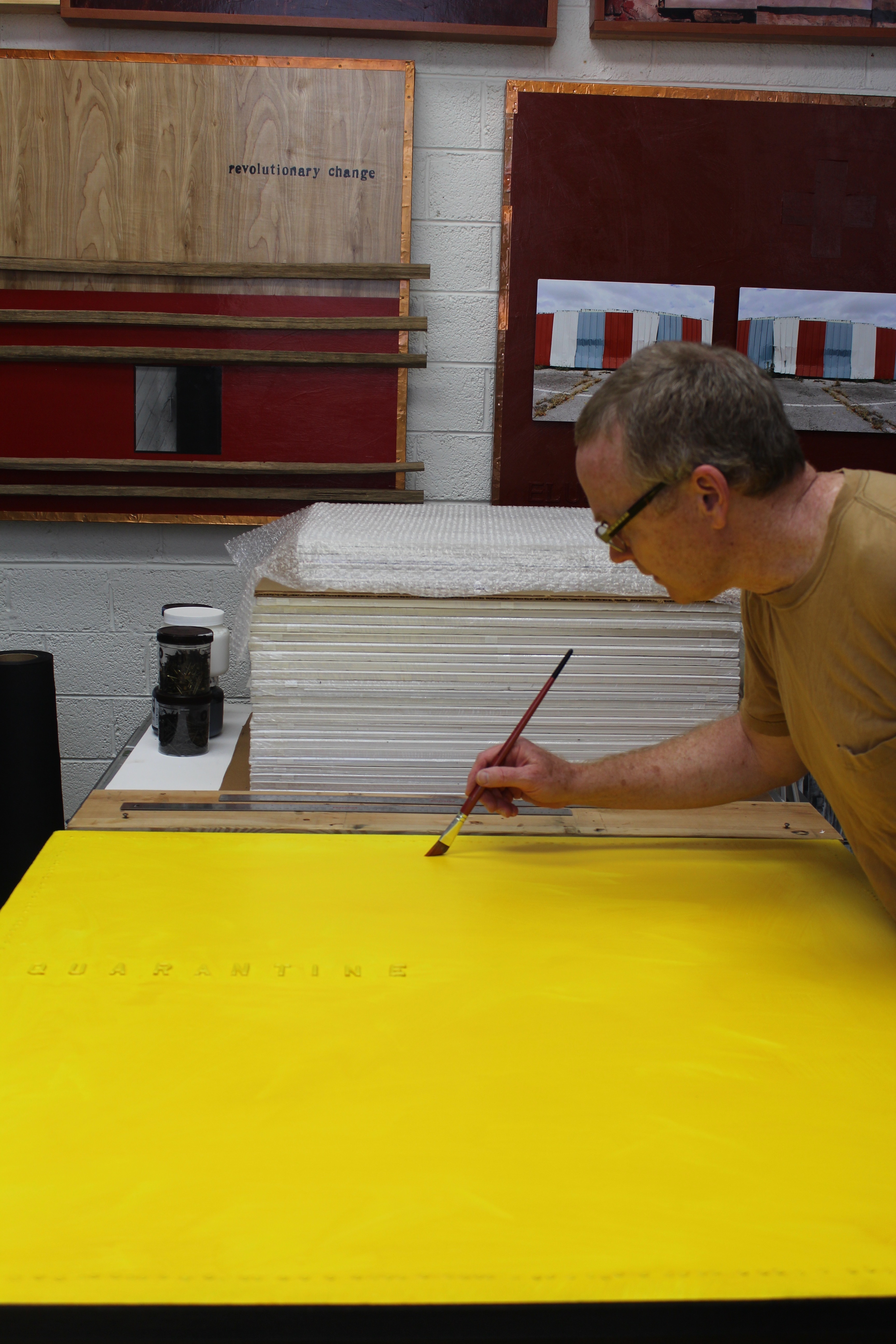 "Nearly all of my professional art photography is composite photography involving multiple physical original prints, or mixed-media work which incorporates multiple photographs. One of the rare occasions in which I submitted single image photographs to a competition was to the Royal Photographic Society's 142nd International Print Exhibition in 1998. I submitted four individual photographs that I had shot along rural highways in Montana, and was thrilled that all four prints were accepted into the exhibition, to be held later that year, in England. I was very pleasantly surprised when the exhibition's organizers called me and asked if they could use all four of my images for the exhibition's promotional poster. I find it ironic — or perhaps inevitable? — that even when I had individual separate photographs accepted into an exhibition that someone else made a composite grid of them!" (below)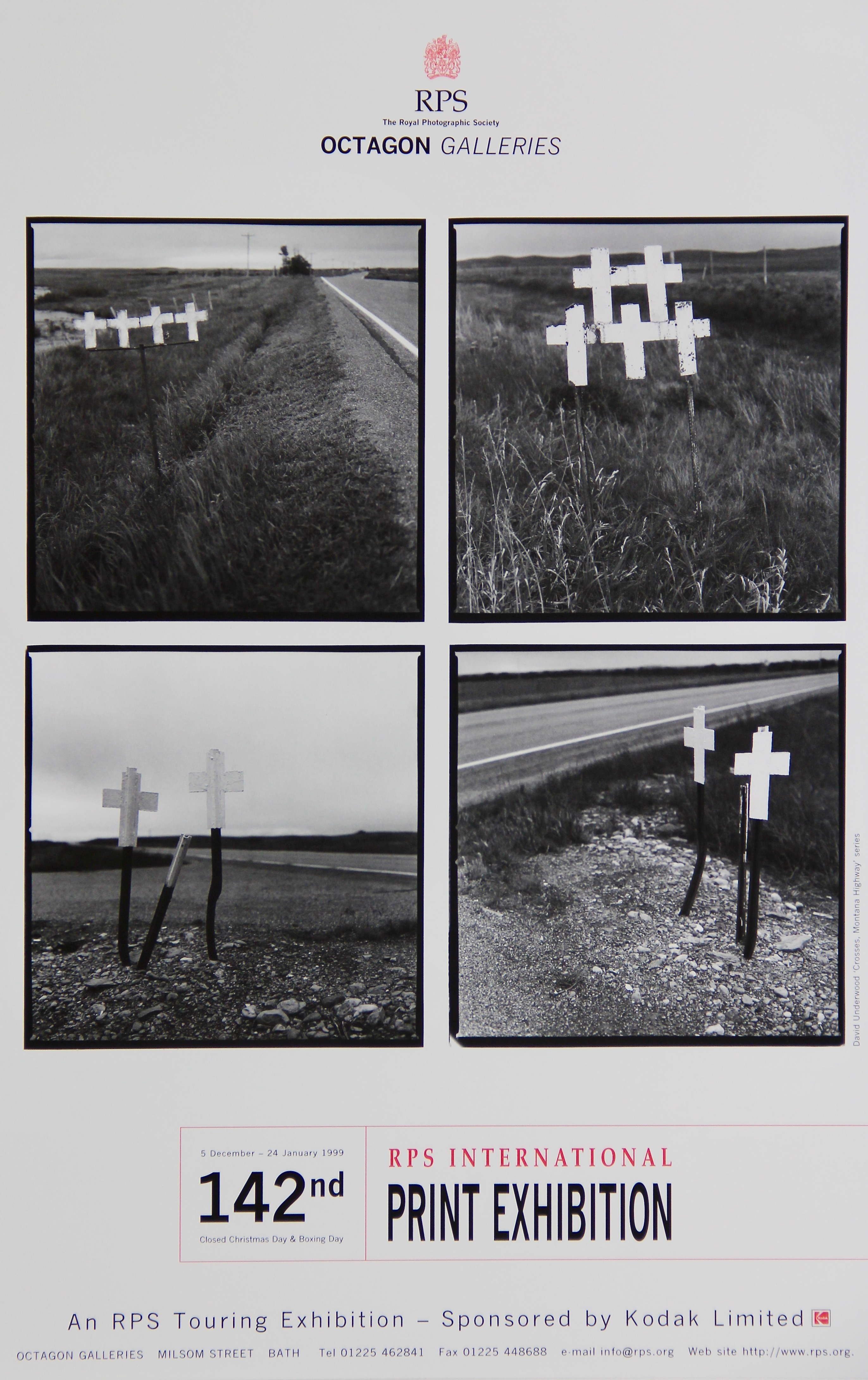 "Just to see what a full, confusing gallery wall of my work might look like, I hung these eight equally-sized works from 2018 and 2019 together in an empty gallery and photographed them. I don't think I would ever want a real exhibit of my work to look like this, but I found the exercise to be intriguing and informative." (below)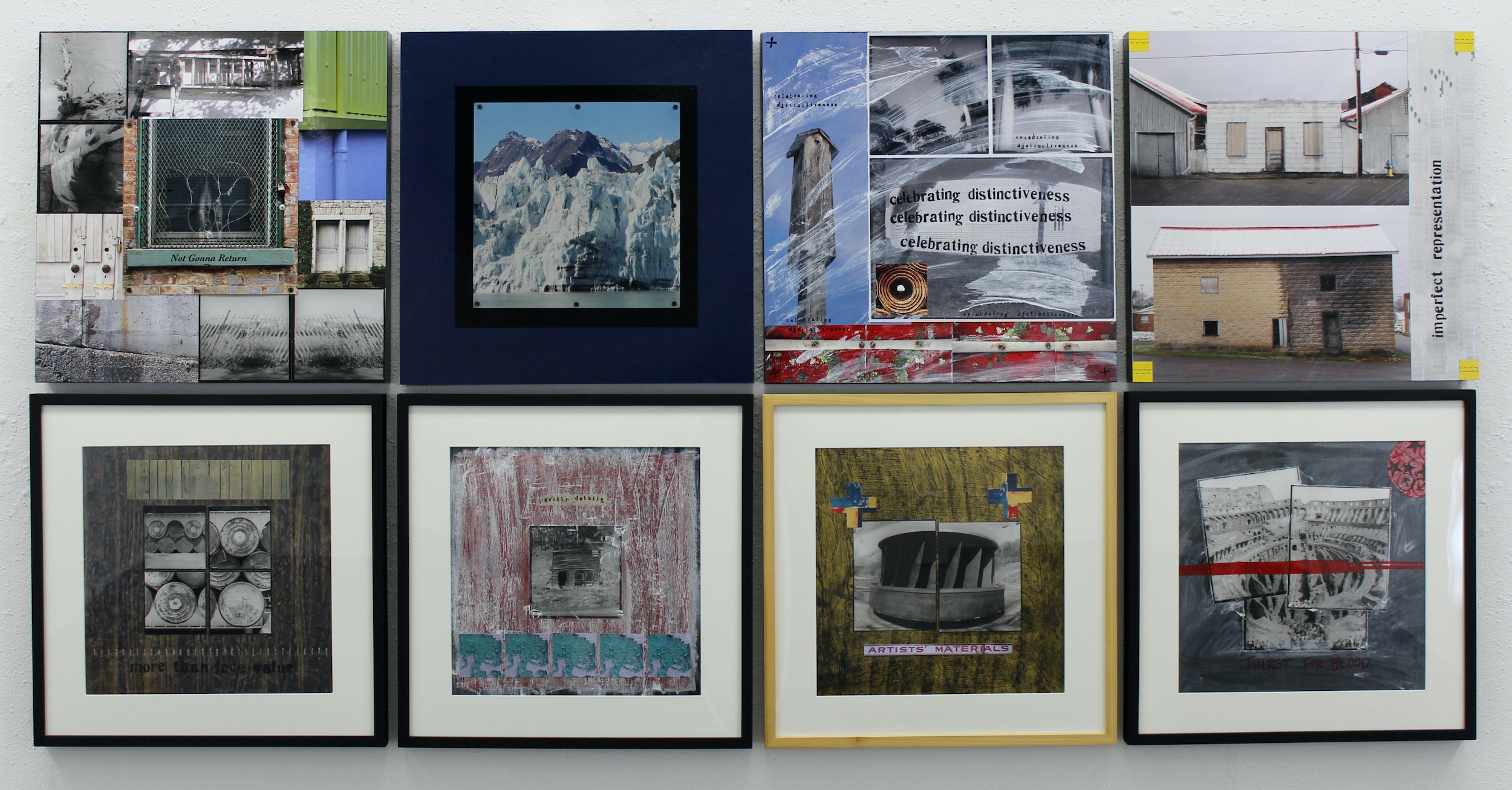 This is a gallery installation view of a portion of Underwood's 2017 solo show, "Image/Text," in the Museum Gallery of Carnegie Hall, in Lewisburg, West Virginia (below). This was Underwood's 29th solo exhibition (his 30th solo show was in the following year, at The Rose Center, in Morristown, Tennessee). The artist continues to consistently make new work, and is ready for his next solo exhibition, whenever and wherever that might be!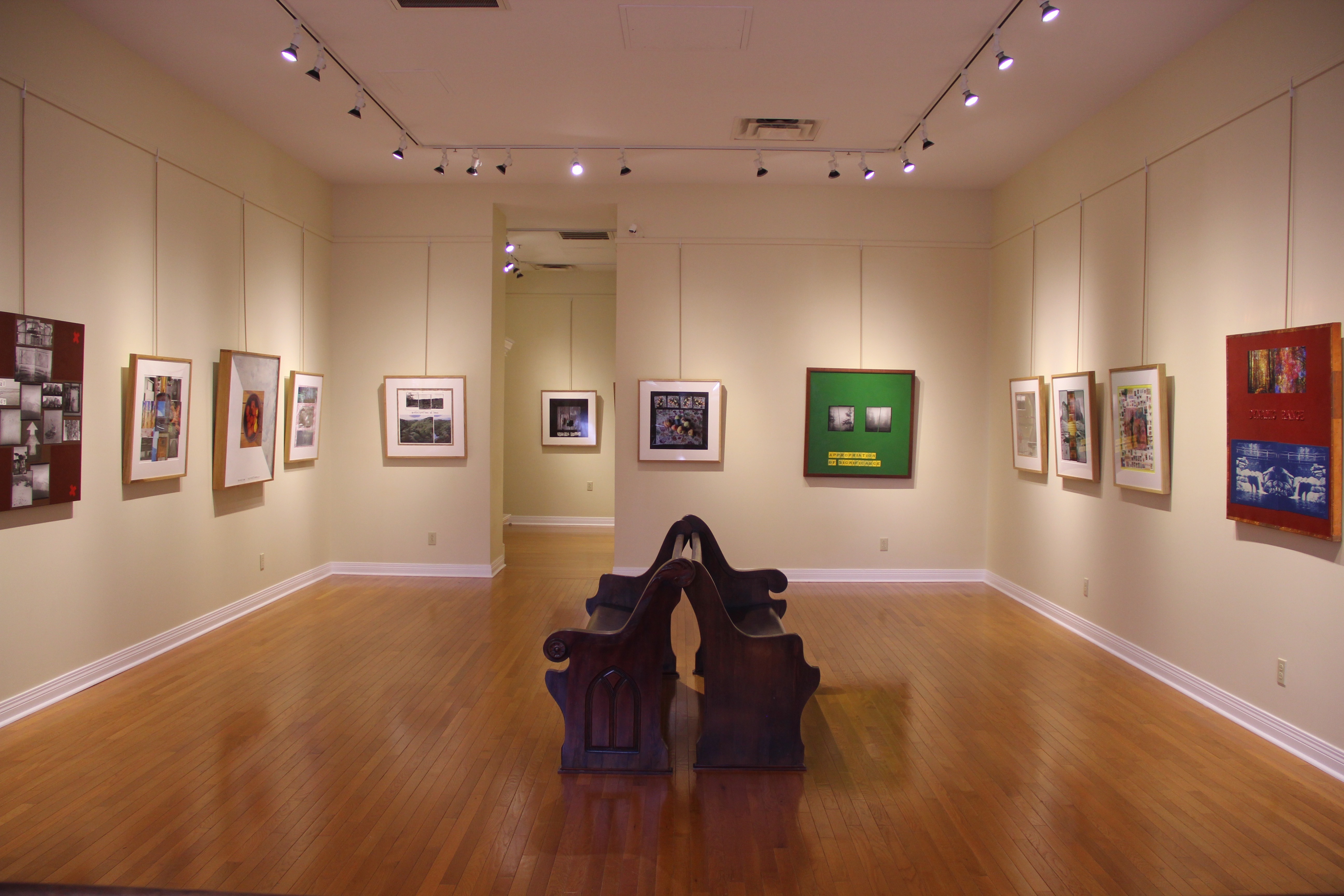 Most of David Underwood's "image/text" artworks have intentionally ambiguous connections between the text and the images. During the awful COVID pandemic in the spring of 2020, however, Underwood was able to continue his artmaking, and he made several image/text artworks with more obvious and timely text. This is a detail view of his mixed-media, one-meter square work, "Shelter In Place, 2020," with his original photographs of some of the old cabins in the Elkmont section of the Great Smoky Mountains National Park (below).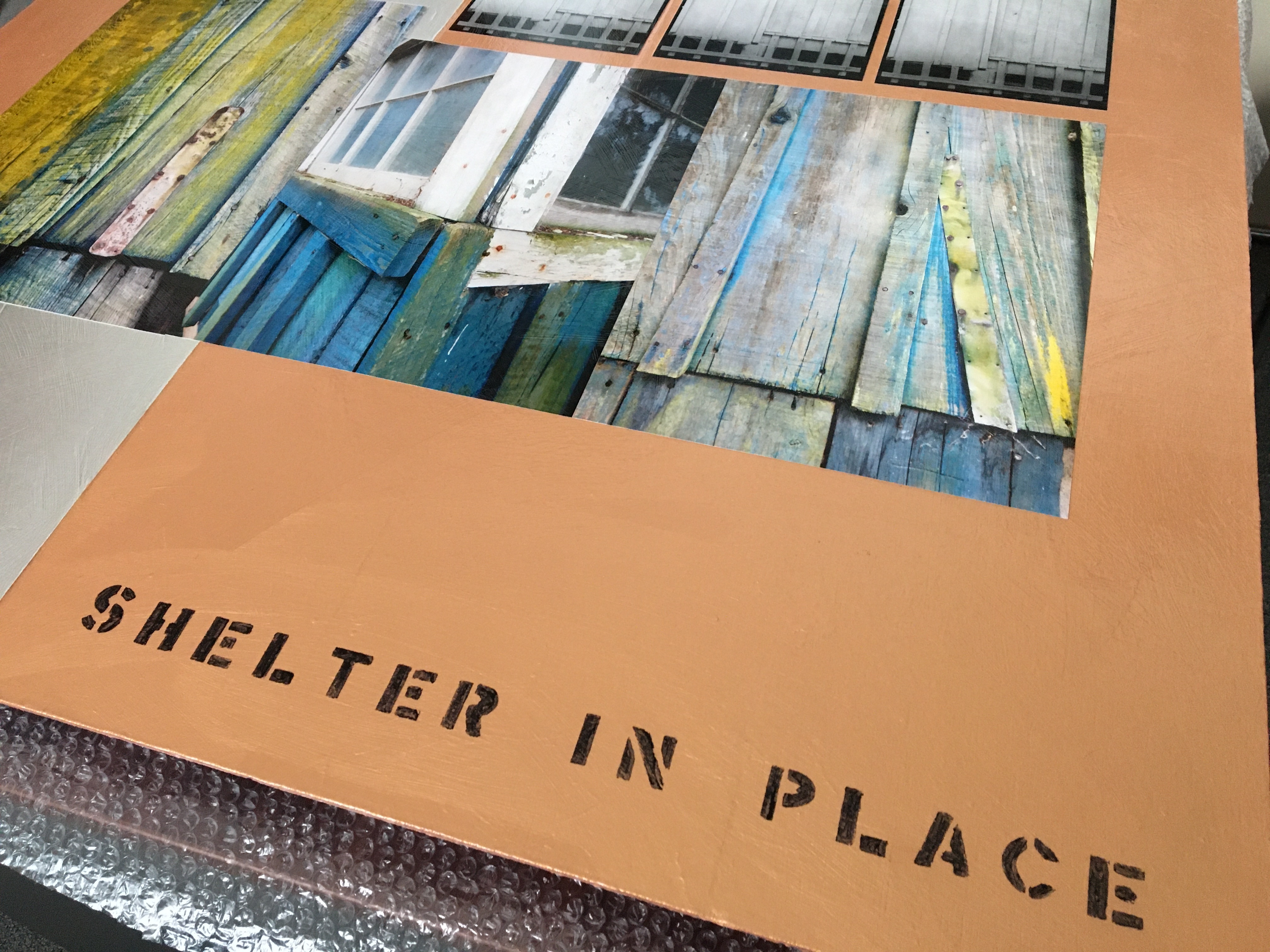 *all photos courtesy of the artist