INTERVIEW: ERIN HARMON
APR. 25, 2019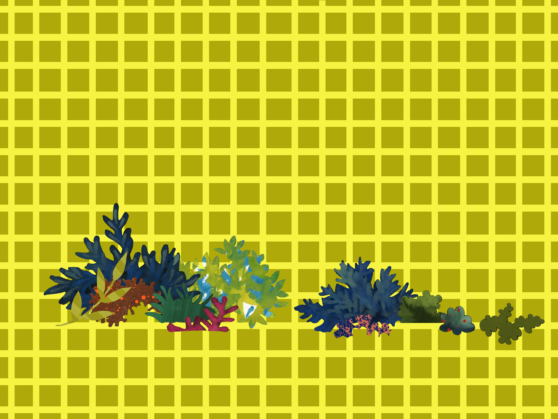 Blinky Bricolage (2019) 3 minute animation on loop, projection; (still)
INTERVIEW: ERIN HARMON
APR. 25, 2019
Rachel Bubis: You say in your statement, "I am endlessly interested in the idea of a place as a thing and a thing as a place." Could you elaborate?

Erin Harmon: I'm interested in the object-ness of landscape. Often when one thinks of landscape painting you're thinking of a scene to be looked AT, when really we are in the landscape all the time. I'm curious about how bits of nature held in a hand can imply landscape too. I think part of how I process what is happening with our environment is to detach myself from the landscape and objectify it. My work is always vacillating between real and unreal, object and place. Making these worlds in my studio and having total control over how they manifest is a liberating escape from the real world.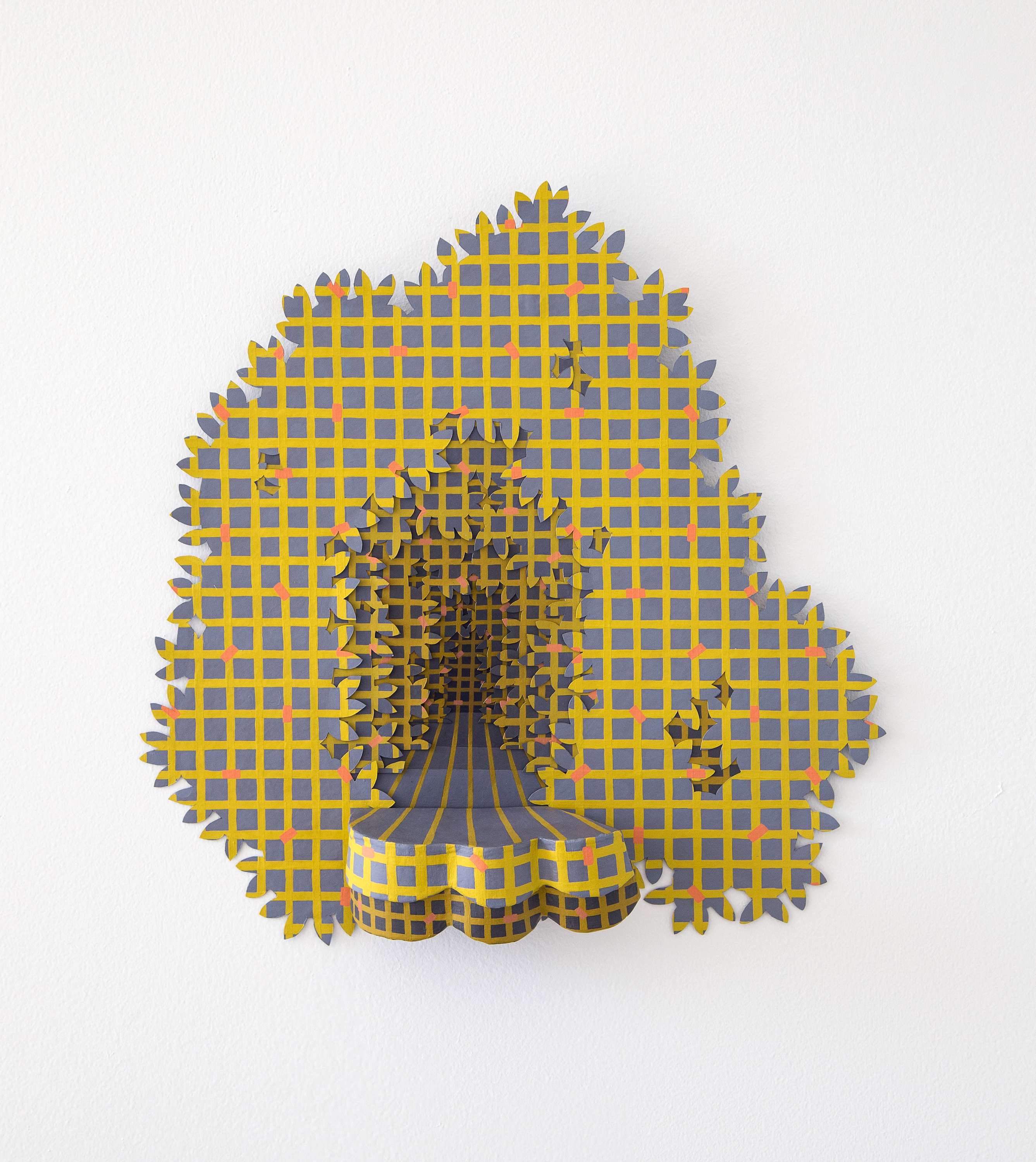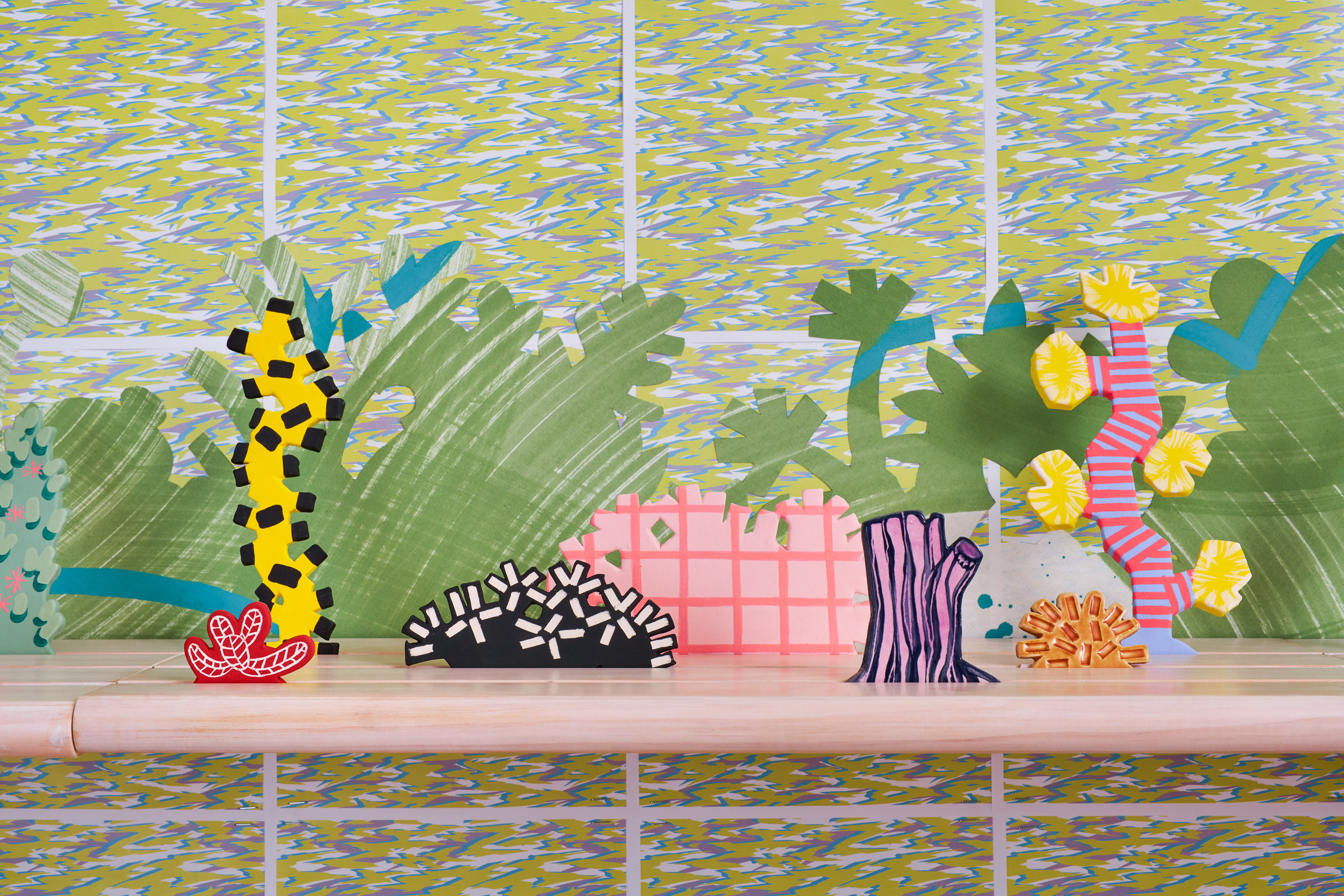 RB: Can you tell me more about your collaboration with the Memphis Ballet Flyway from the ballet River Project III: Moving Currents? How did the ballet performance inform your set design and vise versa?

EH: Flyway was a dream project. Dorothy Gunther Pugh saw a two-person show I was in at the Brooks Museum and offered me the opportunity to make my work for the Ballet Memphis stage. The piece I worked on was in collaboration with choreographer and now Associate Artistic Director, Steven McMahon. It was inspired by the Mississippi Flyway, a major north American route of avian migration. Steven was interested in making a piece that could explore the beauty and elegance of birds but also their oddity and quirks. I wanted the set design to reflect that. He was also excited by the possibility of configuring different spaces over the course of the piece. It would have been more logical as a painter for me to propose painted backdrops but the design turned into two, nineteen foot tall, two-sided islands on rolling casters that could be choreographed like dancers. Working with Steven and observing his creative process was exhilarating and like any successful collaboration, I was inspired by his ideas and desires. Many of the visual elements I developed are abstracted or deconstructed bird parts (birdfoot branch) or other references to birds (egg tree.) The final piece was joyful and whimsical although clearly a manufactured landscape — not really of nature.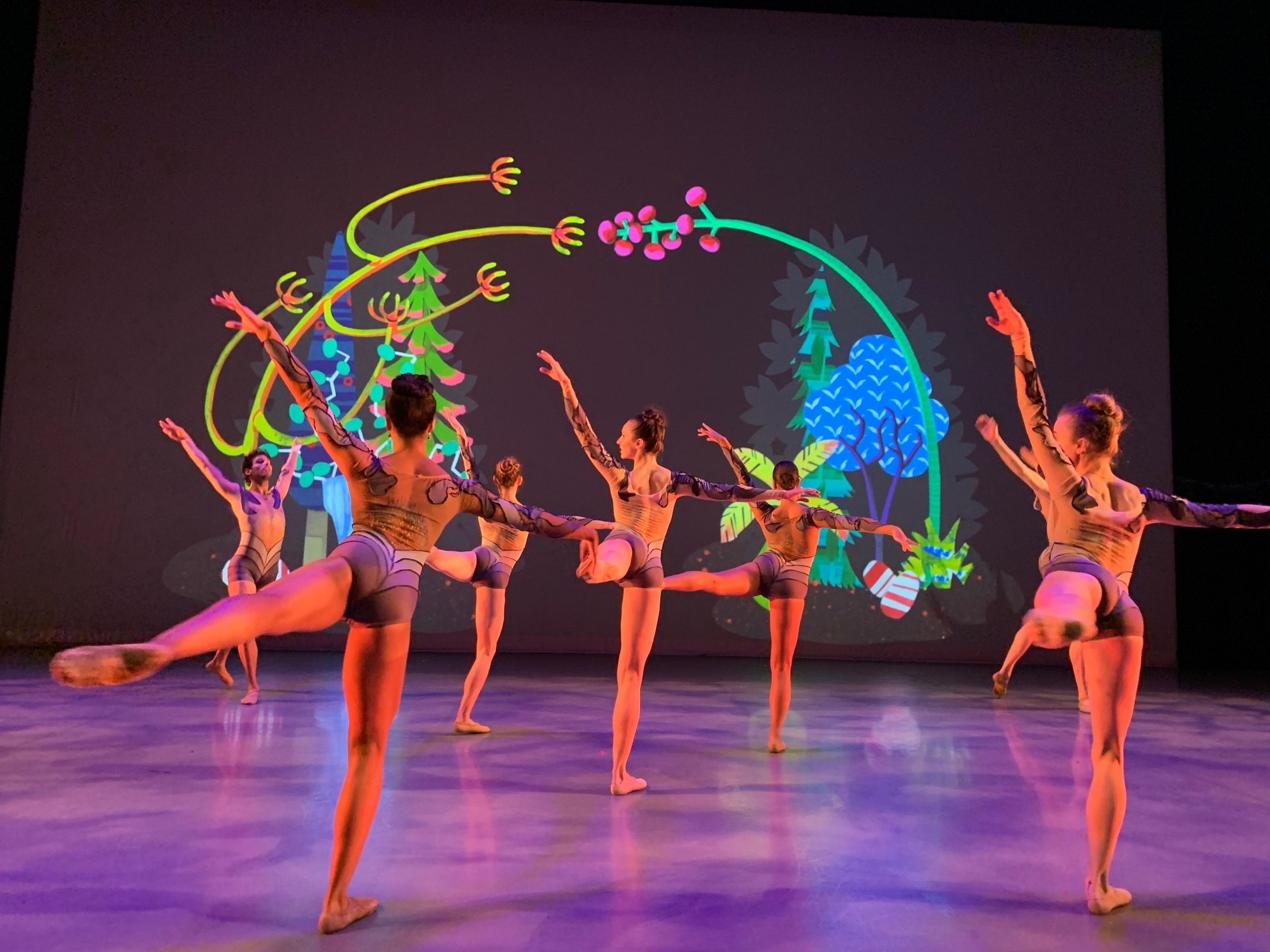 It definitely profoundly impacted me and ultimately my studio work. The scope and scale of the work was the largest I had ever worked on. Seeing my design so fully realized in 3 dimensions on the Playhouse stage was really motivating. Also, my sense-memory of painting the work, being close to these elements on the stage was like being Alice in Wonderland — completely sensory and immersive.

That experience was also the first time in seven years to have a figure included in my environments. Up until 2005 I had always been a figurative painter and for various reasons, rather painfully transitioned to work which was intentionally devoid of the figure. Although the landscape works, like gardens, imply human presence if only because they require you to transpose yourself into them, the experience of seeing bodies interact with my environments in a physical way was incredibly profound and triggered another fundamental transition in my studio. It stoked a desire to make pieces that would choreograph the way audience moved through the work (even look at the work) and would generate more engagement with the architecture of the gallery.

RB: Do you have a theater/set design background? What interests you about the connection between visual art and theater/dance performance?

EH: Before my project with Ballet Memphis, I had zero experience in theatrical design. I think my own ignorance about the process actually worked to my benefit in many ways — I was totally unaware of why things should be done a certain way beyond my own whim.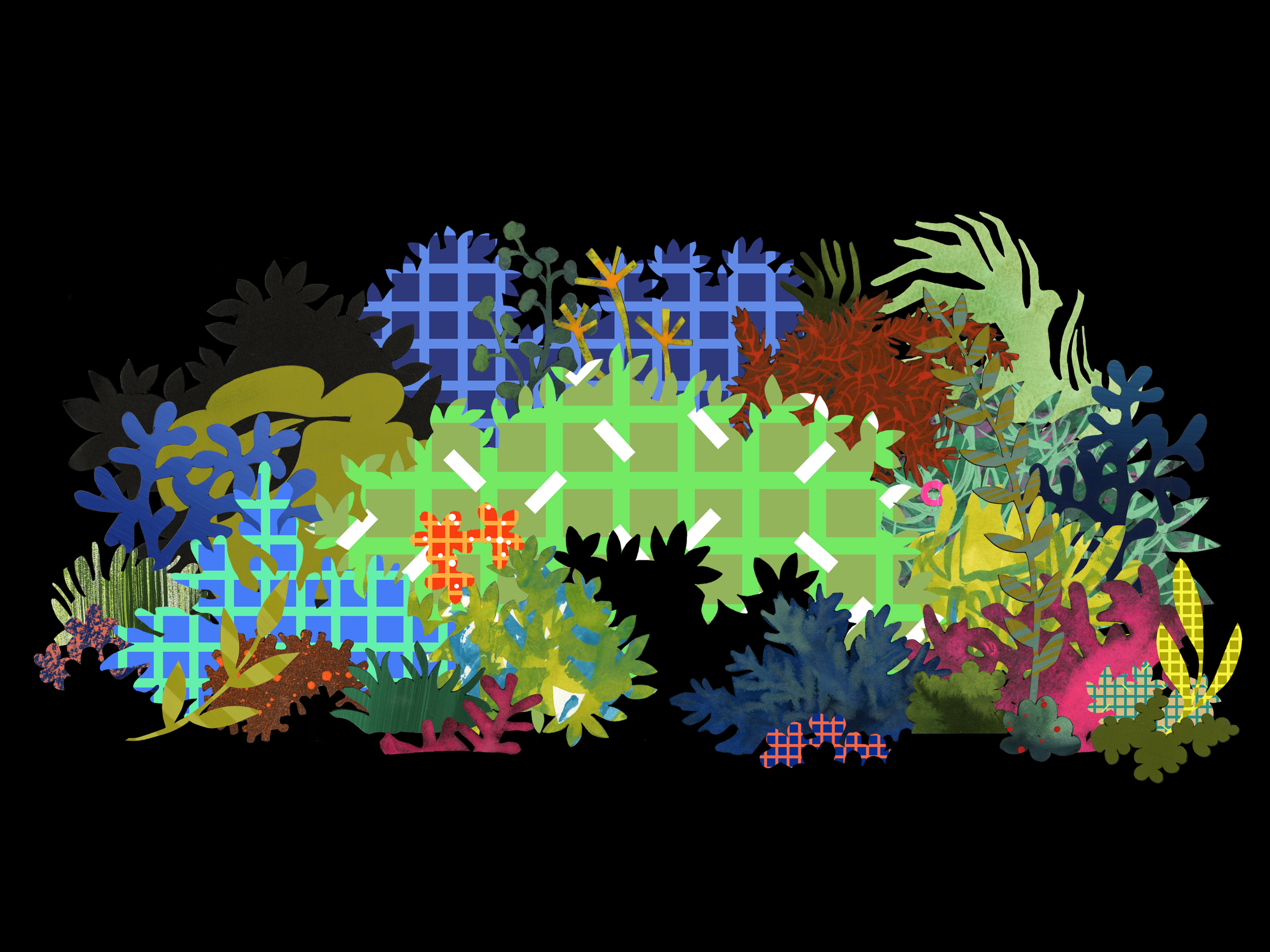 The areas of slippage between modes (painting and sculpture, set design and visual art, the gallery and the stage) are very rich territories because there is room to invent and reinvent and the combination of the rich traditions and histories behind each one becomes a boon to draw upon. I am interested in the cross over between these boundaries mostly because I'm not always sure what a hybrid would look like. I think my most recent work has been in large part about wanting to surprise myself.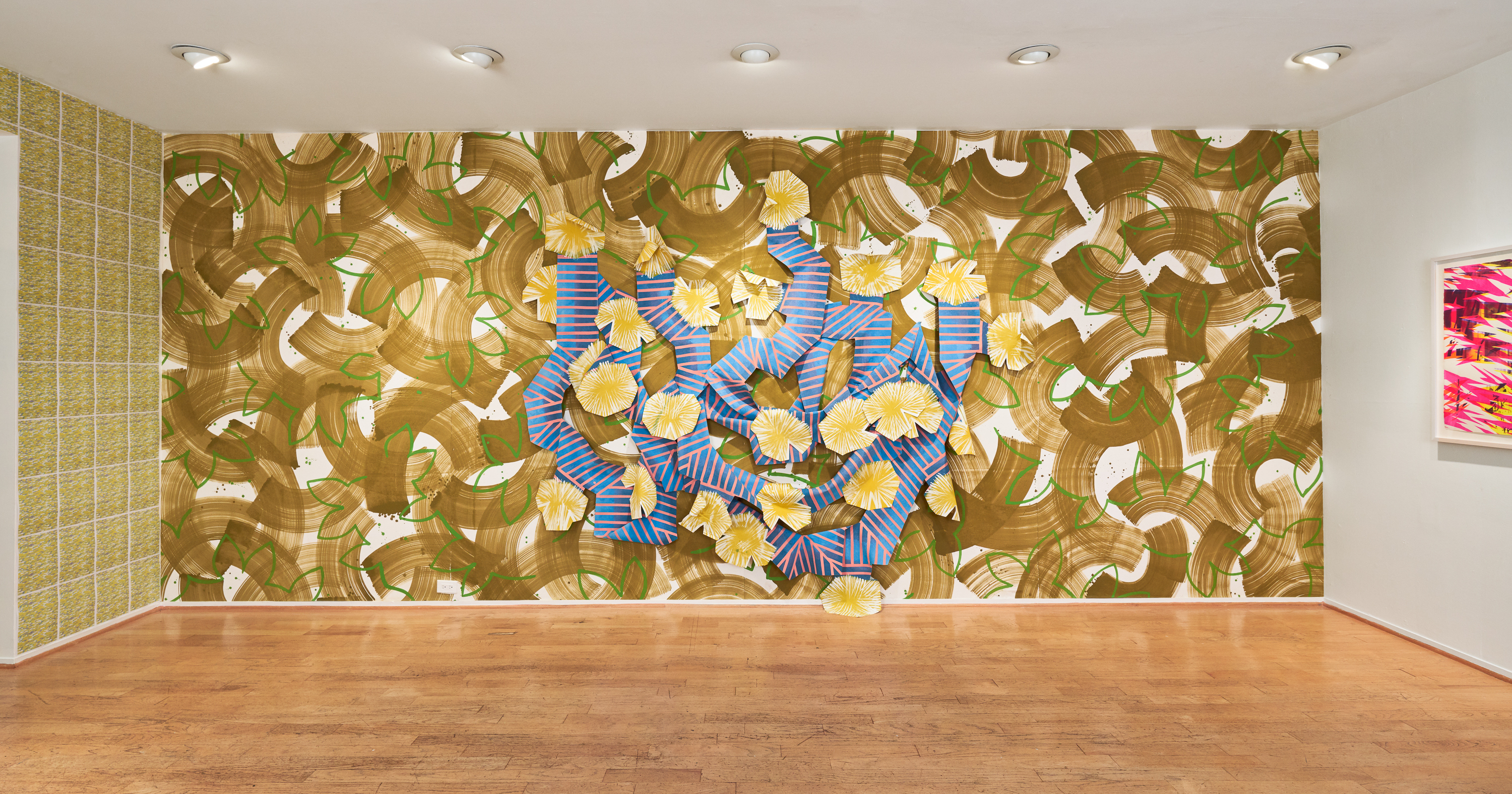 RB: Your recent work creates an interactive theatrical space which invites the viewer into the role of actor or performer. Have you ever been surprised with how viewers interact with your work?

EH: When it comes to the larger installations, I have really enjoyed how immersive the works are. Of course you can look at them and that's one thing, but there is a magical quality when you inhabit them that really reminds you of your own body and this is purely about visual and tactile pleasure. The scale of the recent works provides a world the viewer can inhabit both physically and mentally. While I still think of the work as painting, the pictorial field is blown away to encompass the peripheral. The whimsy of actually being in these invented spaces, rather than imagining yourself there is something that has stayed with me, and hopefully with the audience as well.
RB: You seem to have shifted scale and media in your more recent work. Instead of small gouache and collage works, you're using latex theatrical paint and muslin on larger pieces. What has this experience been like to shift media and scale? Were you inspired from your collaboration with the ballet?

EH: Absolutely this shift in material and scale came from the Ballet project. It first started with feelings of frustration and apathy toward with my previous process of cut paper collage. In response I started to do material experiments with paper clay, paper mache' and cut painted muslin. Small tests of un-stretched painted muslin were initially intriguing — they had the ability to look like paper, but were much more physical and retained their textile qualities while also being more sculptural. The muslin is more durable than paper but also shows the weave of the surface immediately, which invokes the history of painting like paper cannot. So, the tactile qualities of un-stretched painted muslin really appealed to me but also the knowledge that I was dipping into materials traditionally used in theatrical sets was also stimulating and made me think about scale. I sought out work by artists like Sam Gilliam and Katharina Grosse and Alan Shields and also started experimenting with cutting the painted muslin and various strategies for adhering it to the wall. Eventually those small tests demanded a deeper investment so I rented a second studio space, build a drywall deck to paint on and ordered 1000 square feet of muslin. This was terrifying but exhilarating too.
Pushing the scale in the work meant a few important things — it allowed me to reinvent and emphasize shapes that were generated out of the previous working processes which were all about intimate moments (like drawing in my sketchbook or cutting collage elements) into something monumental that would relate to architecture and the viewer's body. I started to envision the horizon line for the shapes as an entire 40 foot wall as opposed to something precious and frame-able. It also required me to literally be in the work (on the work) while making it which was really fun and had to be much looser and full of energy than my previous work could ever be. Once cut, the painted muslin shapes are sharp and graphic, calling attention to their drawn-ness but the looseness of the paint gestures on the surfaces is a record of my entire body physically interacting with a huge amount of paint. The work has an apparent joyfulness about it that has a lot to do with my enjoyment of being in the environment of my paintings.

RB: What's your process like? Do you do a lot of sketches or make models?

EH: First of all, I suck at math and I'm a poor house keeper and but there's lots of both of these skills in this work.
I definitely make to-scale drawings and models if necessary, even just for ordering materials and calculating paint coverage. For the installation of Piecemeal Promenade at the University of Memphis the wall included 17 separate painted, cut muslin shapes, some of them as large as 12 feet wide. I made a to-scale drawing and had several different working versions of that drawing — for keeping track of the shapes that had been primed, then painted, then cut in addition to how they all related to each other and the wall. Because I am using the drywall deck as the substrate to stretch the muslin to, the size of any given piece I can paint is finite. When I painted 22 feet of continuous pattern wall covering for the piece Sloppy Espalier as shown at LAUNCH Gallery in Los Angeles, I cut it into four panels which I stretched and painted in consecutive pairs so that the pattern would appear to be continuous across all four. I also use builders tricks like string lines to measure and find square and I often make giant paper patterns to be sure the cuts-outs are accurate proportion and using the best yardage of the painted surface and also to ensure layer marries well to the next. The scale of the work is pretty physically taxing. Much of the time I'm painting with a 4" deck brush on an extender pole (so it's like mopping the kitchen floor) but I also have a little garden scooter on wheels that I can roll over the painting on.
Because of the scale of the work, I never see it assembled and finished before it is installed in the gallery. I think this is also good in a way because I can't over-revise things but really have to be in the moment and respond to what is in front of me.

RB: You're a founding member of Tiger Strikes Asteroid Los Angeles, a network of artist-run spaces with locations also in Philadelphia, New York, and Chicago. Are you still involved with TSA? Has TSA ever considered having a location in TN/ the South?

EH: This May is the ten year anniversary of the opening of the first Tiger Strikes Asteroid space in Philadelphia and last year the network turned into a national not-for-profit so it is an exciting time to be involved and there is a lot happening right now. There HAS been discussion about expanding and I think the network is certainly open to that at some point. I also think one of the reasons that TSA has been successful and has endured for a decade now is the leadership has been strategic about taking on new projects. With artist run spaces I think it's easy to burn out because it's just another thing we are all doing on top of a day job and studio practice and family so balance and timing is key. The ten-year anniversary show Orbits is our biggest group project and will include four simultaneous shows in Philly, New York, LA, and Chicago exhibiting one artist from each of those cities in each location!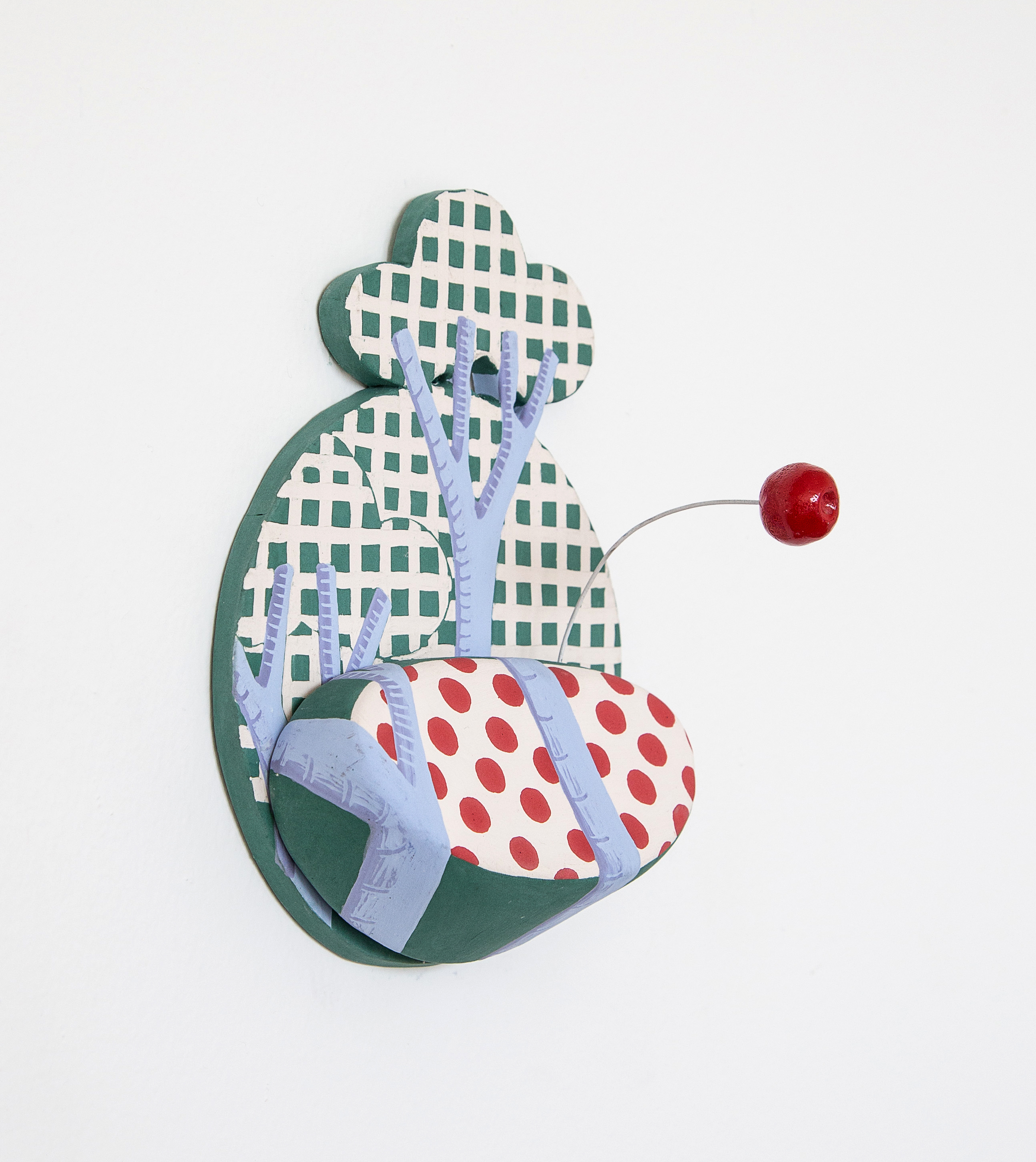 RB: What are you working on now and what's next?

EH: I'm excited to be showing work this summer with TSALA at HilbertRaum in Berlin as part of the B-LA Connect festival and at One Mess Gallery in Vienna.
---
Erin Harmon was raised in the suburbs of Southern California where the natural desert was sated by hundreds of miles of aqueducts to produce obsessively groomed lawns. After graduating from San Diego State University with a BA in Studio Art, she received her MFA in Painting from Rhode Island School of Design. Erin currently lives in the verdant and fecund Tennessee Delta where kudzu and coal sludge can swallow everything in their path and where she is Associate Professor of Art at Rhodes College. Erin has exhibited her work nationally in both group and solo exhibitions in venues including Field Projects. NY; the Sarah Doyle Gallery, Providence RI; LAUNCH Gallery, Los Angeles; Atlanta Artists Center & Gallery, GA; the Parthenon Museum, Nashville, TN; and The Brooks Museum, Memphis, TN. She was included in the book Remixing and Drawing: Sources, Influences, Styles (Mueller, Ellen; Routledge Press, 2018). In 2014, she debuted her first theatrical set design for Ballet Memphis' River Project: Moving Currents which profoundly influenced the work she is making today. Erin is a founding member of Tiger Strikes Asteroid Los Angeles.

Rachel Bubis is an independent arts writer as well as Exhibitions Manager for Locate Arts in Nashville, TN.

* all images courtesy of the artist