INTERVIEW: AMANDA BRAZIER
MAR. 06, 2019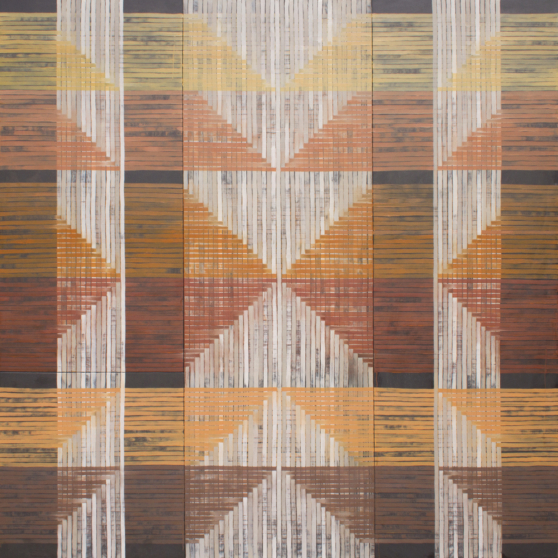 Amanda Brazier, Exchange, 2018, handmade oil paint on panel, 72" x 72"
INTERVIEW: AMANDA BRAZIER
MAR. 06, 2019
Rachel Bubis: You collect pigments from nature and make your paint. What's the most interesting or surprising thing you've learned about this process?
Amanda Brazier: Using earth pigments to create is an ancient practice. With paint making, I'm learning the basics of my trade, fundamentals that have fallen mostly into the background of art education and practice. Before and during the Renaissance, artists (or their apprentices) would have to grind their own rocks and crush dried insects to make their colors, learning the materials and craft of paint and painting. In the mid-1600s, colormen began to supply pigments, canvases, and brushes, and eventually sell ready-made paints. As artists began to rely on these art suppliers, painting started to become an art profession rather than a craft profession. For true artists the tedious work of preparing their paint was an unnecessary obstacle to making art. I tend to agree with them sometimes when I run out of a certain color paint in the midst of a deadline!
There is a growing movement among artists to know what exactly is in our paint and where it comes from, kind of like our food. The material matters. The repetitive, physical work of gathering and pounding, sifting and mulling, is important in our screen-flooded lives. It has been interesting to make paintings in our present context but with ancient materials and historical practices.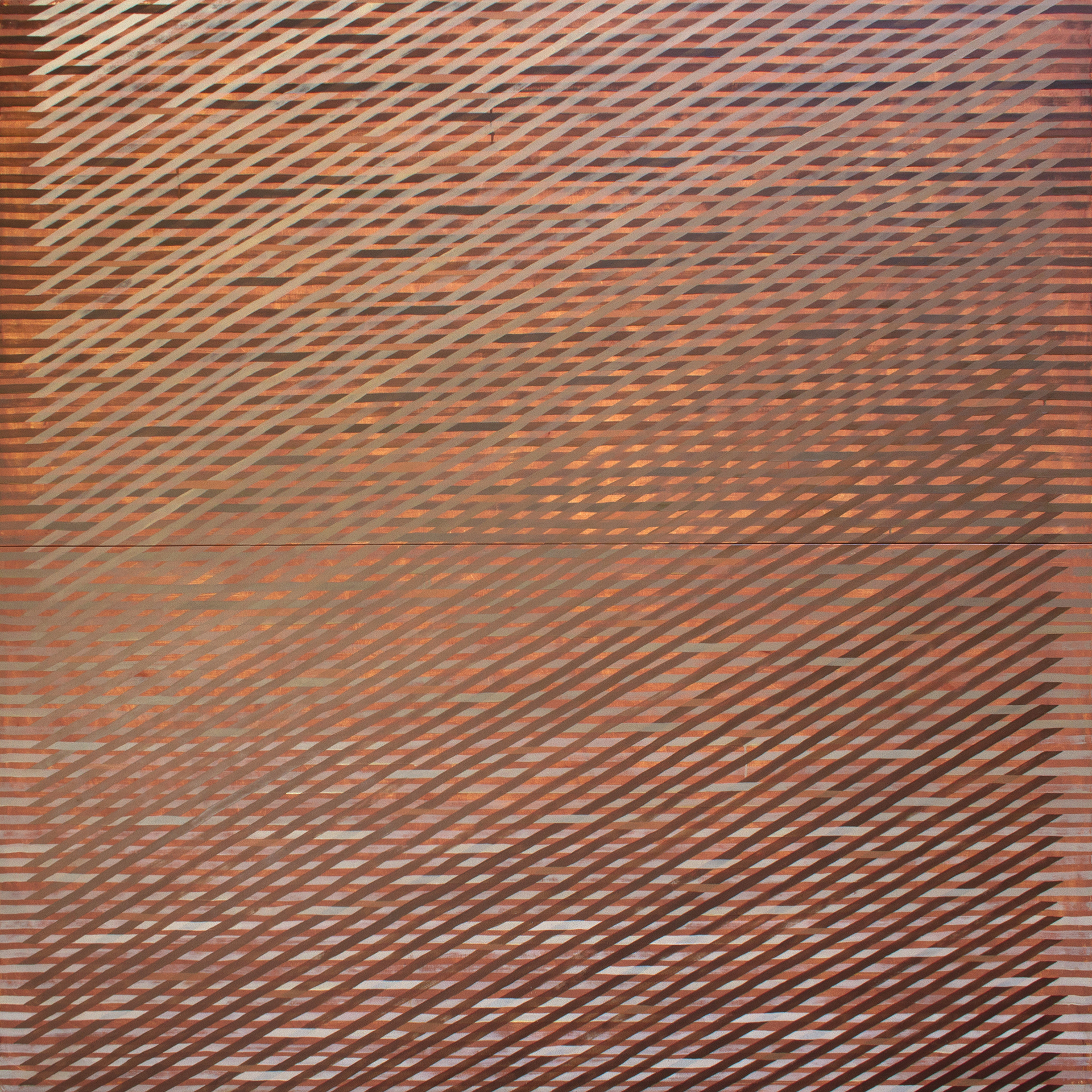 RB: What's the most vibrant or surprising pigment you've discovered? Where did it come from?

AB: It's always a wonderful surprise to come across a beautiful color in the ground. When I first started gathering pigments here in Chattanooga, I was mostly finding various kinds of red clay. Then, as I kept looking, so many colors appeared. Olive green and black shale by the trails at Stringer's Ridge. Bright pink and yellow clays in northeastern Georgia. A friend told me about some gray-blue and violet limestone shale behind a gas station off of I-24. And just down the interstate was also a deep red layer of hematite-laden limestone shale. I had never noticed those colors before, in all my time driving to Nashville and stopping at that gas station.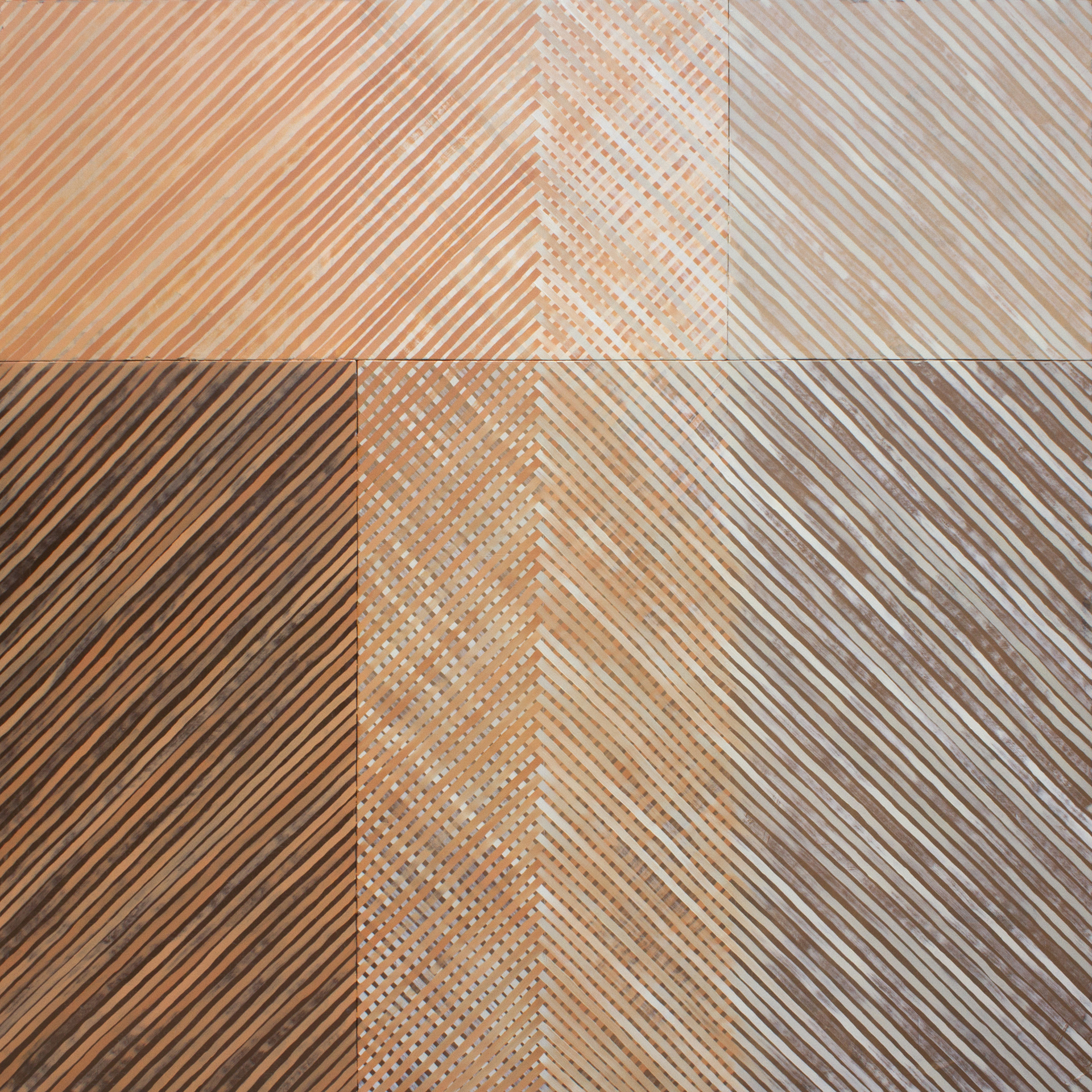 RB: Have you collected pigments outside of TN? If so, have you noticed any interesting similarities or differences in the palettes of different areas? Are there certain times of year that are better for collecting?

AB: Most of my pigments are from within a 2-hour drive of my home in Chattanooga. It was interesting to find a layer of gray-blue and violet limestone shale in West Tennessee that was nearly the same as the layer my friend showed me closer to Chattanooga. I'm not quite sure it's part of the same formation, though.
My husband and I recently traveled to Costa Rica. At the base of a waterfall we visited there was a whole spectrum of rock colors, and they made such beautiful marks. I left them there, because I didn't have permission to take them. Every place has its own history and own colors - and own cultural traditions in using those colors in art and rituals.
I like to collect yellow and red clays along the edge of Chickamauga Lake in the fall. The lake is usually lower then and gives me better access. Other colors aren't quite as reliant on the season.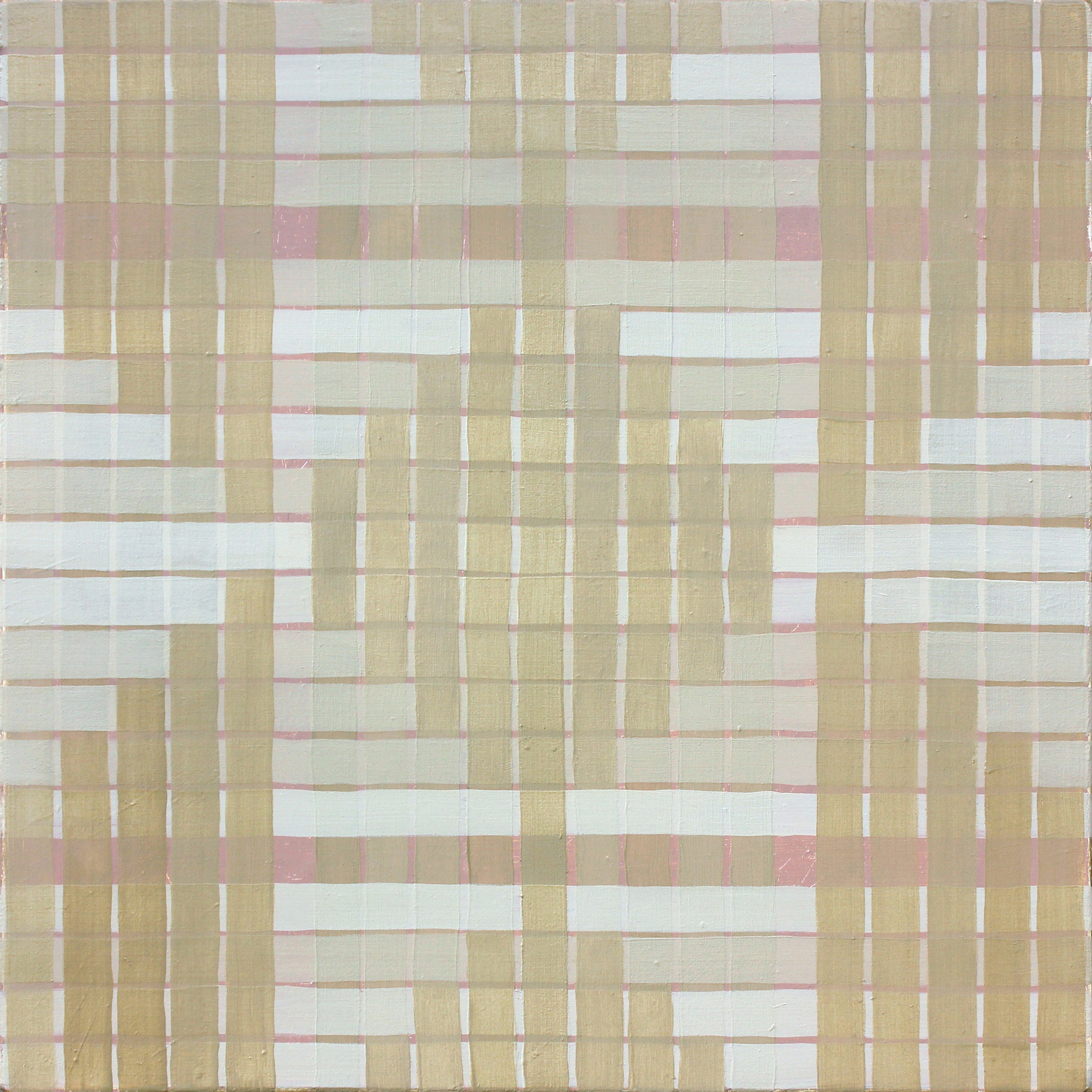 RB: What is the significance of using earth pigments in your work?

AB: In learning the how to make paint from the earth, I'm connecting with a whole history of art making from many different cultures and many different times. Using these pigments also gives my work a deeper connection to a certain place, to the history of that place. Not only does painting with Stringer's Ridge green shale remind me of hours spent running on its trails; it also evokes the Union soldiers who had camped beside those rocks. My drives back and forth to Nashville to visit family crisscross the Trail of Tears, near the rocks that bear deep roses and violets and soft terre vertes.
Perhaps one of the most significant aspects of my working with earth pigments is something very personal and spiritual. Clay is a material of creation in many ancient origin stories, from the Middle East to China, Africa, and North and South America. God creates humans from the dust and breathes his Spirit into them. These seemingly unimportant materials, the rocks and dirt under our feet, are sacred and essential in many ways. When I create with the dust of the earth, I'm participating in some small way in that creation.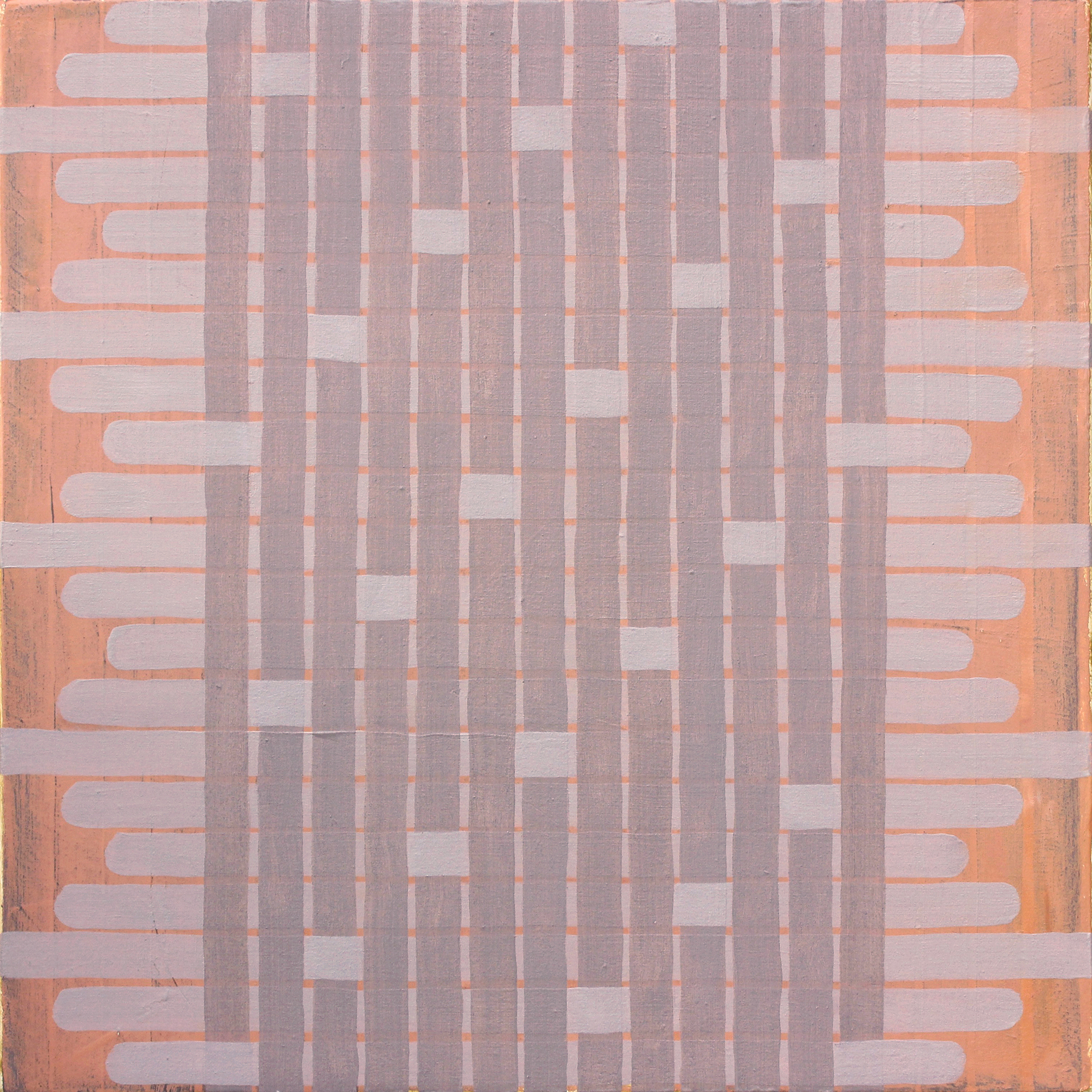 RB: You say your paintings are inspired by architecture. Do they correlate to specific buildings?

AB: When I started to collect materials from nature and create paintings from my immediate environment, I was researching structures that are built from their immediate environment. My work a few years ago was a bit more directly informed by the patterns of those buildings than it is now. One regionally-specific structure is the Cherokee wattle and daub dwelling, in which reeds were woven together to form walls, and a mixture of mud and clay and straw and manure were daubed onto the framework as insulation. My first few "woven" paintings were centered on the imagery of the wattle wall. There was also the log cabin, in which logs are stacked, one on top of the other, back and forth. I continue to use this repetitive back and forth stacking of parallel lines in my paintings.
I also love how textiles reflect and complement architecture. Both the hard and rigid and the soft and pliable are essential coverings and containers. Both protect. Both are made through repeating a limited amount of elements over and over, crisscrossing, overlapping, stacking, forming the whole. Many quilt patterns refer to architecture, like the log cabin or housetop or courthouse steps. I want my work to float between the two, maybe between a sense of guardedness and gentleness.
Ideas for paintings now come from many sources in addition to structural and architectural elements of the home. The things that hold or cover or comfort or protect: baskets and chair caning, picnic tables, fences, quilt patterns, weaving, rug knotting, and sewing patterns. Building blocks and blanket forts with my two sons and playing on the rug with them also inspire shapes and images.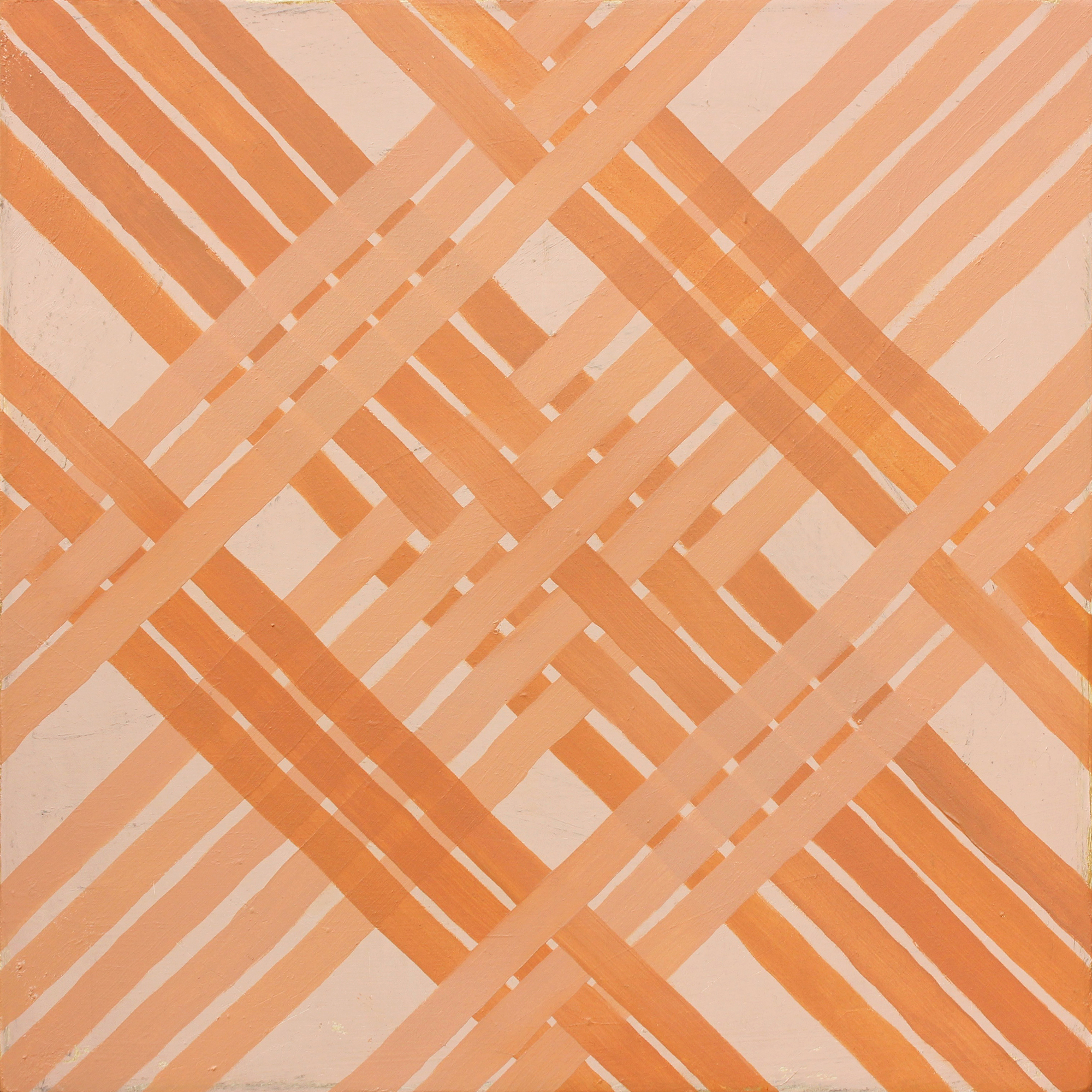 RB: In your statement you mention being inspired by building materials and the building process in architecture. Have you ever experimented with these materials as a medium instead of paint? What attracts you to paint as a medium? What do you find interesting about the translation of architecture /building materials to paint?

AB: Someday I may start incorporating drywall or tile or wooden structures. I have a stack of drywall scraps and old tiles in my studio. These materials have always been in the back of my mind. And I do build my own cradled wood panels. I would also like to spend time learning to weave. But, honestly, above all I want to get really good at painting.
The limitations of simply painting help me learn deeply and push my medium just a little more. Just like working with a limited palette of earth pigments helps me sense the subtleties of each color. Paint is such a versatile, pluralistic medium. Paintings can be windows, mirrors, grids, texts. I enjoy working within that tension. Also, the deeper I dive into paint making, the more I recognize the full worth of the material.
The process of building is what I'm most interested in reflecting in my painting. Slow, deliberate, measured work. Focusing on the craft of certain materials. A repetition of elements combining into a greater whole. However, while I do start with a measured framework or grid, and I do use a straightedge as a guide, a lot of times the painted lines sag or quiver, as if someone had run their fingers across them, or bent them just enough to step inside. The imperfections soften the paintings and are what make them come alive just a bit more. Paintings also traditionally hang on the wall, becoming part of and defining the space they occupy.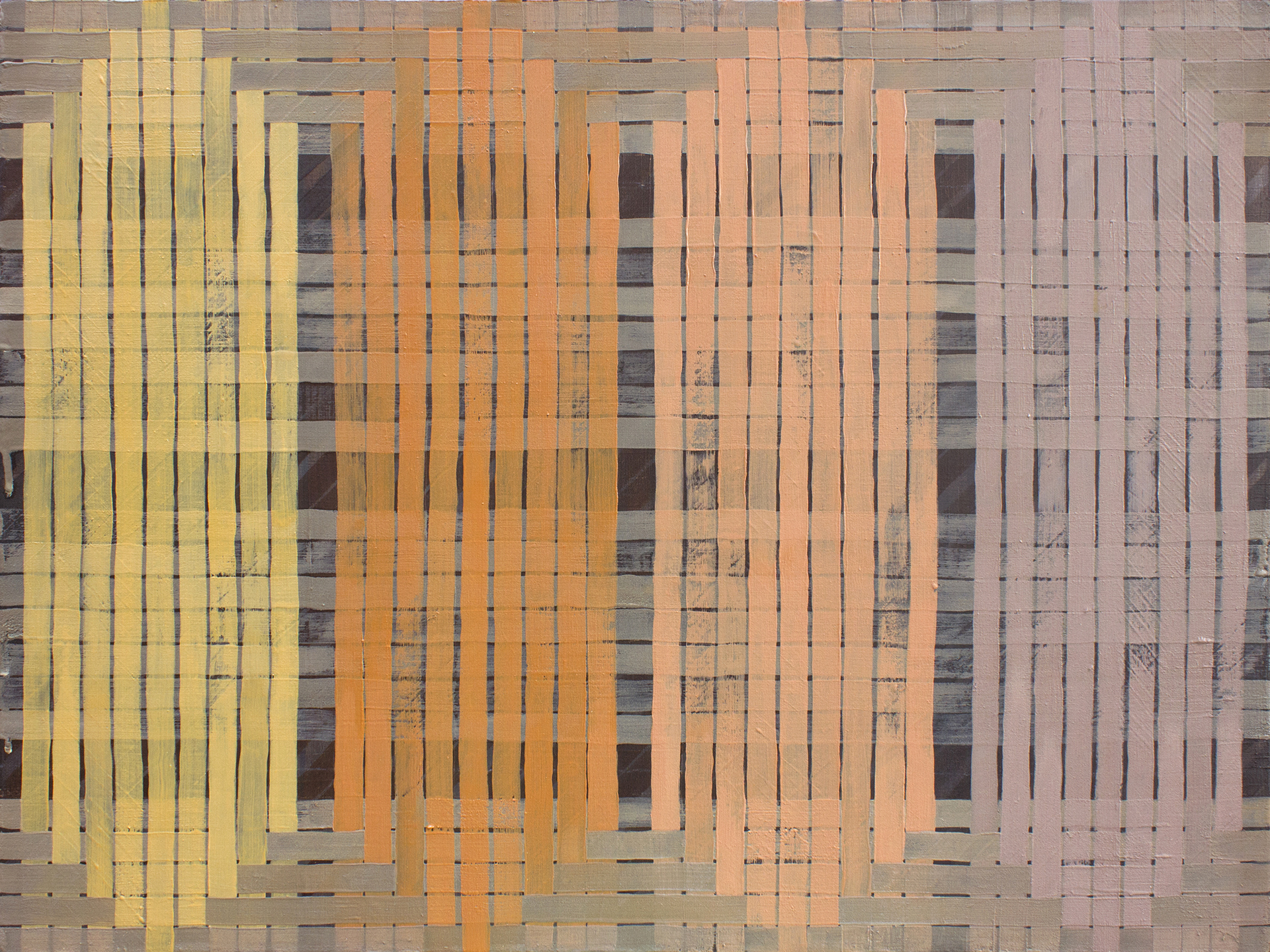 RB: You've mentioned that your painting process can be quite slow. About how long does it take for you to finish a work? How many layers do you do?

AB: My painting process is slow because I need to be slowed down in life. Before I can make any kind of brushstroke, I have to walk in the woods to gather colors, or stop my car on the side of the interstate, or concentrate on a deposit of clay in my front yard. It's also interesting to think about the slow passage of time these rocks have borne witness to. Then, there's pigment processing and paint making. Then, painting. Once painting starts, it just depends on the size and complexity of the work how many hours it takes over the course of a couple of months, maybe longer.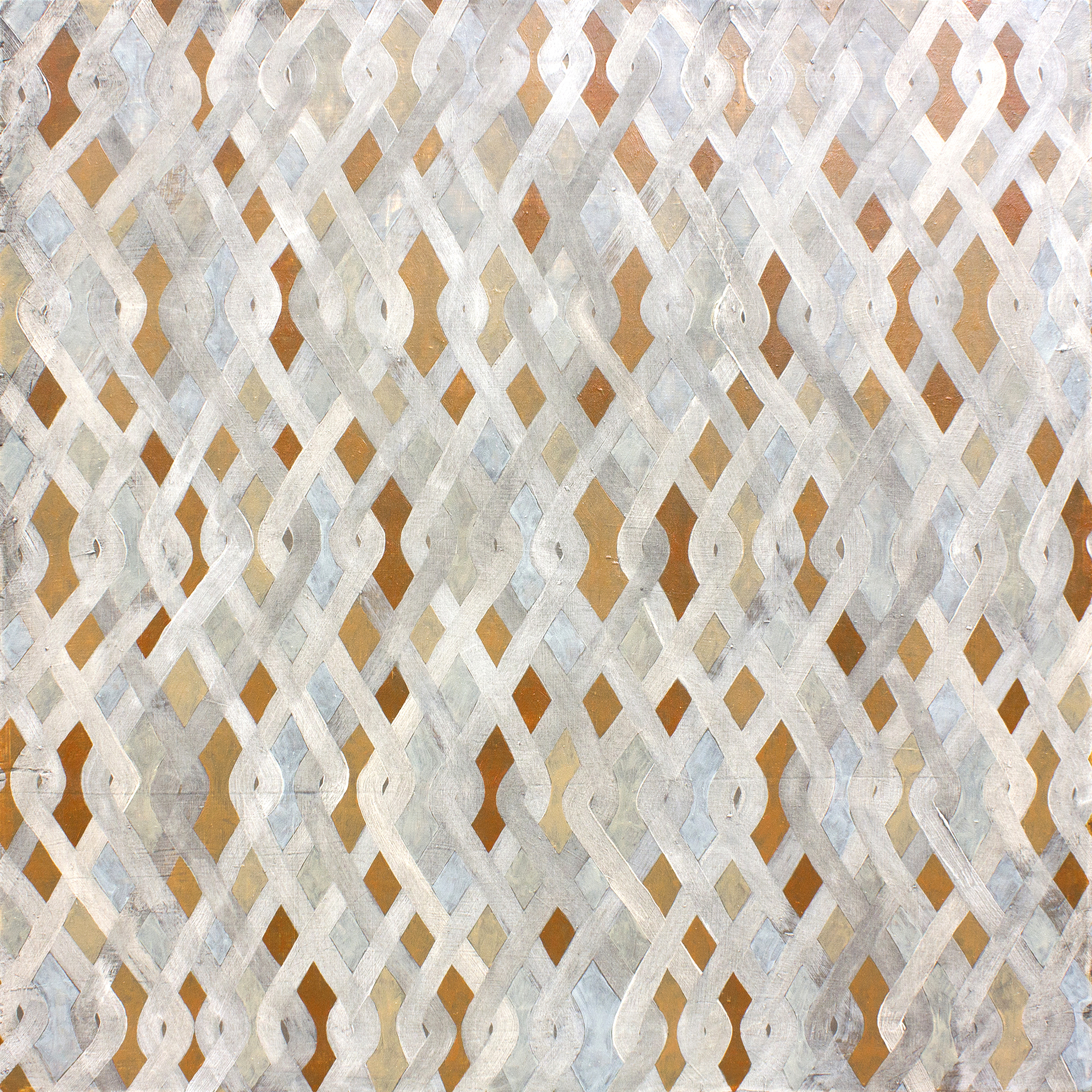 RB: What are you working on now and what's next?

AB: I'm finishing a small group of paintings for the Appalachia Now exhibit at the Asheville Art Museum this spring. I'm also preparing for an exhibit in May with two sculptor-potters, Shadow May and Stephanie Anne Martin.
Recently, I have been expanding the idea of shelter in my work, from the semi-rigid structure of a house; to the pliable forms of a tent, quilt, and clothing; to the intimate nature of our skin. I am continually amazed at how skin tones and the earth tones I use in my work complement each other. Soil is also referred to as the skin of the earth, reinforcing its protective nature and its role as the intermediary between what is above the surface and what is below. As I've incorporated skin colors into my painting, I've become more conscious of the physical and social structures we build to protect ourselves from others who may not be wrapped in the same color as us. My goal is to continue to pursue and deepen these ideas in my art practice.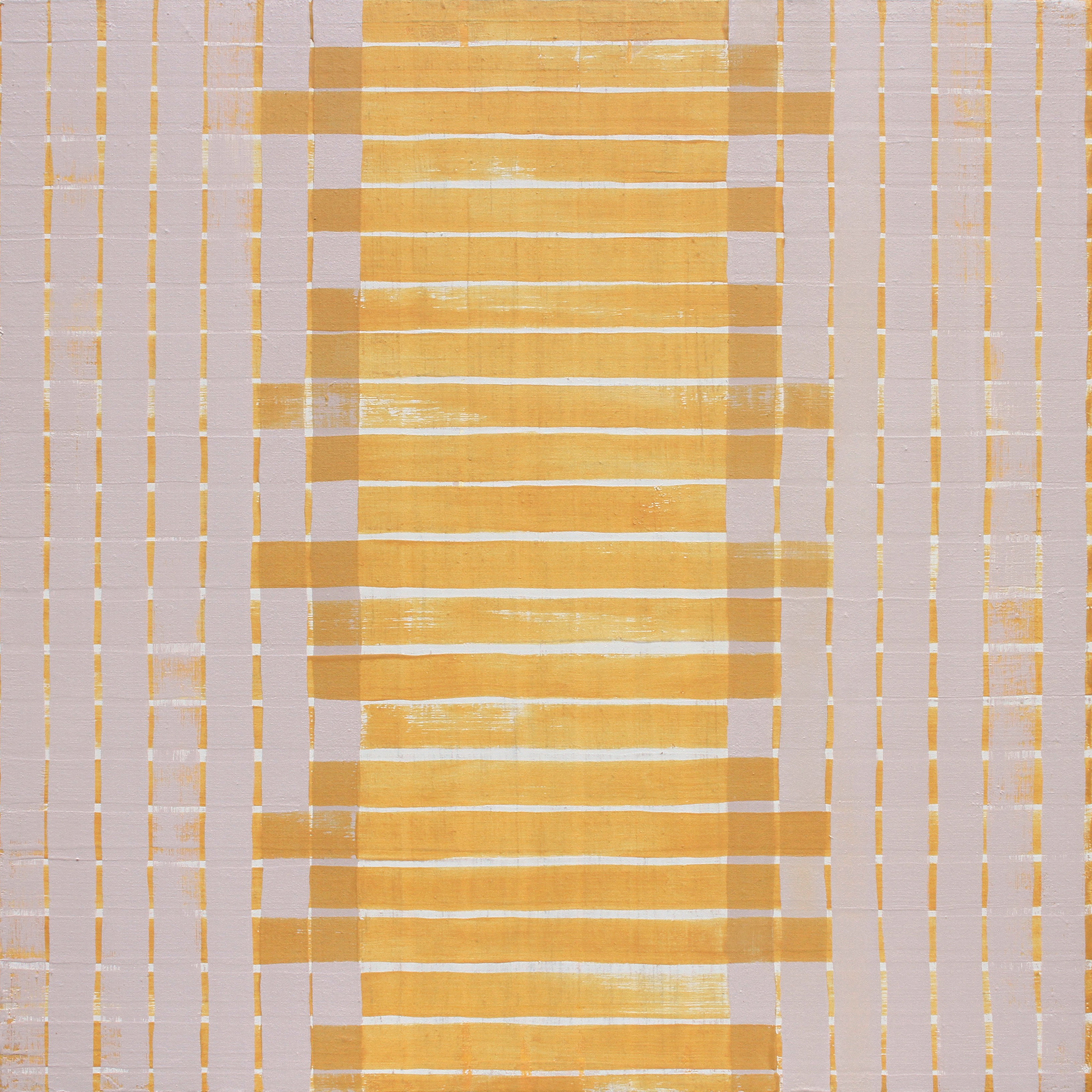 Amanda Brazier is a painter living in Chattanooga, Tennessee. She received her BA in Studio Art and Spanish from Freed-Hardeman University in 2007. Referencing primitive dwellings or woven cloths, her paintings develop through stacking, weaving, and assembling simple forms. She makes paint from pigments processed from the soils near her home. She is a facilitator for the public art organization Mark Making and is represented by River Gallery in Chattanooga.

Rachel Bubis is an independent arts writer as well as the Exhibitions Manager of Locate Arts/ Seed Space in Nashville, TN.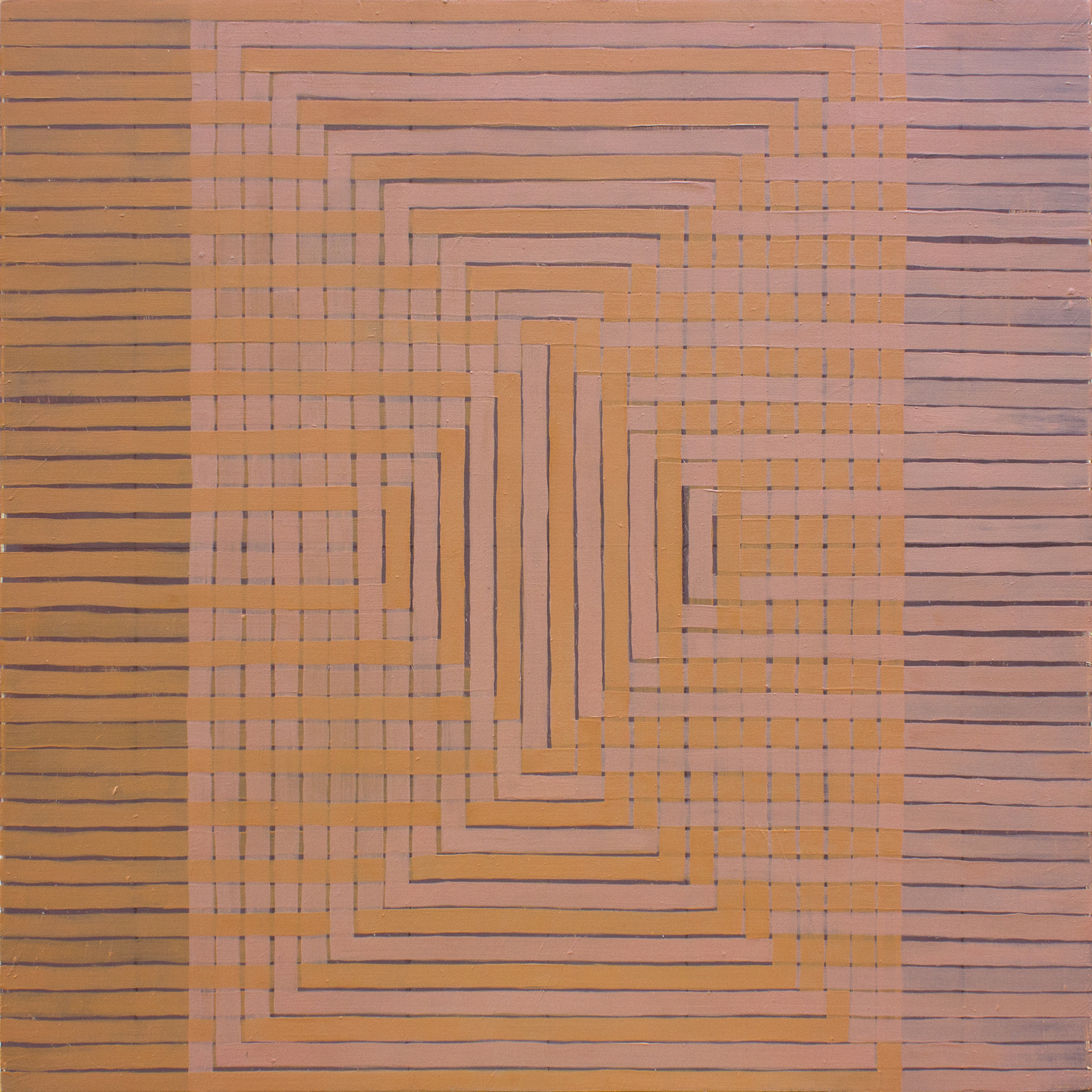 * all images courtesy of the artist