INTERVIEW: LYNNE GHENOV
OCT. 20, 2018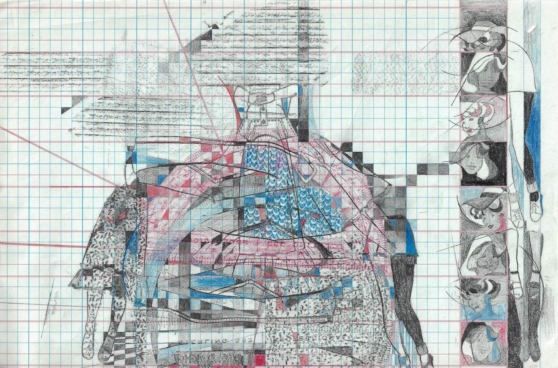 INTERVIEW: LYNNE GHENOV
OCT. 20, 2018
Last month, artist Lynne Ghenov and contributor to The Focus, Ashley Layendecker, sat down together in Lynne's South Knoxville home for a candid conversation about her work.
---
Ashley Layendecker: I want to start with your discovery of this found paper. Can you describe how you came to find it and how it changed your process?
Lynne Ghenov: I've always been interested in vintage books and old papers. I've also done some collage work in the past using older papers. These works, that started on the graph paper, began around 2010 when my husband Rubens and I moved into the house that I grew up in. It was right outside of Philly. He got an adjunct position, so we temporarily stayed there at my mom's house. I started using what was her old office as my studio and a lot of the materials were there in the house. So, I started picking up stuff and experimenting with it while I was there. That was the beginning of how it happened.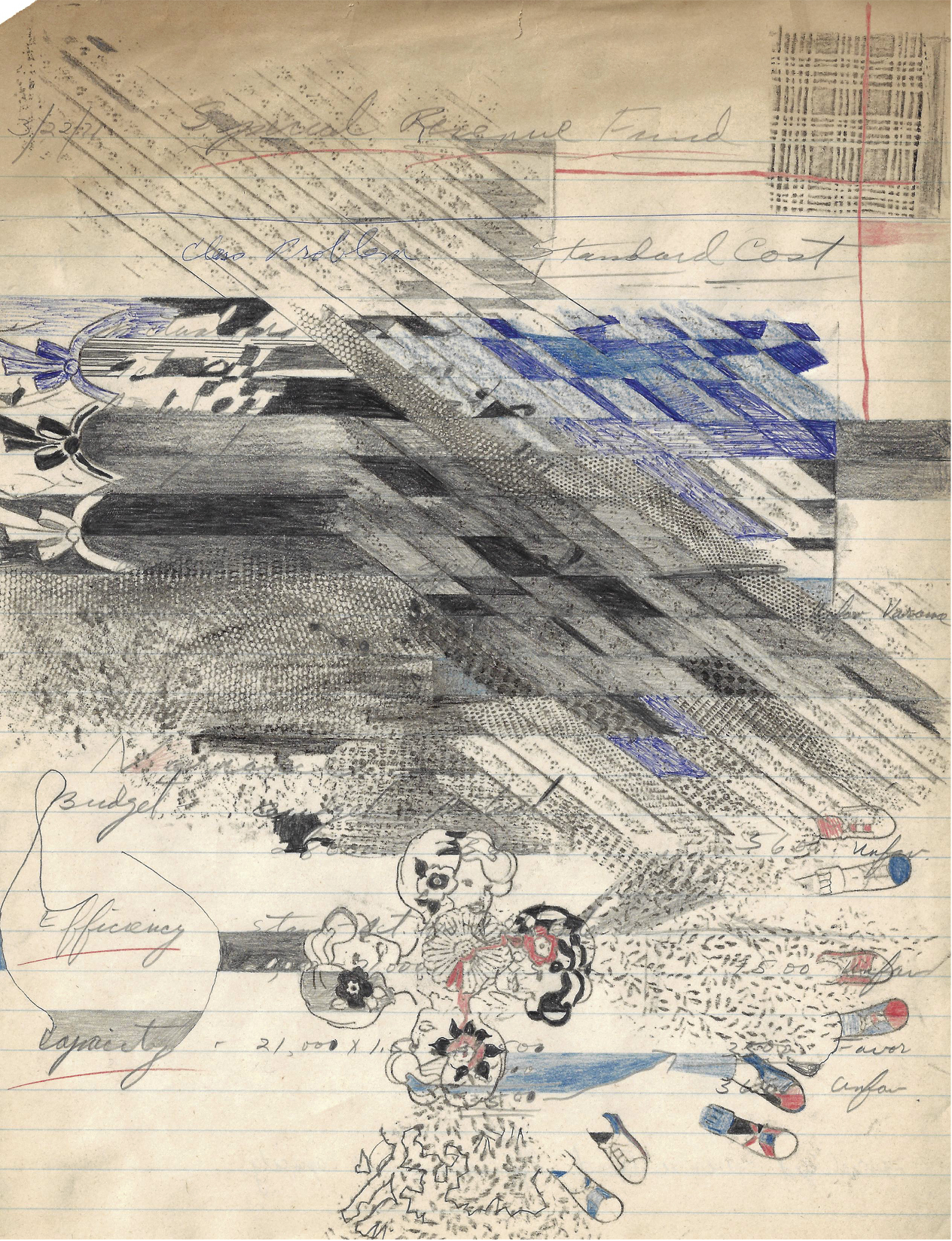 AL: It seems like you have a connection to your mom in your work. Can you talk more about that?
LG: My mom was still living at that time. Then we moved to Knoxville and she passed away once we moved here. I was previously using some of those materials and, when we moved to Knoxville, I started working more diligently with drawing. That's where my heart is right now with the graph paper. Around that time, after she passed, I cleaned out her house and decided to keep all the paper - a lot of ephemera paper, like Mass papers. She was a devout Catholic, so she kept prayer cards. I kept a ton of it and also threw out a ton, but I might use those in the future. She also kept meticulous records of her business for years.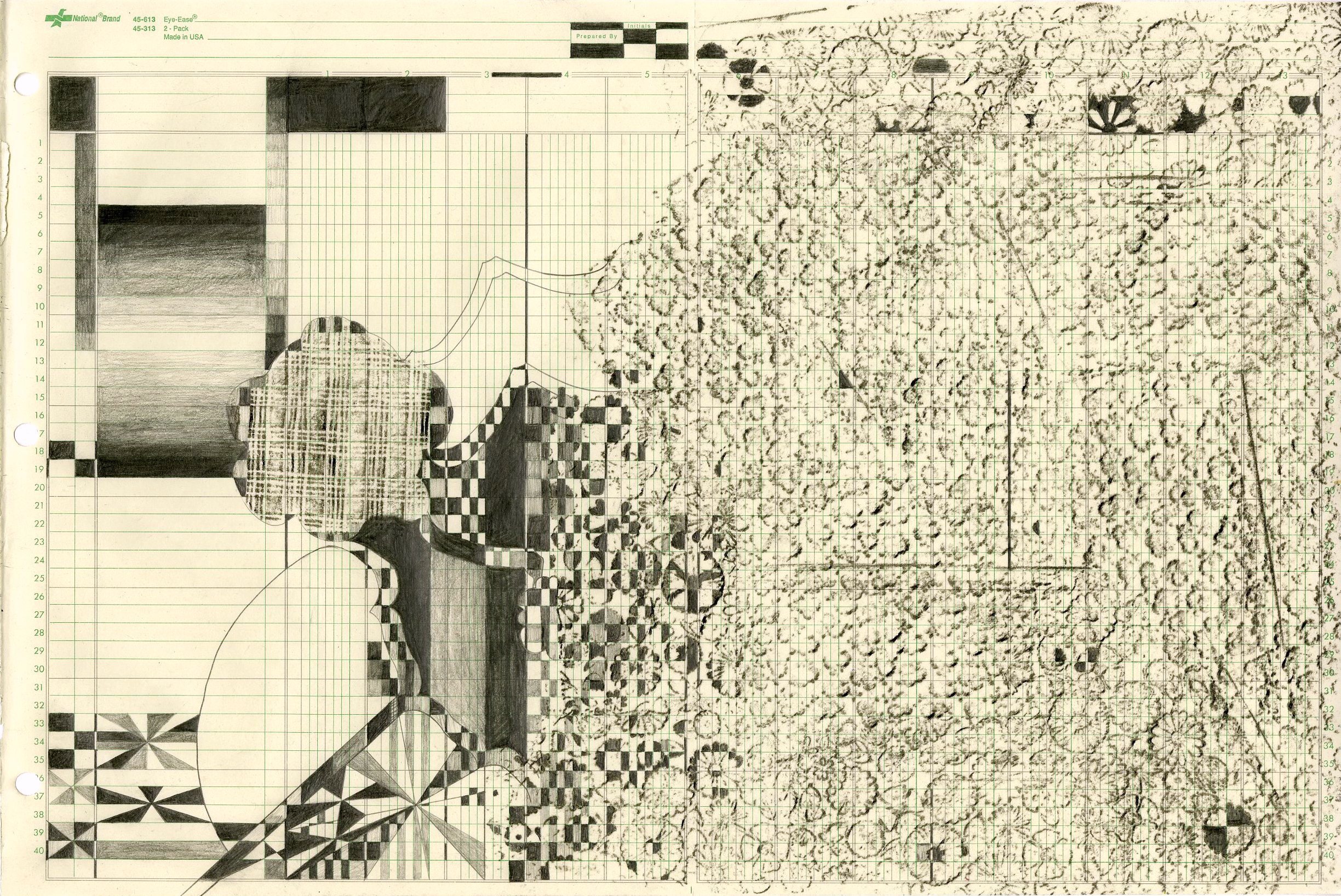 AL: And what did she do?
LG: She ran a daycare center for about thirty-five years and hadn't gotten around to throwing out those papers, such as documents and records. I kept some of those and that's where the larger [sized] paper came in. My parents divorced when I was younger, but she still had my dad's old accounting papers. He was a CPA.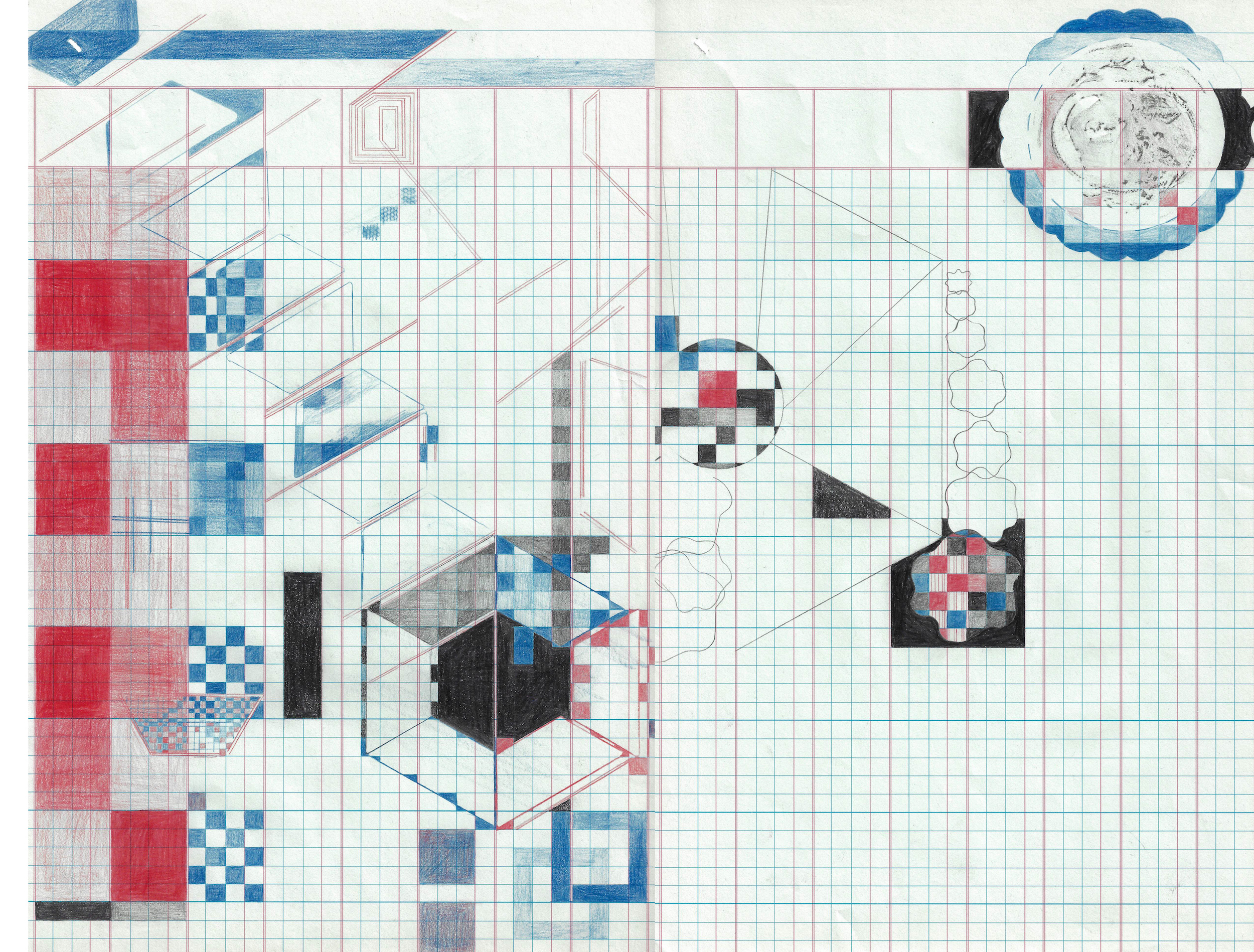 AL: Did you ever notice her collecting these papers when you were growing up?
LG: She didn't have stacks of papers, but she was a social butterfly, so she would say 'oh I'll get to that later' and throw it in a box and put it in the garage to be able to go out with her friends. When I lived there with her, I helped her go through some of those boxes. I thought, 'oh, I could use this for a collage or make a copy of it and then draw on it'. I started collecting stuff as we were together going through those boxes. I did notice she needed to get rid of things such as religious magazines or multiples of the same prayer card.
AL: Since there are some writings on the found paper, do you react to the script with the imagery you decide to add? Or, how do you connect those two languages together?
LG: Some of the papers don't have writing and some of them do. I actually love when they do because it's like there is another person there, in a sense, working collaboratively with me. It changes the way I would make a line or fill-in an area. Even the language of some of the papers that belonged to my father - accounting language - seems to have a different meaning once I start putting imagery on it, which I really like.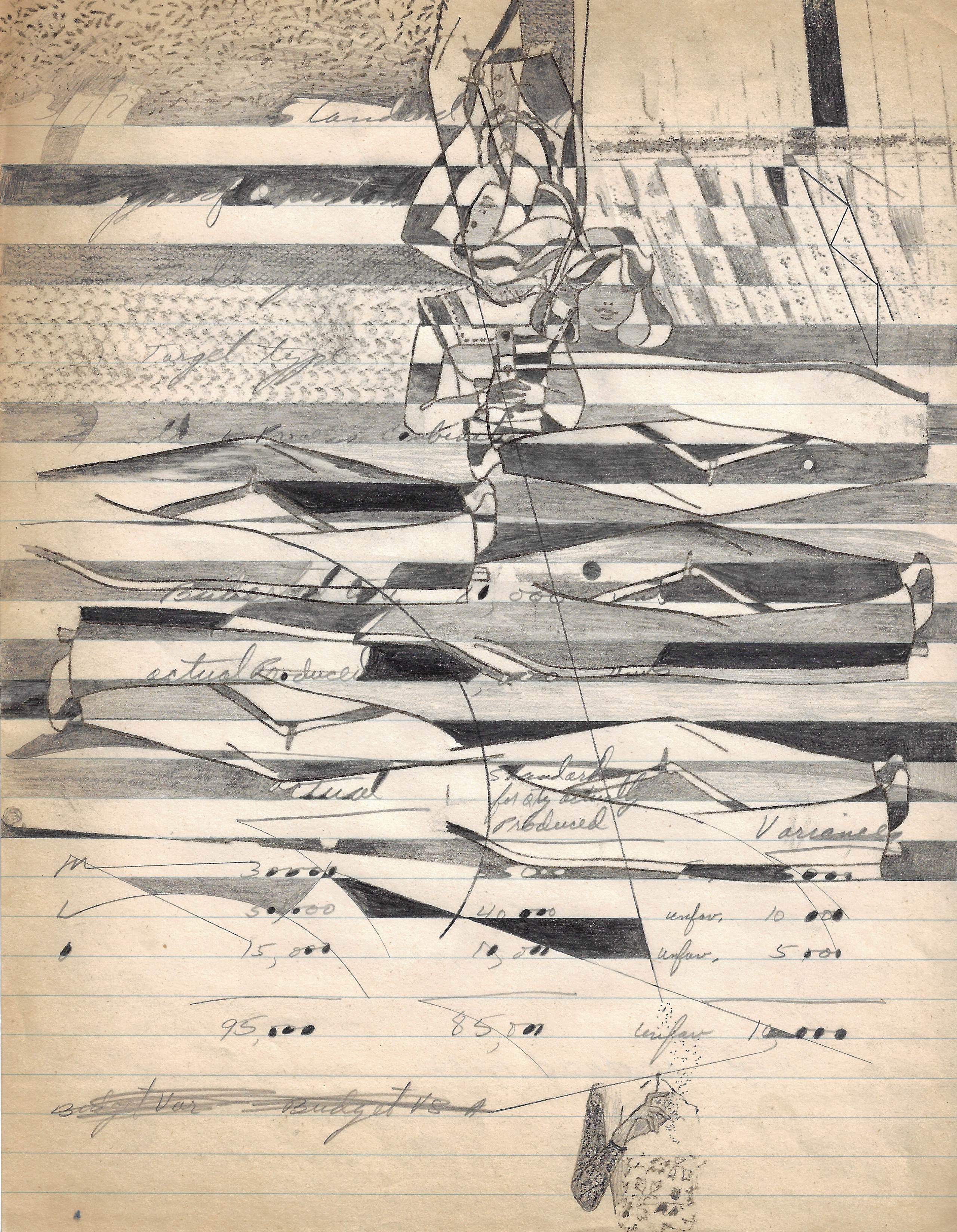 AL: Is it fashion dolls or paper dolls that are in the work? Sometimes they are repeated or more worked out, some more than others. Where do those come into play and interact with the work?
LG: They are actually from a toy called Fashion Plates, which I think was reissued at some point, but the Fashion Plates that I use were mine from when I was a kid. One side of the plates has an outline of a woman and you can add plates to switch out the outfits. There are also these plates that have textures and I use those as well. Those Fashion Plates are one of the only toys I saved from my childhood. Over the years I have gone back and started to play with them. I think I thought of them as doodles mostly, but then I decided I needed to incorporate them into my drawings somehow. From that, I started to become more interested in rubbings as well as stencils. I started to collect some vintage stencils like decorating stencils.
AL: Do you feel like using the Fashion Plates was the beginning of a creative practice for you?
LG: Yeah, that process off rubbing the crayon (like a conté crayon) was almost magical to me - to put something on the back of the paper and having it reveal a pattern from the texture was really satisfying.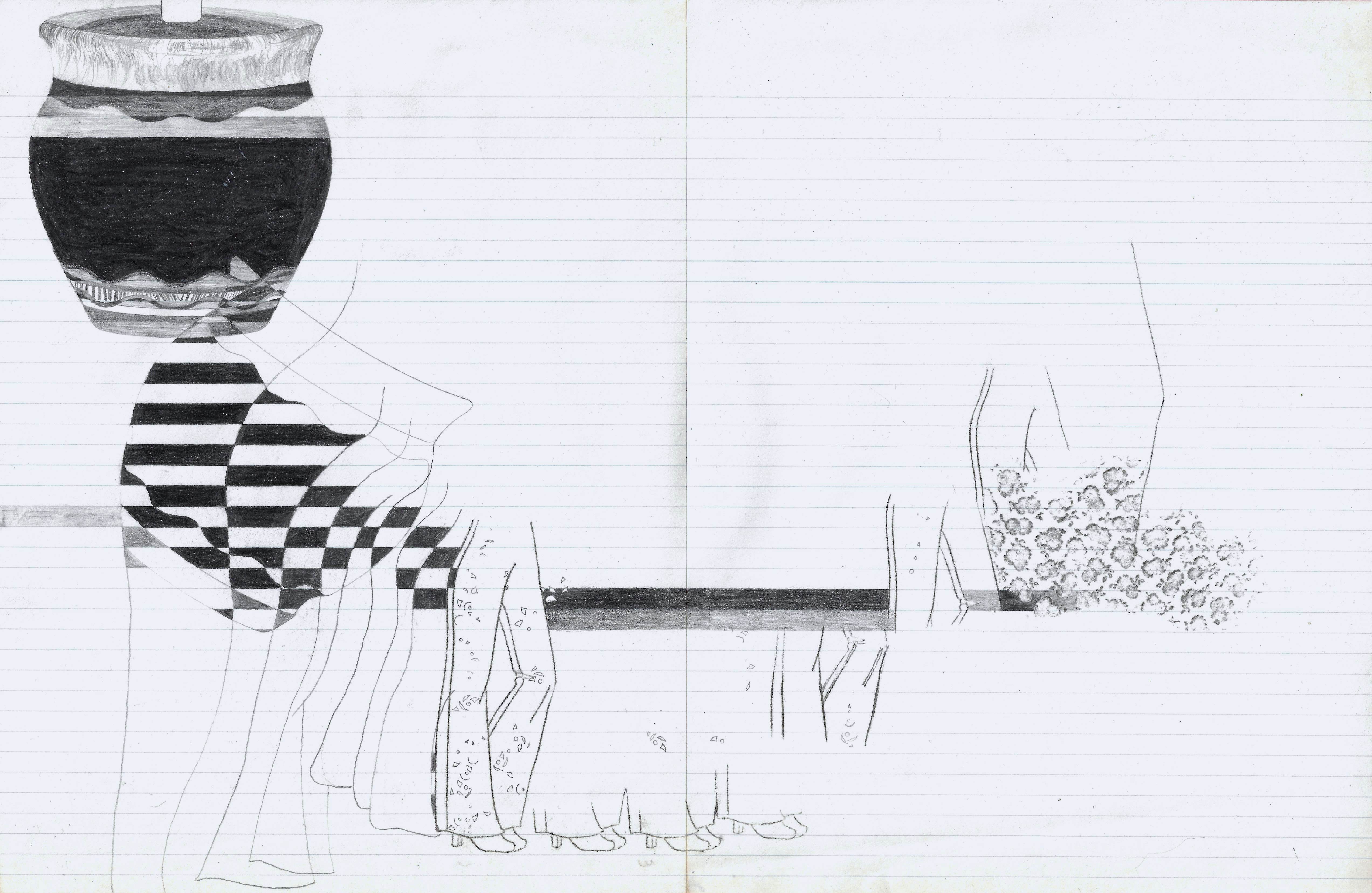 AL: Let's talk about your process - what is the first step and which is the last? When do you know it's finished?
LG: Normally I work on several things at once. They are all different papers, like two or three drawings going on at once. I'll usually pick an object like a stencil or a French curve and start making a chosen mark. It's pretty intuitive after that. That's where it starts, with one shape, mark, or rubbing and then I'll add on to that. Usually part of my process includes a lot of papers, coins, textures for rubbings; random objects that are like memorabilia. A lot of them come from my mom's house, so they are in a way comforting. I pick up them, use them, trace them as part of the drawing process. Occasionally, I'll have an abstract image in my mind that I'm loosely following, like a wave or a shape.
AL: And when does the grid come into play with your work?
LG: The grid, I don't know why, but more so than the line drawings evokes a game. Making grids becomes very playful for me and I find myself making rules for myself as I go along. I feel like the things that already exist on the paper, such as the writing, grid or image, help me to start working. Just thinking about starting a drawing on a blank sheet of paper feels extremely daunting and I don't work that way. I need something that I can work off of.
AL: It seems like you are a little bit conservative with your color pallet. Could you talk more about that?
LG: So far, I have been sticking to the colors that already exist in the paper - red, blue, and green mostly. For now, I'm comfortable staying in those boundaries. It made me start thinking about people like Piet Mondrian that use the same colors or Agnes Martin that use the same grid. I like that. I'm not setting myself up for creating one way for a lifetime, but I really like the idea of infinite possibilities in one structure.
---
Lynne Marinelli Ghenov was born in Philadelphia, Pennsylvania and raised in southern New Jersey. She graduated from Tyler School of Art receiving a BFA in sculpture in 1998. She studied in Rome, Italy in 1996. She currently lives and works in Knoxville, TN. For years Ghenov's focus had been primarily on site-specific installation and sculpture, interested in the materiality of light, fabric, found domestic stationery and immersing the viewer in recreated templates of her own memory. For the past 8 years, she has transferred those same concepts into collage and drawings on paper. Ghenov spent 2010-2015 living and working in the house she grew up in, which she left at the age of 17. During that time the house and her studio within passed through assorted incarnations, all of which hold specific memories ultimately and osmotically concocting new experiences, obfuscating recollections, drawing a melange of old and new; felt and unexplained. She fashioned a repurposed printmaking practice via the usage of a xerox printer as a tool of choice. The printer has not only dually become an object of a live and work experience, it has grown iconic in her practice.
After a transformative move to Knoxville, TN in 2015 and the death of her mother in 2016 Lynne has primarily focused on drawing using graphite and colored pencil on ledger, graph and lined paper, all of which have been salvaged from the clean-out of her childhood home.
Ashley Layendecker is a painter, writer, and independent curator based in Nashville, Tennessee. She received her BFA in Studio Art (2D concentration) in 2016 and her MS in Teacher Education in 2017, both from the University of Tennessee. She is currently the Gallery Assistant at The Red Arrow Gallery in East Nashville and writes for Locate Arts as a contributor to The Focus.
* all photos courtesy of the artist
** header image: Bottom Bell, 2018, graphite and colored pencil on found graph paper, 11" x 8.5″