CONNECTOR INTERVIEW: CHRISTINA WEST
FEB. 24, 2018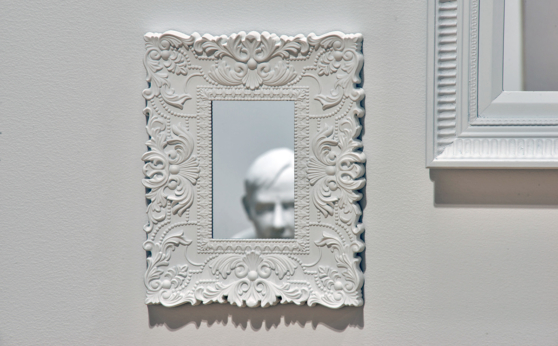 CONNECTOR INTERVIEW: CHRISTINA WEST
FEB. 24, 2018
NOTE: Atlanta-based sculptor Christina A. West was interviewed by Ashley Layendecker to coincide with her current exhibition, Stage Left, on view at the UT Downtown Gallery (Knoxville, TN) through March 8, 2018.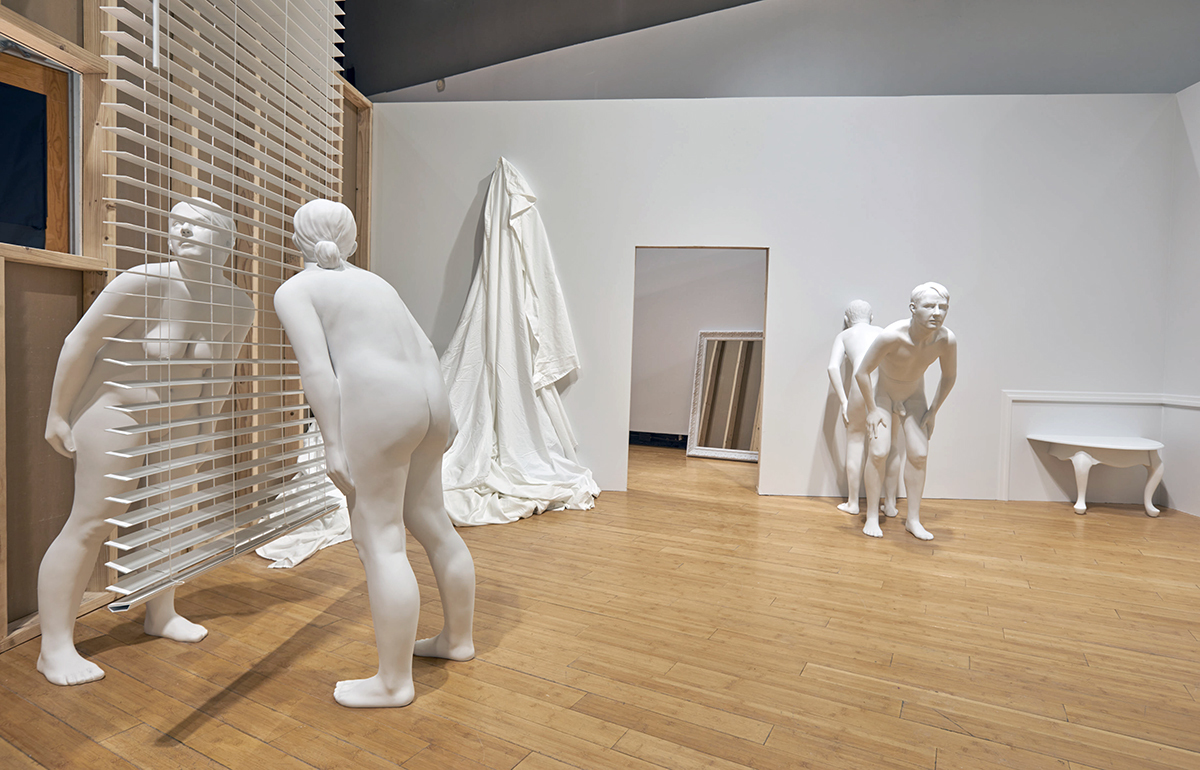 Ashley Layendecker: There seems to be a sense of intimacy in the installation, not due to the naked figures per say, but more an intimacy of someone's private space that the participant is intruding on. In your statement you said you are interested in making the "private public". Could you talk more about how you addressed that in this installation?

Christina West: This installation feels more like a private space because it incorporates objects that allude to the home: window blinds, decorative trim, picture frames, sheets… these are all common things found in homes. Domestic spaces are associated with the private because they typically are spaces where we spend time alone or with those with whom we are close.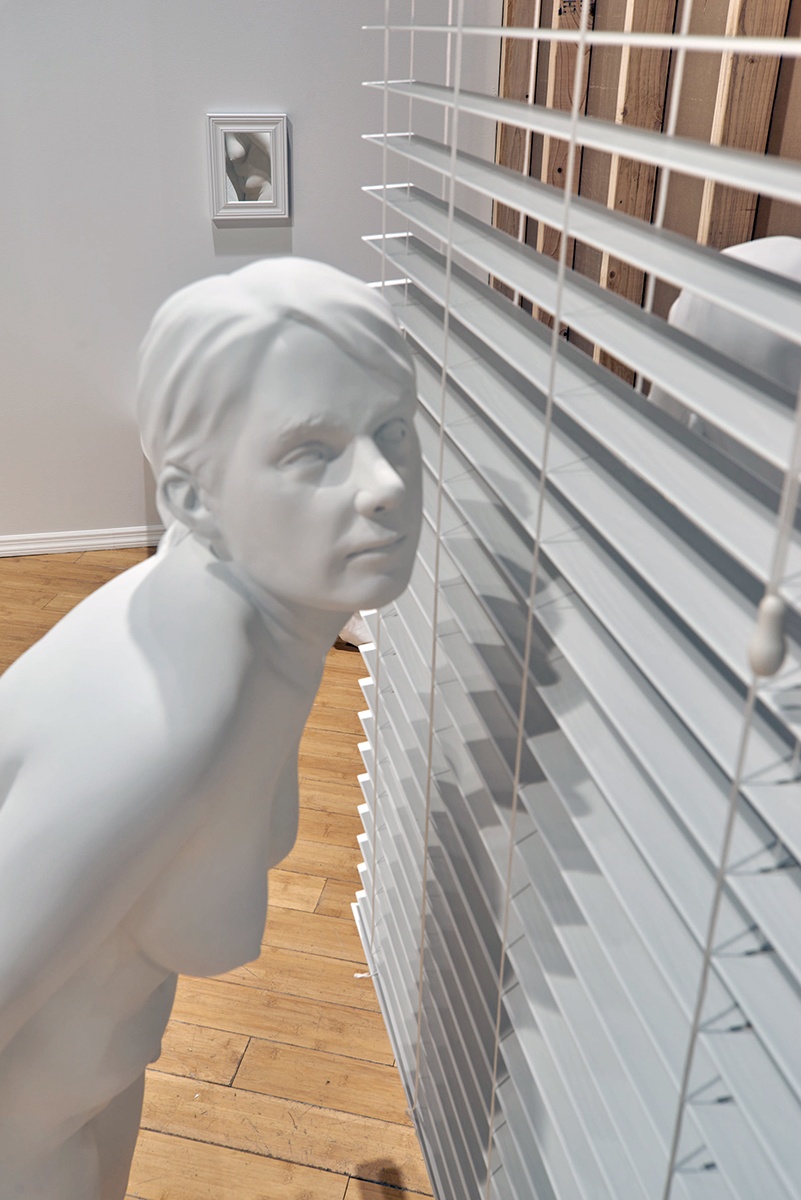 AL: This installation is very interactive. The viewer becomes the participant. There are doors (short and tall) that you walk through to get to the next part of the installation. There are mirrors that reflect the all-white sculptures but also, in return, reflect the participant. The interactivity leads me to suspect that the participation is a key component to this installation. What do you hope this does for the people who participate in your installation?

CW: I hope it makes them more aware of their own bodies and their participation in the work. There is a lot of ambiguity to the narrative aspect of the scenarios that ultimately calls upon viewers to make their own projections about what they think is happening. That sense of turning the narrative back to viewers is highlighted physically by also visually implicating viewers in the work.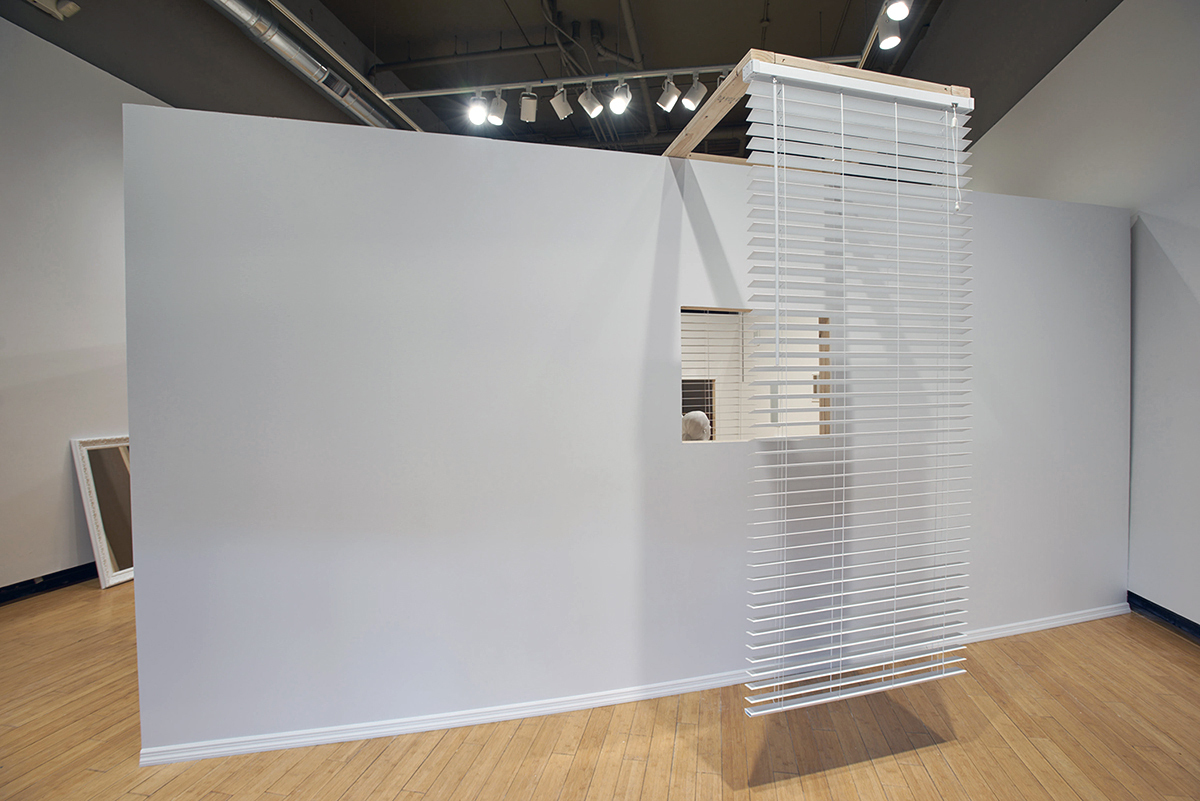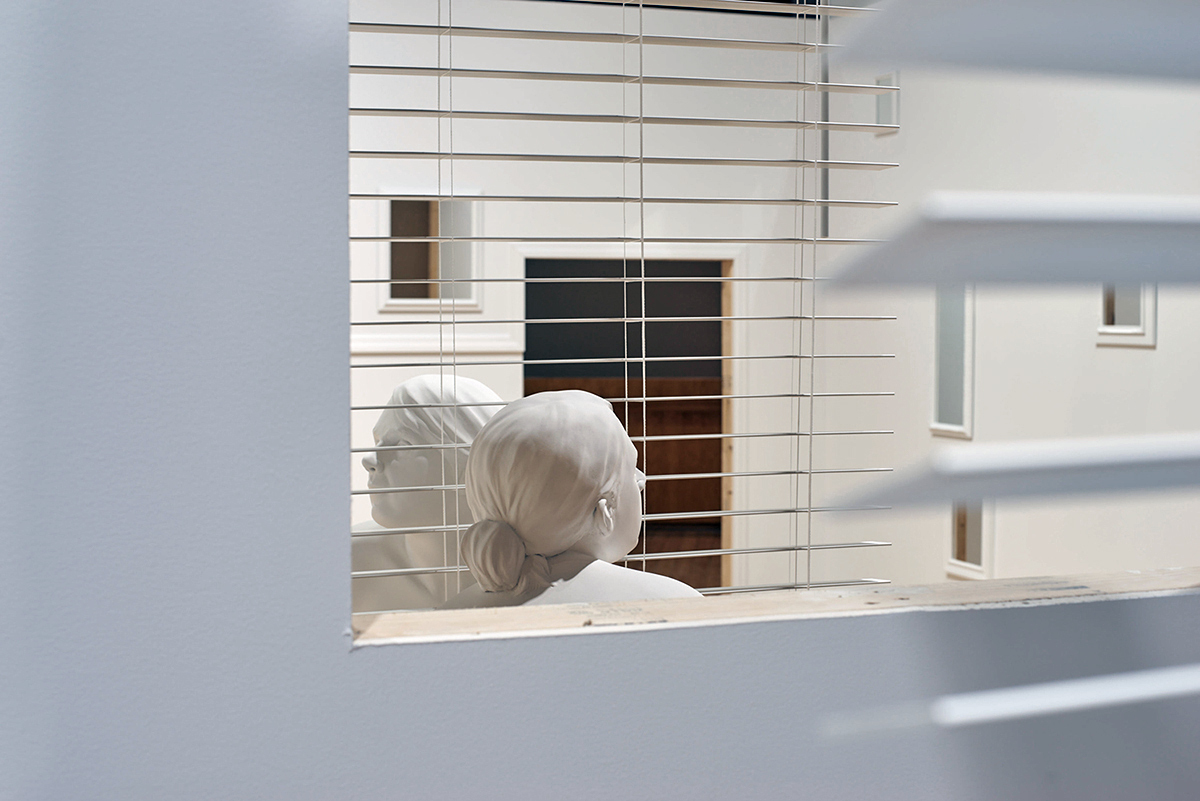 AL: There are beautiful moments when the empty picture frames or mirrors actually look into the next room, displaying another act being performed by the sculptures. Can you talk about the moments when you allow the participant to look through versus the moments when the mirrors reflect the participant?

CW: I like the surprise and disorientation that those frames can create because it's hard to tell at first which ones are windows and which ones are mirrors. Once it's recognized that some of the frames are windows, the inevitable desire is to try to look through all of them. But it is startling when you lean into a frame that really is a mirror, and instead see your own reflection.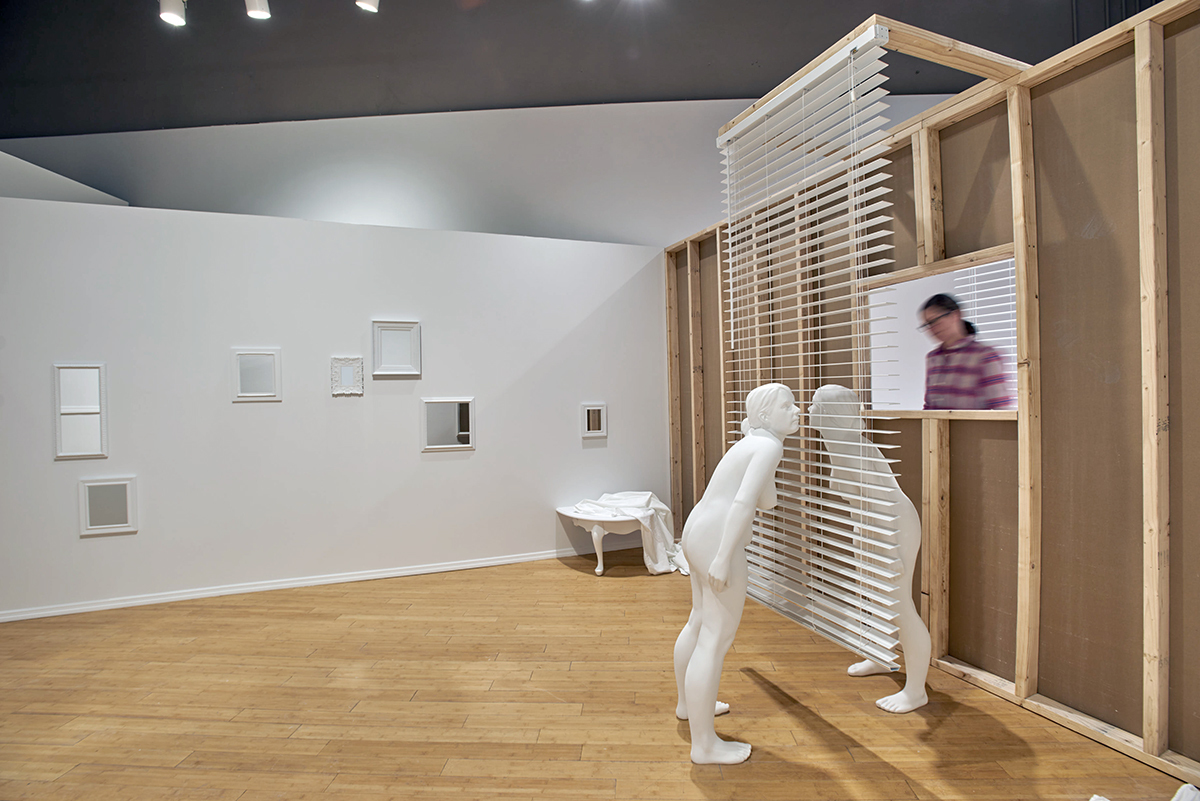 AL: The sculptures are all nude. They are honest nudes too in the way they show realistic bodies. They are also all white. Is this referring to marble sculptures from ancient art history? If not, please describe.

CW: Yes, the white color of the sculptures references white marble of classical sculptures. The modeling of the figures also supports that reference; while proportions are observed and studied, the surfaces of the sculptures are quite simplified. Curves are exaggerated and surfaces are meticulously smoothed, creating the soft, stylized surfaces similar to those that you often see in classical marble sculptures.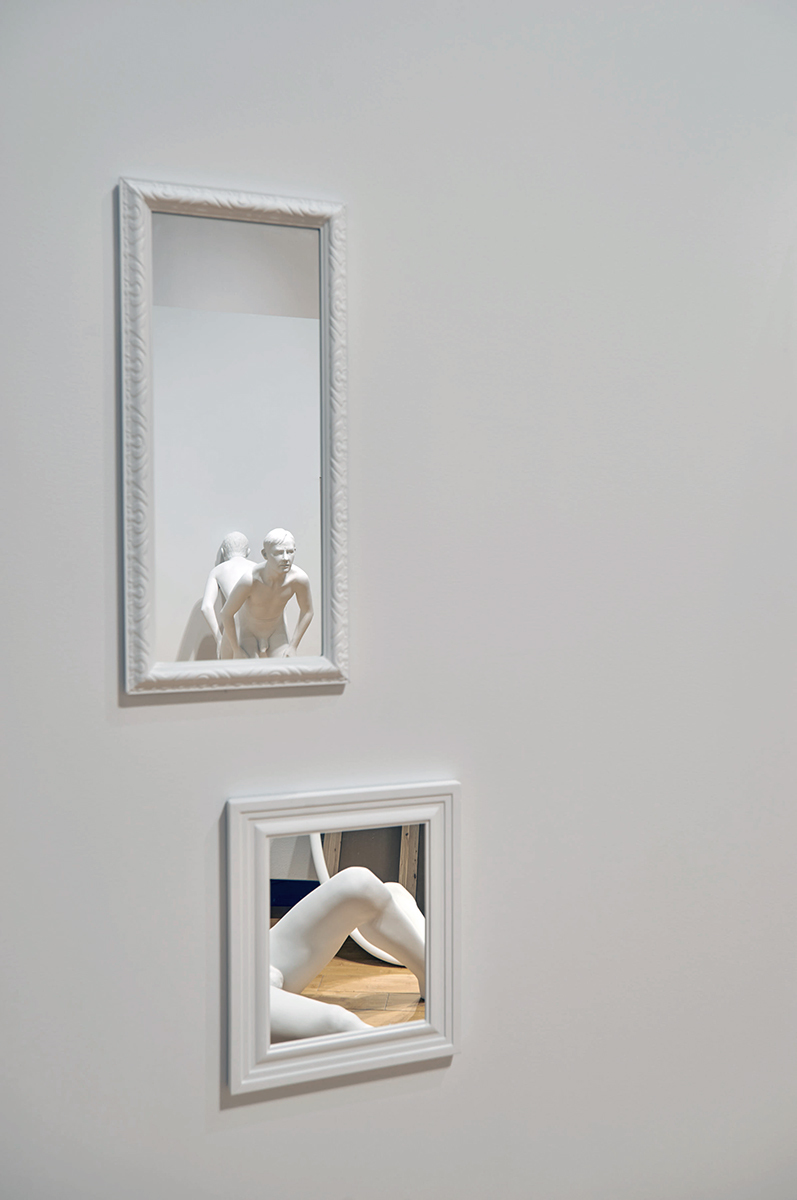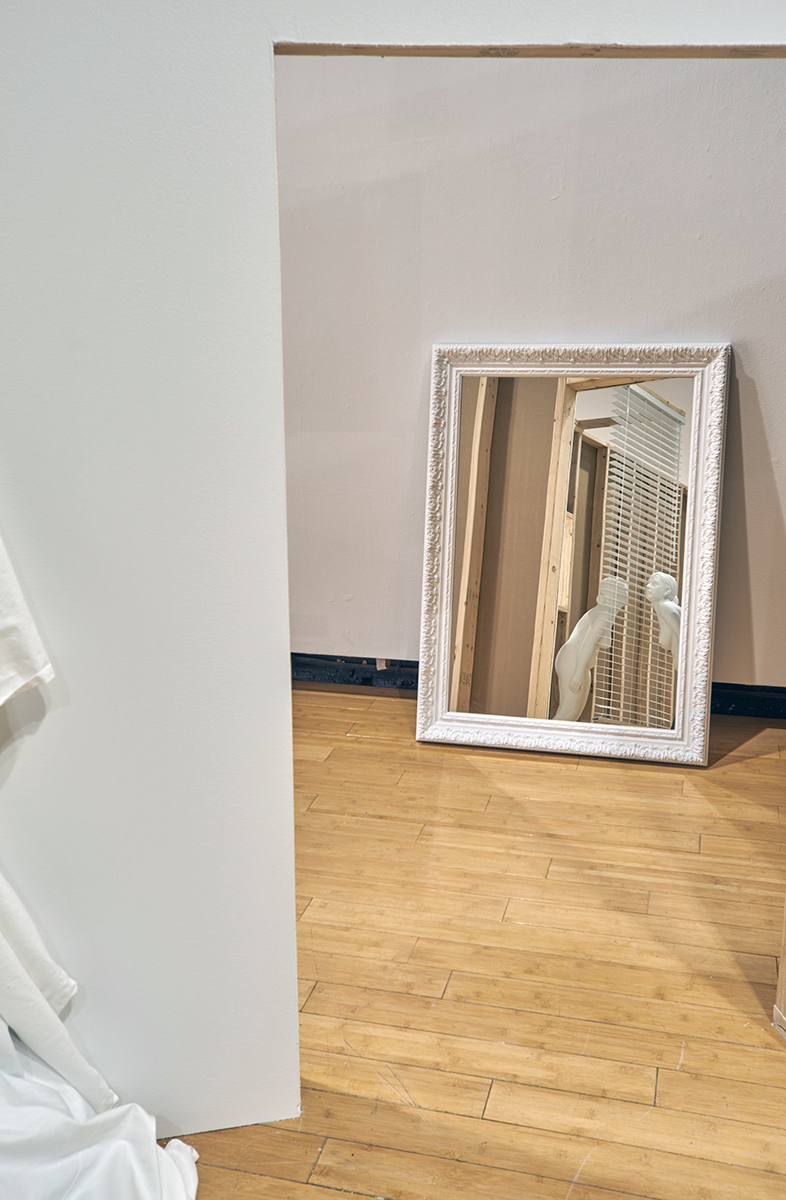 AL: Clothing can often be a signifier of how someone expresses themselves. But in this installation, the naked figures are so expressive. In making the sculptures nude, do they become more vulnerable? And honest?

CW: The figures do appear more vulnerable when naked. I think that has to do with our tendency to project ourselves into the place of figurative works, so we imagine what it would feel like to be naked in that situation.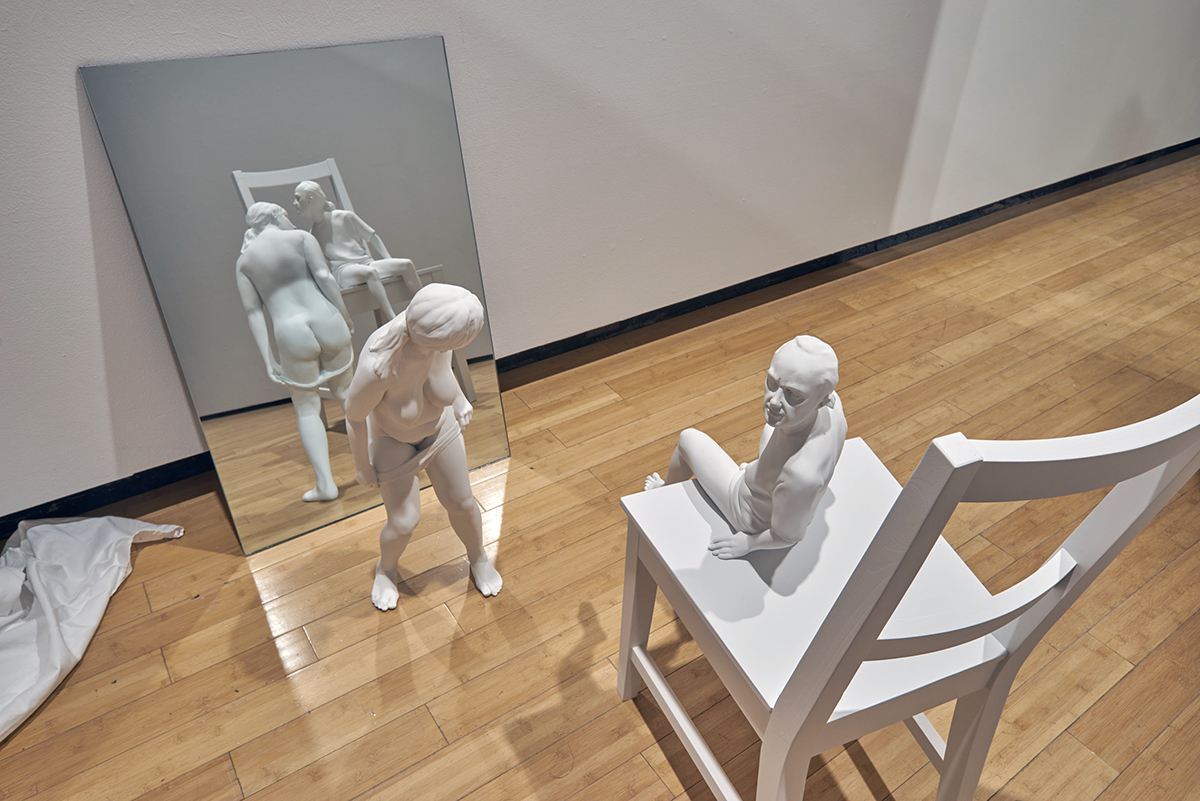 AL: In closing, what do you hope that the viewer or participant takes away from this experience?

CW: I just want people to experience the work in person and whatever they take away from it is fine with me. I have no desire to tell people what their subjective experiences should be.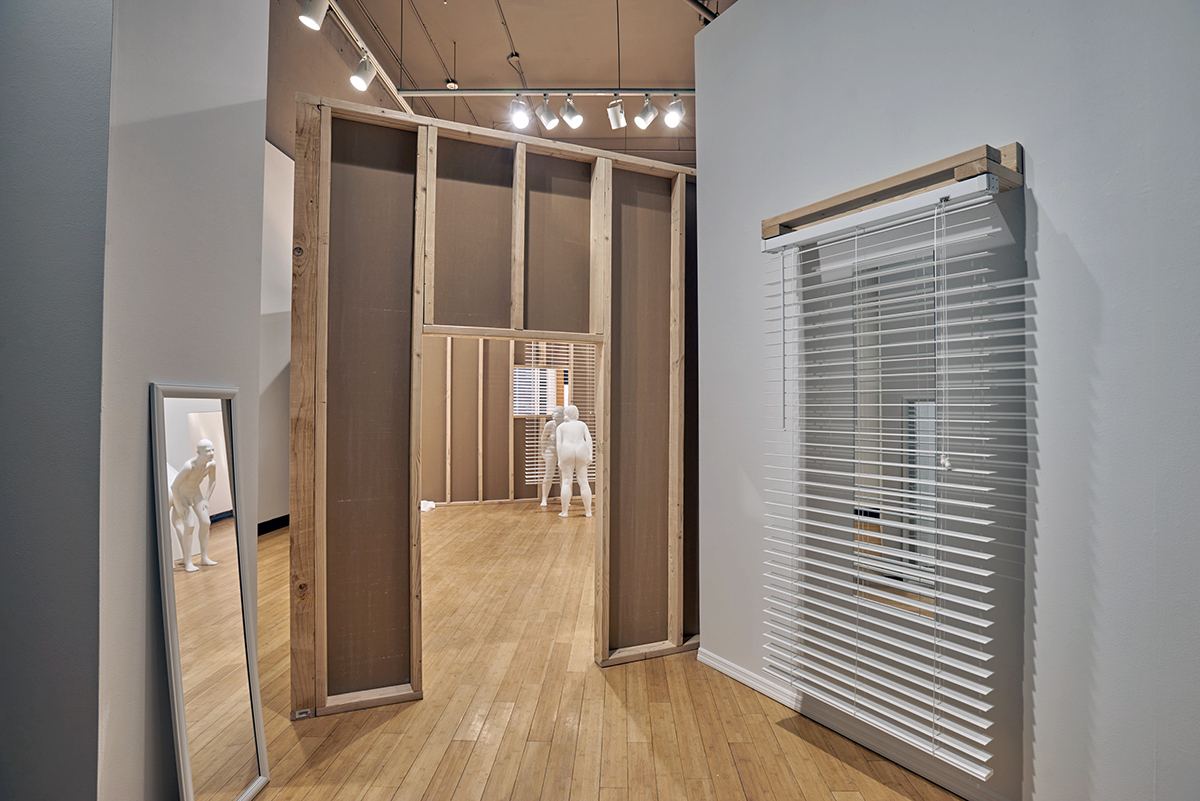 Stage Left: Exhibition Statement

In this immersive installation, Christina A. West integrates figurative sculptures into a space that is suggestive of a house, playfully alluding to the idea of the home as a stage set.
"Stage left" is a term used in theatre to direct actors as they move around the stage. Though a term traditionally used to orient, it is used here as a foil to highlight the viewer's disorientation within the fabricated space, while reinforcing theatrical associations with the installation. As people move through the gallery, spaces recede and reflect, sometimes offering a glimpse into another room, sometimes reflecting back the space one is in, and occasionally reflecting a reflection. Additionally, exposed studs on one side of each wall create a sense of front and back (or stage and backstage) that shifts throughout the gallery.
Objects such as sheets, blinds, and picture frames conjure the context of the home, charging this "stage" with a sense of a private space. As viewers bend, squat, and peek around corners to view tableaus, their own reflections appear throughout the space highlighting their participation in the scenes.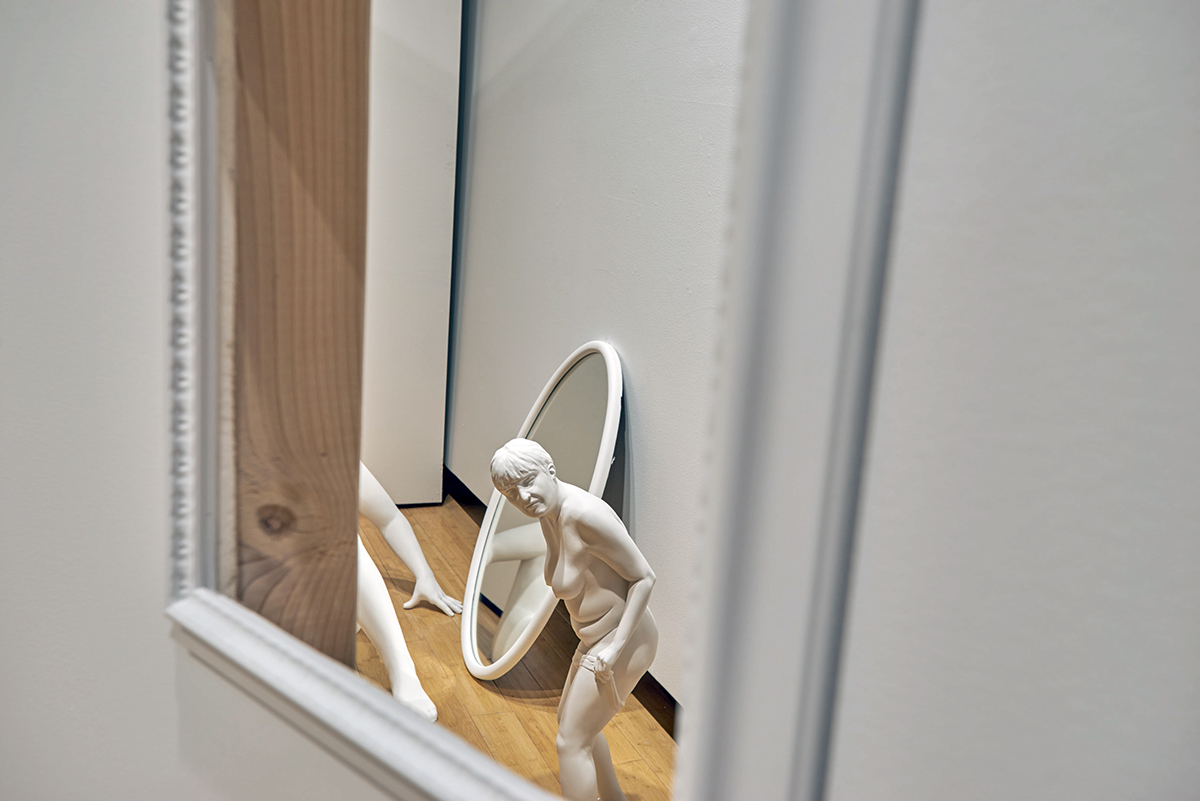 Atlanta-based sculptor Christina A. West holds a BFA from Siena Heights University (Adrian, MI) and MFA from Alfred University (Alfred, NY). Christina has extensively exhibited her work across the country in venues such as the The Bellevue Arts Museum (Bellevue, WA), The Bemis Center for Contemporary Art (Omaha, NE), Hallwalls Contemporary Art Center (Buffalo, NY), Plug Projects (Kansas City, MO), and the Atlanta Contemporary (Atlanta, GA). Additionally, Christina's work has been supported by a grants and fellowships from the New York Foundation for the Arts, The Archie Bray Foundation for Ceramic Arts, The George Sugarman Foundation, and the Southeastern College Art Conference. Christina is an Associate Professor at Georgia State University.

Ashley Layendecker is a painter and an independent curator working in Knoxville, Tennessee. She received her BFA in Studio Art, 2D concentration in 2016 and her MS in Teacher Education in 2017 at the University of Tennessee. Ashley works as the Assistant to the Director at Fluorescent Gallery in Knoxville and for Locate Arts out of Nashville, Tennessee where she is a contributor to The Focus.
* all images courtesy of the artist