INTERVIEW: CLARE GRILL
DEC. 14, 2017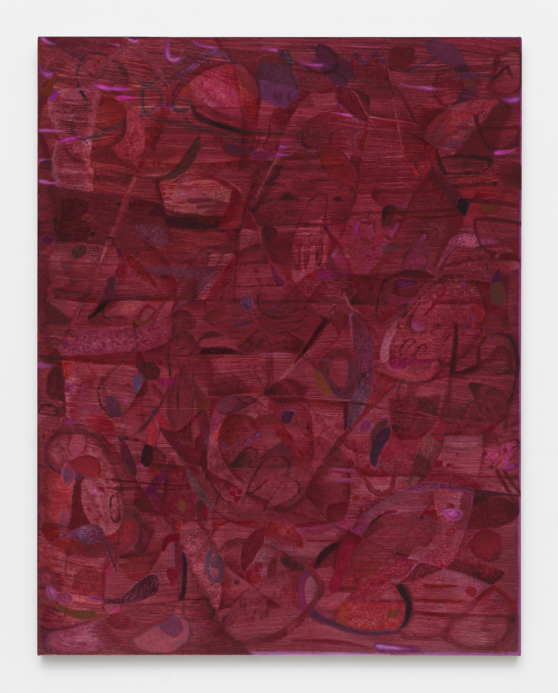 INTERVIEW: CLARE GRILL
DEC. 14, 2017
Clare Grill was the Artist in Residence at the School of Art in Knoxville Tennessee this past semester. As a working artist in NYC, she came to UT to teach classes for undergrad and graduate students. I first heard Clare Grill talk about her work at a artist lecture held by the university. I was intrigued by her willingness to be vulnerable about her process in making her work as well as her journey to where she is now. This interview is a continued conversation of topics she addressed in that lecture.
- Ashley Layendecker, December 2017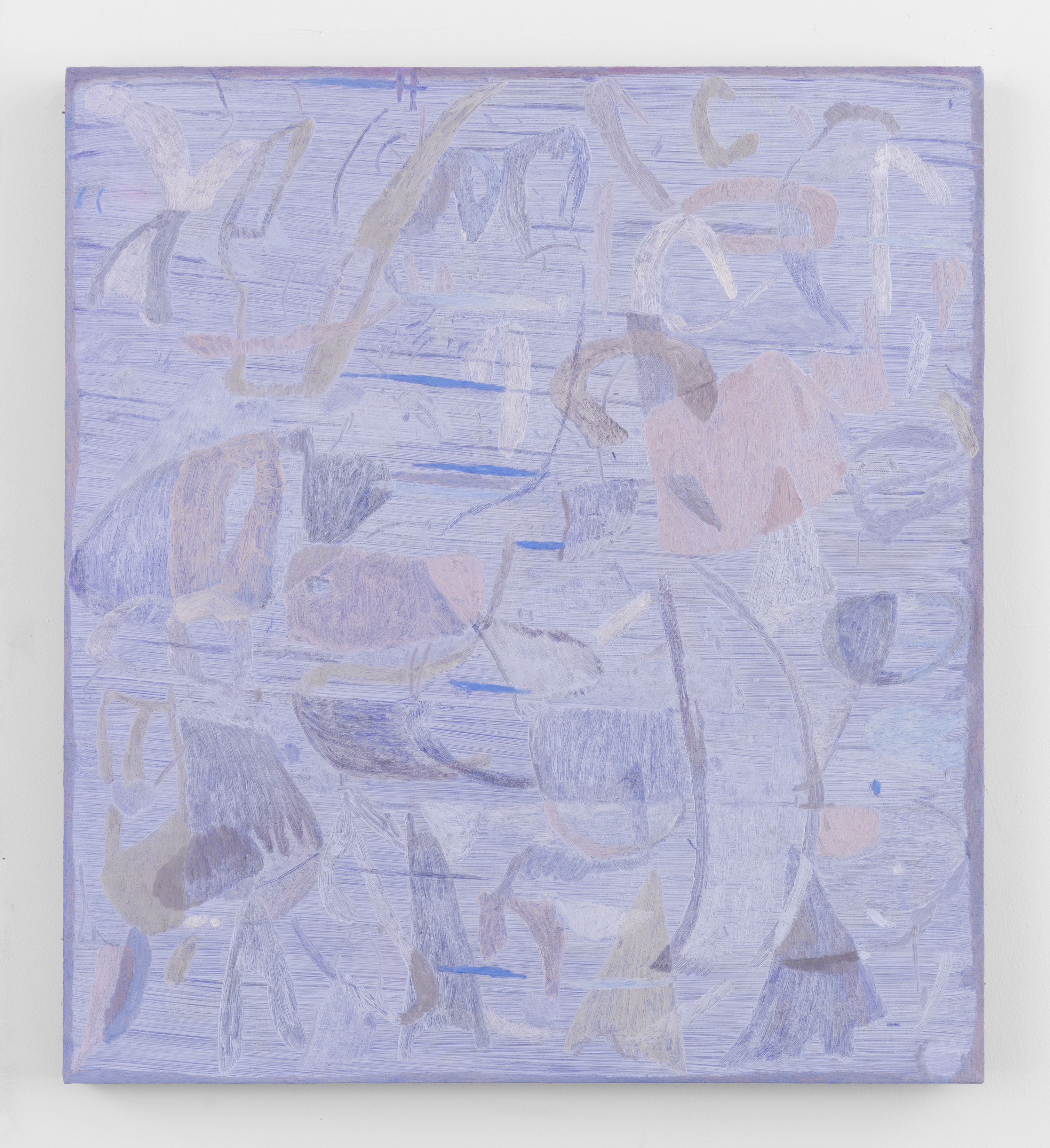 Ashley Layendecker: What was the process of coming to the University of Tennessee and why did you chose to come here?
Clare Grill: I was nominated to apply by my friend Patricia Treib who is a painter in New York and was a former AIR at the University of Tennessee a few years ago. I have never taught before so I told my husband, "I'm not going to go because I haven't taught before". But he read the fine print and said, "Clare this is great for you, they don't require you to have any prior teaching experience. They want you to come here almost just as a working artist." So I applied and got hired and was trilled.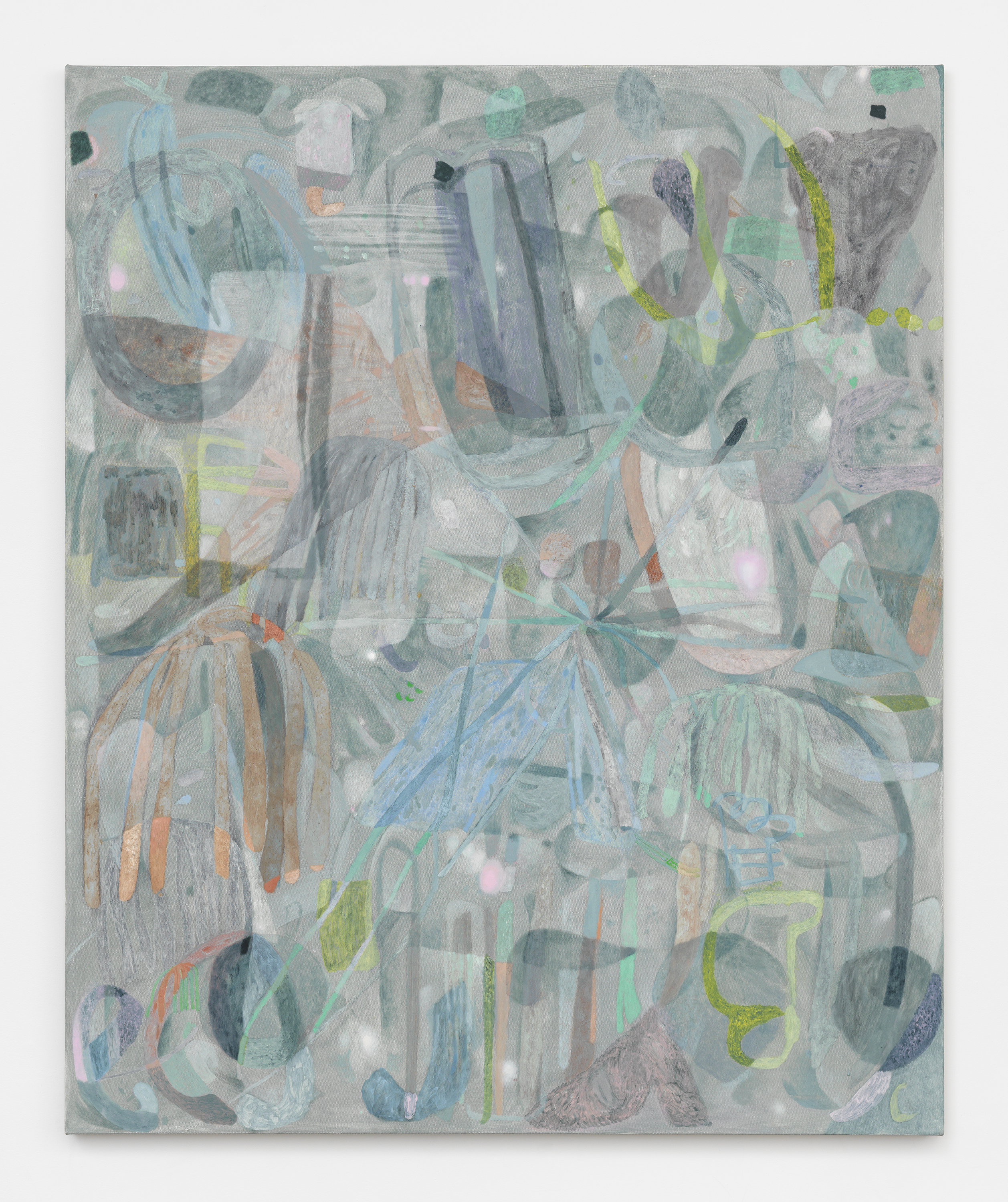 AL: Have you enjoyed teaching at the University of Tennessee?

CG: I've loved it. I don't know if I'm good at it. I always felt I was winging it when thinking of assignments and the semester changed as it went by. I think I will be processing and appreciating it for a while. I learned a lot. I'm humbled by the students to see their progress and willingness to open up and change. The faculty here has made me feel like a rockstar. They are so generous and energetic. I will miss it.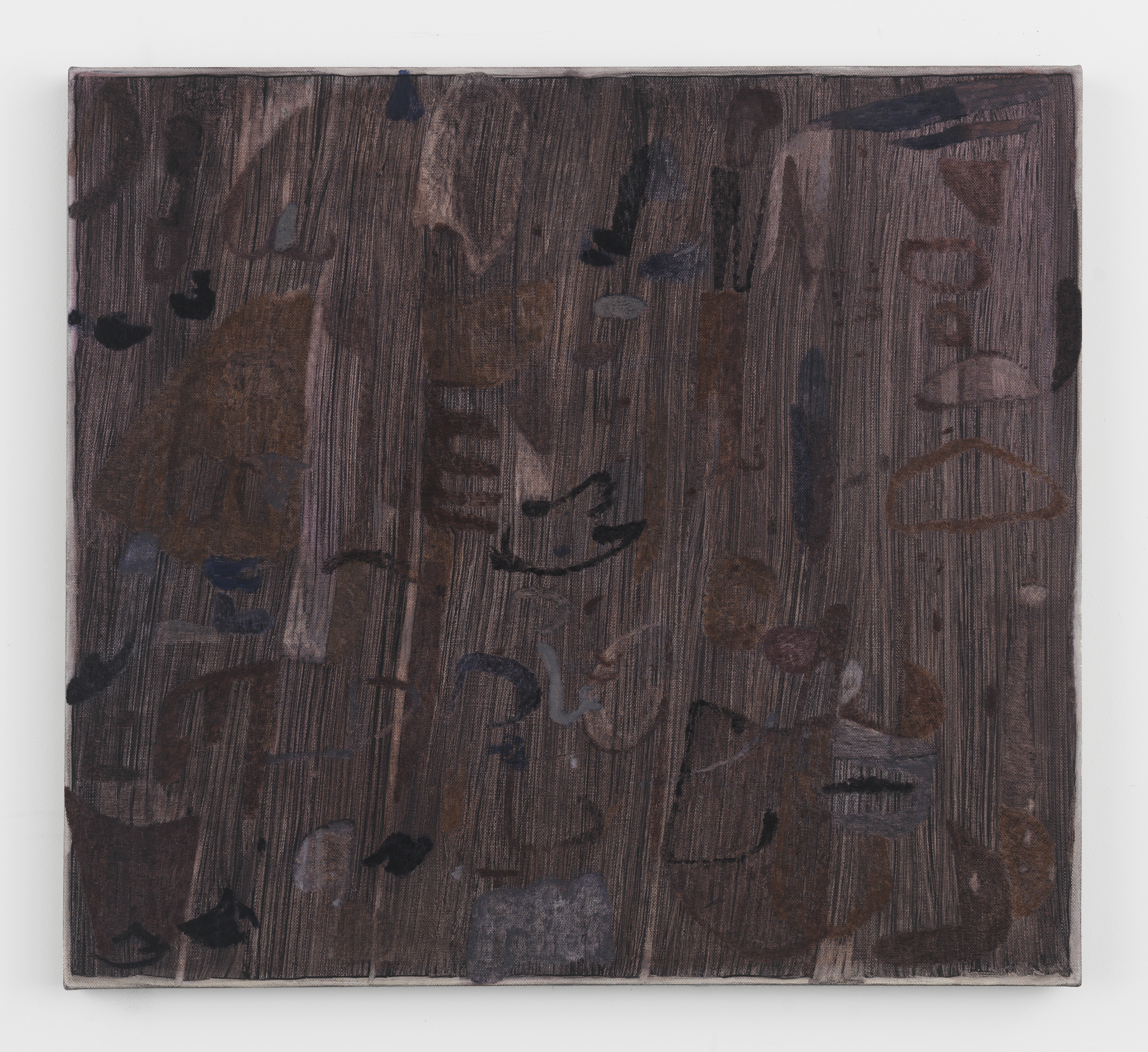 AL: In your artist lecture, you talked about your paintings and how different locations, like residencies, would require a change in your paintings, when they were in "new light". Can you talk more to that?

CG: I feel like my paintings are not site specific, but it's more about the environment that they are made in. The light reveales the painting to me. I made this one painting in New York and worked on it for quite a while, right before my son was born. I got it to this place where I did something to it and it came alive. Then I brought it to Connecticut because I wanted to keep looking at it and, in the studio there, the light was completely different. It was really warm and artificial and the painting then looked horrible. I couldn't sit with it. One day I got the urge to put a new color on it and that's how it works for me. I sit with things for a while and try to be patient, but I also try to be attentive to them. If one day I get a urge to do something like changing the color profile of it or even make some small decision like adding in a shadow that does something to the composition, that is exciting to me. I'll follow that guide.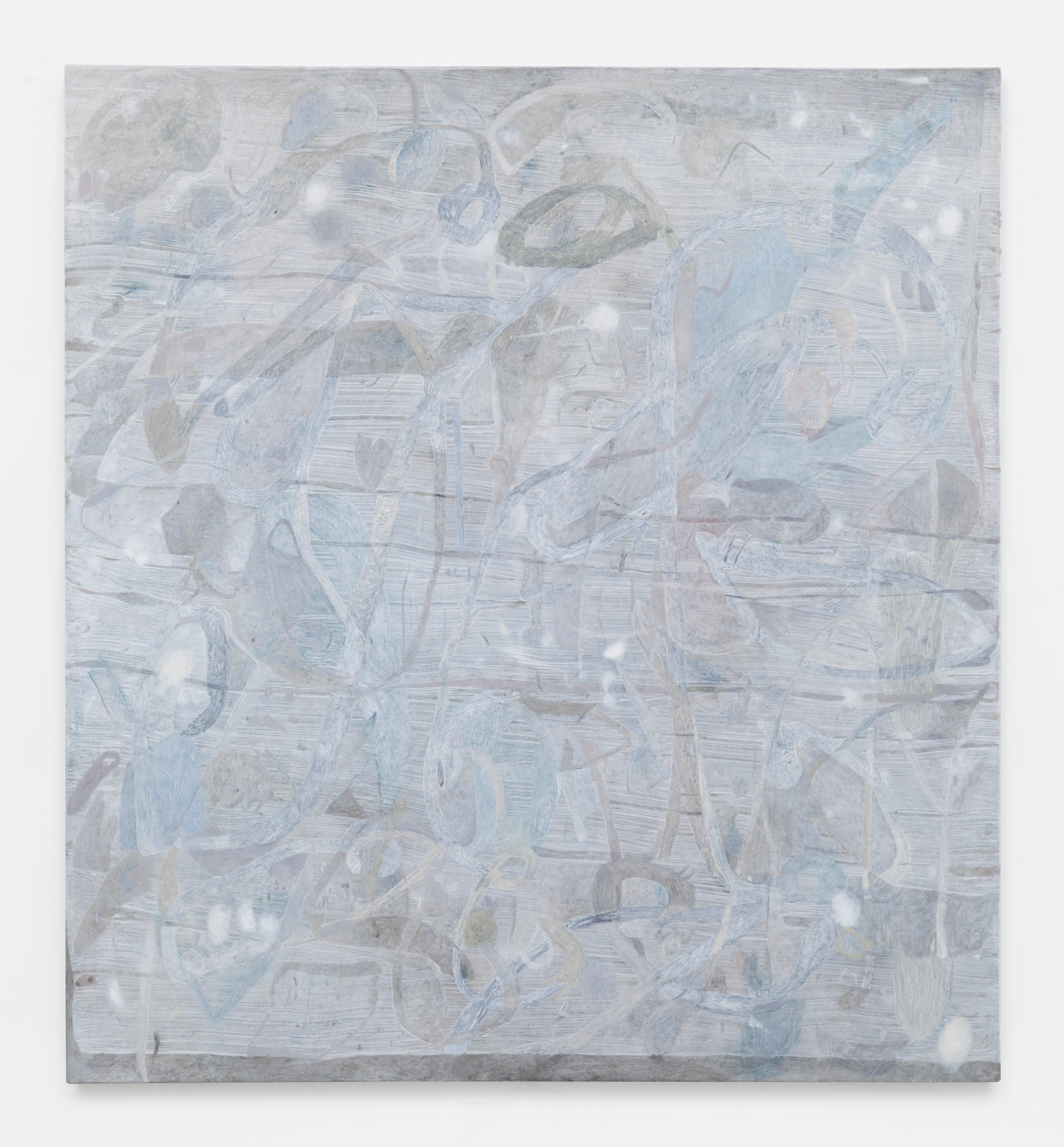 AL: So, in a way, are the paintings ever finished?

CG: This is a good question because they do keep moving around. But, I brought that painting with me because I thought it wasn't finished. That painting still needed me. When they don't need me anymore, then they are finished. When it's finished, I can trust that it can live on its own.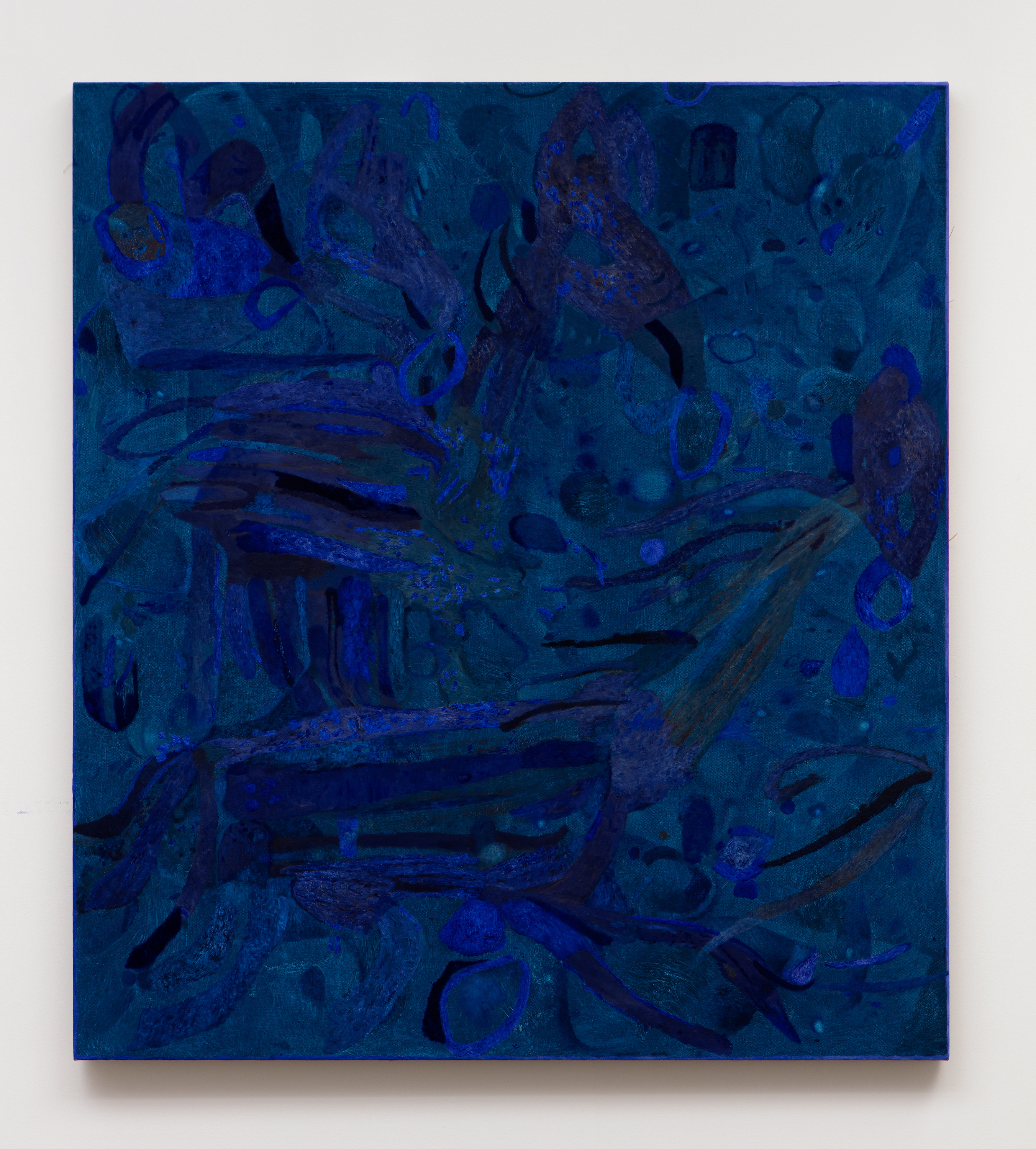 AL: In your artist lecture, you talked about how close you work to your paintings. Do feel like you reach some sort of meditation when you are painting?

CG: Maybe its like meditation. I think about it in two ways. Losing yourself in a painting is almost like long distance running. Eventually you don't feel your body or any pain. Maybe it's like you are so into your body that you are out of your head. Or, it's like learning a foreign language. I got to study in Spain for a semester in college. I remember there was a day when I stoped translating and I just understood. There was this closure between the two gaps. It collapses the time of thinking and doing. When I work that close to my paintings, I find myself shutting off my brain which I guess is meditative. I never thought of it that way, but it is very much so, now that I think about it.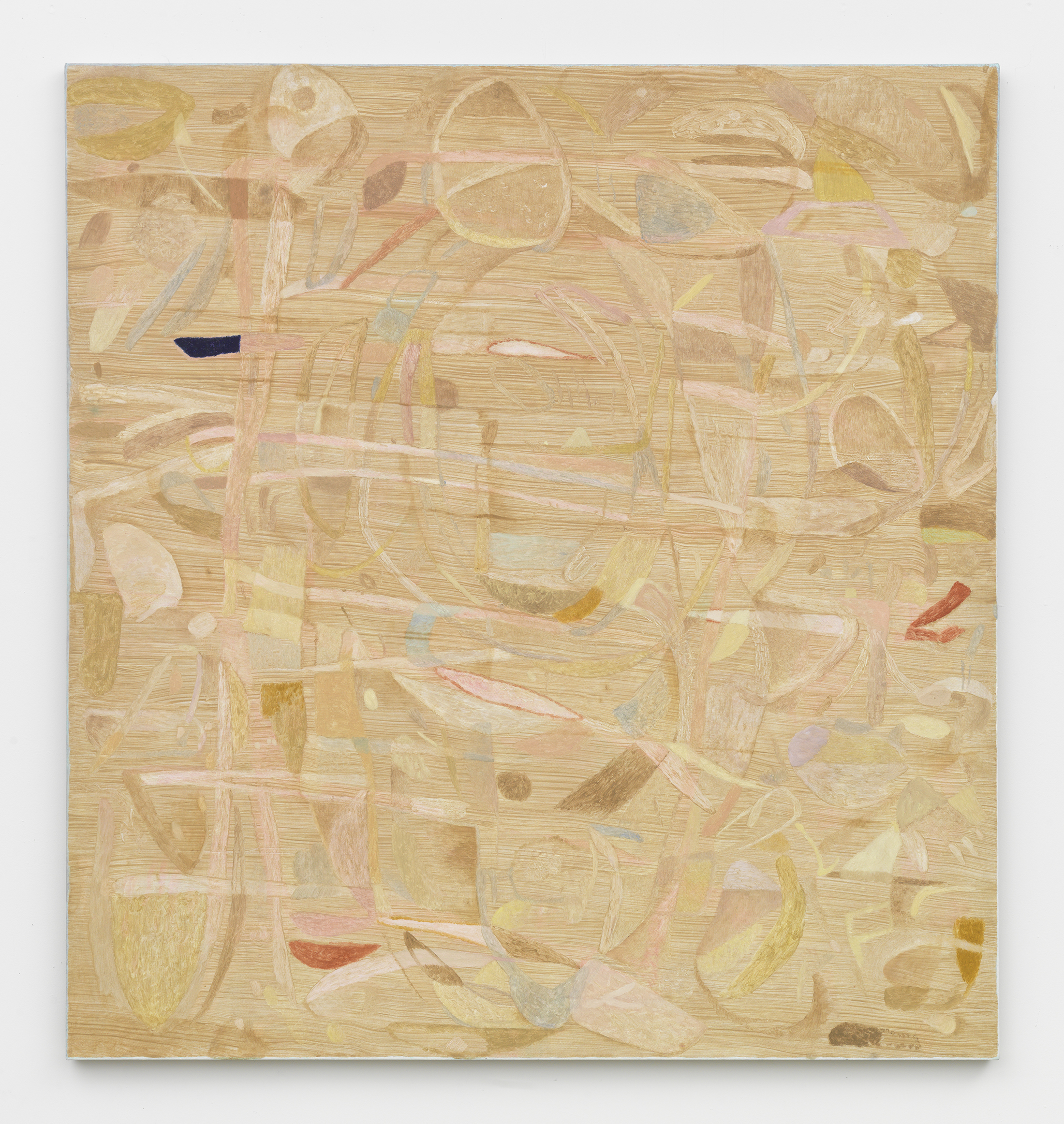 AL: When do you pull back and stop working so close to your paintings?

CG: Similar to when a painting is finished, there is like a buzzing or a recognition I feel from the painting. What will happen is I'll have a painting on a table top for quite a while and I'll work really close to it. Somedays, I let myself stand and that's part of the process as well. Sometimes that helps me see more. I work all the way around the painting and there comes a time when I feel something happening and I want to look at it. I want to see it. Then I'll put it up on the wall and it's so different. I then start to see color relationships more clearly. When it's flat, I see more textural relationships. Then when it's up on the wall it's about cool and warm colors. I can then see relationships on the whole surface. Then, I start to really impose my will on it. Sometimes I force conversations between different elements. Sometimes it veers towards pattern making and I'm just not that interested in patterns. I want these things to feel like discrete artworks where there is a necessary boundary that they have something to push back on. Sometimes I draw back on it to fix that - to impose structure - so somewhere in the painting there is a skeleton of compositional heft. Sometimes they need this act.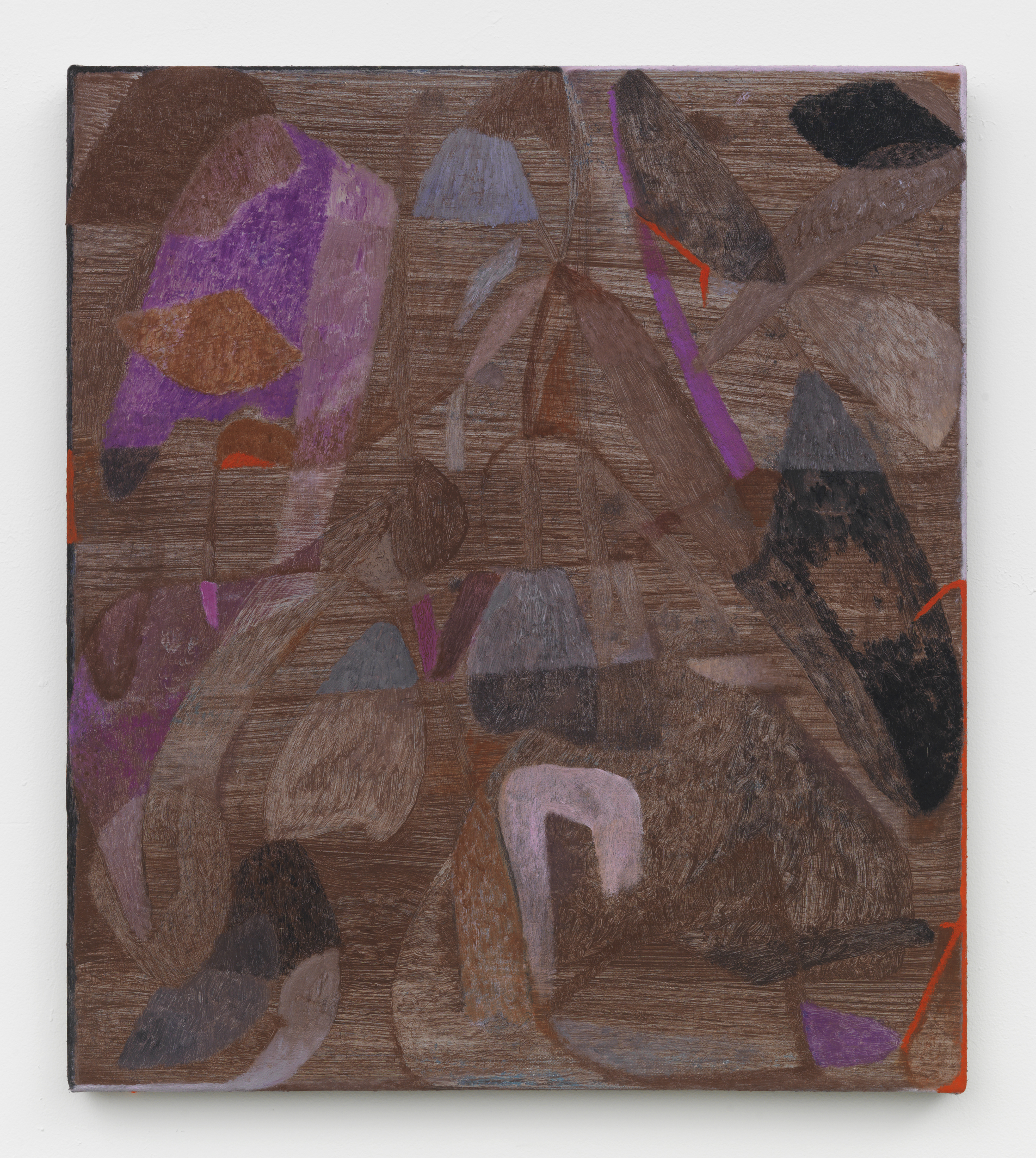 AL: Can you talk about your color choices? You said in your lecture that sometimes you completely change the whole color of the painting.

CG: Sometimes when a painting gets too busy, I'll completely change the color. Sometimes changing the whole color cover of it means covering a black painting with white or covering a blue painting with yellow. Often my most successful works are where I take it in a complete opposite direction than where it was heading.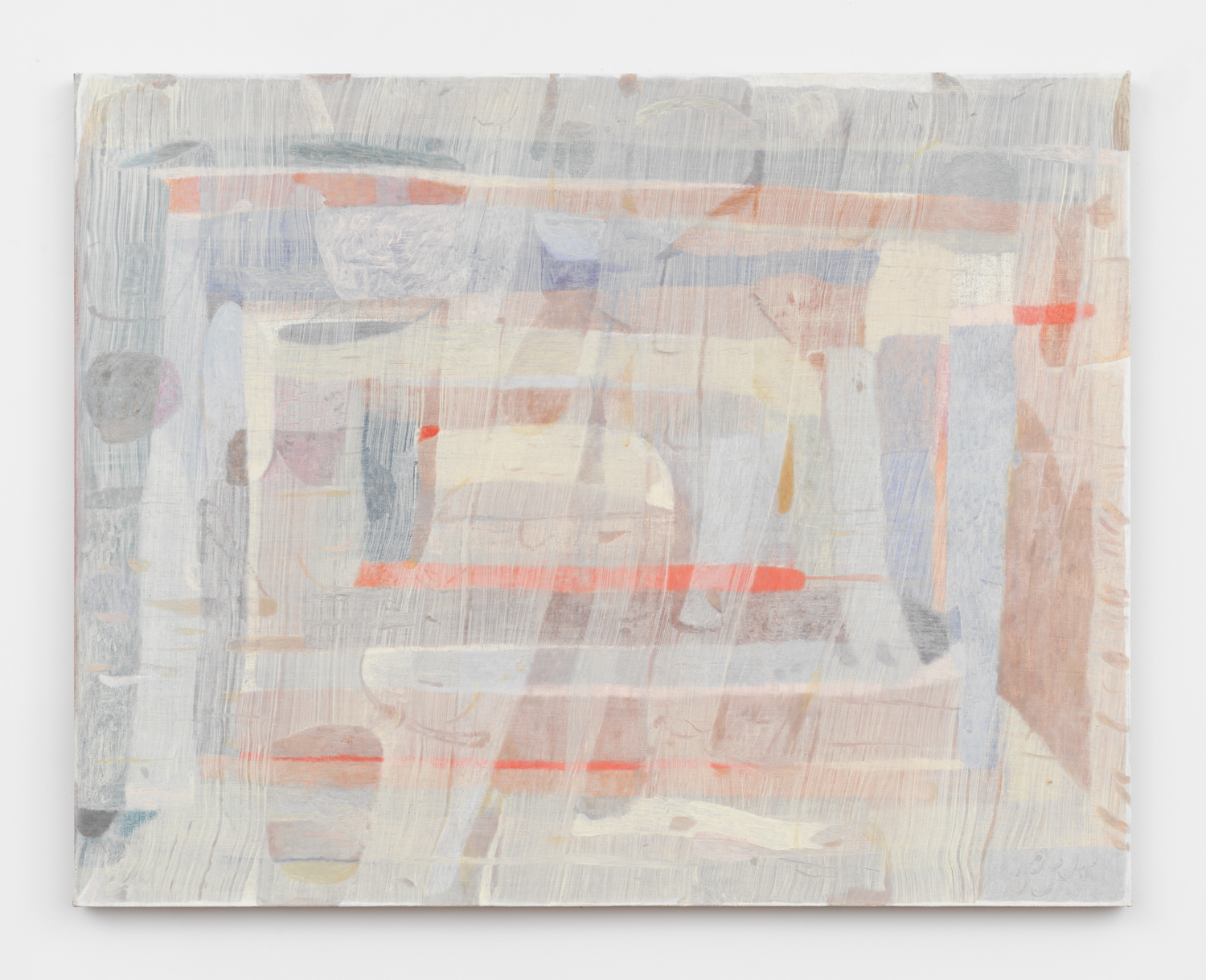 AL: I remember you talking about a painting that you made of your mother and you said you completely covered the painting in a dark wash. Was this the first time you took that kind of move in your practice?

CG: I made that painting of my mom and she was probably seven or eight in the photo. I made this painting in 2010. I liked the image of her. It was a family photograph from the sixties. She was in the background sitting on someone's lap and looked sad. There was something about her that was uncomfortable or embarrassed. The posture and the look on her face hurt my heart. I set out on making this portrait of her and I was going to make her cheek super blushing because I wanted to talk about that moment in her life or a moment in a young girl's life, like pre-adolescent age. I asked my husband to look at it and he said, "I don't know why you are doing this. It's all there in the way her posture and the weight of her. You're going over the top to give us the blushing cheek". In a effort to free things up, I literally pushed her in the background and made her a wallflower. The background was a blackish blue so I covered her body in that color, but it's slightly different. There is a slight color and textural shift between my mom and the background. Those tiny changes were revealed to me. I learned from that painting that sometimes the tiniest shifts can speak volumes. In a way, covering over took just as much nerve as what I'm doing now when I cover my paintings because you feel very attached to these things.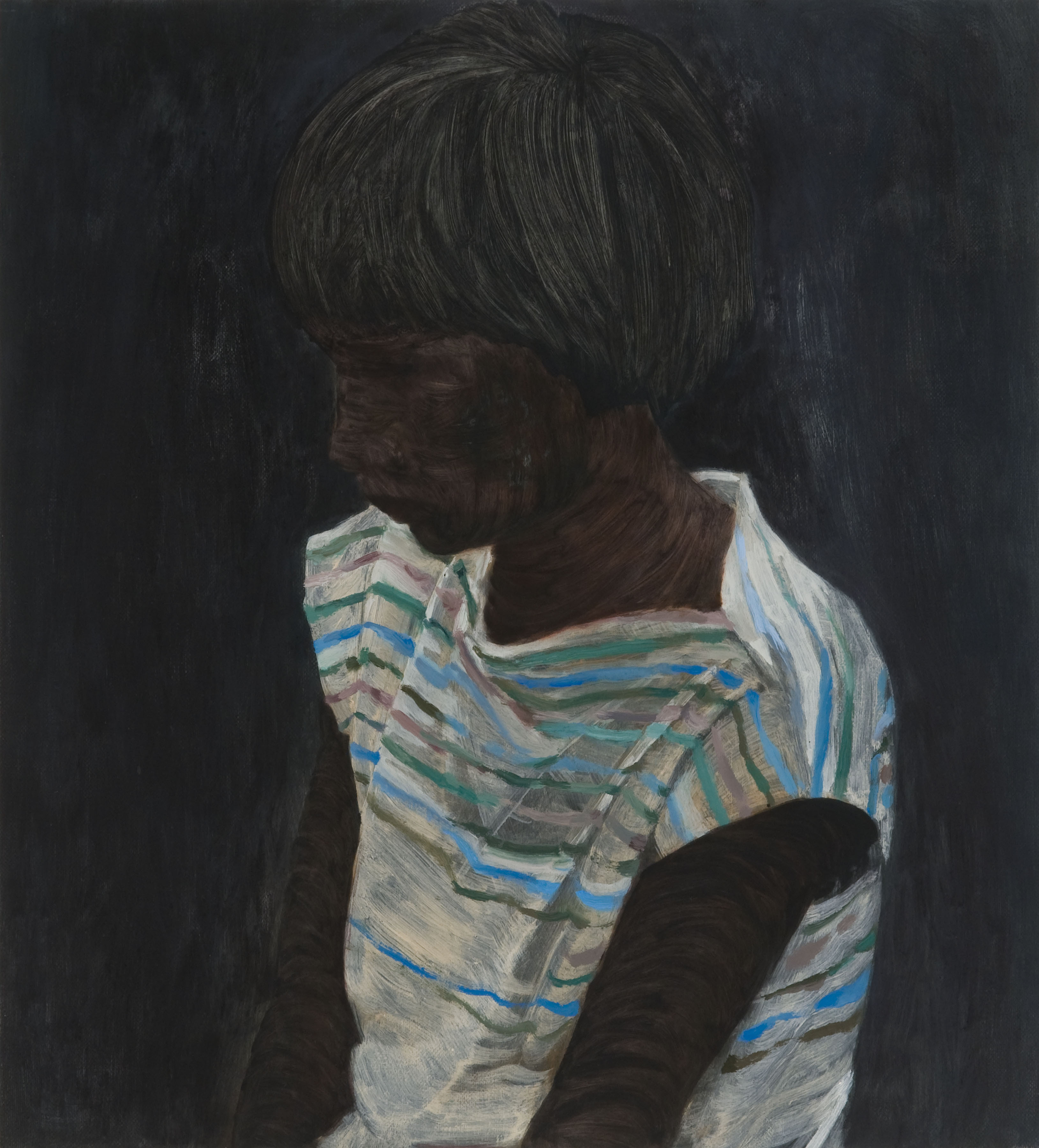 AL: Lastly, what will you take away from your experience in Tennessee?

CG: Oh man, the generosity. There is something so nourishing to be around people whose mission isn't to show constantly or climb any type of ladder. Their mission is to live a life in art, to look at it, and reveal it to young people. There is so much going on for a city that isn't totally described as an art center. I can appreciate the purity of the artists here without getting drowned out by all the noise and hustle like in NY. Engaging with students and the staff here, they are the real deal, no BS. I've enjoyed being away from the city, but I am looking forward to getting back to my studio practice at home. I've enjoyed the barbecue, bourbon, and the music. We have really treated this like a vacation. We've lived it up! Its just a really cool town. I really like Knoxville. I'll miss it a lot.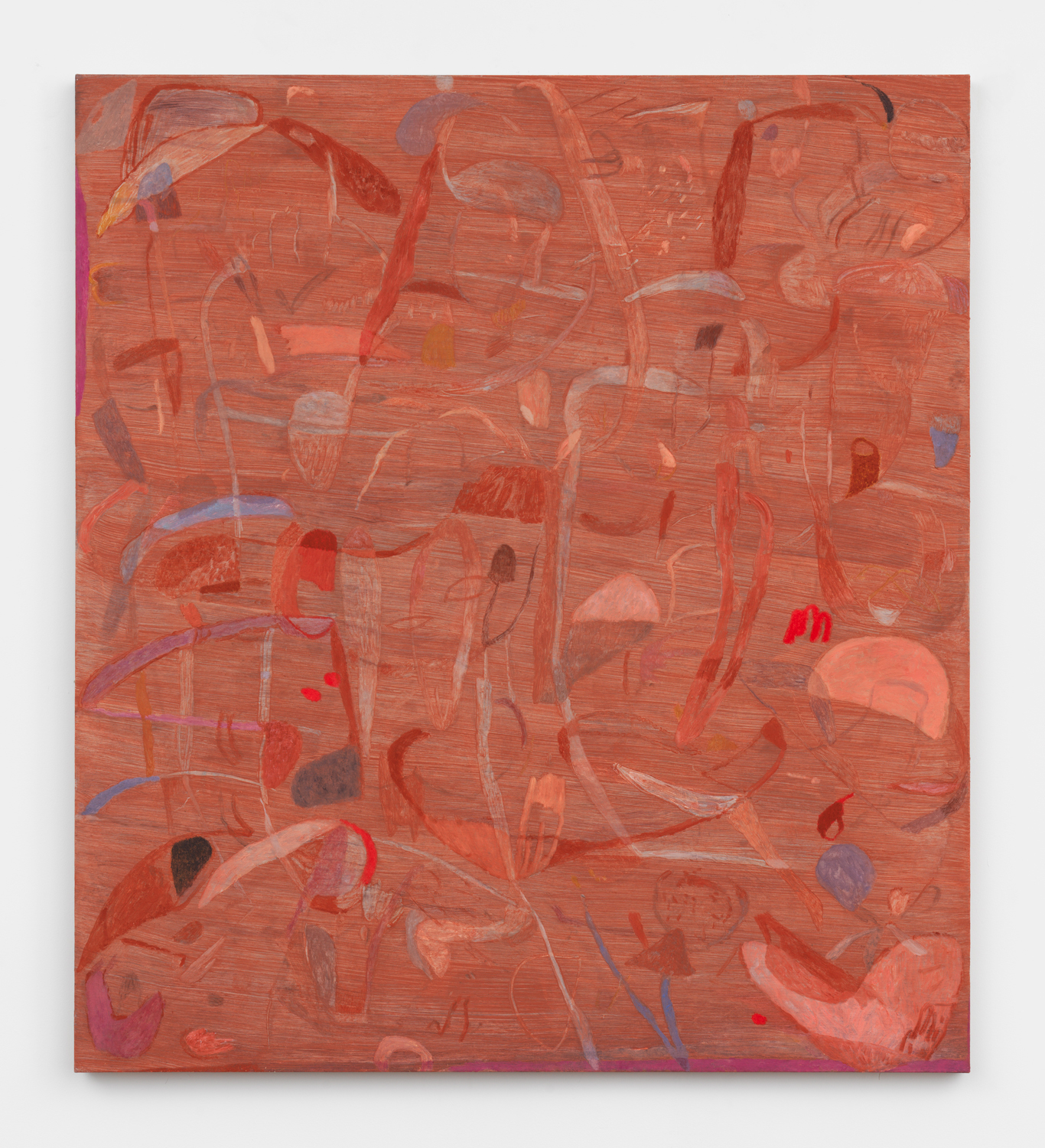 ---
Originally from Chicago, Clare Grill lives and works in Queens, NY. Since receiving her MFA from the Pratt Institute in 2005, Grill has exhibited widely in the United States and abroad. Solo exhibitions include ZieherSmith (New York, NY), Soloway Gallery (Brooklyn, NY), Reserve Ames (Los Angeles, CA), and Real Art Ways (Hartford, CT). Her work has been exhibited in group shows in Chicago, Seattle, St. Louis, New York, Hawaii, San Francisco, Guadalajara, London, Bologna, and Denmark. She attended the Skowhegan School of Painting and Sculpture (2011) and was the recipient of a Steep Rock Arts Residency this summer in CT. She was recently the Artist-in-Residence at University of Tenessee at Knoxville. Public collections include the Santa Barbara Museum of Art, The Minneapolis Institute of Art, and the Minnesota Museum of Art. Her work has been reviewed in Artforum, Modern Painters, ArtNews, Hyperallergic, the Brooklyn Rail, the New York Times, the Los Angeles Times, and the Boston Globe.

Ashley Layendecker is a painter and an independent curator working in Knoxville, Tennessee. She received her BFA in Studio Art, 2D concentration in 2016 and her MS in Teacher Education in 2017 at the University of Tennessee. Ashley works as the Assistant to the Director at Fluorescent Gallery in Knoxville and for Locate Arts out of Nashville, Tennessee where she is a contributor to The Focus.