INTERVIEW: KAREN SEAPKER
AUG. 12, 2016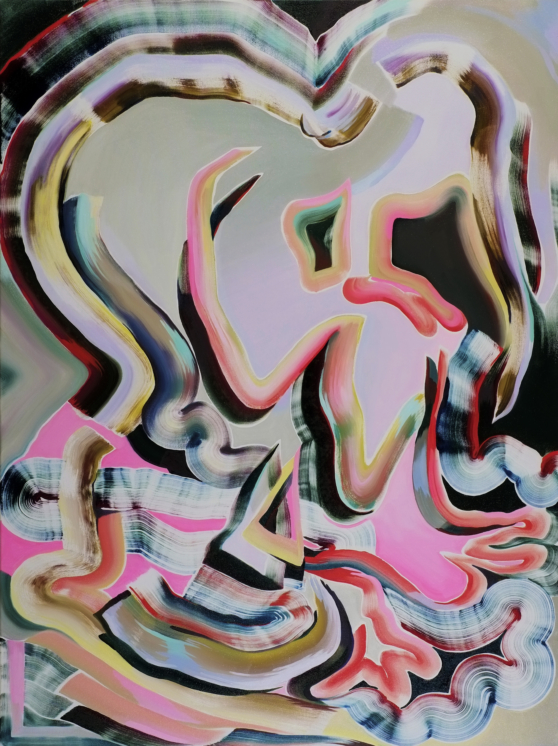 INTERVIEW: KAREN SEAPKER
AUG. 12, 2016
Joshua Bienko: I'm interested in how you construct a painting. I just saw "Unfinished: Thoughts Left Visible" at The Met Breuer. It was incredible. There's a Rubens painting where the horses and people in the background are rendered in high detail, like 30 or 40 of them. Right down to the kind of thread they're wearing, but in the foreground, the horse's head that carries Henry IV, is still sketched out in two or three different positions. It's transfixing and shocking. I can't tell if your paintings are moving all the time when you make them, or if they're executed and decided from the outset. Is your decision-making concealed purposefully or do you think of it as open and in plain sight like an improvisational musician?
Karen Seapker: Oh, things are always moving! That said, with the most recent series of paintings, there were structural ideas in place from the beginning that have guided my process, but the execution itself and how I have attempted to achieve these ideas has always felt somewhat improvisational or intuitive. What I consider my most recent body of work is a result of a decision I made about two years ago to pivot from my work's trajectory and set off down a path of experimentation to hopefully find myself in new territory. I was tired of the grandiose narrative that seemed to encapsulate my work and I longed to feel the sense of discovery again in my studio. I started with a singular loose idea and began to play with it. Over those two years, forms would appear and reappear, loosen and elaborate, I both embraced and resisted their familiarity and tried to continue to push things further. During this time, I would intentionally avoid allowing language to prematurely shape the work because I felt quite certain the work was finding its own form. At this time I really clung to a Jonathan Lasker quote from a BOMB interview: "Conception follows perception." I wanted to allow myself the time to perceive, slowly, not to force meaning. Those years of experimentation snowballed, developed legs, and at the same time a cross pollination of ideas was occurring between my separate painting and drawing practices. After a while, I could no longer hold the language swirling around these forms at bay. I actually had an "a-ha!" moment in the shower where so many personal connections between the work and my life began to unfold and since then, it's been very fruitful to allow that content to help shape the work even more. Lately, I am playing with a handful of images that I am using as armatures- something I think you will relate to! These armatures have really given me permission to play and push the possibilities in each of these images. The old adage of limitations as a means for growth.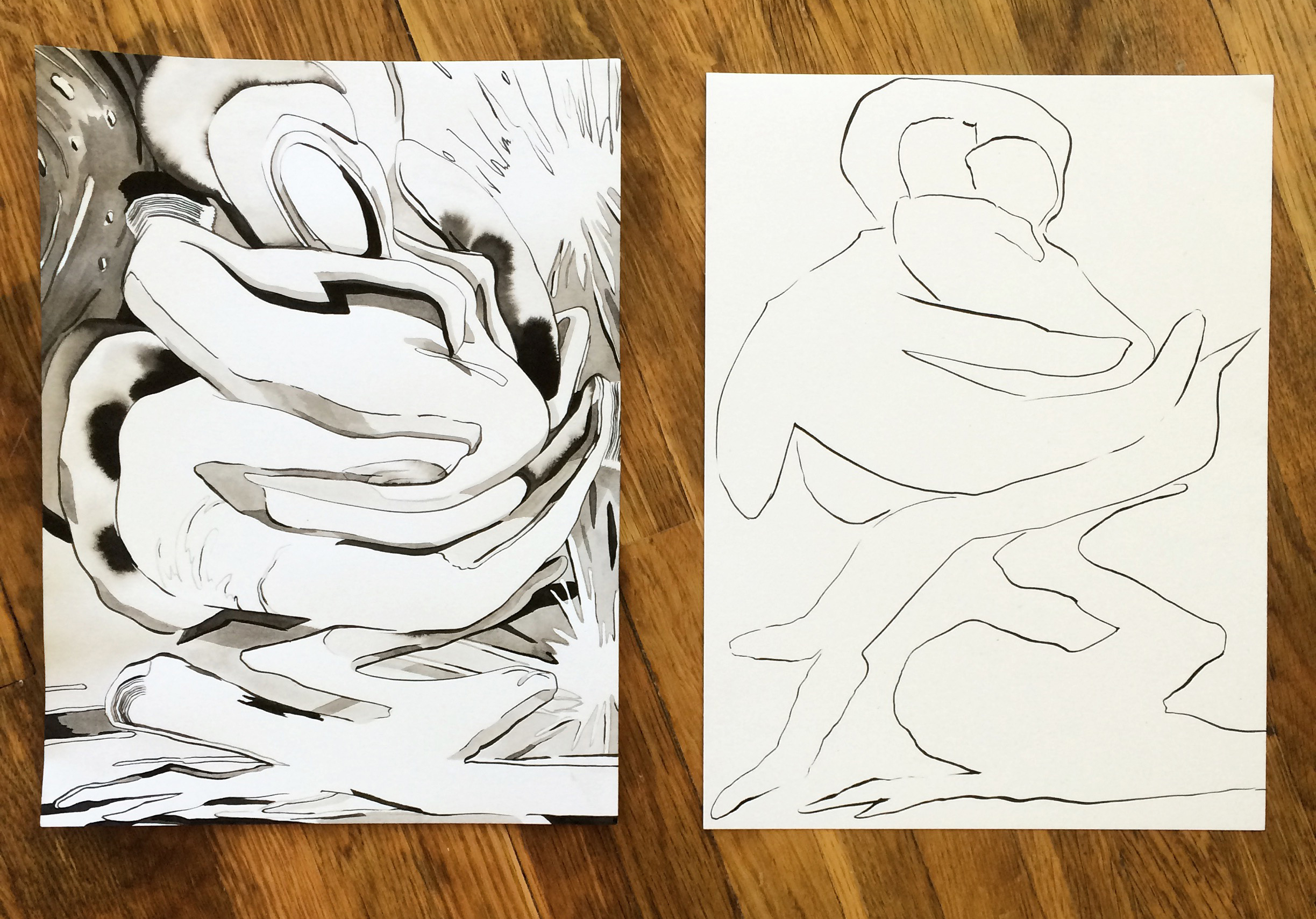 Karen Seapker, Ink drawings, 2016


JB: How close is the final image then to the idea that birthed the motivation to make the painting at the outset?
KS: I am never able to fully visualize a painting beforehand. In fact, I think I avoid it. I don't enjoy working with a perfectly known outcome. More often than having a specific image in mind, I will aim for a certain kind of energy or sensation that a painting may deliver and I think that I fail as often as I succeed in executing these original aims. Maybe that is because I am a sucker for following the unexpected, natural swings in the process. Or because I have learned that my original aims are of course not always the best ideas.
This strategy becomes more difficult as a body of work comes to a close. I often relate to the idea of a musician putting together an album. In the beginning, the shape and diversity of the album feels wide open, and you can move songs around to make them fit, but as the number of songs grow, the environment begins to set in place and sometimes fitting in the last tracks can feel like placing in the last pieces of a jigsaw puzzle. The last paintings in a series or for a show always require careful calibration.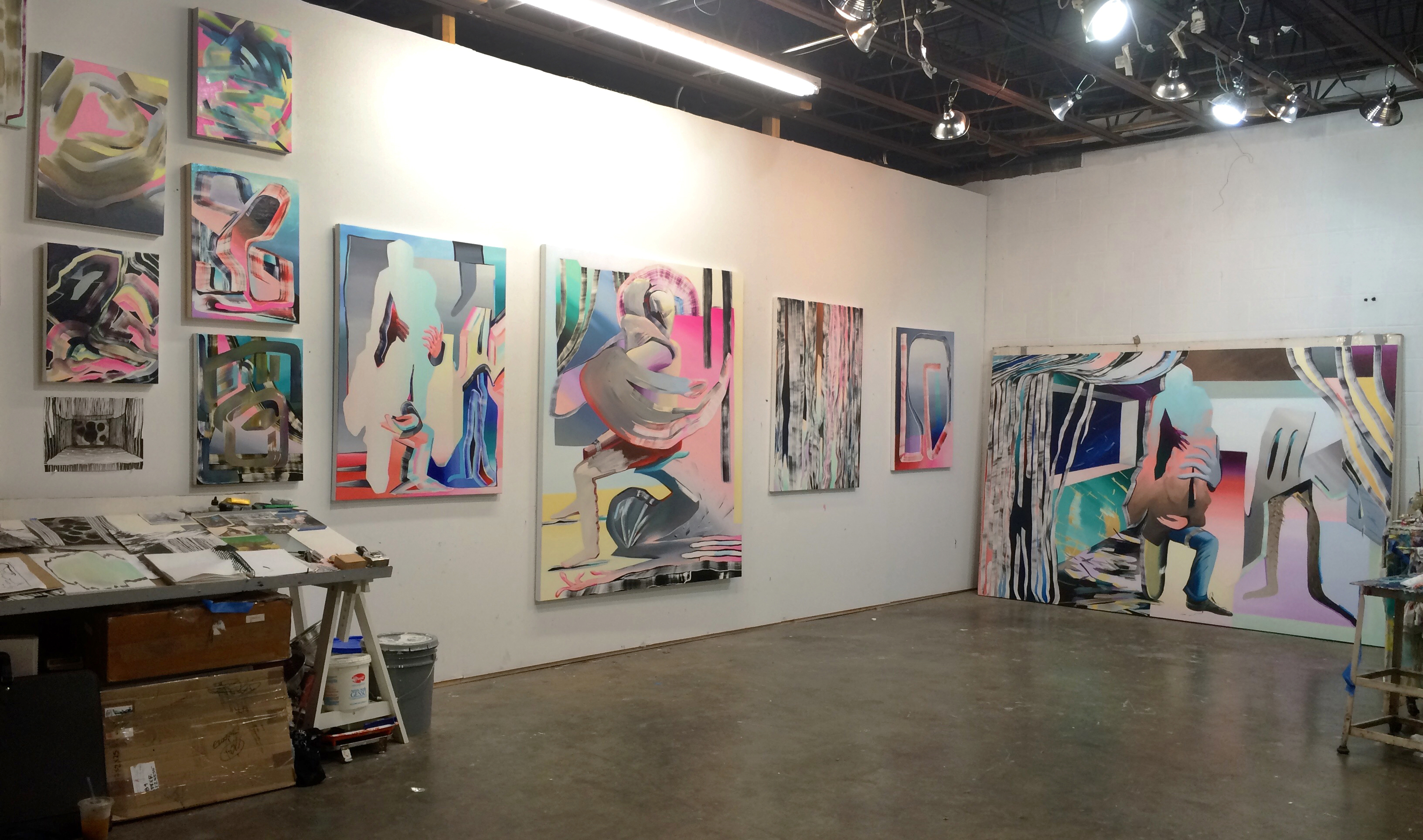 Karen Seapker, Studio snapshot, Summer 2016


JB: Ok, so I hate the question because it rarely yields productive discussion, but it should be addressed. Abstraction and Representation. How do you process these ideas? P.S. Total indifference is totally allowed.
KS: The distinction between representation and abstraction was something that actually was very fruitful for me to investigate for a number of years. I went down a rabbit hole of playing back and forth with assumptions we hold for each of these territories, but I've come out of that and now I just embrace the malleability of paint. It isn't a problem for me. I think that some of the tension in my work still relies on the resistance to fall easily into either category. That said, while I wouldn't say that all of my work is representational, it all feels figurative. It is such an extension of my body. I embrace the gestural, even when in a less emotive, more clinical delivery. I can't separate this from my body and my figure. The strokes themselves seem to want to grasp, want to interact with one another in what feels like figurative relationships. Nothing feels purely abstract, even when there aren't any images that you can settle on.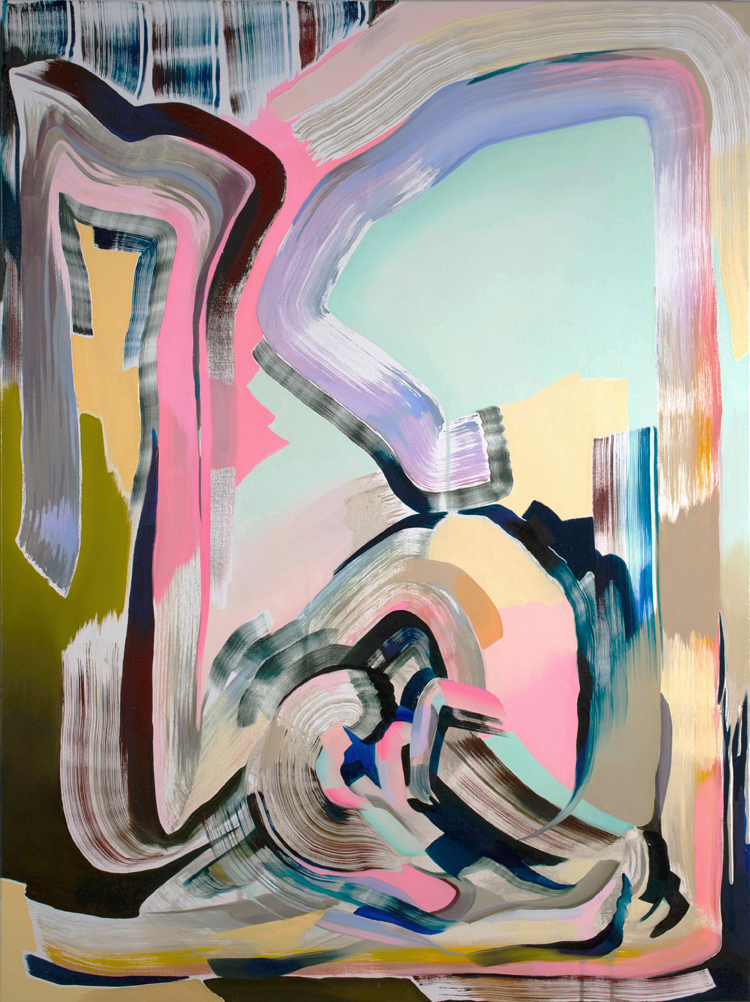 Karen Seapker, Dry Run (2015), oil on canvas, 40 x 30 inches


JB: There's a kind of spinning going on in many of your paintings, like a resistance to stasis or some kind of suspended conflict. Somewhere between a Baroque painting and a Looney Tunes scrum. Where do you think this comes from?
KS: The seeds for this activity can actually be traced back to a specific point in time and a break in my practice. Over one of the summers when I was in grad school at Hunter College, there was a sudden and unexpected death in my family. It stopped me in my tracks and left me at a loss for what was worth making. I seemed to watch things move around me while it felt as though I was standing still. I began painting from photographs that I had taken while I was in transit. Blurred landscapes- images of passage. Painting them felt like a both a mourning and an acceptance of passing and passage. I started to think about the canvas as space to contemplate the diverse ways that time moves and to think of paint as a way to describe different rhythms and spaces. As time passed, a liberating sense of lightness entered the work- approaching a cartoon-esque immortality. An underbelly of the awareness of mortality remained at the heart, but I allowed myself the freedom to move well beyond that.
I am still thinking about how paint can describe different rhythms, but now almost 10 years later, time feels different. I had a child two years ago and since then, time seems to have imposed itself in slow motion. My daughter forces me to slow down, move at her pace. In recent work, a slower, dragged brushstroke appears. It often stays contained within the frame of the canvas. It exists within the container of the composition of parts. Held by the interdependency of those parts. However, some of these parts want to misbehave, move in different directions or at different speeds. The way these forms relate come out of a new realization of what it feels like to be part of a forming family.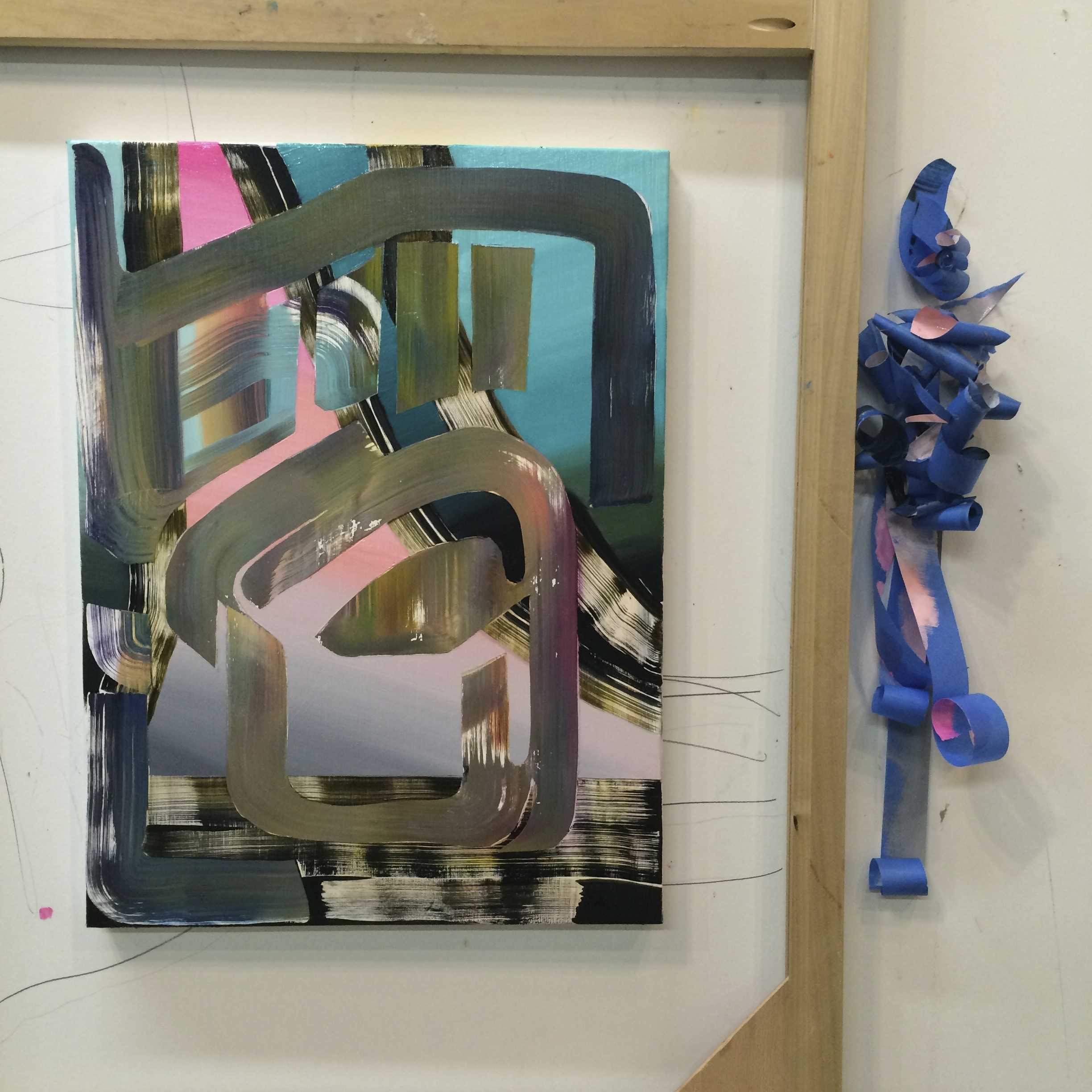 Karen Seapker, Studio work in progress, Summer 2016


JB: One of the things that give me pleasure as an artist are the difficulties of drawing and painting. When a painting is just off or has too much of something, or a drawing continues to fail to feel like the motivating feelings that compelled its existence, it can be frustratingly enjoyable… sometimes… Anyway, what gives you pleasure in a painting or in the process of making?
KS: There are moments that occur while painting when I think I can see the glimmer of possibility or parts starting to tease one another that I honestly suddenly feel the need to dance or run back and forth- from the far wall -to my palette- back to the painting. This gets quite dangerous actually because of my tendency to walk backwards in my studio. I yearn for those moments, but I would be lying to say that is what occurs every day in the studio. Often times things move much more slowly, methodically. I stack one decision on top of another. When the risks pay off it feels wonderful, but I love the struggle regardless.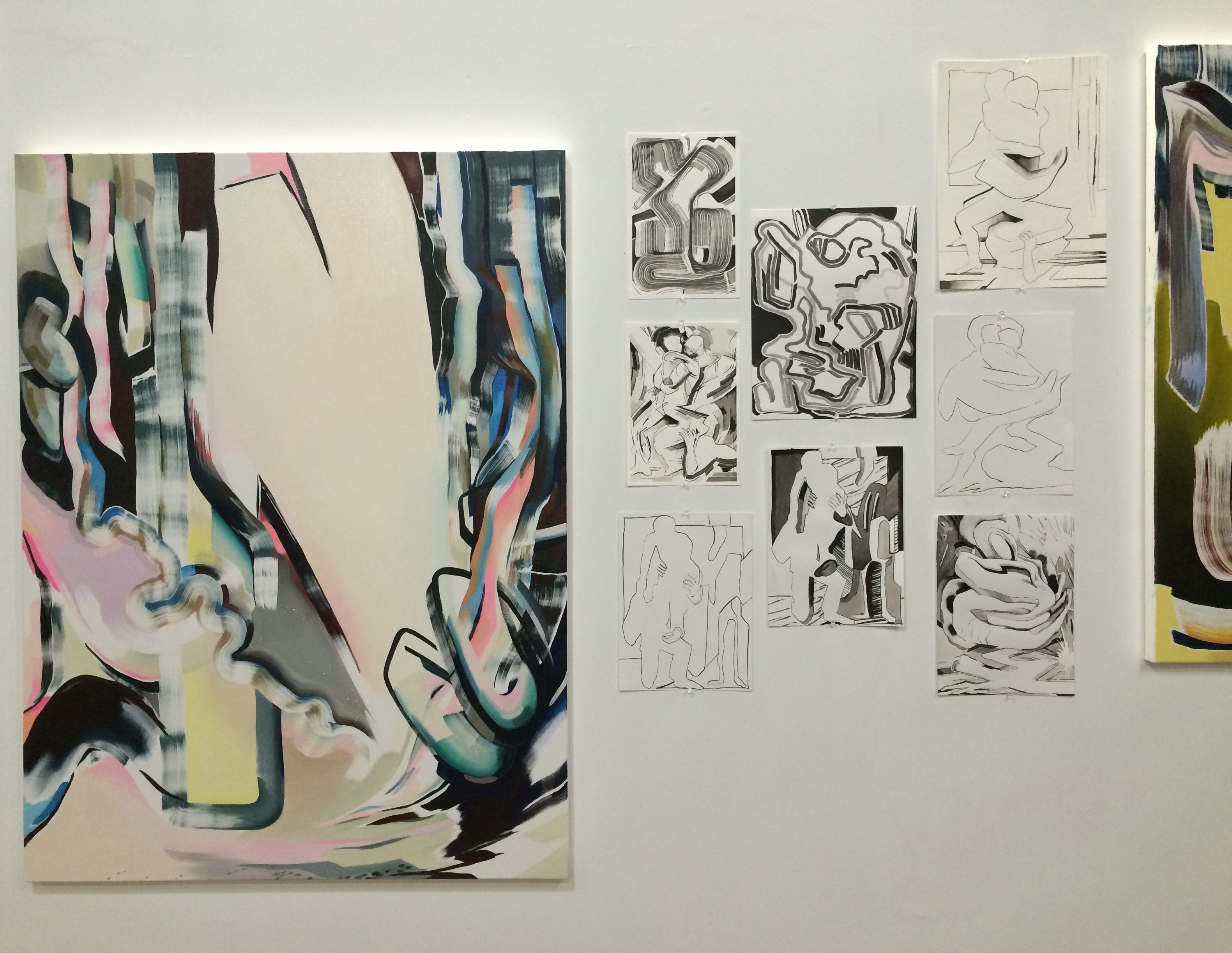 Karen Seapker, Studio wall, Summer 2016


JB: In her incredible essay for dOCUMENTA (13) Carolyn Christov-Bakargiev writes, "The riddle of art is that we do not know what it is until it is no longer that which it was. Furthermore, art is defined as much by what it is, as by what it is not; by what it does, or can do, as by what it does not, or cannot do; it is defined even by what it fails to achieve."
Please understand the loving nature of this question…
What does your work fail to achieve?
KS: So much! There are the obvious limitations of wall-based paintings and the natural boundaries that come with that. I often think about different ways to engage the space but just have not gotten there quite yet. I still feels like I am so slowly figuring out painting. Beyond that, of course there are things that are going on in the world today that consume me and consume my thoughts that haven't found a way into the work- yet. This is something that I'm always thinking about. Some things have found their way into my sketches. I think a lot about my artistic responsibility and the shortcomings of my work in the face of so much sadness and outrage in the world around me today. My paintings actually provide me a particular lens through which I can view and assess things in the world. Inherent in the way that forms are organized and the paintings behave, I think they can hold more content. Or screw the allegiance to painting and create something new! I have a lot of work ahead of me. This question is really important to consider and I'm glad you asked me. In recent years, one of the ways I've enjoyed moving past my own work's shortcomings has been through curating (which is how we met!). Curating has been a great way for me to explore new ideas, new forms, and learn from so many great artists.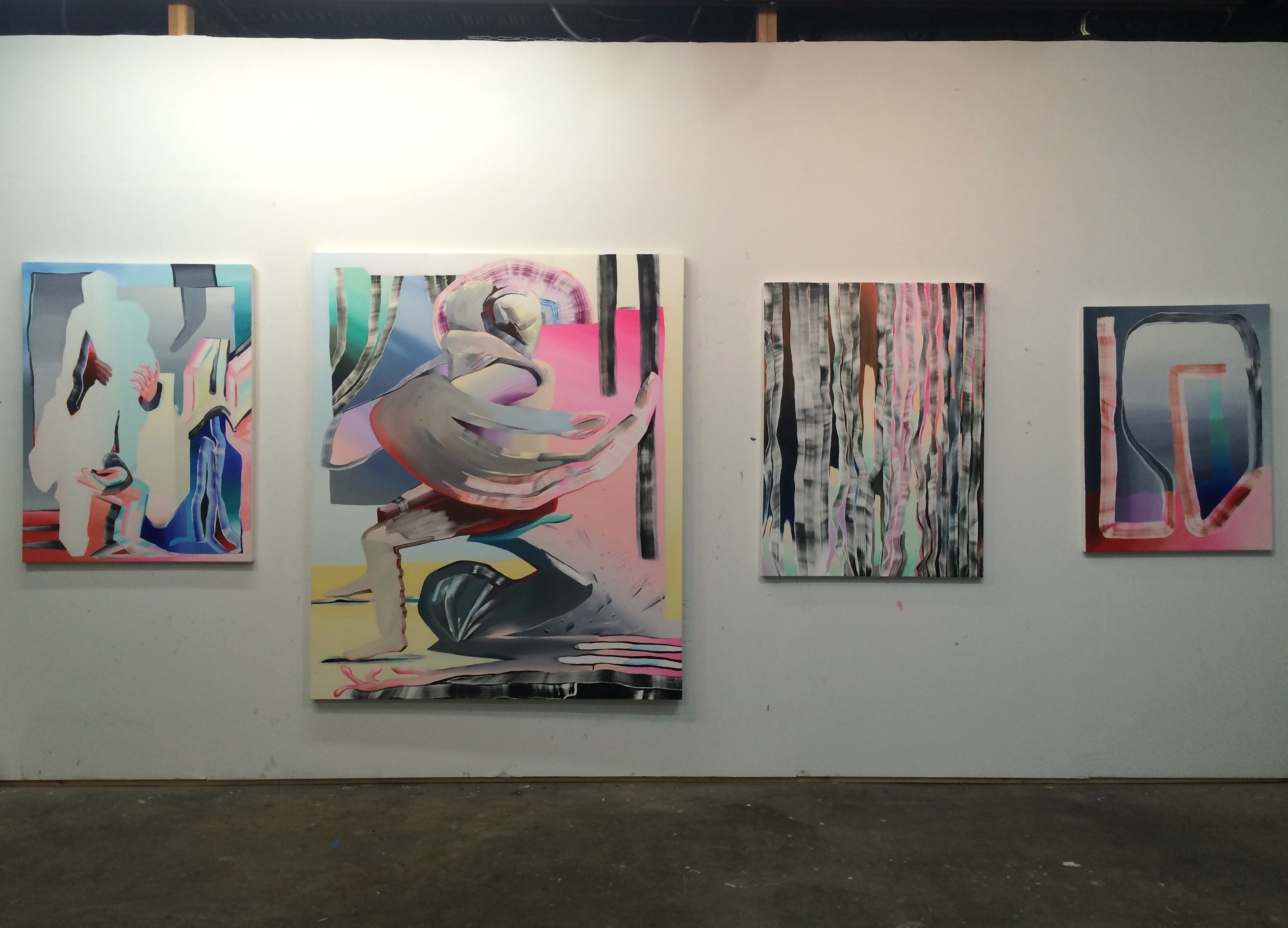 Karen Seapker, Studio wall, Summer 2016


JB: I have a short list of people I'd love to see your work next to (J.M.W. Turner is one of them, Kandinsky, Leeza Meksin, Neo Rauch, Wangechi Mutu, etc.). This isn't a question geared toward who do you think you're as good as or who do you "deserve" to be next to professionally. For instance, I hate Clyfford Still. I don't ever want to see my work next to his. Nothing looks good next to a Clyfford Still. Not even more Clyfford Stills. Is there an artist you are curious to see your work next to? Someone you'd love to put your painting in relation to, just to see it (maybe not even publically, just for your own viewing pleasure)? Similarly, is there someone you definitely do not want to put your paintings next to?
KS: Oooh.... great question. Tough question! Ok... lots of contemporary women artists who I'd love to see my work next to- EJ Hauser, Maria Robertson, Amy Sillman, Nicola Tyson, Jackie Saccoccio, Amy Pleasant, Ellen Berkenblit, dare I say Nicole Eisenman? It would be wild to see my work next to the work of any of those women. Also- I have to mention a curiosity about seeing my work next to the work of David Humphrey. I would be curious to see how my paintings would behave alongside some Rachel Harrison sculpture- or David Altmejd! I would also love to see some of my recent work alongside some cherry-picked Alice Neels, or some selected Kathe Kollwitz works. With some of my previous work I would have said a few of Gerhard Richter's work- such as "Stag" -or maybe some of my previous works amongst Hudson River School paintings. Also- I mean, come on, Matisse. This question is too much fun, I have to stop myself.
* All images courtesy of the artist.
Karen Seapker lives and works in Nashville, TN. She has an MFA in Painting from Hunter College in New York City and a BA in Studio Art and Art History from Muhlenberg College in Allentown, Pennsylvania. She has exhibited her work nationally and internationally—in New York, Miami, Pittsburgh, London, and Shanghai. She is a member of the curatorial collective, COOP in Nashville, TN and has curated and co-curated several exhibitions— in Nashville, Pittsburgh, and Brooklyn. She is represented by Zeitgeist Gallery in Nashville, TN.
Joshua Bienko is an artist, co-founder / curator at Ortega y Gasset Projects, and Assistant Professor of Drawing at the UTK School of Art.