INTERVIEW: JESSE BUTCHER
NOV. 10, 2016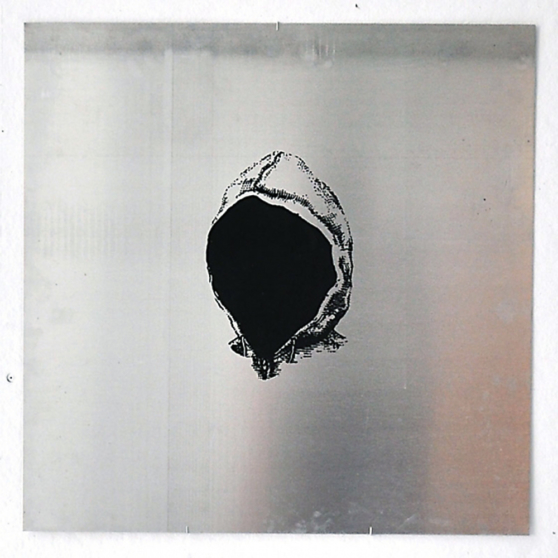 INTERVIEW: JESSE BUTCHER
NOV. 10, 2016
McLean Fahnestock: So what brought you to Memphis?
Jesse Butcher: Corkey and I moved down -- Corkey Sinks is my wife, she's from Dallas. I was actually born in Memphis but I grew up in Jackson, Mississippi. We met while we were both living in Texas while maintaining our own studio practices. Both of us were curating shows for smaller independent galleries. And then both of us did our graduate degrees in Chicago.
I was teaching in Chicago for quite some time and it was great but then the weather just got us. We already had some friends in Memphis: Joel Parsons, an artist, and Steven McMahon, who is at Ballet Memphis. It makes the transition much easier.
MF: So you are like me… you are a returner.
JB: Yea. And we like it.
MF: How long were you away?
JB: I was born here but we moved when I was very young so I basically grew up in Jackson, Mississippi. I moved to Providence, Rhode Island. When I graduated from RISD most of my friends moved to Los Angeles. I wasn't totally sure if Los Angeles was the best move for me at the time and so I ended up moving to Austin, Texas and it was awesome.
That's where I met my wife. I was working in a museum. Which I think really helped my practice. Just seeing how things actually function -- the back end. I got to work with a wide variety of curators and artists, in spaces that were very formal and spaces that were super DIY, and I learned about how exhibitions function, the value of a good preparator.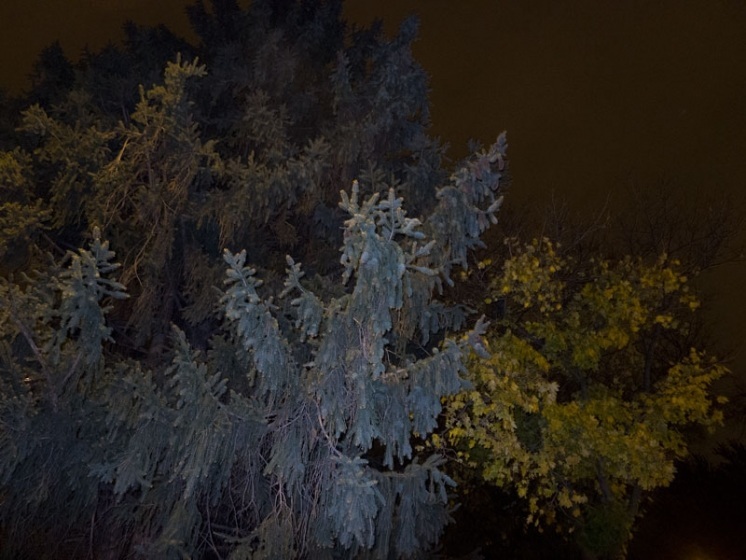 Jesse Butcher, Nocturne (2015)


I think camera phones are great. Some artists complain about how "everyone is a photographer" but I find it's actually really interesting and levels the playing field. There's something very intimate and charming about the amateur photograph that artists have been trying to capture. Everyone is a photographer now.
Reacting to a post-Internet practice, which is saturated with images and text on a screen, Walls Divide Press is a kind of return to the tangible object, words and images on the page. I'm really interested in dispersion. I'm a collector of zines and art myself, and we like the idea of helping people start to build their own collections with modest means. Walls Divide provides affordable zines and multiples by really good artists that we want other people to know about.

Jesse Butcher, America Now Up For Grabs (2013)


MF: One of the things I wanted to ask you about was Walls Divide. How did that come in to being?
JB: It took us a long time to actually get it into being because of our limited space in Chicago. One of the major benefits of Memphis is that we do have the space to have a pressroom in our home. We have set up, I think, in a really good, DIY punk-influenced way to make these zines and work with artists that we are really interested in and that people would benefit from knowing about. It is very open ended to what each artist produces. We are trying to act as the mechanism to help get these things out in to the world.
The Walls Divide idea came from graffiti we saw while driving around Dallas. A big nice Dallas mansion, across the street from Ross Perot's home, had these stone walls and someone had spray painted "Walls Divide" on it and we just thought it was so… a number of things. It seemed out of place, this really funny, kinda sad, dramatic form of expression in this ridiculous opulent place. It was a different political time. Now the name has become even better. Like a lot of things that I have produced, somehow it end up becoming far more politically charged from the initial idea.
The climate changes around things. Images can be recycled and re-purposed. Even the I Became A Secret Hippie pieces and the John Doe piece seemed to become more loaded in their exhibitions than their conception. The readings of those works are so different now then when I initially made them.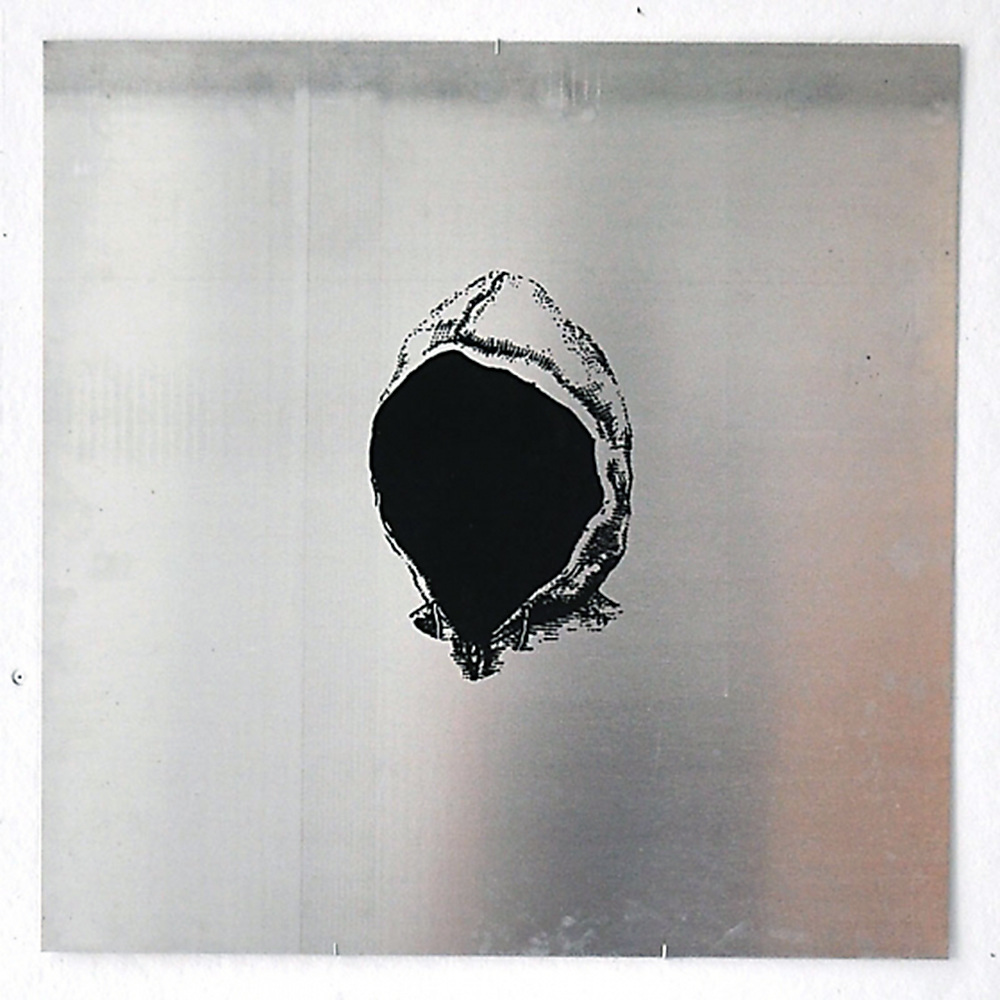 Jesse Butcher, John Doe (2012)


MF: There is an immediacy in many of your works, like the mono-prints, that allow for a gesture to be made and then reflected upon or repeated as needed. How do you feel that you are using the multiple in your method of producing?
JB: There are a lot of multiples. At most of the exhibitions that I am involved with, I like to have something that is either free or as inexpensive as a few dollars. This is a method for dispersion.
Another reason I think multiples are interesting is because of photography. With photography you get into Benjamin, and it is all about reproduction. Really there is no end unless you are going to destroy the negative. Now we don't often have physical negatives, we have raw files, and if you put an image on the internet once it is there forever.
With works that aren't necessarily multiples, I have this concept of a perpetual motion machine where works that I have shown before can be taken apart and then can become other works. Recently, struggling with trying to identify an idea of image/objecthood, I have been making small prints on aluminum. Little Signifiers.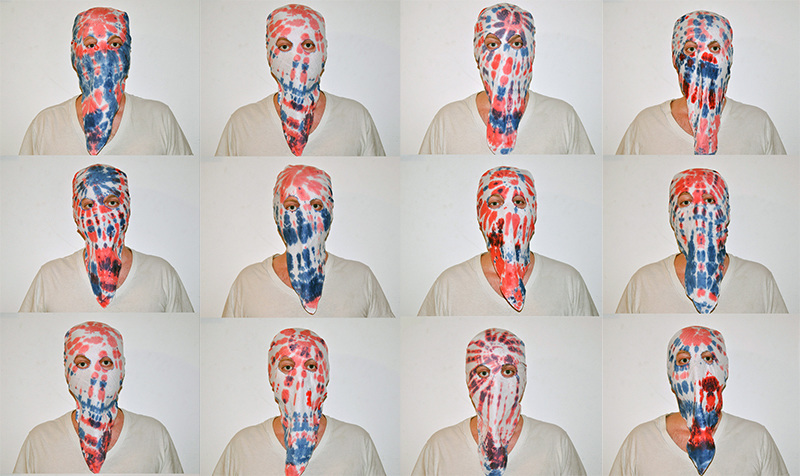 Jesse Butcher, I Became A Secret Hippie (2014)


MF: That's I Became A Secret Hippie.
JB: Yeah, these are the Secret Hippie prints. And now I've sewn all of those masks I made into a banner so there's a Secret Hippie banner as well but that's what I mean by feeling my practice has borrowed in a way from Jason Rhoades. I like the idea of this ceasless motion where you have an exhibition and that doesn't have to be the end of an idea.
MF: Now looking more at the work and I am like "of course Jason Rhoades!" especially The End of the Century piece. Of course you are hanging up your jacket in the middle of the installation!
JB: A lot of my research ends up going nowhere visually. Sometimes, it doesn't resonate with most, if any, of the viewers, but there is some sort of satisfaction to me. The End Of The Century, that's the hanging up of the jacket. That's the leaving the studio, resignation, the archive. It's the object and the image, the sculpture, the wall, the snake eating its tail. That's also arguably the worst Ramones record. But that only matters to me, and every once and a while someone gets the reference.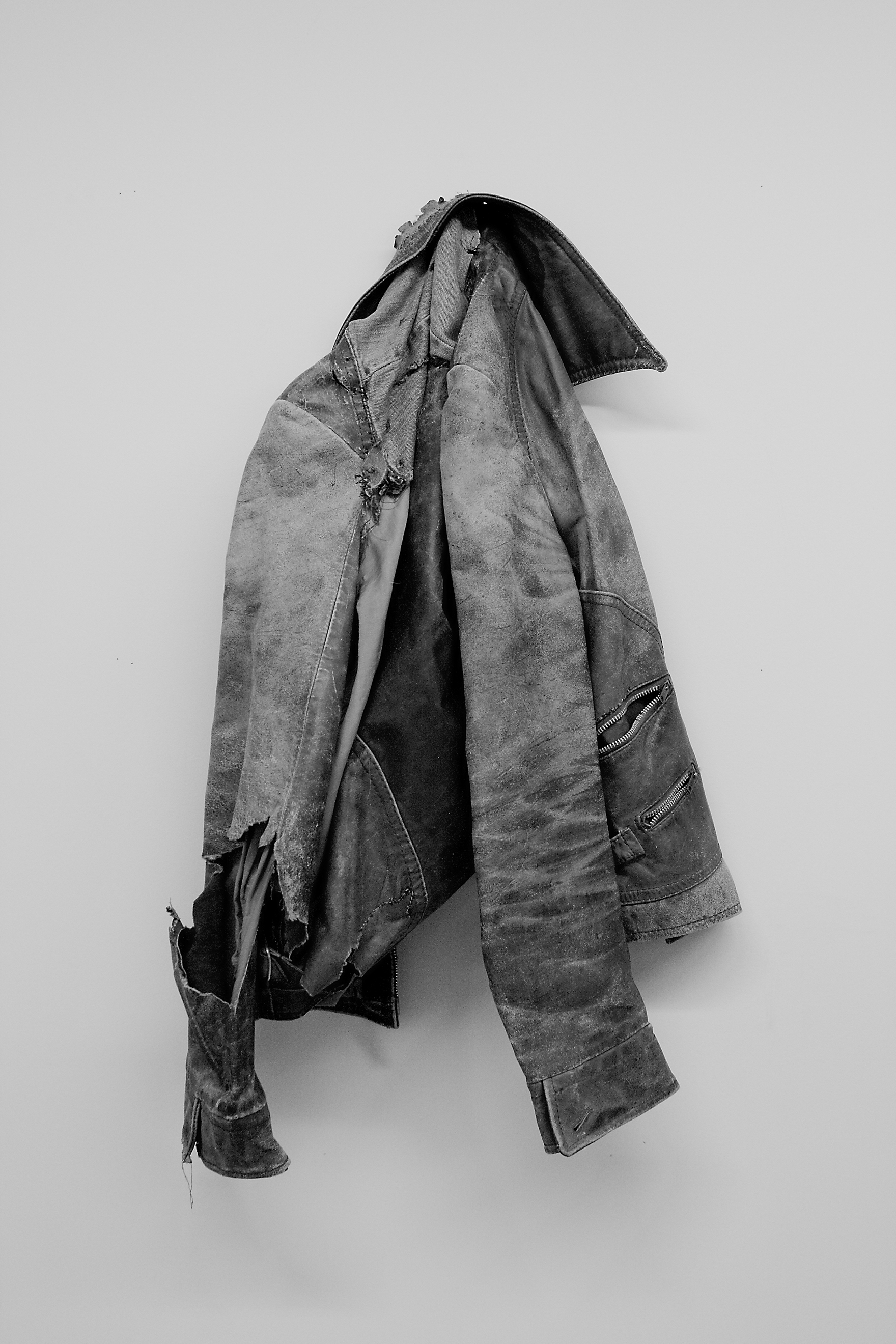 Jesse Butcher, The End Of The Century (2016)


MF: That's research. Sometimes your references hit all the high points and you strike a chord with the universal unconsciousness and it just makes sense.
JB: Recently I was trying to start this whole series thinking about the panopticon and reading this Foucault novel about jails. Thinking about how people are watched, especially in Chicago. At the time it had the most surveillance cameras of any city to make us safer. I don't know if that just made us feel safer or if we were safer. And then I fell in this Wikipedia rabbit hole and wound up thinking I was going to make all this work about scarecrows. I learned about how scarecrows function in other cultures and it was really awesome. I was really psyched about it and then when I finally got in to the physical studio and put pen to paper I realized that's not going to work.
The show might still be about scarecrows or watchmen or panopticons but there is not going to be a scarecrow in it because it just looked horrible. Like fan art for Jeepers Creepers. I drew a scarecrow and immediately disposed of it so no one will ever see it. That happens.
MF: Sometimes we get in to some of these places where there is a reason why it is a thought and not a form.
JB: Absolutely yes. More often than not that's actually good. There is a learning curve and that's what I mean when I talk about that endless motion machine. I would like to think that between 60 and 80 percent of the time I am actually working no matter what I'm doing. I think what you're watching should influence your work, what you're reading, what you're listening to.
I read a lot of fiction and it's very important to my process. And I do watch television. I'm not ashamed of that by any means. I think that's actually very helpful. Release is good. I watched True Detective and I thought, "I have to work harder." Like this is great. I need to make something great. Your work doesn't always have to be a reflection on the last Lacan article you read.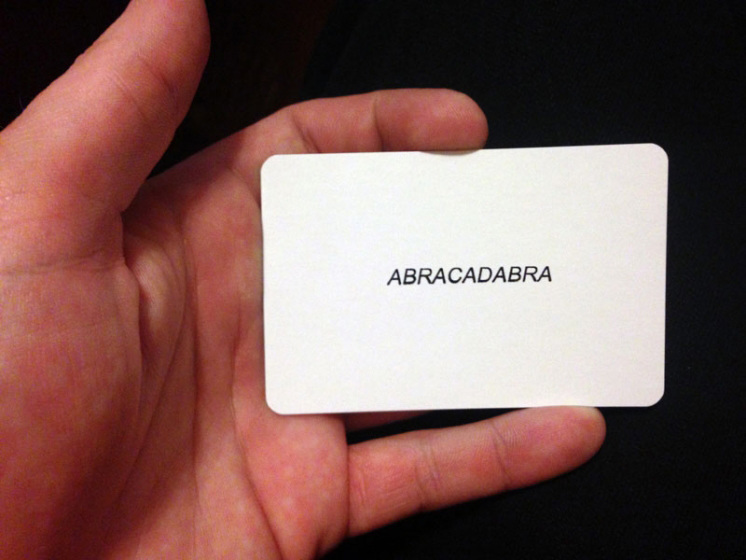 Jesse Butcher, ABRACADABRA (2014)


MF: You write poetry as part of your practice…
JB: The poetry thing came out of while we were transitioning from Chicago to Memphis. We were living in a hotel for a little while, while our home was getting readied. And so we didn't have studios. I made a few photographs but then I started writing poems in the notes in my iPhone. I became obsessed with it because it was something that I could do anywhere at anytime. You just start one. Some of them I could write in the span of 20 minutes and some of them I wrote in the span of 20 days.
MF: Reading them reminds me of Flannery O'Connor. Dusty roads and tents like in A Good Man is Hard to Find.
JB: I love the Southern Gothic, from Flannery O'Connor to Barry Hannah to Donna Tartt. And the way that there is just nothing that quite matches the South anywhere else. Just like there is nothing that would quite match the experience in Los Angeles anywhere else. Everyone wants to get out. Everyone is proud to be here.
MF: Yea. "Nascar Paradise".
JB: Absolutely.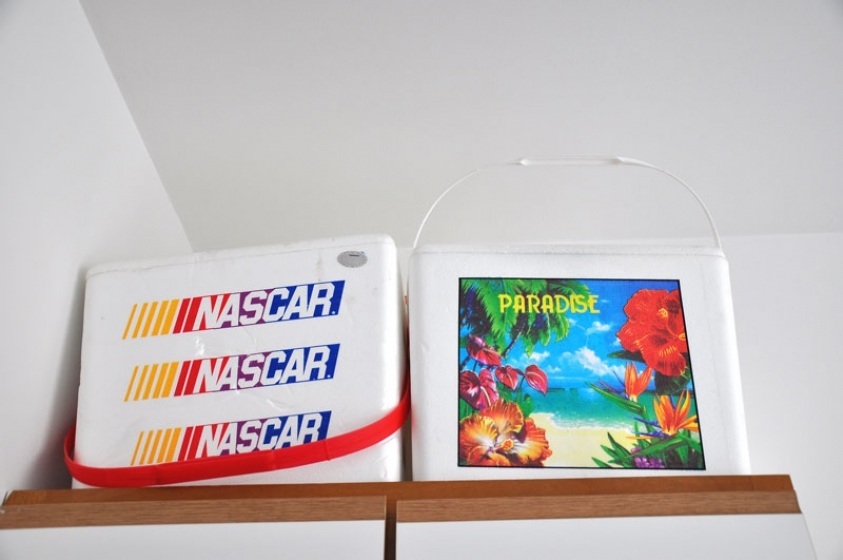 Jesse Butcher, Nascar Paradise (2010)


MF: What are you working on now? What is coming?
JB: I have an exhibition in Nashville at Open Gallery, and I believe it is in May. The beginnings of that show were based on the scarecrow idea. Now the tentacles have spread very far out. There are going to be drawings of the floorplans of the Winchester Mystery House. A drawing that I am working on of the hedge maze from the Overlook Hotel from The Shining. There's going to be some sculptural stuff. There will be some aluminum prints. And then there will probably be a banner piece.
I've got some more chapbooks in the works so those will come out and then we will have another round of Walls Divide stuff coming up soon. We like to keep it very open. Do a regional artist and also expand – work with people that we know but also reach out and work with new people. Keep changing it up.
MF: Sounds like you will have a busy spring.
JB: We like to stay as busy as we can.
* All images courtesy of the artist.
Jesse Butcher (b. 1982) is an artist and educator currently living in Memphis, TN. Butcher received a BFA from the Rhode Island School of Design in 2005 and an MFA from The School of the Art Institute of Chicago in 2011. He is currently part of the Graduate Studies Program at the Memphis College of Art. Butcher has been an artist in residence at the Graham Foundation during the Breaking Glass Summer Seminar and a HATCH Resident Artist at the Chicago Artists Coalition. Curatorial projects include Okay Mountain and MASS Gallery in Austin, TX. He is a Co-founder of Walls Divide Press. Classes taught include "Introduction to Photographic Image Making," "Damaged: Punk and Images" and "Exploratory Media." His recent exhibitions include IN FOCUS at the Phoenix Art Museum in Phoenix, AZ, America at PhilMOCA at Philadelphia, PA, and No Fate But What We Make at Rhodes College in Memphis, TN.
McLean Fahnestock is an artist and Assistant Professor of Foundations at Austin Peay State University.