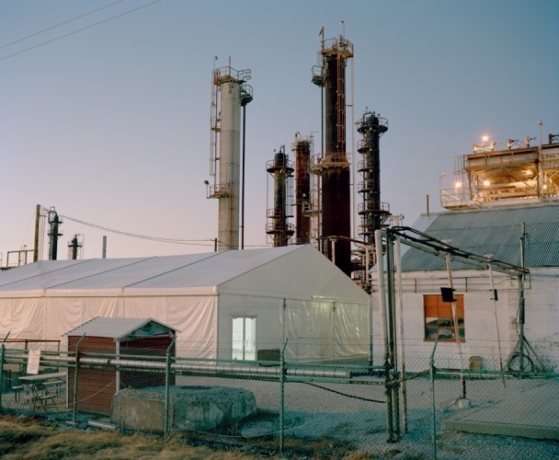 Exhibitions
JO ANN WALTERS: WHERE WAS IT, THE WORLD?
Jo Ann Walters
The ETSU Department of Art & Design and Slocumb Galleries are pleased to present Jo Ann Walter's Where Was It, The World? photographic collection from January 21 to February 14, 2020, at the Slocumb Galleries. The public is invited to the reception and meet the artist on February 11, Tuesday, from 5 to 7 p.m., with gallery talk at 6 p.m.
Walters' collection takes the viewer on a journey through the industrialized and rural south where they are exposed to the reality of those who have "narrowly failed to achieve the success or position promised to them during the rise and fall of globalization." The initial photographs in the collection were taken in Walters' hometown in the region of the Mississippi Delta were once industrialized towns are now sites devoid of vitality, left by 'progress.'
Walters draws inspiration from these small, blue collar towns near the Mississippi River valley and various places in the US, reminiscent of many areas in Appalachia stripped of its beauty and resources due to coal mining. Walters described the collection from the last two decades as, "together these pictures comprise a quiet often starkly beautiful mediation on the mineral wastes and dregs of an unsparing indifferent economy." The exhibition was curated in order to provoke a mixture of emotions such as remembrance and regret as one gains a new sense of place, time, and history that many merely glance over.
The Slocumb Galleries are located on ETSU campus in Ball Hall, 232 Sherrod Drive, with hours on weekdays from 9 a.m. to 5 p.m., with extended hours until 6 p.m. on Thursdays and during lectures and receptions or group tours as requested. All events are free and open to the public. For information, email Slocumb Galleries' Director Karlota Contreras-Koterbay at contrera@etsu.edu