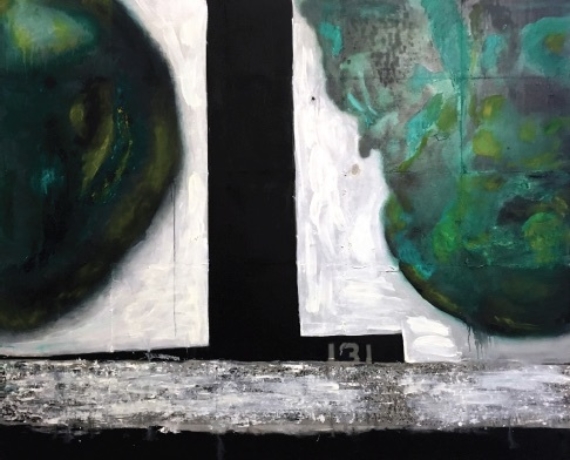 Exhibitions
THRESHOLDS: AN ART EXPERIMENT OF BEGINNINGS AND CHANGES
Kehren Barbour
Alice Salyer
A threshold is a point of entry or place of beginning, a point of forward motion, to explore new ways. There are certain experiences that leave one forever changed: events such as motherhood, serious illness, growth from child to adult, or events that appear mundane but leave an indelible mark on who one is.
For artists Kehren Barbour and Alice Salyer, the return to graduate school marks passage through multiple thresholds. Barbour and Salyer's works both share in the transformational powers of materials. Fundamental change from one state to another is key for each artist.
Barbour is interested in combinations of culled and curated materials and the marking of irreversible change as an object is released from its familiar form into expression of aesthetic enjoyment. Salyer's explorations using digital breakage of imagery of decay as the basis for new physical art pushes her imagery through thresholds past which it is forever changed.
Over the course of the month of June, the artists will develop a participatory art piece, which a process of reaching and passing a tipping point is key to the creation of the piece. The public are invited to add to the development of the piece on days the gallery is open throughout June.