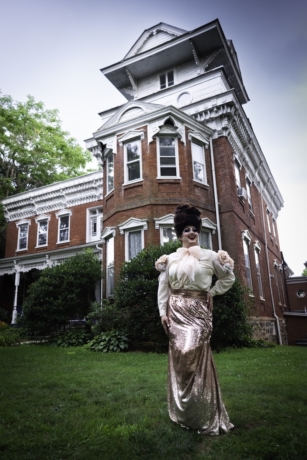 Exhibitions
THIS SKIN I'M IN: VISUAL NARRATIVE OF SELF
Alice Aldrich, Michael Borowski, Frances Bukovsky, Micheal Bumgarner, Jesse Crosby, Olivia DelGandio, Taneisheo Ferguson, Jenna Jaffe, Maeve Lawson, Nefertiti Luakabuanga, Erik Mace, Joshua Masters, Ashlyn McKibben, Summer Minerva, Nonnulla, Julie Rae Powers, Benjy Russell, Starr Sariego, Rony Sejaan, Elijah Sells, Lex Turnbull, Katt Naz Vitoria, Thomas Waters
Presented by the ETSU Department of Art & Design in partnership with Bravissima! Women Sponsoring the Arts! and Arts Fund from the East Tennessee Foundation, This Skin I'm In: A Visual Narrative of Self is co-curated by Starr Sariego and Tema Stauffer at Tipton Gallery from October 13 to November 23, 2022. The public is invited to hear the LGBTQ photographers during the reception on November 4, First Friday from 6 to 8 p.m. and panel of LGBTQ artists and allies on November 14, Monday from 5 to 7 p.m., at Tipton Gallery.
THIS SKIN I'M IN is a collection of images and narratives by artists in and engaged with the LGBTQIA+ community-a series of visual autobiographies. Photographers were invited to submit work that expresses their own personal experiences of queerness using photography and narrative as a vehicle for self-expression. The goal is to empower the photographers to be seen and heard as they wish, and not as a viewer may preconceive.
The intention of this exhibition is to invite the viewer to rethink societal labels of difference and otherness and to present us with the opportunity to discourse with preconceived definitions of gender and the language we use around this subject. How do we use pronouns? What do we think about folks if their presentation is not what we are comfortable or familiar with? What can we learn from seeing and hearing their stories?
The show incorporates work by 23 photographers at different points in their careers and reflects identities widely varied in terms of age, race, gender, and sexuality.
Among these artists is Michael Borowski, a professor in the region who teaches photography at Virginia Tech (michaelborowski.com). Another featured artist, Julie Rae Powers, is a photographer originally from this region. Julie Rae's work has focused on Appalachia and queer chosen families amongst other personally meaningful topics. (julieraepowers.com). Both artists together with other participating photographers Summer Minerva, Starr Sarriego and ETSU students Maeve Lawson, Elijah Sells and Micheal Bumgarner will present brief artists' talk during the reception.
One of the many innovative and educational aspects of the exhibit is a free, downloadable APP called This Skin I'm In. The app will feature the entire exhibition, a curriculum guide, discussion points for more in-depth study into gender and identity as well as short recorded interviews by a few of the contributing photographers.
A LGBTQIA Panel is scheduled on November 14, Monday from 5 to 7 p.m. that includes John Baker, Founder of Pride Community Center of Tri-Cities, Rev. Dr. Brian C. Wyatt of First Presbyterian Church of Elizabethton, Prof. Lori Horvitz from University of North Carolina at Asheville, Appalachian drag queen Beullah Land, Latinx queer activist Giannina Callejas from Center of Participatory Change, photographer and ETSU student Micheal Bumgarner with co-curators Tema Stauufer and Starr Sariego.
Additional features include an 8 minute film WHERE WE BELONG by Olivia DelGandio, an MFA student in Art & Social Practice at Portland State University. Lex Turnbull (they/them), adjunct professor and Revolve director (http://www.revolveavl.org), is creating a zine. Both projects highlight stories of self-identification.
THIS SKIN I'M IN is curated by photographer Starr Sariego (she/her), whose work includes the critically acclaimed The Compassion Project (https://www.thecompassionprojectmiami.com). Sariego creates photography exhibitions designed to create social awareness and change. "I've always been drawn to helping underrepresented communities. By using photography and storytelling, I can turn these passions into agents for change."
Curatorial partner Tema Stauffer (she/her) is an Associate Professor of Photography
Department of Art & Design at East Tennessee State University. Stauffer discovered several students (three of which are featured in this exhibition) confiding in her about various struggles that they faced as young queer people experiencing the pressures of family, church, and politics of this region. "I was moved to hear that, for some students, making photographs of themselves and/or their communities was an important part of the early stages of understanding, revealing, and celebrating who they are. These photographs were first steps into the world as their true selves."
Partners In Education
Asheville-based partners: Blue Ridge Pride (https://blueridgepride.org), WNC LGBTQIA+ Archive (https://blueridgepride.org/projects/education-and-outreach/oral-history/), Campaign For Southern Equality (https://southernequality.org) and Sothern Equality Studios (https://southernequality.org/southern-equality-studios/)
Johnson City-based partners: Pride Community Center of Tri Cities, ETSU Safe Zone, ETSU Women's, Gender & Sexuality Studies program, SW VA Community College Pride Center and First Presbyterian Church of Elizabethton with Bravissima! Women Sponsoring the Arts! And Arts Fund from East Tennessee Foundation