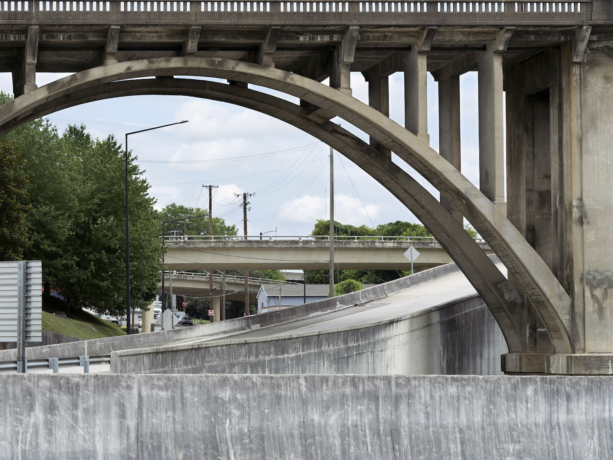 Exhibitions
JOHANNA WARWICK: THE YELLOW BOOK
Johanna Warwick
The ETSU Department of Art & Design and Slocumb Galleries in partnership with ETSU Student Activities Allocation Committee, Women's, Gender & Sexuality Studies, Black American Program, present The Yellow Book by Johanna Warwick from January 18 to February 18, 2022. The artist's talk is on January 24, Monday at 10 a.m. via ZOOM ID 710 908 4999.
The Yellow Book by Johanna Warwick presents two series of photographic works, namely Interstate Legacy and the Old South Baton Rouge. The Yellow Book is the nickname for the 'General Location on National System of Interstate Highways' due to its cover color. Artist Johanna Warwick used this book as "framework to photograph each of these cities, revealing the consequences and outcomes of interstate construction." What makes the two series different from just a documentary of highways is that the artist's see through the lens of how the "overwhelming number of the proposed placement of the new highway system cut through thriving black communities." As the project was created in the 1950s, Warwick stated that "it directly reflects the systemic racism in city planning," as she photographs the "physicality of the highway overshadowing communities."
The Yellow Book exhibition aims to "make records that weave connections between past decisions and current consequences, as these photographs are an acute look at the past as congress writes the infrastructure bill to guide state government today." Warwick's work investigates to create a survey of all 104 affected cities nationwide, 66 years after it was initiated. She hopes to "define the next generation of infrastructure construction concurrently as our country reckons with systemic racism."
---
Johanna Warwick graduated from Massachusetts College of Art and Design with an MFA in Photography in 2010, and from Ryerson University with a BFA in Photography in 2006. She is a British born, Canadian raised photographer working and living in Baton Rouge, LA where she is an Associate Professor of Art & Photography at Louisiana State University. She has exhibited in New York, Toronto and other major cities across North America. She was exhibited in Fresh at Klompching Gallery in Brooklyn NY, was a selected artist by Lesley A. Martin, editor of Aperture, as part of her Guest Room curating for Der Greif magazine and has been featured in by The Washington Post. She had a major exhibition of The Yellow Book: Old South Baton Rouge at the Capitol Park Museum in Baton Rouge, Louisiana.
All events are free and open to the public, live simulcast via ETSU Slocumb Galleries' Facebook Page Live and https://etsu.zoom.us/my/slocum... or Zoom ID 710 908 4999. The Slocumb Galleries are located at 232 Sherrod Drive, ETSU campus, open weekdays 9 a.m. to 5 p.m.; For more information, please email contrera@etsu.edu or visit https://www.etsu.edu/cas/art/galleries.