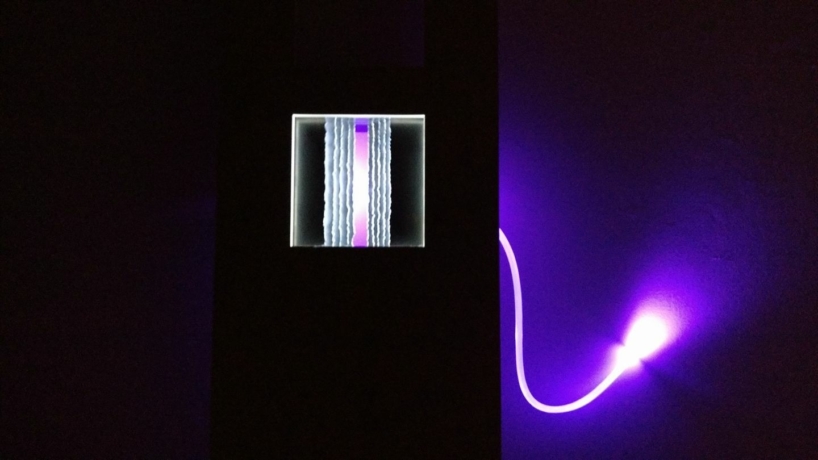 Exhibitions
THE MANIFESTATION OF MANIPULATION
Todd Simmons
The East Tennessee State University department of art and design and Slocumb Galleries present The Manifestation of Manipulation, BFA exhibit by Todd Patrick Simmons from Nov. 14 to 21, with joint reception with fellow senior Hannah Justis on Nov. 17, from 5 to 7 p.m.
The Manifestation of Manipulation is a minimalistic light based experiential installation that focuses on a specific sequenced memory. The work is laced with subtle analogous metaphors that address current societal issues through the distortion of physical perception.
After a long career in graphic design and illustration, Simmons became more and more discontented with the absence of the hands-on process brought on by computer technology. Indirectly due to the financial collapse in 2008, he was afforded the opportunity to pursue a lifelong dream, the exploration of ideas and concepts in the visual arts of sculpture and painting. His work reflects reactions to life experiences that have been lying dormant in his brain for years. It is primarily process driven — subconscious revelations that provide a necessary escape from the reality of the unfortunate events that shaped his past. Ironically, Simmons admits that those very events led him to find peace and direction within himself and his work.
The Slocumb Galleries are located at Ernest C. Balll Hall, 232 Sherrod Drive, ETSU campus. Office hours are Mondays through Fridays from 9 a.m. to 4:30 p.m., with extended hours on Thursdays until 6 p.m., during receptions and by appointment. For more information, email the Slocumb Galleries' director Karlota Contreras-Koterbay via Contrera@etsu.edu or text/call 423-483-3179, you may also "Like' Slocumb Galleries on Facebook or visit the website etsu.edu/cas/art/galleries or the ETSU PlanIt calendar for event updates.