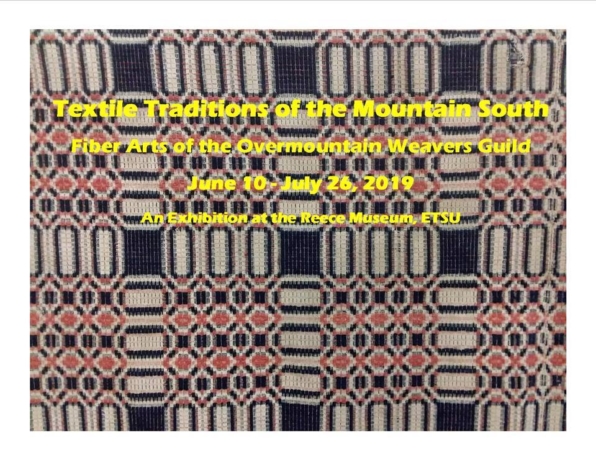 Exhibitions
TEXTILE TRADITIONS OF THE MOUNTAIN SOUTH: FIBER ARTS OF THE OVERMOUNTAIN WEAVERS GUILD
Textile Traditions of the Mountain South: Fiber Arts of the Overmountain Weavers Guild will feature contemporary and traditional fiber creations of the guild members. The fiber arts displayed will encompass a wide variety of techniques, including weaving, spinning, knitting, crochet, felting, and chair caning.
Within the larger show, the guild will also present a separate weaving exhibit featuring the guild reproduction of a rare set of antique weaving drafts from Carroll County, Virginia. This collection of 70 patterns, discovered by Suzanne Burow, includes drafts dated from 1847 up until 1935. The names of the weavers listed on these patterns led to genealogical research by the guild into the history of these families and their relationships to one another, revealing some surprising connections.
Also on exhibit in the gallery will be a working barn loom where guild members will demonstrate the weaving of overshot. During the show, the guild will also sponsor two hour long lectures on antique weaving equipment and traditional, historical weaving patterns.