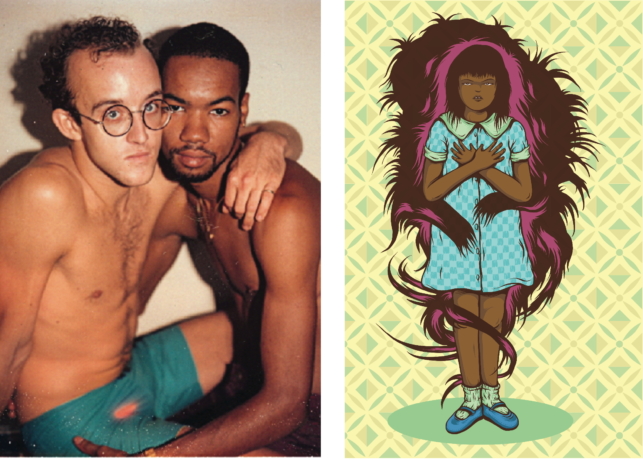 Exhibitions
SIDEBYSIDE: WARHOL AND THE BODY
Andy Warhol
Ren Allen
Coriana Close
Brooke Day
Mark Hosford
Shalam Minter
Andrew Norris
Christian Rieben
Alice Salyer
Liz Clayton Scofield
Jessica Wohl
SidebySide: Warhol and the Body, curated by Amber Howard, is an exhibition featuring Tennessee artists and Andy Warhol prints/photographs on view at Tipton Gallery from December 1, 2017 until January 26, 2018. The exhibition is curated by Amber Howard under the Slocumb Galleries Curatorial Internship Program and presented by the ETSU Department of Art & Design in partnership with the Andy Warhol Photographic Legacy Program, ETSU Honors College, Splash Holiday Craft, and Downtown Yoga Center.
SidebySide: Warhol and the Body presents the body as sacred, profane, and queer views of popular culture, domestic women and various social issues through human figuration. This exhibition showcases Tennessee-based artists who work with the human figure in painting, photography, silk screening, sculpture, film, and performance, in media that Pop master Warhol have all employed. The participating artists are: Ren Allen, Coriana Close, Brooke Day, Mark Hosford, Shalam Minter, Andrew Norris, Christian Rieben, Alice Salyer, Liz Clayton Scofield, and Jessica Wohl, with original prints and photographs by Andy Warhol from the Department of Art & Design's Permanent Collection. Body painter Ren Allen and the Downtown Yoga Center performed during the December First Friday reception.
Andy Warhol's pop art media served as initial inspiration for the curatorial trajectory. Warhol was a Pop Artist concerned with popular culture, the media, and making art of mundane objects. Born in Pittsburgh, Warhol worked extensively in New York where he died in 1987. Exhibition curator, Amber Howard is a Fine & Performing Arts Scholar at ETSU's Honors College. She is a junior at the Bachelor of Fine Arts Program, the president of the SG Student Society and Curatorial intern at the Slocumb Galleries. Last summer, she co-curated the exhibition entitled Our Appalachia: Traditions and Innovations.
---
The Tipton Gallery is located at 126 Spring Street, and is open on First Fridays from 6 to 8 p.m., Thursdays/Fridays from 5 to 7p.m., and by appointment.