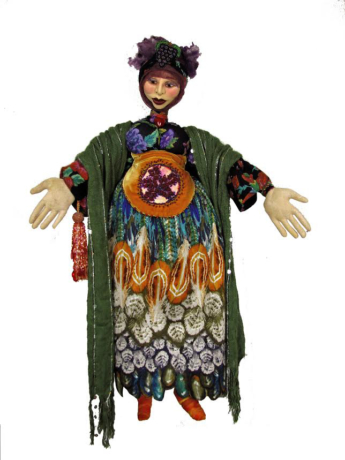 Exhibitions
SHAPING LIVES: THE TRANSFORMATIVE ART OF THE FIGURE
Barb Bend
Joan Beaver
Melissa Cadell
Erika Cleveland
Mindy Herrin
Barb Kobe
Nancy Kubale
Jane Martin
Salley Mavor
Aundra McCoy
Kevin Reaves
Betsy Youngquist
This exhibition examines a range of artistic visions and motivations ranging from traditional doll formats to more sculptural interpretations of the human form. The exhibition was curated by Lydia Wilson. Wilson selected eleven artists from across the country to be part of Shaping Lives. As the "shaping lives" title suggests, the motivations behind each artist's work is as varied as the work is visually different. Whether that motivation is to tell a story, tap into the therapeutic power of their craft, or shine a light on
social ills or the human condition, the exhibition is a celebration of what author Willa Cather called art: ". . . the shining, elusive element which is life itself.
About the Curator:
A native of East Tennessee, Lydia Ann Wilson is an artist, designer, teacher, and art
dollmaker. Formally trained, Lydia holds degrees in Biology and Mass Communications.
Wilson began making dolls twenty years ago. Her work has been featured in local and
regional newspapers, galleries, and national magazines such as Doll Art Quarterly, Quitting Arts, and Dolls. Her work has also been featured on the HGTV network.