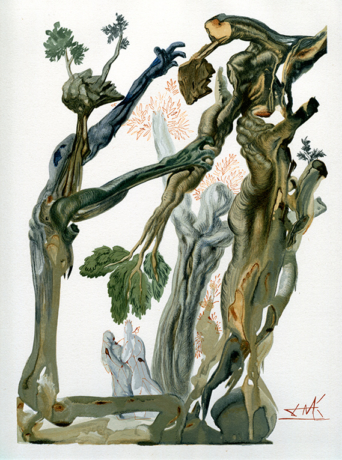 Exhibitions
SALVADOR DALI & THE DIVINE COMEDY PART I: INFERNO
Salvador Dalí
In 2014 the Reece Museum received a donation from alumnus Dr. Frank Barham consisting of 95 of the 100 prints that make up Salvador Dalí's illustrations for the Divine Comedy by Dante Alighieri. Dr. Barham's generous donation set in motion plans for displaying the Dalí/ Divine Comedy print series in three April–to–May exhibitions: "Inferno" in 2016; "Purgatory" in 2017; and "Paradise" in 2018. The Divine Comedy begins with Dante's journey through the Inferno (Hell), guided by the Roman poet Virgil.
Salvador Dalí's surrealist vision makes the 34 prints of Part I: Inferno frightening real. Each print illustrates one canto (book chapter) of the Divine Comedy. Through these works the viewer travels with Dante down the nine circles of Hell, before reaching Purgatory.
Salvador Dalí & The Divine Comedy Part I: Inferno opens April 7 and continues until May 27. An opening reception will be held on Thursday, April 14, from 5:00 - 7:00pm.