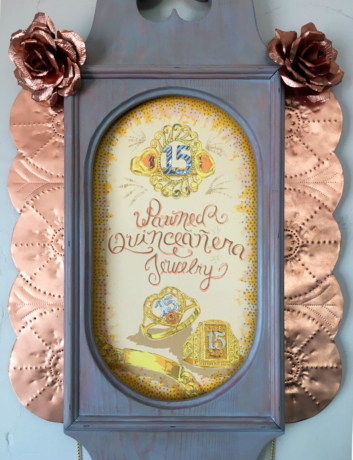 Exhibitions
ROSALIE LOPEZ: PAWNED QUINCEAÑERA JEWELRY
Rosalie Lopez
The ETSU Department of Art & Design and Slocumb Galleries in partnership with the Honors College, Corazon Latino Festival and the ETSU Civility Celebrations present Pawned Quinceañera Jewelry: prints and Installation by Rosalie Lopez from April 6 to 20, 2018. Chicanx artist Rosalie Lopez will present a gallery talk during the First Friday reception on April 6th, from 6 to 8 p.m., during Corazon Latino Festival, with papel picado art demo at 3 p.m., at the Tipton Gallery.
Rosalie Lopez is a Los Angeles based artist that blends aesthetics from her Chicanx (Mexican American) background with printmaking techniques to share impactful visual stories of people within her community. She creates intriguing pieces and installation spaces that are influenced by altars and offerings, from Día de los Muertos traditions, to further her efforts to archives localized experiences as assets. Her art often brings attention an under acknowledged perspective and leads viewers to confront their social politics, while connecting to her depictions of memory, legacy and history.
In this exhibition, Lopez shares old and new art work that fuses cultural artistic traditions like embossed tin and papel picado (cut paper) with elements of milagros (miracle prayer charms) to tell intriguing visual histories from her community and family. The exhibition blends her culture with visuals from her urban environment. The artwork brings attention to the overlooked and shares the beauty that grows from the resiliency of people to provoke understanding, unity and social change.
This year's Corazon Latino Festival organized by ETSU Language & Culture Resource Center will be held at the Founder's Park in Downtown Johnson City. The Slocumb Galleries Student Society shall man the photo booth, encouraging festival goers to dress up in diverse Latin American clothing.
The Tipton Gallery is located at 126 Spring Street, Downtown Johnson City, gallery hours are Thursdays and Fridays from 5 to 7 p.m., and by appointment. For more information, contact Slocumb Galleries' Director Karlota Contreras-Koterbay via email contrera@etsu.edu or call/text 423.483.3179. Parking and handicapped access are available. Please visit the ETSU PlanIt Calendar under Exhibitions or www.etsu.edu/cas/art/galleries for event updates.