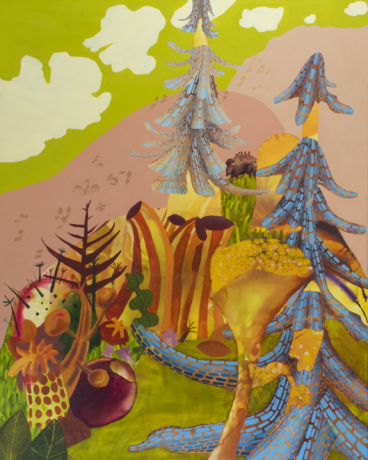 Exhibitions
PECULIAR PLACES, STRANGE SPACES AND SINCERELY, YOURS
Morgan Bakaletz, Lauren Whipple
The Department of Art & Design Slocumb Galleries present BFA Exhibitions Peculiar Places, Strange Spaces by Morgan Bakaletz and Sincerely, Yours by Lauren Whipple from November 13 to 21, 2023 at Slocumb Galleries Please join the artists at the joint reception on 16 November, Thursday from 5:00-7:00 PM.
Peculiar Places, Strange Places is a body of work by BFA candidate Morgan Bakaletz consists of oil paintings, a screen-printed master book, and risograph zines for the audience to submerge themselves in the work, enabling them to wander, identify fabricated plants, and even jot down notes.
Morgan Bakaletz is an artist from Norris, Tennessee that will be graduating in December 2023 from East Tennessee State University with a Bachelor of Fine Arts in Painting. She has been in several shows throughout Northeastern Tennessee. She won the Student-Faculty Collaborative Grant in 2022 and Faculty Choice Award in 2023. Her senior show, Peculiar Places, Strange Spaces, encompasses a range of paintings, risograph zines, and a screenprinted field guide, infused with humor and an exploration of fictional worlds with invented plants. This work reflects Bakaletz's emotional journey, serving as a means of self-understanding and potentially providing comfort and relatability to others who have experiences similar feelings of grief, heartache, and anguish.
In Sincerely, Yours, BFA candidarte Lauren Whipple situates her figures in dreamy landscapes that represent the psychological spaces drawn from her past experiences of grief and heartache. Her large-scale work submerges viewers within her paintings to accompany her figures through their journey and reflect on their own memories by their side.
Lauren Whipple is an artist based in Johnson City, Tennessee who is currently pursuing a BFA in Studio Art at East Tennessee State University. Focusing in figurative oil painting, she contemplates the aftermath of personal hardship in her work through self-reflective female figures in the landscape. In addition to having art displayed around the East Tennessee area through group exhibitions and public art, she also has curated multiple shows within the region at museums and galleries. She hopes that through her work, viewers who resonate with her paintings are able to see themselves and their individual experiences represented and prompt conversation surrounding these difficult topics.
The Slocumb Galleries are open to the public Monday through Friday, 9am-5pm.