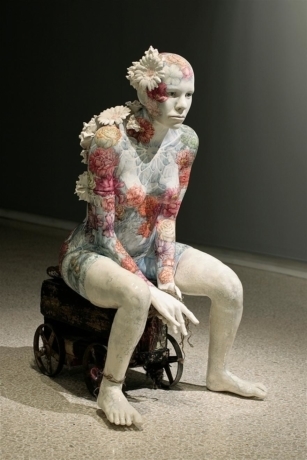 Exhibitions
OUR APPALACHIA: COMMUNITY AND INNOVATIONS
Art Brown
Aleta Chandler
Wayne Culberston
Richard Dwyer
Shane Fero
Mira Gerard
Travis Graves
Mindy Herrin
Megan King
Patti Lawrence
Liz Layton
Val Lyle
Jeannine Marchand
Alex McClay
Theresa Markiw
Jocelyn Matthews
John Edwin May
Vanessa Mayoraz
Patricia Mink
Don Morris
Calvin Nicely
Andrew Scott Ross
Alice Salyer
Randy Sanders
Ralph Slatton
Jim Stagner
Jeff Stoner
Anne Thwaites
The ETSU Department of Art & Design Slocumb Galleries' Curatorial Fellow and Internship Program proudly presents the exhibition entitled Our Appalachia: Community and Innovation from June 26 to July 18, 2017, at Slocumb Galleries and July 6 to 28, at the Tipton Gallery in Downtown Johnson City. The public is invited to meet the artists, curators and guest of honor Krishna Adams, Program Director for Visual Arts, Crafts and Media at the Tennessee Arts Commission on July 6, Thursday, from 5 to 7 p.m., at Slocumb Galleries.
The exhibition is co-curated by Cheyenne Good, Moira Frazier and Amber Howard, with the ambitious aims to provide a survey of the creative diversity and celebrate the various art communities of Northeast Tennessee as Appalachian artist. Our Appalachia: Community and Innovation features work by Northeast Tennessee and regional artists whose art practices are iconic to the Southern Appalachian cultural identity and contemporary art. The exhibition successfully endeavored to feature artists from each of the towns in the metro Tri-Cities region as well as various Northeast TN art organizations and institutions. This exhibition is in support of the effort to promote the Northeast Tennessee Art and Culture Alliance, a collaborative initiative by regional artists, art groups and the TN Arts Commission through the Tennessean for the Arts and First TN Development District.
The participating artists include Art Brown (Kingsport/Milligan), Aleta Chandler (Gray/Art Curious), Wayne Culberston (Kingsport/Art in the Heart), Richard Dwyer (TN Craft State of Franklin), Shane Fero (Penland), Mira Gerard (Johnson City/ETSU Art & Design), Travis Graves (Elizabethton), Mindy Herrin (TN Craft), Megan King (Hispanic Appalachia), Patti Lawrence (Kingsport Arts Guild), Liz Layton (Johnson City), Val Lyle (Bristol), Jeannine Marchand (Penland), Alex McClay (Asheville), Theresa Markiw (Erwin/Tanasi), Jocelyn Matthews (Johnson City), John Edwin May (Arrowmont), Vanessa Mayoraz (Johnson City Public Art), Patricia Mink (Greeneville/Arrowmont), Don Morris (Kingsport Arts Guild), Calvin Nicely (Morristown/African Appalachia), Andrew Scott Ross (Johnson City), Alice Salyer (Johnson City), Randy Sanders (Jonesborough/Reece Museum), Ralph Slatton (Erwin), Jim Stagner (Watauga Valley Art League/Tanasi), Jeff Stoner (Kingsport), Anne Thwaites (Kingsport Carousel).
Our Appalachia: Community and Innovation visually embodies the strong sense of community found in Northeast Tennessee. The curators wrote, "the community of our region was birthed from tradition and necessity, the isolation of living in the Appalachian Mountains made resources scarce, yet, provided a creative outlet for the people of Appalachia." In addition, they described the geographic isolation as a challenge turned to opportunity, by the artists who took "the freedom to develop distinct means of creation and social interaction, within the cultural environment that provided inspiration and cultivated a strong bond among the citizens who relied on each other to sustain the community." Thus, the curatorial team drew inspiration from contemporary artists who display how the past and present have shaped the culture and traditions of our community today, as well as those innovators who continue to address the creative challenges of living in the region.

Community is celebrated both through the artists representing each town or art group in Northeast TN, as well as in their subject matter that highlights the landscape and its diverse people. Artists from Bristol, Elizabethton, Erwin, Gray, Greeneville, Johnson City, Jonesborough, Kingsport, Morristown, and srtists from two of the most important art & craft schools in the region – Arrowmont and Penland School of Arts & Crafts, are represented in this exhibition. These towns comprise the Northeast TN region within the Southern Appalachian Mountains, as depicted on the paintings by Jim Stagner, Theresa Markiw, and Randy Sanders, as well as by fiber artist Patricia Mink. While the diverse people of Appalachia are immortalized on the photographs of tobacco farmers by John Edwin May, Jocelyn Matthews and Megan King's documentation of the Latin America communities in the region, while glass artist Calvin Nicely's masks celebrate the African Appalachia communities.
Furthermore, the curators highlighted equally important aspect of Appalachian culture, evidenced by the wide range of innovative artistic techniques explored by these artists. The curators were emboldened by the regional artists who "push the boundaries of what is defined as 'Appalachian art', some through the medium, making new forms from traditional materials," others via manipulation of "subject matter and concept, putting forth dynamic ideas that are new and fresh." They wrote, "these innovative approaches ultimately speak to the diversity of voices in Appalachia, the innovative practices that stemmed from traditional means of art making are seen in ceramics, fibers, painting, sculpture, and drawing." Various media like the ceramic sculptures by Aleta Chandler and metalsmith Mindy Herrin, while the redefinition of drawing by couple Andrew Scott Ross and Vanessa Mayoraz, as well as the use of nontraditional media by sculptors Val Lyle and Patti Lawrence are excellent examples of pushing the boundaries of their media.
The Tipton Gallery is located at 126 Spring St., Downtown Johnson City, opn First Fridays from 6 to 8 p.m., and by appointment. For more information, contact Slocumb Galleries' Director Karlota Contreras-Koterbay via email contrera@etsu.edu or call/text 423.483.3179. Parking and handicapped access are available. Please visit the ETSU PlanIt Calendar under Exhibitions or www.etsu.edu/cas/art/galleries for event updates.
---
About the Curators:
Moira Frazier is a Curatorial Fellow for Slocumb Galleries. She received her Master of Arts in Art History and Religion from Yale University in 2016. She is currently adjunct Faculty at East Tennessee State University's Department of Art & Design, Tusculum College and Northeast State Community College. She served as a volunteer Archive Assistant at Penland School of Crafts in North Carolina last summer, and she has been an Intern at the Yale University Art Gallery and the Thomas Wolfe Memorial in Asheville, among other institutions.
Cheyenne Good is an Academic Performance Scholar at ETSU, pursuing a double major in Art History and French. She serves as a Curatorial Intern for Slocumb Galleries since August 2016, and is currently Secretary of the Slocumb Galleries Student Society. During the Corazon Latino Festival 2017, Good served as the Art Committee Chair who coordinated the exhibition and other art events during the festival.
Amber Howard is a Fine & Performing Arts Scholar at the Honors College at ETSU, majoring in Studio Art and Art History. Howard is a Curatorial Intern for Slocumb Galleries since August 2016, and the incoming President of the Slocumb Galleries Student Society. She has received various grants from the ETSU Student Government Association (SGA) BUC Funds and Civility Week. She co-organized the SG Curatorial Interns Annual Museum Tour to Washington DC last May 2017.