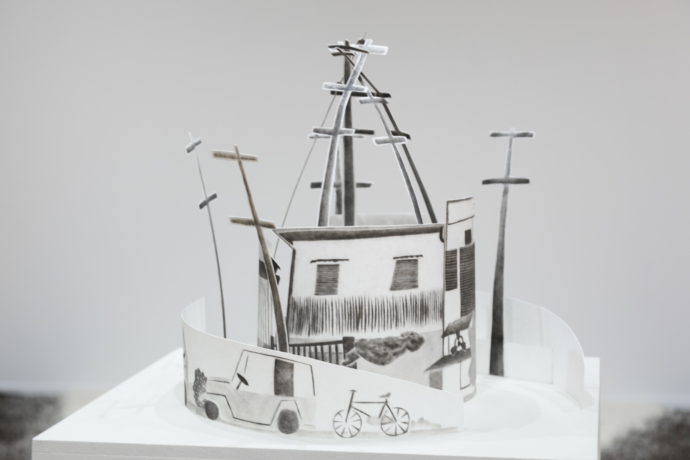 Exhibitions
NANDITO NA AKO: I'M HERE NOW
Cheryl Acuña, Jerico Domingo, Tristan Espinoza, Anna Liza Evangelista, Kyrstin Rodriguez, Craig Stamatelaky, Tewosret Vaughn
'Nandito Na Ako' (I'm Here Now) Filipinx Exhibit and Performances during Filipino Heritage Month at Tipton Gallery

The ETSU Department of Art & Design and Slocumb Galleries in partnership with the American Museum of Philippine Art (AMPA), Tennessee Arts Commission through the ABC Grant and First TN Development Office, School of the Art Institute of Chicago, ETSU Phil-American Student Society, Honors College, Multicultural Center, Jade Tree and the East TN / Southwest VA Phil-American Association proudly present 'Nandito Na Ako' (I'm Here Now) featuring 9 emerging Chicago-based Filipinx artists from October 7 to 28, 2016. The exhibition is presented during the Filipino Heritage Month, with reception and public performances on October 7th, First Friday from 6 to 8 p.m., at the Tipton Gallery.
'Nandito na Ako' is co-curated by Loren Ibach and Vi Viray Bautista which literally translates to the Filipino / Tagalog phrase "I'm here now". This collaborative exhibition featuring Chicago-based Filipinx artists was conceptualized to facilitate conversations that explore the complex Filipino-American identity. The works in the exhibition are visual narratives that investigate the "complexities inherent to them as (artists and) Filipinos through the use of iconography, relationships to personal memory, and exploration of Filipino history and tradition to pay homage to the Philippines." The project is influenced by the Filipinos' multifaceted cultural roots from Austronesian, South Asian, Malay, Polynesian, Chinese, and Japanese cultures, assimilated with the Spanish and American heritage through colonization, that resulted to the Filipino experience as often fragmented, convoluted, and underrepresented. The curators added that through dialogue and art, the artists "dissect the complexities inherent to being Filipinx/American in attempt to better understand the fluidity of (our) identity and how one navigates their identity as artists and designers".
Furthermore, employing the term 'Filipinx' instead of the more common Filipino/Filipina is part of an advocacy that prefer more gender neutral and inclusive, self-referential term inspired by racial-tolerance movements among various ethnic groups in cities like Chicago. The participating Filipinx artists are Cheryl Acuña, Jerico Domingo, Tristan Espinoza, Anna Liza Evangelista, Kyrstin Rodriguez, Craig Stamatelaky, Tewosret Vaughn, and co-curators Vi Viray Bautista and Lorén Ibach, who pay homage to their motherland, the Philippines. The exhibit was first featured at the LeRoy Neiman Center Gallery at the School of Art Institute of Chicago (SAIC) on May 2016. Traditional dance and musical performances alongside distinct culinary experience are part of the reception program at the October First Friday reception at Tipton Gallery.
This project is a collaboration initiated by ETSU Slocumb Galleries 'Indigenous / Immigrant American' Project with AMPA, the premier museological institution that promotes Philippine art and Fil-Am culture in the US, the regional community organizations of Filipino-American families, with the state art agency TN Arts Commission through SG Director and AMPA's Board Director & VP for Curatorial Programming Karlota Contreras-Koterbay, to advance the awareness campaign to address the "shroud of invisibility' of Filipino/Fil-Am culture within the global reality. Former Mayor and Johnson City Commissioner Ralph Van Brocklin and Philippine Consul General Raoul Donato are guests of honor. ETSU's Phil-Am Student Society members will perform the 'tinikling', a traditional Filipino dance using bamboo, while the East TN and SW VA Phil-Am Association and Jade Tree shall provide the Filipino cuisine for the reception.
The Tipton Gallery is located at 126 Spring St., Downtown Johnson City. This event is free of charge and open to the public. Open Thursday and Fridays from 5 to 7 p.m., during receptions and by appointment. For more info or to schedule a visit, contact SG Director Karlota Contreras-Koterbay via email contrera@etsu.edu or call/text 423-483-3179. Visit www.etsu.edu/cas/art/galleries, or ETSU PlanIt Calendar under Exhibitions and please 'Like' ETSU Slocumb Galleries Page on Facebook for event updates.