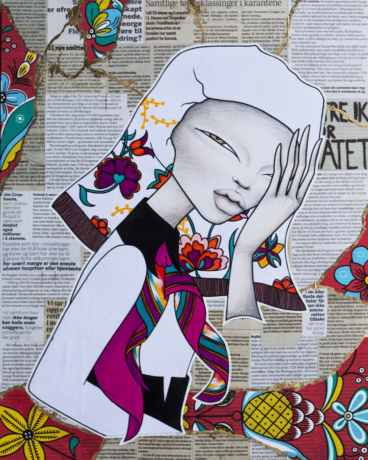 Exhibitions
MIXED AMERICANS: NEGOTIATING SHIFTING IDENTITIES
Alejandro Acierto
Jose Ardivilla
Kelly 'Native Child' Brown
Crystal Z Campbell
John Feodorov
Jason Flack
Vanessa Gonzalez
Richard A. Lou
Emily Hanako Momohara
Elena Øhlander
curated by Shai Perry
Presented by the ETSU Department of Art & Design, ETSU Foundation, Slocumb Galleries, Student Activities Allocations Committee, Black American Studies, Language & Culture Resource Center, Mary V. Jordan Multicultural Center, Department of Literature and Language, Radio, TV & Film Program, Langston Centre, MALS Program, Arts Build Communities (ABC) Grant and the East Tennessee Foundation's Hope in Action Grant. Panel on Mixed Race: Negotiating Shifting Identities on September 2, Thursday, 6 p.m., at the Langston Centre and reception on September 3, First Friday at 6 to 8 p.m., Tipton Gallery. Curated by Shai Perry and panel moderated by Adam Dickson.
The exhibition presents a diverse group of artists from various mixed racial heritage, their work shall address the challenges, trauma and realities of being biracial in the US through visual and performative means. Featuring works by Alejandro T. Acierto, Jose Santos P. Ardivilla, Kelly 'Native Child' Brown, Crystal Z Campbell, Jason Flack, Vanessa Gonzalez, Emily Hanako Momohara, Elena Øhlander with Richard A. Lou and PBS Art 21's John Feodorov. The panelists include curator Shai Perry, artists Jason Flack, Richard Lou, Emily Hanako Momohara, Jonathan Adams, spoken word poet Kelly 'Native Child' Brown and ETSU graduate student Chantal Quintana.
Mixed Americans are often discriminated and neglected due to their 'in between' identities, half of this and half of that almost denote incompleteness or 'not being enough.' Most often, Mixed Americans often hear the phrases "not Black enough" or "not Asian, American, Native American, etc...enough." Mixed racial children are often asked "how come you don't speak Spanish?" or are told to "go back home to your country" when they are in fact, American citizens; yet are automatically relegated as person of color without the consideration for nuances and complexities of identity. There are also less government or other public programming addressing the multiracial communities as a group, thus, not getting enough support, protection nor acknowledgement. These events serve as platform in addressing the lack of visibility, attention and opportunities for engagement with the Mixed American communities.