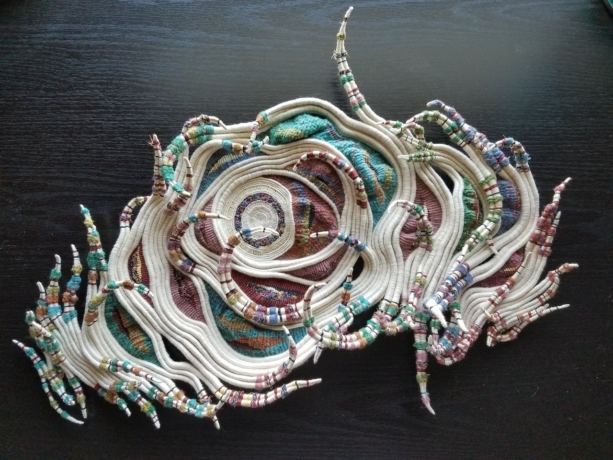 Exhibitions
MEDITATIONS FOR CHAOS
Laura Bowman
The ETSU Slocumb Galleries and Department of Art & Design present Meditations for Chaos by Laura Bowman from June 6 to July 25, 2019 at the Tipton Gallery with reception on June 7, First Friday from 6 to 8 p.m., during Blue Plum Festival.
Laura Bowman is a self-taught fiber artist living in East Tennessee. She creates knotted sculptural tapestries by combining her unique adaptation of an old macramé technique with a modern textile aesthetic using wool, cotton, and acrylic fibers.
When creating a tapestry, she uses her knotting technique to form and manipulate an organic design. Allowing the process to dictate the flow, while also making very specific decisions along the way, she guides the piece towards a visually stimulating conclusion of color, texture, and movement that pushes simple pieces of string and yarn into three-dimensionality. Her work is fueled by a desire to breathe life into that single strand and, by joining it with others, enable it to occupy space in a meaningful way.
Her current work is an exploration in emotional tension, a visual expression of the internal chaos of anxiety that appears controlled, harmonious, and beautiful on the surface. These pieces represent the emotional labor of maintaining that appearance while dealing with feelings of displacement and disquietude, and the struggle to organize feelings of chaos and separateness into order and belonging. While the knotting process is slow and intense, the use of soft materials and soothing designs to express the duality of this inner and outer dialogue is meditation as well as physical, artistic creation and release.
---
Gallery hours: Thursdays and Fridays from 5 to 7 p.m. or by appointment. For more info or to schedule a visit, please email contrera@etsu.edu or call/text 423.483.3179.