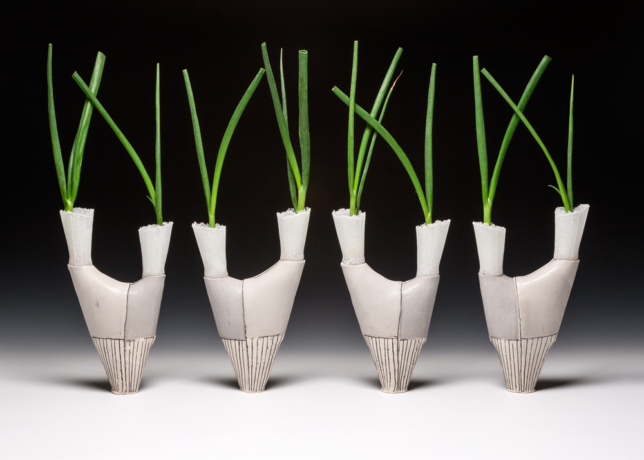 Exhibitions
LINDSAY ROGERS: HARVEST
Lindsay Rogers
Harvest: New Ceramics works by Lindsay Rogers is presented by ETSU Department of Art & Design and Slocumb Galleries in partnership with Highwater Clays, Sow True Seeds, Women's Studies Program, First TN Development District and the Tennessee Arts Commission Arts Build Communities (ABC) Grant from September 28 to October 27, at Tipton Gallery. The public reception on October 6, First Friday from 6 to 8 p.m., and ceramic wheel throwing demo on October 14, Saturday from 3 to 5 p.m., are presented during American Craft and Tennessee Craft Week.

Rogers employs her work as a ceramic artist to advocate for more locally based, sustainable food system. She has participated in collaborations with other artists, chefs and farmers, and her pottery, writing and words can be found in a range of publications from blogs to books and podcasts. The 'Harvest' exhibition features Rogers' series of new, unfired, seed collection 'baskets' entitled 'American Monolith', in collaboration with Sow True Seeds. The exhibition also includes her contemporary functional ware 'Tablescape' and, select sculptural vessels from her graduate thesis series, 'Close to Home''. Rogers received her master of Fine Arts from University of Florida and is currently an Assistant Professor of Ceramics at East Tennessee State University.
The Tipton Gallery is a satellite exhibition venue of Slocumb Galleries under the Department of Art & Design at ETSU in Johnson City TN. Its programming is supported by various grants from the Tennessee Arts Commission and collaborations with various community organizations. The 'Harvest' community engagement activities is supported by Highwater Clays from Asheville, North Carolina, providing the earthenware materials for the hand building art workshops conducted on youth and senior centers in the region, with funding from the Arts Build Communities Grant (ABC) through the First TN Development District and the TN Arts Commission.