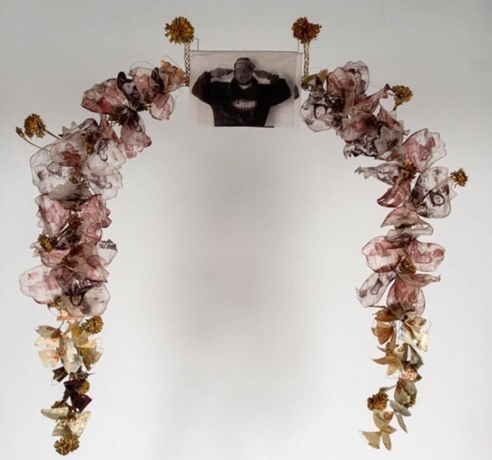 Exhibitions
KAYUMANGGI: POST COLONIAL FILIPINX
Alejandro Acierto, Leticia Bajuyo, Gigi Bio, Richard Brown, Kelvin Burzon, Marinel Isla Contreras, Jess Espanola, Gina Osterloh
Kayumanggi: Post Colonial Filipinx
Curated by Karlota Contreras-Koterbay

Presented by the ETSU Student Activities Allocation Committee (SAAC) and the Department of Art & Design in partnership with Language & Culture Resource Center, Office of Multicultural Affairs, Multicultural Center, Digital Media Program, East TN SW VA Philippine American Association, American Museum of Philippine Art (AMPA), ETSU Phil-American Student Society. TAC Arts Build Communities (ABC) Grant and East TN Foundation Arts Fund

The 'Kayumanggi: Post Colonial Filipinx', a group exhibition featuring Filipina/o American artists is curated by Karlota Contreras-Koterbay as part of the Diverse & Beautiful: Black Asian and Hispanic Appalachia project. The multimedia exhibition focuses on the politics of skin color and post colonial investigation of the nuanced, hybrid identity through art as agency, with employment of new media, and technology the form of photography, film/video, sculptural installations and animation.

Kayumanggi: Post Colonial Filipinx is also the third in a series of exhibitions as part of a collaborative project between the ETSU Slocumb Galleries and the American Museum of Philippine Art, highlighting Filipina/o, and Filipinx-American artists, with support from the Tennessee Arts Commission, and various regional cultural institutions. The participating artists for Kayumanggi: Post Colonial Filipinx are Alejandro Acierto (TN), Leticia Bajuyo (TN/TX), Gigi Bio (NY), Richard Brown (TN), Kelvin Burzon (IN), Marinel Isla Contreras (PH), Gina Osterloh (OH) and first Filipino Emmy awardee animator Jess Espanola (CA).

Chicanx artist Rosalie Lopez will perform a collaborative installation of 'Ofrendas' or memorial altar as homage to the dearly departed on October 26, Friday in commemoration of the Day of the Dead, celebrated both in the Philippines and Latin American countries. Language & Culture Research Center is organizing this event also in memory of Dr. Ardis Nelson, founding Director of the LCRC at ETSU.

Musician and visual artist Alejandro Acierto will present a public lecture and performance incorporating the breath as artistic medium on October 3, Wednesday at 6pm at the Tipton Gallery. First Filipino Emmy awardee, and The Simpson's animator Jess Espanola will present an animation demo and artist talk on October 5, Friday at 2pm at the Digital Media DMC#285. Espanola will also provide a brief gallery talk during the reception at Tipton Gallery at 6-8pm. Commissioner Jenny Brock, Johnson City Vice Mqyor and Dr. Jeff Howard, Associate Vice President for Student Affairs and Dean of Students at ETSU are guests of honor. Authentic Filipino cuisine will be provided during the reception courtesy of the East TN Southwest VA Philippine American Association.

The 'Diverse and Beautiful: Black, Asian and Hispanic Appalachia' project is significant in the evolving identity, forging cultural inclusion and stronger bonds in the diverse communities in the region. The arts' potential as agency provide opportunities for community solidarity, social tolerance, break down barriers and transgress the cultural isolationism that Appalachia is historically stereotyped, as well as push against the contemporary divisive political rhetoric. It is very relevant and invaluable to address issues of identity, collective values, social justice and inclusion in this time of cultural strife and white supremacists' political agendas. Artists and cultural workers are given opportunities and responsibility to serve as beacons of hope, and the work contribute to collective solidarity and critical discourse.

The exhibition series and related activities feature empowered Filipino American artists, whose work address the discrepancy in the visibility of minority Asian American communities in the mainstream art, media and social consciousness in the US. The mixed media installations are interactive and intergenerational, as well as distinctively visual, tactile and engaging, that allows the viewers to understand and celebrate diverse cultures. The related activities are crucial in advancing inclusive, creative, socially-engaged art and communities. The artist serves as role model and inspiration to the youth, seniors, disabled and people of color.