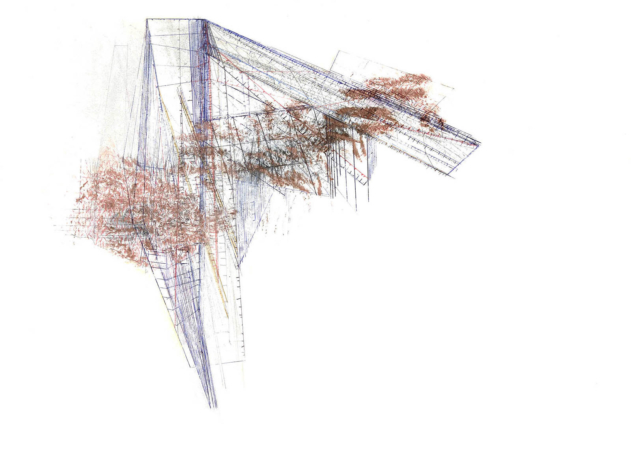 Exhibitions
JOAN TANNER: DONOTTELLMEWHEREIBELONG
Joan Tanner

Curated by Julien Robson

---
The Department of Art & Design and Slocumb Galleries in partnership with the Artful Aging Project of the Johnson City Public Library and Aroha Philanthropies, the ETSU Women's Resource Center, Women's Studies Program, Honors College, Johnson City and Jonesborough Senior Centers, and the Tennessee Arts Commission's Arts Support Project (APS) Grant proudly present 'donottellmewhereibelong' Drawings and Sculptures by Joan Tanner. Curated by Julien Robson, the exhibition is from October 16, to November 3, 2017, and with public lecture and reception on October 19, Thursday, from 5 to 7 p.m., the Slocumb Galleries, lecture starts at 6 p.m., at the Ball Hall Auditorium.
Prolific artist Joan Tanner who at 82 years of age, is described to "maintain a vigorous studio practice somewhat akin to a laboratory and is inspired by spatial contradictions, archetypal geometric forms and raw materials." The exhibition 'donottellmewhereibelong' features Tanner's 30 mixed media drawings and 4 assemblage sculptures from the last two decades, all evident of the fertile creativity of a woman artist whose art practice started in the mid-1960s alongside the male dominated, expressionist art scene. Furthermore, the consistent impulse to visualize of the compelling "curiosity to engage contradiction" and an impulse to disrupt "assumptions about spatial relations," Tanner's art continuously transgress the boundaries of media and various disciplines, thus, her multimedia work that ranges from large scale sculptural assemblages and installations, photography, drawings, video and mixed media paintings.
'donottellmewhereibelong' evolved into a traveling exhibition initiated by international curator Robson initially at the Locks Gallery in Philadelphia, Pennsylvania on January 2016, that travelled to the Weatherspoon Museum in Greeneville, North Carolina last Spring 2017. It was recently featured at the Hilliard Art Museum in La Fayette, Louisiana, and will travel to the Taubman Museum in Roanoke, Virginia after Slocumb Galleries. Tanner's large-scale mixed media installation at the Suyama Space in Seattle, Washington in Spring 2016 was featured at the Sculpture Magazine. The significance of the Tanner exhibition aims to highlight the indefatigable spirit of human creativity that transgresses the limitations of the aging body and the social restrictions of an individual in her/his later years.
The Slocumb Galleries are located at 232 Sherrod Drive, ETSU campus. Gallery hours are Mondays thru Fridays from 9 a.m. to 4:30 p.m. with extended hours during receptions, Thursdays until 6 p.m., and by appointment. For more information, contact Slocumb Galleries' Director Karlota Contreras-Koterbay via email contrera@etsu.edu or call/text 423.483.3179. Parking and handicapped access are available. Please visit the ETSU PlanIt Calendar under Exhibitions or www.etsu.edu/cas/art/galleries for event updates.