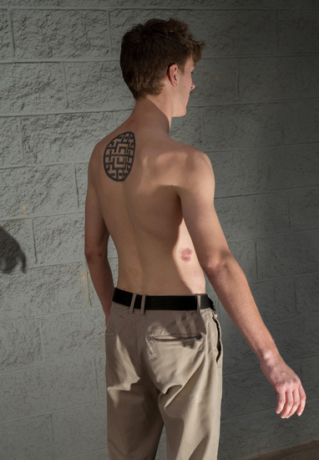 Exhibitions
HEARING THROUGH WALLS
Bradley Marshall
The ETSU Department of Art & Design and Slocumb Galleries present Hearing Through Walls exhibition by Masters of Fine Arts (MFA) candidate Bradley Marshall from February 19th through March 2nd, 2018, at the Tipton Gallery. The closing reception will be on Friday, March 2nd, from 6 to 9 p.m.
The exhibition will consist of large archival inkjet photographs and one video installation piece. The works presented by Marshall are the result of a three year study on domesticity, lost youth, and American masculinity. These themes are developed in a visual narrative that simultaneously explores photographic issues including notions of artifice and the cultural role photographs play in perpetuating, miming, and disrupting the facades that exist within everyday life.
Tipton Gallery is located at 126 Spring St, Johnson City, TN. Gallery hours are Wednesdays and Thursdays from 4 to 6 p.m., First Friday receptions and by appointment. For more information, contact Slocumb Galleries' Director Karlota Contreras-Koterbay via email contrera@etsu.edu or call 423.483.3179. Parking and handicapped access are available. Please visit the ETSU PlanIt Calendar under Museum and Galleries or www.etsu.edu/cas/art/galleries for event updates.