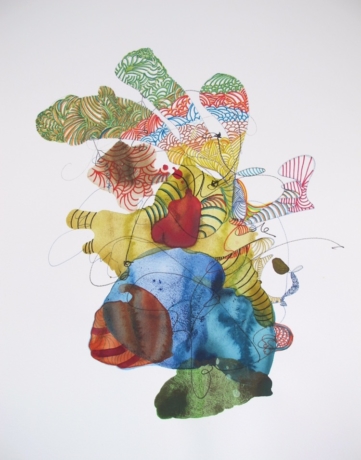 Exhibitions
FORTUITOUS HAPPENSTANCE BY ANN ROPP
Ann Ropp
Fortuitous Happenstance: New Works by Ann Ropp
The ETSU Department of Art & Design and Slocumb Galleries in partnership with the Urban Redevelopment Alliance present the Fortuitous Happenstance: New Works by Ann Ropp from June 20 to July 15, 2016 at the Tipton Gallery, with public reception on June 24, Friday, from 6 to 8 p.m., and viewing on July 1, 8, and 15, Fridays from 5 to 7 p.m.
The exhibit features mixed media watercolor paintings by Johnson City-based artist Ann Ropp. The watercolor works on paper are abstracted amalgamation of whimsical and fantastical forms created from the witty imagination of the artist. Ropp describes this series as "been like going on a trip with no plans". She added, her feelings while working on the paintings was like starting "up the engine, enjoy the ride and, if I'm lucky, the final destination" as the finished work. The works are done from the last two years after her return with her spouse, Jazz musician Bill Perkins' residence in Germany.

The Tipton Gallery is located at 126 Spring Street, Downtown Johnson City. Summer gallery hours are by appointment, during reception and July Fridays from 5 to 7 p.m. receptions. For more information, contact the artist Ann Ropp via email annroo@hotmail.com or call 423.434.9342 to schedule a visit. Parking and handicapped access are available. Please visit the ETSU PlanIt Calendar under Exhibitions or www.etsu.edu/cas/art/galleries for event updates. All events are open to the public free of charge.