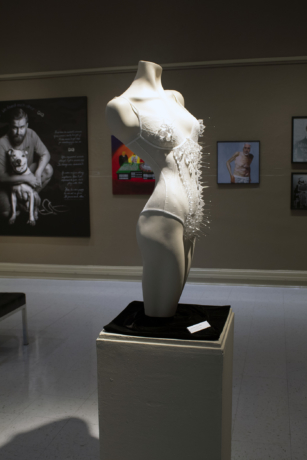 Exhibitions
FL3TCH3R EXHIBIT: SOCIAL & POLITICALLY ENGAGED ART
The Annual FL3TCH3R EXHIBIT is an international juried exhibit focused on socially and politically engaged art. Socially and politically engaged art has been integral in creative expression since the beginning of visual arts. This exhibition explores the current trends and trajectory in this field and these collective creative works hopefully serve as an avenue or agent for societal transformation and exposure of social and political points of view. The goal is to recognize and advance this endeavor by providing a venue for the exhibition of socially and politically engaged art. Furthermore, the exhibit's proceeds after expenses will fund the Fletcher H. Dyer Memorial Scholarship for an art and design student.
Artistic expressions for the 2019 exhibition were considered from 27 states – from Tennessee to Texas and California to Florida – and seven countries, in addition to the U.S. Entries numbered 325 from 116 artists. Categories included fiber, jewelry/metals, painting, photography, digital, sculpture, printmaking, video, graphic design, ceramics and 2D and 3D mixed media. Eighty-two works of 62 artists were accepted, juried by activist and illustrator Sue Coe.
Coe will be on campus for a day to talk and meet with ETSU students in classrooms, as well as art critiques, and on Thursday, Nov. 7, at 5 p.m., her juror's talk will precede the exhibit awards ceremony and reception at Reece Museum.
For more information about Fletcher Dyer, visit http://fletcherdyer.com/about.html. For more information about the exhibit, visit http://www.FL3TCH3Rexhibit.com and for Reece Museum, visit www.etsu.edu/reece or call 423-439-4392.
For more information on Mary B. Martin School of the Arts, visit www.etsu.edu/martin or call 423-439-TKTS (8587). For disability accommodations, call the ETSU Office of Disability Services at 423-439-8346.