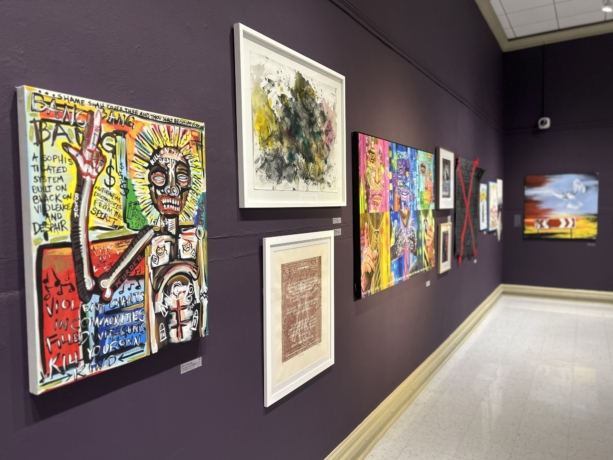 Exhibitions
FL3TCH3R EXHIBIT: SOCIAL AND POLITICALLY ENGAGED ART
Eva Alvor
Armin Amirian
Khudiakova Anastasiia
Patricia Anderson-Turner
Tim Atseff
Victoria Babiy
Aileen Bassis
Bobbi Baugh
Ivanete Blanco & David Shields
P. Muzi Branch
Spenser Brenner
Judith Carlin
Goyen Chen
Michèle Colburn
Arden Cone
Anita Cooke
Meaghan Dee
Denise Dijoseph
Fletcher Dyer
Sally Edelstein
David Enriquez
Justyne Fischer
Jason Flack
Ron Fondaw
Joel Gibbs
Anita Giraldo
Wesam Mazhar Haddad
Lucy Julia Hale
Lidia Hasenauer
Robert Hunter
Shota Imerlishvili
S. Christopher James
Ivan Kashlakov
Petrenko Kateryna
Anastasiia Kryvortotenko
Carol Larson
David Levenson
Kristy Lisle
Devin Long
Glenda Mah
Mark Mahoney
William Major
Andrusova Mariia
Mary Mazziotti
Eric McGhie
Symphony Medley
Nick Mendoza
Siddhakanksha Mishra
Yuliia Nabokova
Palii Olena
Matthew Pagoaga
David Pennington
Charles Peters
Cheryl Prisco
Joseph Quinn
Wendy Ritchey
Don Robson
Brian Row
Denise Shaw
Danielle Shelley
Robert Sherer
Joan Sonnenfeld
Wendy L. Starn
Jason Stout
Stuart Tessler
O. Yemi Tubi
Viktoria Vasylynenko
Ting Wang-Hedges
The eleventh annual FL3TCH3R Exhibit: Social and Politically Engaged Art is on display at East Tennessee State University's Reece Museum through Dec. 8. On Thursday, Nov. 2, at 5 p.m., Adam DelMarcelle, this year's juror, will present a public talk at the museum. An awards ceremony will begin at 6 p.m., followed by a reception.
The exhibition includes one of the largest breadth of artists from around the world. Featuring sixty-eight artists, the exhibition includes work from twenty U.S. states and the District of Columbia. Works from Bulgaria, Georgia, India, Iran, Jordan, Taiwan, United Kingdom and Ukraine were also selected for the exhibition. Representative media includes fiber, metals, painting, photography, digital, sculpture, printmaking, video, graphic design, ceramics, and mixed media.
Co-sponsored by the Mary B. Martin School of the Arts at ETSU, the exhibition explores current trends, and part of its mission is to serve as an avenue for societal transformation through exposure to social and political points of view.


The juror for this year's exhibition is Adam DelMarcelle, educator, artist, activist, and Assistant Professor of Graphic Design at Wilson College in Pennsylvania. DelMarcelle reviewed approximately 280 entries and selected eighty-four works from sixty-eight artists for the 2023 FL3TCH3R Exhibit.
The exhibit continues to give back to politically and socially engaged artists with over $2,000 in awards, in addition to the Fletcher H. Dyer Scholarship that is given to an ETSU Art & Design student every year.
For more information about Fletcher Dyer, visit http://fletcherdyer.com/about.html. For more information about the exhibit, visit http://www.FL3TCH3Rexhibit.com.
---
The Reece Museum, a unit of the Center of Excellence for Appalachian Studies and Services, is located on the campus of East Tennessee State University and is free and open to the public Monday-Friday, 9 a.m. to 4:30 p.m. Follow the Reece Museum on social media for more content and digital programming. For more information about the exhibition or events, please visit www.etsu.edu or call 423-439-4392.